Excellent or Praiseworthy is posted on Monday and Thursday nights.
"See, the Sovereign LORD comes with power, and His arm rules for Him. See, His reward is with Him, and His recompense accompanies Him. He tends His flock like a shepherd: He gathers the lambs in His arms and carries them close to His heart; He gently leads those that have young." — Isaiah 40:10,11
When I see it—in actions, words, or formal presentation, it's always a favorite combination . . . power with tenderness.
And it's not difficult to find in our military today. We often see pictures of service members, like the one below of an Army officer, fully armed and prepared for necessary battle, yet meeting with children on the street, or carrying a baby to safety . . . or holding a puppy . . . or protecting innocent civilians from harm.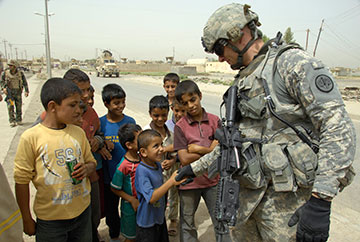 When I first read Eric Blehm's book on the life of Navy SEAL Adam Brown, Fearless, I was struck by this description: "Known for his compassion, Adam was always the first to do something like break open a light stick for a baby to play with or give a candy bar to a terrified child. But he wasn't the only one. In a group of men whose business is killing, the fury they release upon the enemy is rivaled only by the humanity they display for innocents caught in the crossfire." (p. 180)
In another description of Adam, his wife, Kelley, tells the story of the night when an intruder broke into their house in Virginia Beach. Right after he threatened the intruder and chased him out of the Brown home, Adam immediately went to check on the children and console Kelley. She said, "'Like that,' Kelley says, snapping her fingers, 'he went from this scary-sounding man back to my cuddly Adam. It gave me a glimpse—just a glimpse—of why he was so good at what he did. Why he was a SEAL.'" (p. 186)
I always knew this was the character of Jesus—total power, yet total tenderness, compassion and humility. Christ Jesus, our Lord and Savior, Son of Almighty God, sovereign creator of the universe, refers to himself in Matthew 11:29: "Take my yoke upon you and learn from me, for I am gentle and humble in heart, and you will find rest for your souls." Certainly we see contrast in how He submitted His power for our redemption at the cross.
But I saw this recently in Isaiah 40. God's power is described in verse 10: "See, the Sovereign LORD comes with power, and His arm rules for Him. See, His reward is with Him, and His recompense accompanies Him." And following immediately in verse 11 we see His tenderness: "He tends His flock like a shepherd: He gathers the lambs in His arms and carries them close to His heart; He gently leads those that have young."
A similar meaning is found in Psalm 89:13,14: "Your arm is endued with power; Your hand is strong, Your right hand exalted. Righteousness and justice are the foundation of Your throne; love and faithfulness go before You."
There is another part of the new book Fearless which includes a conversation which Adam Brown (a Christian–this book tells his journey of faith) had with his fellow SEAL, John Faas, about Stu Weber's classic book, Tender Warrior.  What is said affirms our topic:
"What ya got going there? John (Faas) said from the doorway, lifting his chin toward the book.
"Tender Warrior," Adam replied and showed John the cover.  "You can read it; I'm almost done.  Check this out," he said, thumbing backward through the pages.  "It was written by Stu Weber, a Vietnam veteran, Special Forces.  He became a chaplain."  Stopping at a passage, he handed the book to John, who read,
"The Warrior function is . . . unmistakable in Scripture . . . Within the epistles, the mature believing man is often described in militant terms–a warrior equipped to battle mighty enemies and shatter satanic strongholds.
The heart of the Warrior is a protective heart.  The Warrior shields, defends, stands between, and guards . . . He invests himself in 'the energy of self-disciplined, aggressive action.'  By Warrior I do not mean one who loves war or draws sadistic pleasure from fighting or bloodshed.  There is a difference between a warrior and a brute.  A warrior is a protector . . . Men stand tallest when they are protecting and defending."
The brotherhood of DEVGRU SEALs is built upon a foundation of mutual respect, and just as Adam aspired to what he considered John's "genius"–academically and as a warrior–John aspired to Adam's ability to juggle and, in his opinion, master the apparently paradoxical roles of fierce warrior and loving husband and father.  (p. 206,207)
Military men and women, and their families, demonstrate the attributes of the character of God daily—honor, courage, strength, sacrifice, patience, compassion, justice . . . and power with tenderness. Thank you.
Work Cited:
Blehm, Eric.  Fearless: The Undaunted Courage and Ultimate Sacrifice of Navy SEAL Team SIX Operator Adam Brown (Colorado Springs: WaterBrook Press, 2012)
Questions to share:
1. Recall a photo image or personal experience when an act of tenderness accompanied the presence of great power.
2. How does this prayer from Ephesians 3:16-19 express the power of God demonstrated in tenderness? "I pray that out of His glorious riches He may strengthen you with power through His Spirit in your inner being, so that Christ may dwell in your hearts through faith. And I pray that you, being rooted and established in love, may have power, together with all the saints, to grasp how wide and long and high and deep is the love of Christ, and to know this love that surpasses knowledge—that you may be filled to the measure of all the fullness of God."
Excellent or Praiseworthy is posted on Monday and Thursday nights.
Editor's Note:  In honor and memory of my Mom, who passed away five years ago, I am re-posting this article.
Precious in the sight of the LORD is the death of His saints. — Psalm 116:15
She was a strong woman. Perhaps that came from being the oldest of seven—no doubt a rowdy bunch. Perhaps it came from growing up during The Great Depression and having to work hard at home. Perhaps it came from having two pretty strict parents who expected a lot from their kids.
She was strong even in the days when it wasn't the "norm" to be a strong woman. She got her business degree in 1933 and left rural Virginia at age nineteen to head to Washington, D.C. for that much-desired government job with the U.S. Army Corps of Engineers. Because she came from a devout Methodist family, her first priority was to find a good church to attend—and that's where she met my Dad, at Mt. Vernon Place Methodist Church. They married in 1939—and not long after that she became a military wife.
Their duty stations aren't recognizable on lists of military installations today—long since closed. They would include Hondo Army Air Field in Texas and Romulus Army Air Field in Michigan, and the stories she would tell of these locations make me think that our experience in the military was very "cushy" in comparison. She would make long-distance moves alone with small babies when there was no interstate highway system, no air-conditioning, no disposable diapers, no car seats and no McDonald's. And the Army had to come up with some unusual ways to create maternity wards close to the bases—hence the reason my brother was born in a psychiatric hospital (at least that's the way the story goes).
Since rationing was a reality during World War II, she would tell stories of how she would make sure there was enough coal for heat for the times Dad would be able to come home between flights. Similar stories about tires, food items, and ice were shared—but the things I remember most were the stories about her friends.
Some things never change—what would we ever do without the friends we make during our military assignments? When family is far away, it's the friends we make in "remote" locations who are there to see us through the tough times of military service—and who help celebrate the joyful times. My Mom's friends became her real "family." She had friends who got her to church, who helped with babysitting, who gave her advice about new locations, who helped when help was needed—and who took the edge off the loneliness which accompanied war-time service. My Dad was a great letter-writer, but the reality was that communication in those days was sporadic at best.
I still have those letters. They are in "The Trunk." My parents' letters are filled with the small details of life in those days—and even some romance. They would often write each other of dreams for their life together when the War was over—before Dad eventually got out of the military and became a civil servant in the U.S. Food and Drug Administration, then a pharmacy professor, until he died in 1977. The skills which she developed in forming friendships during her military days served her well as they moved our family around the country in those years which followed. Each and every year she faithfully sent out the "Christmas letter" to all of those friends, and we even traveled to keep those relationships vibrant. I watched that tradition, and I learned. Maintaining friendships takes intentionality. And it's worth it.
Some of those friends of hers are still alive today, but very few. My Mom just passed away, ninety-four years old and weak. The strong woman she had been succumbed to the damage caused by strokes, and the Lord took her home. Her faith was strong to the end, and many a night my husband and I tucked her in with a recitation of The Lord's Prayer, the 23rd Psalm, and to the tune of "Jesus Loves Me." During her last days our dear nurses referred to her medical condition as "non-responsive," but she would join us with a word or two of those familiar verses from deep within her memory. Her faithful friends were able to say "good-bye" and "I love you" to her thanks to the modern technology of speaker phones.
Looking back, I remember that when she would come to visit us during each assignment—all over the world—she would reinforce our relationships with our friends by joining into their lives as well. She was "Grandma" to more than just our kids, and a great chocolate-chip-cookie-baker and cinnamon-roll-supplier to blocks of military housing. She knew that our friends were important and would be our "family" during most of our military career. As we mourn her death, we are not alone as she knew our friends and loved them.
But most importantly, she knew and loved the Lord. Jesus Christ was her Lord and Savior, and we know today she is in heaven with Him, with my Dad, and with the saints in Glory. Our son flew home from his overseas military assignment to join with our family at her funeral last week. He wove Scripture together for this beautiful prayer which he shared at the closing of her service:
Dear Lord, we thank You for the opportunity today to celebrate the life of my Grandma. Thank You for the blessing that each of us had—to know her and experience her love and encouragement for us as a mother, grandmother, sister, aunt, a teacher, and most of all, a friend. We praise and thank You that "You created her inmost being, You knit her together in her mother's womb." Indeed, "she was fearfully and wonderfully made," and "all the days ordained for her were written in Your book before one of them came to be." We rejoice that throughout her life, "You searched her and knew her…You knew when she sat and when she rose; You perceived her thoughts from afar…You discerned her going out and lying down…You were familiar with all her ways." Her skills and talents, her spirit and love, her encouragement and faithfulness that blessed us—all of these things were fashioned and given by You. And we are thankful that throughout all the victories and trials of life, You are always there—"Your hand always guided her, Your right hand surely held her fast." So tonight we celebrate my Grandma's life and rejoice for her "work produced by faith, her labor prompted by love, and her endurance inspired by hope in You our Lord, Jesus Christ." By and through Your grace, she "fought the good fight, she finished the race, and she kept the faith. . . now there is in store for her the crown of righteousness, which You, O Lord, will award to her on that day." And all of this is possible, through the love and gift of Your Son, Jesus Christ, who though He knew no sin, became sin for us, gave Himself up on the cross, and then conquered death so that even though death still takes us from this life, by faith, we may live with You, the lover and creator of our souls, through all eternity. Thank You for redemption, thank You for grace, thank You for unending love, and thank You for the gift of all of these born out in the life of my Grandma. "For from You and through You and to You are all things. To You be the glory forever! Amen."
These verses shared from Psalm 139, 1 Thessalonians 1, 2 Timothy 4, 2 Corinthians 5, and Romans 11 were ones she knew well. We have her Bible, well-worn and well-loved. They say that a worn-out Bible is the sign of a person who is not. For years that would have been true of my Mom. But her days were numbered, and since God's timing is always perfect—He took her home. Thank You, Lord, for the blessing of my Mom. She was a great military wife—and a great Mom. To You be the glory forever!
Questions to Share:
1. Look around you—which of your friends in the military do you think you will continue to keep up with in the years ahead?
2. Take a moment to pray and thank God for the gift of these special people in your life.
Excellent or Praiseworthy is posted on Monday and Thursday nights.
All these people were still living by faith when they died . . . And they admitted that they were aliens and strangers on earth . . . they were longing for a better country—a heavenly one. Therefore God is not ashamed to be called their God, for He has prepared a city for them.—Hebrews 11:13,16
I remember sitting on the front porch of our new quarters –you know, the "townhouses" crammed side-by-side around a parking lot. Kids everywhere.
We arrived at this new assignment exhausted from an intense operational tempo—so this was supposed to be that wonderful year at the "schoolhouse" when we'd be able to catch our breath before moving on. But I just wasn't into it.
I remember speaking the words, "What in the world am I doing here?" and hoping no one heard me (yea, right—neighbors were in ear-shot of everything!).
From past assignments I could pretty much count on it taking about six months for a new place to "feel" like home. In the meantime I would go through the motions . . . and try to get in step with the local atmosphere and pace. I have heard others give similar guidelines for normality, including these statements:
It won't feel like home until the boxes are all unpacked.
It won't feel like home until the pictures are hung.
It won't feel like home until we've weathered our first big storm.
It won't feel like home until we've had our first company for dinner.
It won't feel like home until we've made our first trip to the emergency room.
It won't feel like home until we've had a holiday here.
It won't feel like home until my spouse is back from deployment.
Typical for our family was "It won't feel like home until the first batch of chocolate chip cookies comes hot out of the oven."
I tried. I tried to be flexible and adaptable—knowing that it was important for the kids to start with a good attitude. . . and important to my husband who didn't have time to "feel" anything about whether he was home or not!
One of the many things I admire about military families is their adaptability. Oswald Chambers, speaking about Joseph (Genesis 37-50) & his adaptation to life in and out of prison in Egypt, says, "Joseph's adaptability was superb. . . Adaptability is the power to make a suitable environment for oneself out of any set of circumstances. Most of us are all right if we can live in our own particular setting, with our own crowd, but when we get pitchforked somewhere else either we cannot adapt ourselves, or we adapt ourselves too easily and lose God." (p. 980)
Chambers credits Joseph's adaptability with his "uncommon spirit"—a life lived with the awareness of God's presence at every point and in every place. He states, "A life with presence, i.e., an uncommon spirit, redeems any situation from the commonplace. It may be cleaning boots, doing house work, walking in the street, any ordinary thing at all, but immediately it is touched by a man or woman with presence it ceases to be commonplace." (p. 980)
But as military members, and Christians, we have another way to look at our ability to move around and still be content. I believe we can be the perfect illustration, or metaphor, of how mature Christians are supposed to look at life on this earth. We are only pilgrims here, or sojourners . . . knowing that our true home is in heaven. In Philippians 3:19,20 the Apostle Paul contrasts a non-believer ("Their destiny is destruction, their god is their stomach, and their glory is in their shame. Their mind is on earthly things") with a believer in Jesus Christ ("But our citizenship is in heaven").
Oswald Chambers uses the description of Abraham in Genesis 23:3,4 as "a stranger and sojourner" to add: "Abraham could never say that he was at home in Canaan, he left his home (in Haran) never to find another on earth. The thought of pilgrimage sank deep into the Hebrew mind, and the note of the sojourner is, essentially the note of the Christian. . . The genius of the Spirit of God is to make us pilgrims, consequently there is the continual un-at-home-ness in this world (Philippians 3:20)." (p. 908)
So if you're feeling "not at home" today . . . wherever you are . . . maybe that's a good thing. In today's vernacular maybe we should "embrace" that, knowing as Christians we are not at home yet. And that perspective might be the reminder we need that there are better days ahead . . . once we are truly at home with our Savior in heaven. Be encouraged!
Work Cited:
Chambers, Oswald. The Complete Works of Oswald Chambers (Grand Rapids: Discovery House Publishers, 2000)
Questions to Share:
1. Name assignments where you experienced a difficult transition. What was the difference between those moves and others which were easier?
2. If there has been a period of time since the difficult assignments, can you thank God for some positive, perhaps unexpected, outcomes? In what ways has that prepared you for other life challenges?
Excellent or Praiseworthy is posted on Monday and Thursday nights.
"Unless the LORD builds the house, they labor in vain who build it." — Psalm 127:1
You've flown on airliners—and no doubt recall the flight attendant reminding you that "if there is a drop in cabin pressure, an oxygen mask will drop down. Pull it towards you, etc. etc. etc. and oxygen will begin flowing even if the bag does not inflate." Something like that. Then the important reminder—"if you are traveling with small children, remember to put the oxygen mask on you first, and then put it on your children." This seems counter-intuitive, but the point is—oxygen-starved parents cannot help their children.
We recently returned from being with military members at a marriage conference. There we saw active-duty service members, along with a thousand other attendees at a Weekend to Remember, spending time to focus on their marriages. . . in some cases, to "pull down the oxygen mask."
It all made me reflect on a conversation I had with an Air Force wife a couple of years ago. She was concerned with the growing trend of child-centered marriages, and felt like too many of her friends were neglecting the priority of their marriage—making the husband-wife relationship the center based upon God's purpose for oneness. Besides being impressed with the maturity of this young wife with three small children, I knew that she was speaking the truth because we all have seen it. It's so easy in our society to focus on meeting the needs of our kids while neglecting what really makes a family healthy—the Christ-centered marriage.
This particular Air Force wife followed up our conversation by mailing me a newspaper column from John Rosemond, a family psychologist in North Carolina. Printed on December 14, 2004, it is entitled "Marriage, not children, is a family's center." Here is some of what Dr. Rosemond wrote in his article:
Today's all-too-typical child is prevented from learning what marriage is all about by well-intentioned parents who rarely act from within the roles of husband and wife; rather, they act almost exclusively from within the roles of mother and father. This is, after all, the new American ideal, based in large part on the nefarious modern notion that the more attention you pay to, the more involved you are with, and the more you do for your child, the better a parent you are. . . . .If you want more proof of why the husband-wife relationship should trump that of parent and child, consider this unarguable proposition: Nothing makes a child feel more insecure than the feeling that his parents' relationship is shaky, that it might come undone at any moment. It follows that nothing makes a child feel more secure than knowing his parents' relationship, while not perfect, is strong enough to endure any hardship, any disagreement.
What does "keeping your marriage the priority" look like during a deployment? Of course staying connected to the kids is of utmost importance, but staying connected with your spouse comes first. That will translate into security at the deepest levels– for when there is love and respect between a husband and a wife, a child cannot help but feel like there is hope that everything is going to be all right, no matter what.
Here are some suggestions:
Consider asking your spouse—"Sweetheart, how can I make sure that you feel important to me while I'm gone?". . . . or "how can I make sure that you feel important to me while you're gone?"
Pray and ask God for sensitivity to your spouse and their needs while you are apart. After all, God made them and they are His gift to you—so it follows that He would know what would help keep you close.
Communicate. . .communicate. . .communicate—in whatever way works for you. If emailing is good—or phone calls—or letters—keep it coming! Obviously this will change with duty assignments, but the goal is to stay connected! Be creative—which is another thing you could pray about.
Study. Deployments are a unique time to perhaps focus on your relationship in a way that could be viewed as an opportunity. There are so many good Christian books on marriage. A good one to start with is The Five Love Languages by Dr. Gary Chapman. We also know of chaplains who are leading Bible studies on marriage during deployment so that the time apart can be a time of growth in spite of the distance. Our favorite marriage Bible study series is HomeBuilders—and they are "deployment-friendly." For more information, see "Resources" on MilitaryReadyFamily.org.
Understand "The Triangle"—probably the most important concept of all. Here's how it works: Picture a triangle with the lower left point labeled "husband" and the lower right point labeled "wife." At the apex is God. Follow the left line upward to symbolize the husband growing closer to God. Follow the right line upward to symbolize the wife growing closer to God. As a husband grows closer to God, and the wife grows closer to God, what happens? They grow closer to one another! It never fails. The Holy Spirit brings a couple closer together in spite of hardship, and sometimes because of it.
Consider attending a Weekend to Remember before you deploy, or right after you return. Here are some comments from our recent event:
"Allowed me to reconnect with my husband after a long deployment, without the kids."
"We rebuilt bridges, refocused our marriage. The highlight was the intimate conversations with my wife, reconnecting."
"Gave us time alone to refocus before deploying."
These conferences are held all over the country, and almost every weekend.  See "Events" on MilitaryReadyFamily.org will give you more information about the military scholarships offered to these rich marriage getaways.
These are just a few suggestions. Perhaps you can think of more—and we would certainly encourage that. Marriage is a precious gift, but it takes work even under the best of circumstances. The legacy of a loving home starts with the commitment of a husband and wife to each other and to their Lord. Don't leave home without it!
Questions to share:
1. Does your spouse know how important they are to you? Perhaps this would be a good time to express that in a personal way.
2. Think of two specific things that you are grateful for in your marriage. Thank God for His gift of your spouse, and then thank them for their commitment to you.
Excellent or Praiseworthy is posted on Monday and Thursday nights.
"Haven't you read," He replied, "that at the beginning the Creator 'made them male and female,' and said, 'For this reason a man will leave his father and mother and be united to his wife, and the two will become one flesh'? So they are no longer two, but one. Therefore what God has joined together, let man not separate." — Matthew 19:4-6
A friend in North Carolina introduced me to "standing for your marriage" as a concept and movement. I had always known there were those who refused to give up on their dying or dead marriage—but I had never heard it called "standing".
Since then I have paid close attention to articles, books, websites, testimonies, and seminars about standing. I know in the military community the stresses on a marriage can cause either the husband or wife—sometimes both—to say, "Enough! I'm done!" So in order to shed light (God's light) on a different path for your marriage, I have compiled this information using the letters S.T.A.N.D. It is not exhaustive but is an introduction to standing for your marriage—and that includes a military marriage—for your study and (perhaps) application.
"S"—What is "Standing"?
One who has chosen to believe God for the healing and restoration of their marriage, and to take definite steps towards that renewal, is a husband or wife who is standing for their marriage. Dr. Ed Wheat, in his book How to Save Your Marriage Alone, writes, "If you are in this group, I do indeed consider you special. First, by your stand you indicate a commitment to the sacredness and permanence of marriage that is God-honoring; second, you have the courage to face your own problems instead of running from them or hiding behind false pride; and third, you exhibit the maturity which, even when there is no response, can choose to love with a steadfast love that is tough and real, intelligent and purposeful, wholly committed to your partner's well-being." (p. 7)
If your husband or wife has left you, either emotionally or physically, I urge you to get a copy of Dr. Wheat's little 62-page book. If God is calling you to be a stander, this book will get you started in the right direction with encouragement and advice.
"T"—Trust God and His promises.
Kim Sorgius includes this imperative in her article "5 Steps to Standing for Your Marriage" found on the Intentionally Yours marriage ministry website. Her first step is entitled "Wrap Yourself in Promise" where she states, "Skip this one and you'll crash and burn in days. Over the past 3 years, I've met a lot of standers. Some standing for just 2 months, some for 5 years. No matter how long, they all agree that standing is the hardest thing you will EVER do. There is just something nearly impossible about loving a person who spats hate in your face, often daily. But, every day thousands of people do it and so can you . . . if you are wrapped in promise. You must learn God's promises and stand on them, daily. Make a list and put it on the fridge. Keep a running journal if you need to. Whatever it takes to remind you what God has said."
And what has God said?
"Jesus looked at them and said, 'With man this is impossible, but not with God; all things are possible with God'" (Mark 10:27).
"Is any one of you in trouble? He should pray" (James 5:13).
"Be joyful in hope, patient in affliction, faithful in prayer" (Romans 12:12).
"The LORD is faithful to all His promises and loving toward all He has made" (Psalm 145:13).
"Trust in the LORD with all your heart and lean not on your own understanding; in all your ways acknowledge Him, and He will make your paths straight" (Proverbs 3:5,6).
Kim goes on to encourage you to "let go." That reminds me of the old saying, "Let go and Let God." Her advice is to rely on God for your spouse, your needs, your future—in prayer!
"A"—Your Attitude is pivotal.
Sherry Jennings, whose husband left her for an adulterous affair, writes in "I'm Done: What to Do When You are Sick of Your Marriage": "Prayer changes everything. When you seek God's face, curl up on His lap and cry out to Jesus, things change . . . As you pray, God softens your heart and enlightens you with His understanding. Spending time talking with God invites Him into your situation, your circumstances, your perceptions, your understanding, and powerfully reminds you He is God and you are not . . . thankfully! Allow Him to break your heart for what breaks His. As you pray, God will show you where you need to forgive . . . and where you need to seek forgiveness." In this article do not overlook how Sherry's attitude changed regarding how she should pray for Scott—and for the "other woman"—based on Proverbs 5:5-23.
The testimony of Scott & Sherry Jennings' healed marriage is on IntentionallyYours.org.  An attitude of hope based on the truth of Scripture and the testimonies of His saints will go a long way in fighting discouragement.
"N"—Your marriage is a covenant, NOT a contract!
In our years of teaching God's blueprints for marriage to military couples, we always remind them they made a covenant with each other, not a contract. Far from a 50/50 arrangement of "you scratch my back and I'll scratch yours". . . God teaches that "Covenant love is a never-stopping, never-giving up, unbreaking, always-and-forever love" (from Jesus Storybook Bible). It is 100/100 . . . each spouse giving their all.
Also, we know and experience that marriage is NOT about you—it is about living and loving to the glory of God. Gary Thomas' powerful quote from Sacred Marriage is, "What if God designed marriage to make us holy more than to make us happy?"
So standing for your marriage may be the way we demonstrate the Gospel of Jesus Christ to a watching world—"A new command I give you: Love one another. As I have loved you, so you must love one another. All men will know that you are My disciples if you love one another" (John 13:34,35).
God's word says—"But those who marry will face many troubles in this life . . ." (I Corinthians 7:28). God allows difficult things in our lives so that His glory may be revealed. This is hard teaching, but it is true. Standing will be very difficult—perhaps the most difficult thing you have ever done—but it is a call to commitment to your vows. An excellent resource for more information on this is RejoiceMinistries.org.  I found the Q&A (under Resources) to be particularly insightful.  Click on the question to receive the answers. Thousands have been helped with this information and encouragement.
"D"—Take Definite Steps.
Spend time in prayer with God and ask Him to reveal what definite and deliberate steps you need to take to grow spiritually, build community, learn more about marriage, and help your children.
Watch your words. Sherry Jennings article "How to Speak Life into Your Dead Marriage!" is helpful and enlightening. Read it! "The tongue has the power of life and death . . ." (Proverbs 18:21).
Consider going to a seminar to learn good marriage skills. We recommend FamilyLife's Weekend to Remember, Art of Marriage, Dr. Gary Chapman's The Five Love Languages, and Dr. Emerson Eggerichs' Love and Respect.
Explore useful websites such as Rejoice Marriage Ministries and Intentionally Yours.
Build a community of support. Find a good church where you can worship. Pray to meet a friend (of the same gender)—or friends—who will support your stand (not everyone will). Get a mentor or prayer partner who will hold you accountable . . . and will encourage you during the tough days of standing (there will be). Also on IntentionallyYours.org you can contact the ministry about their online community "Intentionally Standing".
Help your children by helping yourself first. "The Oxygen Mask" on ExcellentorPraiseworthy.org  was not written for standers, but the concepts are similar and important. Read it and remember that your children will greatly benefit from your spiritual growth in Christ-like behavior. The Spirit-filled life is known by love, joy, peace, patience, kindness, goodness, faithfulness, gentleness, and self-control (Galatians 5:22).
Standing for your marriage will require supernatural vigilance. Every aspect of your life will be affected. But don't forget—God is faithful. His promises are true. He is a god of redemption. Standing may be difficult for a season, but with God's help it may produce a legacy of a long-lasting marriage for generations to come. I pray so.
Work Cited:
Thomas, Gary. Sacred Marriage (Grand Rapids: Zondervan Publishing, 2000).
Wheat, Ed. How to Save Your Marriage Alone (Grand Rapids: Zondervan Publishing, 1983).
Websites: IntentionallyYours.com; RejoiceMinistries.org; ExcellentorPraiseworthy.org
Questions to Share:
1. Which of the points made in this devotion was surprising to you? Why?
2. Pray with your spouse for the Lord to increased your love for each other and to remain committed to your marriage vows—even when times are tough (especially when times are tough).
Excellent or Praiseworthy is posted on Monday and Thursday nights.
In the beginning God created the heavens and the earth. — Genesis 1:1
The wives in the ladies' Bible study group at the base chapel were nervous. Their husbands were returning home from deployment—and they were all hesitant, but honest, to admit that they were anxious about the transition of reintegration. We read Psalm 145 (the great psalm of God's majesty) together . . . then prayed . . . then discussed. Our discussion included a sharing of times past when God's faithfulness was evident in their lives. Their hearts were stilled as they remembered what they already knew—that God the Creator was sovereign.
In the burning sands of Afghanistan, a soldier opened his care package from home. In it was another calendar—this time with pictures of beautiful flowers up against a background of majestic snow-capped mountains. His wife told me that it didn't matter what the year was—the calendars she sent were ones she found with beautiful pictures of nature. . . and sometimes with Scripture in the margins. God's created beauty ministered to her husband's weary heart in a way he couldn't describe—but was very real. God's presence revealed in creation comforted his war-torn soul.
Veterans of many deployments, a military couple had to make a decision soon regarding their future. He had plans and concerns—she had plans and concerns. They went round and round with their discussions, trying to decide whether to "stay in" or "get out", seemingly getting nowhere. It wasn't until they went to church and joined their hearts in praise and worship to God the Father that they agreed to pray together, seeking God's guidance. Their prayers were simple—using the Adoration, Confession, Thanksgiving, and Supplication model (ACTS). But their prayers were made together, holding hands. Demonstrating the unity given by God in the Trinity, even before creation, they praised and they pleaded . . . and their Father answered.
It all begins with creation . . . which begins with the Creator. If you find yourself feeling empty today—with doubts, frustrations, concerns bearing down on you, consider reading these verses of adoration, beauty, and correction to set your heart on the one who loves you enough to give this beautiful world—and to send His Son, Jesus Christ, into it . . . just for you.
"In the beginning was the Word, and the Word was with God, and the Word was God. He was in the beginning with God. All things came into being through Him, and apart from Him nothing came into being that has come into being. In Him was life, and the life was the Light of men." John 1:1-4
"It is I who made the earth and created man upon it. I stretched out the heavens with My hands and I ordained all their host." Isaiah 45:12
"Before the mountains were born or You gave birth to the earth and the world, even from everlasting to everlasting, You are God." Psalm 90:2
"The One forming light and creating darkness, causing well-being and creating calamity; I am the LORD who does all these." Isaiah 45:7
"When He established the heavens, I was there, when He inscribed a circle on the face of the deep, when He made firm the skies above, when the springs of the deep became fixed, when He set for the sea its boundary so that the water would not transgress His command, when He marked out the foundations of the earth; Then I was beside Him, as a master workman; and I was daily His delight, rejoicing always before Him, rejoicing in the world, His earth, and having my delight in the sons of men." Proverbs 8:27-31
"Worthy are You, our Lord and our God, to receive glory and honor and power, for You created all things, and because of Your will they existed, and were created." Revelation 4:11
"The LORD is good to all; and His mercies are over all His works. All Your works shall give thanks to You, O LORD, and Your godly ones shall bless You. They shall speak of the glory of Your kingdom and talk of Your power, to make known to the sons of men Your mighty acts and the glory of the majesty of Your kingdom." Psalm 145:9-12
"Let us come before His presence with thanksgiving, let us shout joyfully to Him with psalms. For the LORD is a great God and a great King above all gods, in whose hand are the depths of the earth, the peaks of the mountains are His also. The sea is His, for it was He who made it, and His hands formed the dry land." Psalm 95:2-5
"When I consider Your heavens, the work of Your fingers, the moon and the stars, which You have ordained; what is man that You take thought of him, and the son of man that You care for him? Yet You have made him a little lower than God, and You crown him with glory and majesty! You make him to rule over the works of Your hands; You have put all things under his feet, all sheep and oxen, and also the beasts of the field, the birds of the heavens and the fish of the sea, whatever passes through the paths of the seas. O LORD, our Lord, how majestic is Your name in all the earth!" Psalm 8:3-8
"He is the image of the invisible God, the firstborn of all creation. For by Him all things were created, both in heavens and on earth, visible and invisible, whether thrones or dominions or rulers or authorities—all things have been created through Him and for Him. He is before all things, and in Him all things hold together." Colossians 1:15-17
"Lift your eyes on high and see who has created these stars, the One who leads forth their host by number, He calls them all by name; Because of the greatness of His might and the strength of His power, not one of them is missing." Isaiah 40:26
"Thus says the LORD, who gives the sun for light by day and the fixed order of the moon and the stars for light by night, who stirs up the sea so that its waves roar; the LORD of hosts is His name . . ." Jeremiah 31:35
"He has made everything beautiful in its time. He has also set eternity in their heart, yet so that man will not find out the work which God has done from the beginning even to the end." Ecclesiastes 3:11
"For behold, He who forms mountains and creates the wind and declares to man what are His thoughts, He who makes dawn into darkness and treads on the high places of the earth, the LORD God of hosts is His name." Amos 4:13
"I will lift up my eyes to the mountains; from where shall my help come? My help comes from the LORD, who made heaven and earth." Psalm 121:1,2
"Where were you when I laid the foundation of the earth? Tell me, if you have understanding." Job 38:4
"Thus says the LORD: 'Heaven is My throne and the earth is My footstool . . . For My hand made all these things, thus all these things came into being,' declares the LORD." Isaiah 66:1,2
"Listen to Me, O Jacob, even Israel whom I called; I am He; I am the first, I am also the last. Surely my hand founded the earth, and My right hand spread out the heavens; when I call to them, they stand together." Isaiah 48:12,13
"Behold, to the LORD your God belong heaven and the highest heavens, the earth and all that is in it." Deuteronomy 10:14
"Let all the earth fear the LORD; let all the inhabitants of the world stand in awe of Him. For He spoke, and it was done; He commanded, and it stood fast." Psalm 33:8,9
"Forever, O LORD, Your word is settled in heaven. Your faithfulness continues throughout all generations; You established the earth, and it stands." Psalm 119:89,90
Questions to Share:
1. Which of the verses above encourage you in a particular situation you are currently facing?
2. Share with your spouse a time when a scene of beauty—whether observed in person or photo—encouraged your heart. It can be as grand as the expanse of the Grand Canyon, or as simple as the smile of a child presenting a bouquet of dandelions.
Excellent or Praiseworthy is posted on Monday and Thursday nights.
Blessed is the nation whose God is the LORD . . . . — Psalm 33:12
It's a song, a famous song, but did you know that it really is a prayer? A prayer that we've all heardsung at athletic events, on the steps of the U.S. Capitol by our congressmen on September 11th, at the reopening of the stock market the following Monday, at church services during war and peacetime, at Republican and Democratic national conventions, on radio and television programs, in movies, and at patriotic rallies throughout our country and on foreign shores. Its words burn in our hearts because the lyrics ring true. . . .and the musical score combined with those words bring goose-bumps each time we hear or sing this beautiful prayer.
I am speaking of "God Bless America," written by Irving Berlin in 1918 and originally performed by the one-and-only Kate Smith in 1938. Irving Berlin wrote it for a camp show while serving in the Army in World War I stationed at Camp Upton on Long Island. The show's producers decided not to use it in 1918, but twenty years later Berlin offered it as the answer to a request he received for a patriotic song which Kate Smith could sing to commemorate the anniversary of the Armistice ending World War I. It was an immediate sensation with her debut radio performance in 1938. . . . and has been a national favorite ever since.
Irving Berlin, born Israel Baline, was five years old when his family immigrated to the U.S. from Siberia in 1893. He had a great appreciation for his adopted homeland of America—his patriotism was authentic. After his military service in World War I Berlin went on to a successful career, known for composing such hits as "White Christmas," "There's No Business Like Show Business," "Alexander's Ragtime Band," and "Cheek to Cheek." When World War II began, Berlin considered it an honor to compose and perform patriotic songs for military stationed around the world (often close to battle zones). At war's end, President Truman awarded Berlin the Medal of Merit for his courageous contribution to troop morale.
As you bravely serve our great country this 4th of July. . . .both at home and deployed, we pause to consider these lyrics, beginning with the original spoken introduction, as a prayer lifted to remind us of our personal and national need for God:
While the storm clouds gather far across the sea
Let us swear allegiance to a land that's free.
Let us all be grateful for a land so fair,
As we raise our voices in a solemn prayer:
God bless America,
Land that I love.
Stand beside her and guide her
Thru the night with the light from above.
From the mountains, to the prairies,
To the oceans, white with foam.
God Bless America, my home sweet home.
God Bless America, my home sweet home.
On this national holiday week, thank you for your brave and sacrificial service to our dear country, which we love. Your duty is making an eternal difference in the lives of many, both at home and across the sea. May God bless you. May God bless America.
Work cited:
From en.wikipedia.org: Kate Smith, "God Bless America," and Irving Berlin.
Larkin Spivey, Battlefields & Blessings: Stories of Faith and Courage from World War II (Chattanooga: God and Country Press, 2009), p. 216.
Questions to Share:
1. Take these lyrics and pray for our nation, especially during these times of war.
2. How has God blessed America? How can you pray for God to continue to bless America?
Excellent or Praiseworthy is posted on Monday and Thursday nights.
"My dear brothers, take note of this: Everyone should be quick to listen, slow to speak, and slow to become angry . . ." — James 1:19
"Communication is a lot like tennis. One person begins the conversation by making a statement, and then perhaps asking a question—like serving the ball. The other person returns the ball by responding to the statement and/or question, and perhaps asks another question. And so the game continues."
This is an important paragraph from the HomeBuilders Bible study entitled Making Your Marriage Deployment Ready (p. 39), meant to help couples in their communication skills before they are geographically separated. But the truth is that communication skills are vital to the life of a marriage relationship—deployment or not.
Using the tennis analogy, a conversation can continue easily as one partner "volleys" the ball to the other. If the ball is "slammed" (perhaps insult or accusation), making it impossible for the tennis partner to return the exchange. . . or if the ball is hit out of bounds (not listening or paying attention), the conversation is over for the moment and has to begin again with a new statement or question.
Dennis and Mary Trexler of Cru Military have taken the analogy of tennis to explain some of the fundamentals of good communication in a talk they call, "Tennis Anyone?" As you read these "Tennis Rules of Serving" think about how they could correspond to a conversation between a husband and wife:
The server stands behind the baseline, in between the center mark and the sideline (Do you have your spouse's attention?);
The ball has to go over the top of the net on a serve (Have you made yourself clear, perhaps dealing with just one issue and not many issues?);
Your serve must reach the service box on the other side of the court (Are you focusing on the specific and not making generalizations?);
If the serve drops outside of the service box, you get a second chance to serve (Does your spouse understand what you said?);
You get two chances to serve. When you miss a serve, it is called a "fault" (Did you judge their motives without giving them a chance to explain?);
You cannot serve the ball before your receiver is ready (Are you prepared to use "I" statements and not "You" statements, giving them the chance to respond without defensiveness?).
When you initiate a conversation, there is the responsibility to be able to continue the conversation to a worthwhile end. Viewing this responsibility as being similar to one who serves the tennis ball with the intention of continuing the match may help.
But the Trexlers would be just as quick to tell us that there is responsibility on the part of the receiver. Here are their "Tennis Rules of Receiving":
You can stand wherever you want when receiving a serve, but the tennis ball cannot be allowed to bounce into the service box (Did you listen intently to your spouse or ignore them?);
If the serve is good, you must hit the ball back to the server (Did you receive what they said to you and answer them appropriately?);
The serve receiver has to let the ball bounce one time before hitting it back (Are you answering your spouse before they have even finished speaking?);
If you hit the ball before it bounces, the server gets the point (Have you been too quick to focus on "fixing the problem" instead of hearing what your spouse is feeling?).
These are just a few pointers which can help when a couple is trying—and trying hard—to communicate well. Just like tennis, it takes practice. Just like tennis, it takes desire to learn. Just like tennis, it takes rules for it to go smoothly. And just like tennis, it takes two! It takes both of you being intentional about "serving the ball" and "receiving the ball" for good communication in marriage to take place.
And what about communication during deployment? This does not mean that "all rules are off!" Quite the contrary—all rules still apply! You both have to make sure that you are listening well to the others' needs and feelings, that you are asking good questions which get to their heart, and that you "make contact" as often as possible to keep the relationship moving.
And remember—this is not a game! Communication in marriage is work, and it is serious business. But, in the end, you will both be winners!
Work Cited: Making Your Marriage Deployment Ready is available at Shop.FamilyLife.com and CruMilitary.org.
Questions to Share:
1. During deployment, do you communicate best by email, phone, or letter? What about your spouse? Discuss this between the two of you.
2. Has the difference in time zones been a barrier to your communication? What other difficulties have you had to overcome in order to communicate well with each other?
Excellent or Praiseworthy is posted on Monday and Thursday nights.
"Flee the evil desires of youth, and pursue righteousness, faith, love and peace, along with those who call on the Lord out of a pure heart." — 2 Timothy 2:22
"Above all else, guard your heart, for it is the wellspring of life. Put away perversity from your mouth; keep corrupt talk far from your lips. Let your eyes look straight ahead, fix your gaze directly before you. Make level paths for your feet and take only ways that are firm. Do not swerve to the right or the left; keep your foot from evil." — Proverbs 4:23-27
I pay attention when I run across stories about platonic friendships which turn into inappropriate relationships. It's so common  . . . especially in these days of deployments. Loneliness can become the excuse for "hanging out" with someone of the opposite sex you thought was "safe." Stressful marital situations can become the excuse for asking a fellow worker of the opposite sex an innocent question like "I'm going through a tough time in my marriage—help me understand my spouse better." Uncertainty about your future can become the excuse for throwing caution to the wind with an attitude of "What the heck—all I've got is today and no one has to know."
But it's the timing of it all, and what might cause us to turn our back on a flirtation at a less stressful point might lead to the desire for more at another point. With these thoughts in mind I listened intently to an interview on Focus on the Family's broadcast entitled, "Friendship or Flirtation: Danger Signs for Couples"—an interview with Rev. Dave Carder, author of Torn Asunder and Close Calls: What Adulterers Want You to Know About Protecting Your Marriage. The promotional piece for this radio program read: "Most of us don't wake up in the morning and say, 'I'm going to go out and ruin my marriage today.' That's because the breakdown of marriage relationships almost always happens over time. Sometimes years. But the tipping point for many already-vulnerable relationships that are rocked by infidelity is . . . blurring the line between friendship and flirtation." "Daly Focus" in Family Focus, September, 2011.
Dr. Gary Chapman, author of The Five Love Languages, calls it "the tingles" and says that the strongest feelings of desire between a man and woman usually last about two years. Rev. Carder, after studying extra-marital sins for thirty years, takes that up a notch and makes this profound statement: "Infatuation is the most powerful drug known to man."
Having made that statement, on the program he goes on to discuss "19 Dangerous Behaviors" which can act as warning signs to alert those who desire to remain faithful to their spouse and want to avoid any risky situations. I've culled through Dr. Carder's listed behaviors and have selected those "top 10" behaviors which might be more likely to happen during deployment—just as warnings.
Rev. Carder says you're on dangerous ground when you:
Save topics of conversation for your 'special friend' because they understand you better than your spouse.
Share spousal difficulties with your friend. Sharing confidential information about your spouse is a break in trust.
And the flip side—Allow the friend to share their relationship difficulties with you.
Compare the friend and your spouse.
Fantasize about marriage to your friend.
Spend money on your friend without your spouse's knowledge.
Lie (to others) to spend time with your friend.
Develop rituals (experiences anticipated by both parties—like coffee together).
Experience a 'shiver' when your friend shares feelings or touches you.
Allow sexual content in your conversations with your friend.
Have you ever experienced any of these? Rev. Carder says that most likely we all have. But put these behaviors in the context of loneliness, existing marital difficulties, or reckless thinking (due to fatigue, depression, discouragement, etc.) and the sexual temptations may become regretful reality.
Another warning—the "friend" does not even need to be present to pose a threat to your marriage. Those same sustained factors which can produce the lure of infatuation when overseas or alone at home can cause you to "look up" an old friend on the internet. What happens might not be a physical affair, but an emotional affair which can be just as damaging to a marriage.
Some of the best teaching on sexual sin is from John Ortberg's teaching in Old Testament Challenge. Using King Solomon as his example, Ortberg preaches on the "Four Steps to Disaster." Noting that no one stands at the altar with the plan to fail in their marriage, he cites the formula which brought down Solomon, "the wisest man who ever lived":
"Leave a little wiggle room in your commitment . . . Remember, nine-five percent commitment is five percent short." There is no such thing as a partial commitment.
"Assume that you are an exception to the rules or that you are above the rules." If you think "it won't happen to me"—think again.
"Fail to deal with your predisposed weaknesses." If you know that something has been a temptation for you in the past, avoid it at all cost!
"Ignore or silence corrective words." Your buddies might have your best interests at heart in warning you about risky behavior—listen to them!
Given that infatuation is so dangerous—and the temptation of sexual sin so prevalent, even among Christians—what does one do to guard their heart, to guard their integrity, to guard their marriage? Here are some ideas to ponder:
Consider the factors which brought you to any past mistakes—and commit to avoid those same factors ahead of time.
Do not be naïve to the conditions which you might be facing—you might be on someone's "list" to bring down your faithfulness in marriage.
Be vigilant in protecting your eyes, ears, and mind from information which might cause you to think of someone of the opposite sex instead of your spouse.
Enlist an accountability partner—someone of the same gender with whom you can meet regularly to share prayers and vulnerabilities.
Put healthy boundaries around your relationships with those of the opposite sex—avoid even the appearance of impropriety.
When you find yourself in a compromising position, or even the appearance of one—leave! or as the Bible says, "Flee!"
Maintain a regular time with the Lord. Bottom line—it is in the power of the Holy Spirit that we resist temptation. The fresh filling of the Holy Spirit is vital in our ability to remain pure.
Love is a beautiful thing, but it is something you give and share on an intimate level only with your spouse. Flirtation may seem fun at the time, and harmless. . . .but beware! Satan would love to fuel those feelings into a fire of emotions which could end up burning down your home!
Questions to Share:
1. Was there anything in this writing which was a surprise to you? What was it?
2. Was there anything in this writing which was particularly convicting to you? What was it?
3. Commit time in prayer to confess sin to God and write downs steps you will now take to avoid sexual temptation in the future.
Excellent or Praiseworthy is posted on Monday and Thursday nights.
. . . . . and I will dwell in the house of the LORD forever. — Psalm 23:6
It was the very last word that my Mother said—"forever." Every night after her stroke my husband and I would recite with her, as best she could, the Lord's Prayer, the 23rd Psalm, and then end our nightly time with singing "Jesus Loves Me." We did that for two months until the Lord took her home with Him. She was a devout Christ-follower and loved her Lord, so the thought of being with Him "forever" was fresh on her mind as she slowly slipped away from life on this earth.
On the other side of the world, our friend from church—a soldier serving downrange—was spending his nights on patrol. Before he would head out with his unit searching for IEDs, he would recite the 23rd Psalm. He never knew what the night would bring, so he wanted truth from Scripture to be fresh on his mind in case he or one of his buddies quickly slipped away from life on this earth.
Perhaps you are familiar with the 23rd Psalm:
The LORD is my shepherd; I shall not want.
He makes me lie down in green pastures;
He leads me beside the still waters.
He restores my soul;
He leads me in paths of righteousness for His name's sake.
Yea, though I walk through the valley of the shadow of death,
I will fear no evil;
For You are with me;
Your rod and Your staff, they comfort me.
You prepare a table before me in the presence of my enemies;
You anoint my head with oil,
My cup runs over.
Surely goodness and mercy shall follow me
All the days of my life;
And I will dwell in the house of the LORD
Forever. — Psalm 23 (NKJV)
But what if that's just not the way you look at life, or death? Perhaps you do not know the goodness and saving grace of Jesus Christ? Dr. David Powlison writes, "From Jesus' point of view, there are two fundamentally different ways of doing life. One way, you're connected to a God who's involved in your life. . . . The other way, you're pretty much on your own and disconnected. Let's call this the 'antipsalm 23′:
'I'm on my own.
No one looks out for me or protects me.
I experience a continual sense of need. Nothing's quite right.
I'm always restless. I'm easily frustrated and often disappointed.
It's a jungle—I feel overwhelmed. It's a desert—I'm thirsty.
My soul feels broken, twisted, and stuck. I can't fix myself.
I stumble down some dark paths.
Still, I insist: I want to do what I want, when I want, how I want.
But life's confusing. Why don't things ever really work out?
I'm haunted by emptiness and futility—shadows of death.
I fear the big hurt and final loss.
Death is waiting for me at the end of every road,
but I'd rather not think about that.
I spend my life protecting myself. Bad things can happen.
I find no lasting comfort.
I'm alone. . . . facing everything that could hurt me.
Are my friends really friends?
Other people use me for their own ends.
I can't really trust anyone. No one has my back.
No one is really for me—except me.
And I'm so much all about ME, sometimes it's sickening.
I belong to no one except myself.
My cup is never quite full enough. I'm left empty.
Disappointment follows me all the days of my life.
Will I just be obliterated into nothingness?
Will I be alone forever, homeless, free-falling into void?
Sartre said, "Hell is other people."
I have to add, "Hell is also myself."
It's a living death, . . . .
and then I die.'"—Powlison, Sane Faith, Part 1
Please read these two carefully—the psalm and the antipsalm. There is peace in one, and anguish from the lies of self-talk in the other. The latter occurs when you don't abide in Christ.
There are two different ways of "doing life." This reminds me of the plaque which says, "No Jesus, No Peace. Know Jesus, Know Peace." Which will you choose?
Work Cited:
Powlison, David, Boundless.Org
Questions to Share:
1. Do you trust in the truth of Psalm 23, or is your thinking more like that of the antipsalm?
2. Would you like to have the peace of confessed sin, forgiveness, and the promise of the fullness of life with Jesus? Then go to 4Laws.com to find that peace.
« go back
—
keep looking »