Excellent or Praiseworthy is posted on Monday and Thursday nights.
Don't let anyone look down on you because you are young, but set an example for the believers in speech, in life, in love, in faith and in purity. — I Timothy 4:12
My husband and I had two similar conversations recently—one with a young sailor and the other with a young airman. Both are Christians, happily married, and growing in their faith. Both wanted to invite others (neighbors, friends at work) to attend a local marriage seminar our church was sponsoring. Both said the same thing to us, "It seems all of these folks are struggling in their marriages—I hear about it all the time!!—but they won't come to the seminar. They're not interested. They don't want to hear anything about it!!"
And they both asked us, "What do we do?" "We want to offer them help, but it's like they don't care to listen to what we have to say!"
Ever been there? Maybe you are the one frustrated because you have THE answer to marital struggles and no one wants to hear . . . or maybe you were the one who "tuned-out" a similar suggestion in years past because life was just too complicated, or you didn't want to be bothered on a weekend, or you needed a babysitter, or you wanted to go but your spouse didn't, or you thought you would be asked to "air your dirty laundry in front of strangers" or . . . the list of excuses goes on and on.
In both cases, we encouraged our military friends not to give up, but to set a good example especially in their work ethic, their language, and their marriage. They both said they had been doing that, but "it's not making any difference."
We persisted in our encouragement, because this is just too important:
Be patient! One of the advantages of being older is you can look back and see how God worked in your life to bring about change—and often transformation takes time.
Be pure! Another advantage of being older is you can look back and see how God worked in your life to bring about change—and often that takes someone to set a good example.
Be positive! A big advantage of being older is you can look back and see how God worked in your life to bring about change—and often that takes someone to encourage you.
Be in prayer! For them—for yourself. It's probably THE most important thing you can do. A huge advantage of being older is you can look back and see how God worked in your life to bring about change—and to thank Him. And to pray for others to know Him, too.
God is always at work, and He uses us in that work if we are obedient to His direction. Whether we know it or not, people are watching—and listening—and noticing the way we honor each other in our marriage, the way we speak (to everyone), and the attitudes we demonstrate in our jobs.
A week ago, all of this "came home" to our hearts in a very real way. We attended a reunion of our squadron stationed in Europe in the 1970s. We were not Christians then, and said and did some things which we regret. But the reunion was a time to celebrate our friendships through the years—and to reconnect with those whom we had not seen. Life, for all of us, had taken unexpected twists and turns . . . but smiles melted the years away forging bonds of understanding without a word spoken.
I saw a lady whom I had not seen in a very long time. A devout Christian and wife of a former POW, she and her husband had set a godly example for us in ways she had not realized—and I had not voiced. But the Holy Spirit moved me to thank her for her example, and I took the time to enumerate the ways in which we "had been watching" during those years.
As a young wife without much military experience, I watched how she spoke to her husband in public with respect. I knew how they made their decision for off-base housing—with prayer. I learned from her quiet attitude when unscheduled TDYs came up and we all jumped into disgust and complaining—except her. Her countenance was lovely—before I even knew the word "countenance." But I was watching!!
So at the reunion I had the chance to thank her for being patient, for being pure, and for being positive. We connected heart-to-heart . . . and we prayed.
Let me encourage any of you who are struggling with your role in the military—People are watching. And they are listening. And they need the Lord. They need hope. With the Holy Spirit alive and active in your hearts, know that you are making an eternal difference in the lives of others by being light in a dark world.
And God will be glorified.
Questions to Share:
1. Is there someone you remember who modeled Christ-like living to you? Share with your spouse who that was and how they influenced you.
2. If possible, write a note or email to that person. If not possible, thank God for them and pray for them today—that they would continue to lead others in their walk and their talk.
Excellent or Praiseworthy is posted on Monday and Thursday nights.
The LORD appeared to us in the past, saying: "I have loved you with an everlasting love." —Jeremiah 31:3
I remember my Dad, an imperfect but very faithful man. Married almost 61 years, a WWII Medic in the Battle of the Bulge, a school principal for 37 years. A stoic man, not much for emotions but a kind-hearted man in so many ways. One day, when I was 27 and still on active duty, he and I were arguing about something trivial. I so wanted his approval. I did not understand his language of love.
He stopped abruptly and said in a loud voice, "Jim, what is it that you want from me?!" There in his kitchen I looked at him and blurted out, "Dad, I just want you to hold me!" He could have shamed me. Instead, he walked over to me and gave me a big ol' WWII Vet Bear Hug. Our true relationship began.
After that, I did not feel I had to earn his approval anymore. I knew he loved me and was proud of me. We began going out for breakfast together once a week. We became good friends!
I did not quite understand how my Heavenly Fatherly loved me yet. But learning this Faith Principle: "Faith is choosing to live as though the Bible is true regardless of circumstances, emotions, or cultural trends" has helped bring God's love for me into clear focus. God loves me whether I feel it or not. He loves me whether I measure up or not. I'm loved forever! Hugs help, too.
You know, not only does God want us to show His kind of love to our parents and our children, but . . . .especially to our spouse. Try telling your spouse and others this week that you love them huggingly so and that they . . . .
Don't have to improve;
Don't have to become better;
Don't have to measure up;
Don't have to earn favor through performance;
That you love them just the way they are. No matter what, you will never waiver in your love for them. We especially need to hear that during deployment!
Will you try this? Jesus commands us to: "Love one another. As I have loved you, so you must love one another." (John 13;34) He means choose right now to pursue the people in your life, rapidly forgive them as Jesus forgave you, and issue kind, supportive, affirming words with countenance and loyalty.
Yes, there may need to be "tough love" required in some difficult situations. However, in general, we are totally without excuse when we "write off" a family member, hold grudges, and seek to punish them by slander, insult, rejection, or by giving them the silent treatment!
Let me challenge you to pursue and issue the same grace-filled, forgiving, kind love that Jesus shows you to your spouse, children, parents, in-laws and others.
"Never will I leave you, never will I forsake you."—Hebrews 13;5
For more writing by Jim Grunseth, go to http://marriageanchors.com
Questions to Share:
1. Were you loved unconditionally as a child? If so, you know how good it can be. If not, you know how much you need that.
2. You may need to start by extending unconditional love to someone—perhaps your spouse or family. Pray for God to strengthen you to be able to do that.
Excellent or Praiseworthy is posted on Monday and Thursday nights.
The LORD is faithful to all His promises and loving toward all He has made. —  Psalm 145:13b
Is discouragement ruling your thoughts? Have you despaired at the trials of this deployment?
One of my favorite contemporary Bible teachers, Dr. Stephen Davey, uses the popular old Puritan classic, Pilgrim's Progress, in his sermon on Job, Chapter Seven, to expound on keys which can unlock a "dungeon of despair". He gives timeless advice, worth sharing with you who are bearing the brunt of this Global War on Terror.
Pastor Davey reminds us that the author of Pilgrim's Progress, John Bunyan, wrote this famous allegory from his dark, dank English jail cell in the late 1600s. Having been jailed more than once for refusing to align his church with the Church of England, Bunyan became familiar with discouragement and despair.
Pastor Davey goes on to explain that during an episode of Bunyan's book, the young disciple named Christian, who has left his home in the City of Destruction to travel to the Celestial City (heaven), is captured along with his companion, Hopeful, by the Giant Despair. They are thrown into a dungeon in Doubting Castle by the merciless Giant. But Christian and Hopeful refuse to give up, and eventually unlock their cell door and outer gate by using a key called Promise. That key had been given to Christian earlier as a gift to open a door when needed. So without force, the pair escapes and is free from Doubting Castle and the Giant Despair.
With this as a backdrop to his sermon, Pastor Davey goes on to list six "keys of promise" which we can use to defeat the Giant Despair in our lives which might be threatening the spiritual freedom of our souls:
1. First, in seasons when you conclude God is not present—He is.
"I will never leave you nor forsake you." Hebrews 13:5b
2. Secondly, in times when you feel life is hopeless—it is not.
"For I know the plans I have for you," declares the LORD, "plans to prosper you and not to harm you, plans to give you hope and a future." Jeremiah 29:11
3. Thirdly, in afflictions when you believe God does not care—He does.
"Cast all your anxiety on Him, because He cares for you." I Peter 5:7
4. Fourthly, in situations when you are certain you know better than God—you do not.
"As for God, His way is perfect; the word of the LORD is flawless. He is a shield for all who take refuge in Him." Psalm 18:30
5. Fifthly, in despair when you believe God has not heard your cry—He has.
" . . . You who seek God, let your heart revive. For the Lord hears the needy and does not despise His who are prisoners." Psalm 69:32b-33
6. One more key, sixthly, in circumstances in which you do not feel loved—you are.
"For I am convinced that neither death, nor life, nor angels nor demons, neither the present nor the future, nor any powers, neither height nor depth, nor anything else in all creation, will be able to separate us from the love of God, which is in Christ Jesus our Lord." Romans 8:38-39
So often we can give in to discouraging thoughts, and can feel trapped as if in a dungeon, hopeless. The truth is as Christians we belong to a God who is ever-present in our lives; has a perfect plan for our lives; cares deeply for us; hears our every cry; and loves us enough to send His own Son to die for our sins. Those are promises—straight from Scripture, spoken by the Holy Spirit directly to our hearts.
Is it easy to forget that you have these promises from God? Sure. In Pilgrim's Progress, Christian almost forgot. It was only after much prayer with Hopeful in the dark prison that he exclaims, "What a fool I am . . . to lay here in a stinking dungeon, when I could just as easily walk at liberty!  In my coat, next to my heart, I have a Key called Promise. I'm persuaded it will open any lock in Doubting Castle." (p. 154)
Thankfully, Christian and Hopeful decide to post a warning to anyone who might come after them of the dangers found in Doubting Castle—the home of Giant Despair.
We, too, are warned (Psalm 19:11). And there are steps we can take away from doubt, away from despair. If you are struggling,
remind yourself of these six "keys" from Dr. Stephen Davey;
surround yourself with fellow Christians who can encourage you with the promises of Scripture;
spend time with the Lord often–reading your Bible and in prayer;
seek fellowship in a local church, or at your chapel;
develop a longing for the sacred—in music, in literature, in arts;
serve others;
pray for strength and courage—and the willingness to heed proper warnings.
If you are struggling with despair, remember that we serve a God of hope. Choose hope.
Work Cited:
The six "Keys" are from the sermon "Escaping the Dungeon of Giant Despair" preached by Dr. Stephen Davey on April 22, 2007. Pastor Davey's sermons are archived on his website WisdomForTheHeart.com
Bunyan, John. The Pilgrim's Progress in Modern English (Alachua, Florida: Bridge-Logos, 1998).
Questions to Share:
1. Share with your spouse a time when you experienced how one of God's promises quoted was true in your life.
2. Pray for each other to trust in God's promises for your future.
Excellent or Praiseworthy is posted on Monday and Thursday nights.
"There is no one holy like the LORD; there is no one besides You, there is no Rock like our God." — I Samuel 2:2
The occasion of Hannah's prayer in I Samuel 2:1-10 is the presentation of the child Samuel to Eli, the priest, and giving him in service to the LORD.
This follows Hannah's first prayer of desperation in I Samuel 1, when things were quite different. Unable to conceive and bitter by the treatment of Peninnah (the other wife), Hannah accompanied her husband, Elkanah, once a year to Shiloh where he made his annual sacrifice to the LORD. In Chapter 1 she explained to Eli that her weeping and prayers at that time were "out of my great anguish and grief" (I Samuel 1:16).
But her prayer in Chapter 2 is out of pure joy and delight. At long last she conceived and gave birth to a son, Samuel, whom she promised to bring to Eli once weaned. He grows up to be the prophet Samuel, the one who serves the nation of Israel and anoints King David.
It is in this second prayer that Hannah speaks of the difference God has made in her life. Specifically note three areas:
1. Knowing God makes a difference in her heart.
"My heart rejoices in the LORD . . ." (verse 1)
Remember that the heart, more than the seat of emotions, is the center of a person—thoughts, plans, will, decision. Her heart has been transformed and is now full of confident joy.
Knowing God makes a difference in our heart.
"You have filled my heart with greater joy. . ." Psalm 4:7
"I have set the LORD always before me. Because He is at my right hand, I will not be shaken. Therefore my heart is glad and my tongue rejoices; my body also will rest secure . . ." Psalm 16:8,9
". . .my heart trusts in Him, and I am helped." Psalm 28:7
"My heart is stirred by a noble theme. . ." Psalm 45:1
2. Knowing God makes a difference in her strength.
". . . in the LORD my horn (strength) is lifted high." (vs. 1)
This woman who previously prayed out of her great anxiety now speaks very differently. God has made a difference in her strength. Her strength is now found in the LORD.
Knowing God makes a difference in our strength.
"I love You, O LORD, my strength." Psalm 18:1
"The LORD is my strength and my shield; my heart trusts in Him, and I am helped." Psalm 28:7
"My flesh and my heart may fail, but God is the strength of my heart and my portion forever." Psalm 73:26
"The LORD is my strength and my song; He has become my salvation." Psalm 118:14
3. Knowing God makes a difference in how she approaches those who opposed her.
Thirdly Hannah says, "My mouth boasts over my enemies. . " Another translation reads, "I smile at my enemies." (vs. 1) Her very countenance is affected.
Knowing God makes a difference in our heart, our strength, and our countenance.
Why such triumph? At the end of verse 1 we see the reason—"for I delight in Your deliverance" or "Because I rejoice in Your salvation."
The word "salvation" is a simple reference to the fact that the LORD is the God who saves. In other words, Hannah praises God because of what He has done for her.
This is similar to the song of triumph in Exodus 15:1,2:
"I will sing to the LORD, for He has triumphed gloriously;
The horse and its rider He has thrown into the sea!
The LORD is my strength and my song,
And He has become my salvation;
He is my God, and I will praise Him,
My father's God, and I will exalt Him."
As Christians we know a God who looks on our affliction—who does answer our prayers—and a God who saves us.
Knowing that, how will He make a difference in your week? In your deployment?
"In You our fathers put their trust; they trusted and You delivered them. They cried to You and were saved; in You they trusted and were not disappointed." — Psalm 22:4,5
Questions to Share:  
1. How does knowing that God made a difference in Hannah's heart, strength, and countenance make a difference in your thinking?
2. I believe Hannah's prayer is a forerunner to Mary's song in Luke 2: "My soul praises the Lord and my spirit rejoices in God my Savior, for He has been mindful of the humble state of His servant." (vs. 46-48) How can you pray today for God's joy, strength, and salvation during the circumstances of your life, including this deployment?
Excellent or Praiseworthy is posted on Monday and Thursday nights.
See to it that no one comes short of the grace of God; that no root of bitterness springing up causes trouble, and by it many be defiled. – Hebrews 12:15
Bitterness is not something we set out to introduce into our relationships. But it is surprisingly easy to let it slip into the mix and take hold. Basically it starts like this: we have some sort of disagreement that we let drag on for way too long without resolution. And while this is happening we stew about it in our heads, always painting the other person as the villain and us as the virtuous victims. I'm willing to bet that most of us have experienced this to some degree.
Disagreements are a natural part of marriage. We should always try to resolve them gently and quickly, but it is also very human of us to let things go on for longer than they should. And if we leave it too long, the strong desire to blame the other person for all our problems can become a habit–and then a constant part of our relationship. This entrenched and hostile blaming is bitterness.
If we contrast bitterness with regret, it can help to better understand bitterness. Regret is where things are not going well and you blame yourself. This is not healthy either, and you should talk to God about it if you struggle with regret. Bitterness is where things are not going well and your blame is focused externally, on the people around you.
Here are some tests to see if you harbor bitterness towards your spouse:
When you can't find something of yours, is your first reaction to blame your spouse for misplacing it?
Do you resent your spouse for any success they have, feeling like they are undeserving?
If friends stop wanting to visit you, do you think it is all your spouses fault?
Did you read this to try to fix them because they are the cause of all your troubles?
If you answered yes to any of these questions or similar ones you can think of yourself, then you probably have a bitterness problem.
Bitterness is very bad – bad for the health of your relationship and bad for your physical health. Try Googling "bitterness" and "health" and see how many medical articles come up that say bitterness will hurt you. This is why God tells us not to let any roots of bitterness spring up. The Greek word translated as bitterness is "pikria", which is used figuratively as bitterness, but literally means poison. If you are harboring any bitterness in your relationship, you are poisoning yourself and your relationship.  It is often said that bitterness is "like drinking a poison and expecting the other person to die."
Because of the poisonous nature of bitterness, you can also damage your relationship by harboring bitterness against people other than your spouse. Your parents maybe, or a childhood bully or your boss or even a former pastor. If you consistently blame someone outside of your relationship for problems in your life, then don't think that the poison you are generating from that relationship won't leak into your marriage relationship. Generally you either end up: 1) convincing your spouse to buy into your bitterness and causing them to be in a constant state of anger or irritation; or 2) causing your spouse to become frustrated with you because you tend to drag a dark cloud of negativity around with you…
The good news is that there is an almost instant cure for bitterness, and it is very simple. Forgive anyone you are blaming for your problems, for all real or imagined offenses.
I didn't say it was easy, just that it was simple! The payoff in the improved health of your relationship and your physical well-being will be well worth the effort. Just remember that entrenched bitterness can take some time to dig out and dispose of, kind of like clearing a minefield. So don't give up even if the feelings of blame continue to well up from time to time. Ask the Holy Spirit for the strength to forgive and then douse those bitter feelings with forgiveness each time. Watch them shrivel up and eventually die, freeing you from the poison of bitterness.
You may have noticed that poisonous substances have labels that tell you to act immediately if someone ingests the poison.  Doing nothing about it is the worst thing you can do!  Now let's say you accidentally swallow a poison, but you are deployed for a few months . . . would you leave it in your system until you got back and then plan to deal with it?  That would be reckless to say the least.  It's the same with bitterness.  If you or your spouse are about to deploy, my advice is to make a special effort to deal with any bitterness that affects your relationship.  Leaving it unaddressed in your system for the time you are apart is going to allow the poison to eat at yourself and your marriage unchecked.
If you are, however, already deployed when you read this, you can start ridding yourself of bitterness right where you are through forgiving anyone you need to.  If bitterness has damaged your relationship prior to deploying, it will be trickier.  But you can also begin the healing process even with the distance between you.  This is possible by carefully and gently communicating your own journey of healing and inviting your spouse to journey with you.  I also think that dealing with bitterness as much as you can while you are apart is important if you want to greatly reduce the already significant challenges that many couples face when reintegrating after a deployment.
My last point – if you have read this and you realize that your spouse suffers from bitterness, don't give up on them no matter how grumpy that might make them. Redouble your efforts to love them and help coach them out of it by gently and carefully suggesting that forgiving others would be a healthy option!
Questions to Share:
1. If you feel able to accept the answer, ask your spouse if they think you struggle with bitterness. Just listen and be calm if the answer is not what you were hoping for.
2. Make a list of anyone who has offended you that you have not yet forgiven. What emotions came up when you made the list? Did that make you feel better or worse?
3. Starting with your spouse, if they are on the list, release them from any requirement to pay you back for their offence (real or imagined) and give up any right you feel you have to punish them. This is forgiveness. Repeat this every time those feelings of bitterness resurface!
Excellent or Praiseworthy is posted on Monday and Thursday nights.
Greater love has no one than this, that one lay down his life for his friends. — John 15:13
Bedford is a small town in rural Virginia. Nestled in the Blue Ridge foothills, it's a tranquil spot to visit and ponder the enormous price this community made in service to our country on June 6, 1944—D-Day. Upon this beautiful town fell proportionately the heaviest share of American losses on that day. For out of the 30 young men from Bedford who had joined the National Guard and were called into service in 1942, 22 were killed in the invasion.
For the "Bedford Boys" who landed on Normandy's Omaha Beach in 1944, their bonds meant just that—bonds. Bonds that were formed early and often. Their bonds began in the common church pews of Bedford and continued into the halls of the American Legion Posts. Their small town of 3,200 grew more than apple orchards and tobacco in their fields. They also grew the hearts and minds of those who served selflessly and quietly. From the nurturing of loving mothers . . . from the faith of their fathers and forefathers . . . came a generation that understood values, the sacrifice of hard work, freedom and faith.
To honor the memories of this town's young soldiers, and as a representative symbol of all of our nation's efforts during Operation Overlord, Congressional support for the creation of a National D-Day Memorial in Bedford culminated with the dedication of this beautiful spot on June 6, 2001.
At the Memorial Dedication Ceremony that day, President George W. Bush said these words to the many gathered:
"You have raised a fitting memorial to D-Day, and you have put it in just the right place—not on a battlefield of war, but in a small Virginia town, a place like so many others that were home to the men and women who helped liberate a continent.
Our presence here, 57 years removed from that event, gives testimony to how much was gained and how much was lost. What was gained that first day was a beach, and then a village, and then a country. And in time, all of Western Europe would be freed from fascism and its armies.
The achievement of Operation Overlord is nearly impossible to overstate, in its consequences for our own lives and the life of the world. Free societies in Europe can be traced to the first footprints on the first beach on June 6, 1944 . . . Fifty-three hundred ships and landing craft; 1,500 tanks; 12,000 airplanes. But in the end, it came down to this: scared and brave kids by the thousands who kept fighting, and kept climbing, and carried out General Eisenhower's order of the day—nothing short of complete victory. . . What was lost on D-Day we can never measure and never forget.
Bedford has a special place in our history. But there were neighborhoods like these all over America, from the smallest villages to the greatest cities. Somehow they all produced a generation of young men and women who, on a date certain, gathered and advanced as one, and changed the course of history. Whatever it is about American that has given us such citizens, it is the greatest quality we have, and may it never leave us. . ."
At the end of President Bush's speech, he said "The great enemies of that era have vanished. And it is one of history's remarkable turns that so many young men from the new world would cross the sea to help liberate the old. Beyond the peaceful beaches and quiet cemeteries lies a Europe whole and free—a continent of democratic governments and people more free and hopeful than ever before. This freedom and these hopes are what the heroes of D-Day fought and died for. And these, in the end, are the greatest monuments of all to the sacrifices made that day . . . God bless America. And God bless the World War II generation."
This history is all too real for one of our own—we have a Bedford native serving on board our ship. Growing up in Bedford gave our Chief Petty Officer a ton of strength and the value of a community's banding together to serve each other and protect their children.
He shared with us that some of his fondest memories came from simple things that you just don't get anywhere else. Values are taught, lessons are learned, and you are safe in your neighborhood because everyone truly knows everyone.
The "Bedford Boys' were known about, but not talked about often, he said. Perhaps no one outside of that generation understood how special the men and their families really were. Things changed when "The Boys" got national attention—the Memorial, a book, the President's visit . . . and then the local Army Reserve Unit was called up for Iraq. Stories that people hadn't talked about in a long time impacted our own shipmate, and he regards the "Bedford Boys" as representing the definition of service and sacrifice.
So on the anniversary of D-Day, we pause to thank you for your part in the fight for freedom that continues even to this day. Knowing freedom instills in us the desire to free others. And knowing the source of our freedoms grants us strength in the face of adversity—both for the "Bedford Boys" and for us here fighting today.
Questions to Share:
1. Is there someone in your family or home town who served in World War II that this chaplain's evening devotion brings to mind?  Spend a moment telling your spouse about them.
2. What do you think future generations will say about those who served in the Global War on Terror?
Excellent or Praiseworthy is posted on Monday and Thursday nights.
But a man who commits adultery lacks judgment; whoever does so destroys himself. — Proverbs 6:32
It seemed innocent enough. He was driving to military training in another state—and stopped for a cup of coffee. While in line waiting for the barista to complete his order, she struck up a conversation with him. One thing led to another, and they sat down to finish their coffees.
Turns out she was having some relationship problems with her ex . . . . . and he thought he could help. She gave him her phone number and they stayed in touch. He didn't tell his wife about the meeting—it all seemed innocent enough.
Again, one thing led to another . . . . and a year and a half later he and his wife are divorced, leaving three kids confused and hurting. He and the young woman at the coffee house are "dating"—an unlikely meeting now turned into a marriage disaster. Certainly there is a lot more to the story (there always is). But the details are only concentric circles around Satan's target of this young man's heart, and the ripple effect of the marital breakdown will continue for generations.
It's not a new story. In the Bible we read of King David's adulterous tryst with Bathsheba, a military leader's wife, and review a similar tragedy. In Chuck Swindoll's teaching on this familiar story of unrestrained lust, Pastor Swindoll cites the "steps downward": "1) seemingly innocent attraction; 2) curiosity (comparisons take place); 3) temptation (imagination); 4) fantasy (sin enters as dreams combine with imagination); 5) lust (restraints removed: ignoring personal standards & commitments, blindness to consequences, rationalizing the wrong, burning with excitement to proceed); 6) sin; 7) compulsion leading to addiction." (Insight for Living, May 20, 2011) James 1:14-16 states this clearly: "But each one is tempted when he is carried away and enticed by his own lust. Then when lust has conceived, it gives birth to sin; and when sin is accomplished, it brings forth death. Do not be deceived, my beloved brethren." God's judgment ensues.
Jim and Barbara Grunseth have similar words of explanation and warning in their book, Remember the Rowboats: Anchor your Marriage to Christ: "Marriage partners who fall into deep sin, or who file for divorce are pulled down the Devil's Ladder rung by rung (1st rung—The Devil isolates you; 2nd—He discourages you; 3rd—He deceives you; 4th—He destroys you). He (Satan) is a master at greasing the rungs. Help others to see this and to get off that ladder!" (p. 9)
Bob and Cheryl Moeller write in their "Marriage Minutes" that their most well-read article is entitled, "Why is it dangerously wrong to have a close friendship with someone of the opposite sex? Here are eight reasons":
1. If they are similar in age or potentially attractive to you, there is a problem.
2. Every love affair begins as a friendship, just as your marriage did.
3. As you spend time alone together (or even in a group), a deeper connection can develop.
4. You can learn to turn to them for emotional support (rather than your spouse).
5. The energy that should go to your spouse, now goes to your friendship with this other person.
6. Once the two of you share secrets, you've entered the danger zone.
7. Your emotional bond easily opens the door to a physical one.
8. Your heart is now divided in a way God never intended it to be.
If deployment has separated you and your spouse geographically . . . you need to be warned. What started out as an "innocent" conversation with someone of the opposite sex can lead down a path that you never intended to go down . . . . and down . . . . and down. The consequences are deadly. Be careful.
Make sure to guard your relationship with your spouse by avoiding intimate conversations with others, by breaking all connections that perhaps have already begun, by finding an accountability partner (another Christian of the same gender) who will help you to keep track of your thoughts and actions, and by developing your spiritual life with self-discipline so that the Holy Spirit will lead you with conviction and righteous purpose. Like Joseph in Genesis 39, you will know to run away from the lure of sexual temptation citing, "How then could I do such a wicked thing and sin against God?" (Genesis 39:9)
Don't be deceived. Be on guard at all times—your marriage, and future, is at stake.
Work Cited:
http://www.insightforliving.com/3/Archiveplayer.asp?id=1012298&date=5/20/2011
Grunseth, Jim & Barbara, Remember the Rowboats: Anchor Your Marriage to Christ (Minneapolis: River City Press, Inc., 2008)
Bob & Cheryl Moeller, Marriage Minutes, May 13, 2011  www.forkeepsministries.com
Questions to Share:
1. Can you think of a couple who experienced extra-marital temptations and succumbed to the devil's plans for destruction? What mistakes did they make?
2. Can you think of a couple who resisted extra-marital temptation? What steps did they take to avoid potential destruction?
Excellent or Praiseworthy is posted on Monday and Thursday nights.
"This same Jesus, who has been taken from you into heaven, will come back in the same way you have seen Him go into heaven." — Acts 1:11
"They will see the Son of Man coming on the clouds of the sky, with power and great glory. And He will send His angels with a loud trumpet call, and they will gather His elect from the four winds, from one end of the heavens to the other." — Matthew 24:30,31
It's hard to leave my grandchildren after a wonderful time together. The 4-month-old is too little to know, but the 4-year-old gets really sad when it comes time for me to leave.
So in saying my "good-byes" I typically start with taking time with her to recall all of the fun things we did together during our visit—going to the park, eating a special dinner together, playing with baby sister, reading books, singing songs, etc. I don't want her to forget those memorable moments we had during our precious time.
Next I give her a "charge"—I ask her to take good care of her mommy and daddy. . . to be helpful. . . to be sweet to her baby sister. I tell her how proud I am of her, how much I love her, and how I know she's going to do a good job of all the things I ask of her while we are apart.
Lastly, before I leave, I tell her when I'm coming back again—and how wonderful that will be. And we'll have so much fun being together again and doing fun things as a family.
Sound familiar? Perhaps before deployment you spent sweet time with each other going over all the good memories of wonderful times together. Then you gave a "charge"—to be careful, remember that they are loved, know that you're grateful for them, and promise to stay in communication whenever possible. And of course you made plans for your reunion and spoke of how wonderful it'll be to be back together again.
Isn't this similar to what we experience in our Christian life as we wait and prepare for Christ to return? It's an imperfect analogy. . . perhaps a simple illustration of a greater truth?
Didn't Jesus tell us to remember?
"In the same way, after supper He took the cup, saying, 'This cup is the new covenant in My blood; do this, whenever you drink it, in remembrance of me.' For whenever you eat this bread and drink this cup, you proclaim the Lord's death until He comes" (I Corinthians 11:25,26).
Secondly, didn't Jesus give us a "charge"—a "commission"?
"Therefore go and make disciples of all nations, baptizing them in the name of the Father and of the Son and of the Holy Spirit, and teaching them to obey everything I have commanded you. And surely I will be with you always, to the very end of the age" (Matthew 28:19,20).
And lastly, doesn't the Bible tell us to look ahead to the good days we will have together when Jesus returns?
"Do not let your hearts be troubled. Trust in God; trust also in me. In my Father's house are many rooms; if it were not so, I would have told you. I am going there to prepare a place for you. And if I go and prepare a place for you, I will come back and take you to be with me that you also may be where I am" (John 14:1-3).
"But in keeping with His promise we are looking forward to a new heaven and a new earth, the home of righteousness" (2 Peter 3:13)
"After that, we who are still alive and are left will be caught up with them in the clouds to meet the Lord in the air. And so we will be with the Lord forever. Therefore encourage each other with these words" (I Thessalonians 4:17,18).
In both cases—our earthly farewells, and the period of waiting between Christ's first and second coming—we see a time of remembering, a call to action, and anticipation of time together again. But this is where the similarity ends. After all, we are imperfect, our motives are suspect, our plans are unpredictable and we are not in control of our future. We can reminisce about the good times we experience together as friends and family, but we will often forget. We can declare promises to make good use of our time apart, but we often fall short. And we can talk and dream about our future together, but who knows whether or not that will really happen. Right?
Not so with God. He never forgets. And He never breaks His promises.
"He is the LORD our God; His judgments are in all the earth. He remembers His covenant forever, the word He commanded, for a thousand generations" (I Chronicles 16:15).
"I will remember my covenant between me and you and all living creatures of every kind. Never again will the waters become a flood to destroy all life. Whenever the rainbow appears in the clouds, I will see it and remember the everlasting covenant between God and all living creatures of every kind on the earth" (Genesis 9:15,16).
And, as believers in Christ, our future together is a sure thing. He is coming!
"Now the dwelling of God is with men, and He will live with them. They will be His people, and God Himself will be with them and be their God. He will wipe every tear from their eyes. There will be no more death or mourning or crying or pain, for the old order of things has passed away" (Revelation 21:3,4).
"Behold, I am coming soon!" (Revelation 22:12)
And as the Apostle Paul tells us in I Thessalonians 4:18, "Therefore encourage each other with these words."
He is coming again. . .May He find us faithful to be about His work until that day.
Questions to Share:
1. Why is it helpful to remember good times together before you separate during deployment? In what ways is it helpful to remember God's faithfulness during tough times?
2. Why is it helpful to plan for special times together when you are again reunited? In what ways is it helpful to think about the glories of heaven even while we are here on earth?
Excellent or Praiseworthy is posted on Monday and Thursday nights.
The LORD looks from heaven; He sees all the sons of men; From His dwelling place He looks out on all the inhabitants of the earth, He who fashions the hearts of them all, He who understands all their works. — Psalm 33:13-15
The inscription on the Tomb of the Unknowns in Arlington National Cemetery reads:
"Here rests in honored glory an American soldier known but to God."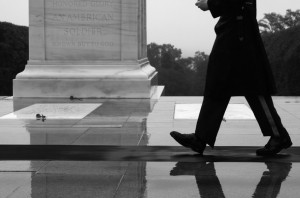 The soldiers from the 3d U.S. Infantry Regiment who guard it are held to the highest of standards—they learn and live Line 6 of The Sentinel's Creed.
They walk the plaza 24 hours a day, 365 days a year—no matter the weather. They change guard every 30 minutes to two hours, depending on the time of day and season of the year.
Being chosen to be a Tomb guard is a rare honor—and requires unfaltering attention to detail. Every step is measured . . . every movement set to a cadence that is ingrained in their minds as well as their hearts.
On this Memorial Day, we honor many who died in service to our country . . . and thank the guards charged with keeping watch over the unknowns who represent the utmost bravery of our military service members.
The Sentinel's Creed
My dedication to this sacred duty
is total and whole-hearted.
In the responsibility bestowed on me
never will I falter.
And with dignity and perseverance
my standard will remain perfection.
Through the years of diligence and praise
and the discomfort of the elements,
I will walk my tour in humble reverence
to the best of my ability.
It is he who commands the respect I protect,
his bravery that made us so proud.
Surrounded by well meaning crowds by day,
alone in the thoughtful peace of night,
this soldier will in honored glory rest
under my eternal vigilance.
– Simon 1971
In studying the guards and their noble calling, I was reminded of the eternal vigilance of God—our eternal guardian. Psalm 121 declares, "I lift up my eyes to the hills—where does my help come from? My help comes from the LORD, the Maker of heaven and earth. He will not let your foot slip—he who watches over you will not slumber; indeed, he who watches over Israel will neither slumber nor sleep. The LORD watches over you—the LORD is your shade at your right hand; the sun will not harm you by day, nor the moon by night. The LORD will keep you from all harm—he will watch over your life; the LORD will watch over your coming and going both now and forevermore."
That is eternal vigilance.
Questions to Share:
1. Pray together for the friends and families of those who gave the ultimate sacrifice while on military duty for our dear country—that the Lord would watch over them and comfort them.
2. Make a list of all of the places you have been stationed. Then read Psalm 139:7-10: "Where can I go from your Spirit? Where can I flee from your presence? If I go up to the heavens, you are there; if I make my bed in the depths, you are there. If I rise on the wings of the dawn, if I settle on the far side of the sea, even there your hand will guide me, your right hand will hold me fast." What do these verses say about where God has been when you were at a duty station?
Excellent or Praiseworthy is posted on Monday and Thursday nights.
Where can I go from Your Spirit? Where can I flee from Your presence? If I go up to the heavens, You are there; if I make my bed in the depths, You are there. If I rise on the wings of the dawn, if I settle on the far side of the sea, even there Your hand will guide me, Your right hand will hold me fast. — Psalm 139:7-10
For me, the story of "Taps" is a local story because I live close to where it was composed. I could easily drive to Berkeley Plantation in Virginia, where there is a monument marking the "birthplace" of Taps. Tour guides will tell you that the haunting 24-note bugle call is actually a revision of a French call to signal to the troops the end of the day and "lights out." The story goes like this:
"In of July of 1862, in the aftermath of the bloody Seven Days battles (Peninsular campaign), hard on the loss of 600 men and wounded himself, Union General Daniel Adams Butterfield called the brigade bugler to his tent. . . .Oliver Wilcox Norton, the bugler, tells the story, '. . . showing me some notes on a staff written in pencil on the back of an envelope (some accounts say that Butterfield hummed it to Norton), (he) asked me to sound them on my bugle. I did this several times, playing the music as written. He changed it somewhat, lengthening some notes and shortening others, but retaining the melody as he first gave it to me. After getting it to his satisfaction, he directed me to sound that call for Taps thereafter in place of the regulation call. The music was beautiful on that still summer night and was heard far beyond the limits of our Brigade. The next day I was visited by several buglers from neighboring Brigades, asking for copies of the music which I gladly furnished. The call was gradually taken up through the Army of the Potomac.'" From "History of Taps."
Not long after Taps was composed, it was used for the first time at a military funeral. Union Captain John Tidball, commander of an artillery battery, had it played for the burial of a cannoneer killed in action (during the Peninsular Campaign) because the traditional three rifle volleys fired over the grave might have alerted the enemy nearby. This event is commemorated in a stained glass window at The Chapel of the Centurion, also nearby at Ft. Monroe.
Ten months after it was written, Taps was played at the funeral of Confederate General "Stonewall" Jackson. By 1874 Taps was officially recognized by the U.S. Army and was required to be played at military funerals by 1891.
Taps is played throughout our nation on Memorial Day as it is traditionally sounded at funerals, wreath-laying, and memorial services. In order to honor those who died in service to our country, giving the ultimate sacrifice—Taps is played in remembrance of all of those who have insured our precious freedom. While we are hearing the strains perhaps you can also remember the words which are associated with the bugle call. While these lyrics are not "official," the first verse is commonly sung with these words:
"Day is done, gone the sun,
From the hills, from the lake,
From the sky.
All is well, safely rest,
God is nigh."
God is nigh. The definition of "nigh" is "near in space, time, or relation." The American College Dictionary, 1955.
God is near:
You are near, O LORD, and all Your commandments are truth. — Psalm 119:151
The LORD is near to the brokenhearted and saves those who are crushed in spirit. — Psalm 34:18
But as for me, the nearness of God is my good; I have made the Lord GOD my refuge, that I may tell of all Your works. — Psalm 73:28
The LORD is near to all who call upon Him, to all who call upon Him in truth. — Psalm 145:18
Let your gentle spirit be known to all men. The Lord is near. — Philippians 4:5
The last verse of Taps, traditionally, is similar to the first verse:
"Thanks and praise, For our days,
'Neath the sun, 'Neath the stars,
'Neath the sky,
As we go, This we know,
God is nigh."
Is there any doubt in your mind and heart that God is near, during deployment? Even during the lowly conditions of war in 1862, God was there. Jari A. Villanueva is a bugler and bugle historian, considered the country's foremost authority on Taps. He wrote: ".. . it is hard to believe that Butterfield could have composed anything that July in the aftermath of the Seven Days battles which saw the Union Army of the Potomac mangled by Lee's Army of Northern Virgina. Over twenty six thousand casualties were suffered on both sides. . . . In the midst of the heat, humidity, mud, mosquitoes, dysentery, typhoid and general wretchedness of camp life in that early July, it is hard to imagine being able to write anything." From "24 Notes that Tap Deep Emotions".
But write it (or revise it) he did, and Butterfield's desire to honor his soldiers is forever the way that we seek to honor our brave soldiers.
The Scripture from Psalm 139 is a reminder of what we declare in the singing of Taps. With a lump in our throats and perhaps tears in our eyes, we remember this Memorial Day, with grateful hearts, those courageous patriots who have gone before us in battle. . . . and we remember that our God is faithful . . . . and near.
Questions to Share:
1. What thoughts come to your mind when you hear Taps?
2. On this Memorial Day, is there someone who served our country whom you could tell your spouse about as a way of honoring them?
Note:  Additional information on Taps is available at www.tapsbugler.com
« go back
—
keep looking »