Excellent or Praiseworthy is posted on Monday and Thursday nights.
"Then you will call upon Me and come and pray to Me, and I will listen to you. You will seek Me and find Me when you seek Me with all your heart." —Jeremiah 29:12,13
On the battlefields of the Civil War, one hundred and fifty-one years ago, the troops of the Army of Northern Virginia (Confederacy) experienced an event called for by their president, Jefferson Davis. On August 21, 1863, they observed a "day of prayer and fasting." General Robert E. Lee issued this order in response to President Davis' request:
"The President of the Confederate States has, in the name of the people, appointed the 21st day of August as a day of fasting, humiliation and prayer. A strict observance of the day is enjoined upon the officers and soldiers of this army. All military duties, except such as are absolutely necessary, will be suspended. . . . Soldiers! We have sinned against Almighty God. We have forgotten His signal mercies, and have cultivated a revengeful, haughty, and boastful spirit. We have not remembered that the defenders of a just cause should be pure in His eyes; that 'our times are in His hands;' and we have relied too much on our own arms for the achievement of our independence. God is our only refuge and our strength. Let us humble ourselves before Him. Let us confess our many sins, and beseech Him to give us a higher courage, a purer patriotism, and more determined will; that He will convert the hearts of our enemies,; that He will hasten the time when war, with its sorrows and sufferings, shall cease, and that He will give us a name and place among the nations of the earth." Christ in the Camp, p. 56
Revivals were becoming more common in the camps of the Confederacy, so much so that when the War ended and the soldiers headed home (some with new-found faith), their spiritual fervency was instrumental in creating what we now call "the Bible Belt." Christ in the Camp is a beautiful compilation of letters and reports from the field—chronicling what God brought about between chaplains, missionaries, and pastors and the soldiers and families whom they served during the Civil War. First published in 1887 by Chaplain J. William Jones, the book is over six hundred pages of actual accounts and correspondence which can only reinforce what was true then and now—our only hope is in Christ Jesus.
The introduction to the book is written by Chaplain J. C. Granberry, and includes this description of the military soldier:
"The martial imagery of which Paul (in the New Testament) was fond shows an analogy between the life of the soldier and the life of the saint. The centurion of Capernaum and the centurion of Cesarea were patterns of faith and of a devout spirit. The soldier's habits of unquestioning obedience to orders, of trust in superior officers, and of freedom from anxiety about things for which he is not responsible, fit into the life of faith. . . . . I have nowhere witnessed more complete, symmetrical and beautiful examples of Christian character than in the army. . . Not recklessly, but with thoughtful and prayerful solemnity, they went into fierce battle; yet the peace of God which passeth all understanding kept their hearts against alarm. . . . To God be all the glory!" (p. 15-16)
The Northern counterpart to Christ in the Camp is the fascinating book entitled From the Flag to the Cross, published in 1872. Story after story of soldiers making decisions to follow Christ—both before battle and after battle, sometimes in the hospital and sometimes in prison—fills the pages of this book by Chaplain A. S. Billingsley. The book also tells of the contribution that the U.S. Christian Commission made to the spiritual life of the U.S. Army: "The efficiency and success of the Commission were wonderful. Beginning with eighteen members in 1861, before the close of the war it had engaged nearly five thousand delegates laboring for the temporal and spiritual wants of the men. Talking Christ to them, preaching to and praying for and with them, was the principal business of a great part of the delegates. In all, they preached to them over 58,000 sermons, and held with them over 77,000 prayer-meetings, and gave them 1,466,748 Bibles and parts of Bibles, 18,000,000 religious newspapers, 1,370,000 hymn-books, over 8,000,000 knapsack-books, and 39,000,000 pages of tracts, and wrote for them 92,000 letters. The total value of the whole amount contributed in four years was $6,291,107.68. With zealous hearts these noble brethren 'went about doing good,' relieving and comforting the officer, soldier, and sailor wherever they found them.'" (p. 333) Among the members of the U.S. Christian Commission, who served side-by-side with chaplains, was pastor and evangelist Dwight L. Moody.
I particularly enjoy the vignettes of interviews held by chaplains with soldiers in From the Flag to the Cross. One such visit between a hospital chaplain and a soldier yielded this exchange:
"While it has often been said by the thoughtless and careless, 'We can't live out religion in the army;' and although it is often said by a certain class of professors, 'the army is a hard place to be a Christian, and live it out,' yet at our first interview with James H. Finney, 1st N.Y. Engineers, we found him entertaining a very different view, and being fully conscious of the enjoyments and consolations of the Christian religion, he says, 'It would be hard to live in the army without it.' Opposed, as we are, by the combined powers of the world, the flesh, and the devil, life at best is a warfare from the cradle to the grave. And although the temptations are greater and the restraints weaker some places than others, yet, since God's grace is sufficient at all times and under all circumstances to guide, guard, and sustain the believer, he can, if he will, at all times walk worthy of his vocation, and so live and act that his life will be an embodiment of the great doctrines of the cross of Christ. And it is impugning the wisdom, mercy, powers, and grace of God to say that he cannot." (p. 139-140)
So we have begun with a call to prayer on the battlefield and ended with a call to faithfulness from a wounded soldier to his chaplain. Perhaps some things in military life have changed, but the charge given above from 2 Corinthians 12:9 will never change: "But He (the Lord) said to me (the apostle Paul), 'My grace is sufficient for you, for My power is made perfect in weakness.' Therefore I will boast all the more gladly about my weaknesses, so that Christ's power may rest on me. That is why, for Christ's sake, I delight in weaknesses, in insults, in hardships, in persecutions, in difficulties. For when I am weak, then I am strong."
Are you feeling weak today? Remember that "Jesus Christ is the same yesterday and today and forever." ( Hebrews 13:8)  He is the same Christ who ministered to soldiers in the Civil War, and He can minister to you today. Call to Him—He will answer. He loves you!
Work Cited:
Jones, J. William, Christ in the Camp (Harrisonburg: Sprinkle Publications, 1986. Originally published by B. F. Johnson & Co. in 1887)
Billingsley, Amos S. From the Flag to the Cross (Birmingham: Solid Ground Christian Books, 2006. Originally published by New World Publishing Co. of Philadelphia in 1872)
Questions to Share:
1. Chaplain Granberry refers to Philippians 4:7. Look that up in a Bible, and then read verses 8 and 9 which follow. How does Paul say that the God of peace can be with you?
2. In what ways does studying what was demanded of soldiers in the past inspire you to fulfill your mission today?
Excellent or Praiseworthy is posted on Monday and Thursday nights.
Be joyful in hope, patient in affliction, faithful in prayer. — Romans 12:12
We gather with military couples every Saturday night for dinner and Bible study.  And at the end of our meeting time we take prayer requests—and then pray.
But on this particular Saturday night, a certain prayer request brought some deep discussion.
One of our young military men voiced discouragement over the atmosphere in his workplace on board ship. There was crudeness—to put it mildly. His desire was to be "light in a dark place".  But, in this current culture, what does that really mean for a Christian serving in today's military?
Of course we all agreed to pray for him—for strength and courage in the power of the Holy Spirit to demonstrate what is right and good. But we also discussed some other ideas which would be an encouragement to this sailor and to his shipmates. Perhaps you could agree with these points—and let us know others.
1) Pray. Pray, not only for your own strength, but for those who are careless in their conversation and actions. Pray for the Holy Spirit to soften their hearts to consider different behavior—and, ultimately, to know the peace of Jesus Christ.
"And pray in the Spirit on all occasions with all kinds of prayers and requests. With this in mind, be alert and always keep on praying for all the saints" (Ephesians 6:18).
2) Look for ways to bless the others in your workplace. Perhaps a word of encouragement. Perhaps a helping hand. We reminded our friend that "hurt people hurt people"—and we agreed that compassion for others was not always easy.
"Bless those who persecute you; bless and do not curse . . . Do not repay anyone evil for evil. Be careful to do what is right in the eyes of everybody" (Romans 12:14,17).
3) Watch your words. Unfortunately it's common practice these days to speak disrespectfully of your spouse, so we shared how our friend could—in contrast—say kind words about his marriage and his wife. It is also common to complain and grumble about the work and superiors—so the opportunity was there for him to speak positively . . . or at least not to speak negatively and continue the bashing (and sometimes cursing).
"My dear brothers, take note of this: Everyone should be quick to listen, slow to speak and slow to become angry, for man's anger does not bring about the righteous life that God desires" (James 1:19,20).
"Do everything without complaining or arguing, so that you may become blameless and pure, children of God without fault in a crooked and depraved generation, in which you shine like stars in the universe as you hold out the word of life—" (Philippians 2:14-16).
"Marriage should be honored by all, and the marriage bed kept pure, for God will judge the adulterer and all the sexually immoral" (Hebrews 13:4).
"Let your conversation be always full of grace, seasoned with salt, so that you may know how to answer everyone" (Colossians 4:6).
4) Excel in your work. Our friend did not really need to be reminded of this—he does exceptional work. But others are watching and are challenged by commitment to a job well done. Integrity is front and center on display when a military member is trained well and desires to perform with excellence in his work environment. And being light in a dark place can start with a pleasant countenance, for a smile at an appropriate time conveys more about contentment in your heart than about a situation.
"Whatever you do, work at it with all your heart, as working for the Lord, not for me, since you know that you will receive an inheritance from the Lord as a reward. It is the Lord Christ you are serving" (Colossians 3:23,24).
The definition of integrity goes beyond just being honest. It also speaks to "wholeness" and "soundness". A Christian of integrity lives what he or she believes—and they become light in a dark place.
It is Jesus Christ we want to put on display in our lives—not ourselves. It is His light we want to shine. So do not underestimate your Christian influence in a work environment. In the end, we can point to Jesus' words from the Sermon on the Mount, "You are the light of the world. A city on a hill cannot be hidden. Neither do people light a lamp and put it under a bowl. Instead they put it on its stand, and it gives light to everyone in the house. In the same way, let your light shine before men, that they may see your good deeds and praise your Father in heaven" (Matthew 5:14-16).
Questions to Share:
1. When you have worked in a particularly difficult environment, what encouragement gave you hope?
2. Pray for those, perhaps yourself, who are currently serving under difficult conditions . . . to have strength to be the light of Christ in a dark place.
Excellent or Praiseworthy is posted on Monday and Thursday nights.
And we pray this in order that you may live a life worthy of the Lord and may please him in every way: bearing fruit in every good work, growing in the knowledge of God, being strengthened with all power according to his glorious might so that you may have great endurance and patience, and joyfully giving thanks to the Father, who has qualified you to share in the inheritance of the saints in the kingdom of light. For he has rescued us from the dominion of darkness and brought us into the kingdom of the Son he loves, in whom we have redemption, the forgiveness of sins. — Colossians 1:10-14
Last year, at The Cove, we had the privilege of attending a Military Marriage Seminar with Pastor Tommy Nelson from Denton Bible Church in Texas. You might have heard of this great man of God—he is the one who has taught lessons from the Song of Solomon to many young people (and us older folks, too!).
When the weekend together was drawing to a close, Pastor Nelson ended with ten admonitions to the 125 military couples gathered. The points were, in part, a summary of the seminar, but also a strong closing challenge for all of us.
Here are the ten points from Tommy Nelson, and our choice of Bible verses to accompany his teaching:
1. "Go to the Bible every day for a time of study and meditation."
Be diligent to present yourself approved to God as a workman who does not need to be ashamed, accurately handling the word of truth. 2 Timothy 2:15
2. "Keep a notebook of your daily prayers during your time with the Lord."
And pray in the Spirit on all occasions with all kinds of prayers and requests. With this in mind, be alert and always keep on praying for all the saints. Ephesians 6:18
3. "Find a God-honoring church."
Let us not give up meeting together, as some are in the habit of doing, but let us encourage one another—and all the more as you see the Day approaching. Hebrews 10:25
4. "Honor God with your money—right off the top of your income. Support the work of Christ's church."
Jesus said, "Do not store up for yourselves treasures on earth, where moth and rust destroy, and where thieves break in and steal. But store up for yourselves treasures in heaven, where moth and rust do not destroy, and where thieves do not break in and steal. For where your treasure is, there your heart will be also. Matthew 6:19-21
5. "Keep Christian standards."
Whatever happens, conduct yourselves in a manner worthy of the gospel of Christ. Philippians 1:27a
6. "Grow in your Christian walk—let God guard and control your heart."
Therefore, dear friends, since you already know this, be on your guard so that you may not be carried away by the error of lawless men and fall from your secure position. But grow in the grace and knowledge of our Lord and Savior Jesus Christ. To him be glory both now and forever!  Amen. 2 Peter 3:17,18
7. "Share your faith."
But in your hearts set apart Christ as Lord. Always be prepared to give an answer to everyone who asks you to give the reason for the hope that you have. 1 Peter 3:15
8. "Dream of what God can do with your life. Let God take your life and use it."
Delight yourself in the LORD and he will give you the desires of your heart. Commit your way to the LORD; trust in him and he will do this: He will make your righteousness shine like the dawn, the justice of your cause like the noonday sun. Psalm 37:4-6
Whatever you do, work at it with all your heart, as working for the Lord, not for men, since you know that you will receive an inheritance from the Lord as a reward. It is the Lord Christ you are serving. Colossians 3:23,24
9. "Trust God. No matter what."
May the God of hope fill you with all joy and peace as you trust in him, so that you may overflow with hope by the power of the Holy Spirit. Romans 15:13
10. "Finish well."
However, I consider my life worth nothing to me, if only I may finish the race and complete the task the Lord Jesus has given me—the task of testifying to the gospel of God's grace. Acts 20:24
Questions to Share:
1. Which of these admonitions do you feel you are already accomplishing?
2. Which of these admonitions do you feel you need to work on?  What "next steps" could you take to grow in that area?
Excellent or Praiseworthy is posted on Monday and Thursday nights.
The Jesus declared, "I am the bread of life. He who comes to Me will never go hungry, and he who believes in Me will never be thirsty. . . . For my Father's will is that everyone who looks to the Son and believes in Him shall have eternal life, and will raise him up at the last day." —John 6:35, 40
On Monday evening, August 11th, we posted a devotion entitled The "Nothings." In it were stories of chaplain-led front-line prayers included in the book Battlefields and Blessings: Stories of Faith & Courage from Iraq & Afghanistan.
If the word "nothing" would lead us in Scripture to Jeremiah 32:17, "Ah, Sovereign LORD, You have made the heavens and the earth by Your great power and outstretched arm. Nothing is too hard for You," and Luke 1:37, "For nothing is impossible with God," . . . .then a search for the word "never," in this paradoxically positive context, would lead us to:
"I will never forget Your precepts, for by them You have renewed my life." — Psalm 119:92
"Jesus said to her, 'I am the resurrection and the life. He who believes in Me will live, even though he dies; and whoever lives and believes in Me will never die. Do you believe this?'" —John 11:25,26
"Love never fails." —1 Corinthians 13:8
And if we were to look for prayers with the word "never" in them—as was in "The 'Nothings'"—the most beautiful prayer I have found is in the collection of Puritan prayers entitled Valley of Vision:
"O LORD,
May I
-never fail to come to the knowledge of the truth,
-never rest in a system of doctrine, however scriptural, that does not bring or further salvation, or teach me to deny ungodliness and worldly lusts, or help me to live soberly, righteously, godly;
-never rely on my own convictions and resolutions, but be strong in thee and in thy might;
-never cease to find thy grace sufficient in all my duties, trials, and conflicts;
-never forget to repair to thee in all my spiritual distresses and outward troubles, in all the dissatisfactions experienced in creature comforts;
-never fail to retreat to him who is full of grace and truth, the friend that loveth at all times, who is touched with feelings of my infirmities, and can do exceeding abundantly for me;
-never confine my religion to extraordinary occasions, but acknowledge thee in all my ways;
-never limit my devotions to particular seasons but be in thy fear all the day long;
-never be godly only on the Sabbath or in thy house, but on every day abroad and at home;
-never make piety a dress but a habit, not only a habit but a nature, not only a nature but a life.
Do good to me by all thy dispensations, by all means of grace, by worship, prayers, praises,
And at last let me enter that world where is no temple, but only thy glory and the Lamb's." (p. 64)
Finally, during this time of deployment when it would be so easy to forget God's presence, please never forget the truth found in Deuteronomy 31:6: "Be strong and courageous. Do not be afraid or terrified because of them, for the LORD your God goes with you; He will never leave you nor forsake you."
Work Cited:
Bennett, Arthur, editor, The Valley of Vision (Carlisle: The Banner of Truth Trust, 1975)
Questions to Share:
1. When have you been most tempted to forget the presence, power, and provision of God in your life?
2. What do you believe is beyond God's ability to change, heal, provide, save, or redeem? Is there a verse from "The 'Nothings'" or "The 'Nevers'" which would say otherwise?
Excellent or Praiseworthy is posted on Monday and Thursday nights.
Ah, Sovereign LORD, You have made the heavens and the earth by Your great power and outstretched arm. Nothing is too hard for You. — Jeremiah 32:17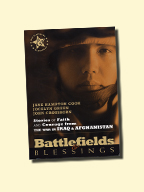 Battlefields & Blessings: Stories of Faith and Courage from the War in Iraq & Afghanistan is a publication of 365 devotions to encourage, enlighten and inspire. But I couldn't wait an entire year to read all of the entries—the stories were just too good. So I sat down and read the book cover-to-cover, never minding the 365-day menu.
Oftentimes the devotions are from one particular author but given in segments so that the entire story takes several days to complete. That's the case with ten submissions by the Multinational Force-Iraq Command Chaplain Colonel Mike Hoyt, U.S. Army. From June, 2006, until September, 2007, CH Colonel Hoyt coordinated all religious support for U.S. service members in Iraq.He was also the personal staff chaplain to the commanding general for the Multinational Forces-Iraq, and as such was called on to give a sixty-second message at the Battle Update Assessment (BUA) each week.
As I read what he included in Battlefields & Blessings about those opportunities, it seems that he would read a Scripture passage and then pray aloud with those attending the high-level meetings. CH Colonel Hoyt writes, "We got many, many requests for the prayers and many compliments from other nations routinely asking for them. The couple of Sundays that the BUA prayer didn't happen, the commanding general was personally asked by other members of the staff and coalition, 'Where was the prayer today?' They looked forward to it." (p. 108)
Five of the powerful war-time prayers are included in this book. Here is one such prayer from July 2, 2006: "We thank You for the Mercy shown to us in delivering our forces through many missions. We appeal to Your loving Presence for those hurt by the thrust of evil. In this sad time of war, grant us a portion of Your strength of character and Spirit that we may not grow weary in well doing. Keep us humble in our successes, diligent in our duties, and bring forth the fruits of righteousness so that evil may be silenced and we may join the chorus of Your message—Joy to the world, and on earth, Peace to all men of goodwill with whom You are pleased. Amen."  (p. 105)
It was during my recent immersion in Battlefields & Blessings that I was also reading from the classic book by Elizabeth George, Loving God With All Your Mind. Mrs. George reminds us that:
Nothing will ever happen to you that God does not already know about (Psalm 139:1-4).
Nothing will ever happen to you that is a mistake (Psalm 139:4,16).
Nothing will ever happen that you cannot handle by God's power and grace (2 Corinthians 12:9-10).
Nothing will ever happen to you that will not eventually be used by God for some good purpose in your life (Romans 8:28).
Nothing will ever happen to you without God's presence (Matthew 28:20). (p. 52)
Later that same day I read the entry (BUA prayer of April 7, 2007) from Hoyt and connected it with "the nothings" which I had read from Scripture that morning:
"Thank You God we do not own the final solution. Even when we think we have all things carefully wrapped up in our plans and means, truly we are the ones shrouded in the mystery of life eternal under Your conditions. Nothing is final with You until You declare it so. Even at the consummation of the Age it is Your Holy and unstoppable purpose to make all things new.
"You make fresh Your mercies for us each day. You interfere upon our designs with a loving deliverance that remakes our hearts and redeems a soul even after we have long buried the idea of a second chance! Nothing unravels the weight of guilt and the sepulchers of excuses like Your Holy forgiveness. Nothing resurrects a new horizon to a lost vision like Your promise that all things are possible in faith. And nothing heals our wounded bodies, comrades, relationships like the bona fide example of a living God who makes death a by-word and suffering a benediction in the vocabulary of victory.
"Remind us of the strength of an unbreakable and immortal promise in You. Lead us in our worship to the rendezvous with your Almighty power. And bring to us this week those unexpected, unthought-of appearances from You that sets our hearts aflame with the joyful news nothing is final until it is complete in You. Amen." (p. 108-109)
The truth of God's word always connects—with our hearts and with our lives, whether on the battlefront or at home. Mike Hoyt knew that and proclaimed God's faithfulness in his prayers from Scripture to those in Iraq. . . ever reminding us that nothing (not even wartime deployment) can separate us from God's love (Romans 8:38,39).
Work Cited:
Cook, Jane Hampton, Jocelyn Green and John Croushorn, Battlefields & Blessings: Stories of Faith and Courage from the War in Iraq & Afghanistan (Chattanooga: God & Country Press, 2009).
George, Elizabeth, Loving God With All Your Mind (Eugene: Harvest House Publishers, 1994/2005).
Questions to Share:
Luke 1:37 states, "For nothing is impossible with God." Do you believe this? Can you give an example of a situation right now when seems to be impossible?
Pray for your eyes to be opened to how God could change that situation, or change you through it.
Excellent or Praiseworthy is posted on Monday and Thursday nights.
I can do everything through Him who gives me strength. —  Philippians 4:13
I learned a lot during this deployment. It changed me. Let me share:
1.        I learned that I am stronger than I think.
No military wife is ever ready for deployment. From what I hear from other wives none of us really feel that we are strong enough to go through a deployment. But at the end when we look back, we are shocked at how much we came through and how strong we really are.
That is how it's been with me. I look back and I think, "Wow, how did I do that?"  The answer?  I did it with God's help, and also by taking it one day at a time. There were a lot of days that I look back on when I felt I couldn't go on, but I didn't have a choice in the matter so I kept on going. Those are the days that I believe make a person stronger—when you realize you don't have a choice but to keep on going and so you do. And when you finally look back you realize how strong you really were, and how much of a stronger person you are now.
2.        I learned that trusting God is my only option.
It's sad that it had to come down to a deployment to make me realize this. So many times I try to do things on my own and I don't think about trusting God or having faith in Him to do what He needs to do. I wrote about trust the beginning of 2012 on my blog. I had picked the word "trust" as something to work on throughout the year. It's funny because when you actively ask God to help you learn how to trust, then He is definitely going to put things in your life to help you learn how to trust. And those things aren't always going to be what we think they are!
It was those times when I was at the end of my rope, when I felt like there just had to be something else I could do—that was when I heard God's soft and still quiet voice that said, "Just trust."  And that is what I learned:  at the end of it all and even at the beginning, our only option is to trust. Because if we don't trust Him for the little things, then how can we trust Him for the big things in our lives?
3.        I learned that letting others help me is necessary and that's ok.
If there is one thing I hear from military wives most, it's that they are afraid to let others help them during deployment. Either they are too proud to ask or they don't want others to think they are not strong enough to make it through the deployment on their own. For me it was a little of both.
Many events happened to our family during this past deployment over the span of 6 and a half months. It was pretty much impossible for me to get through a lot of it without asking for at least a little help. And that's ok. It's ok to ask for help. In fact I encourage you to do so if you are going through a deployment. Don't be afraid!  A lot of military spouses see each other as family, and wouldn't you want to ask your family for help if you needed it?  It took a wonderful woman at the beginning of this deployment forcing me to let her in my life and let her help to get me to see this. I am so glad I did.
4.        I learned that deployment can be a time for personal growth.
I feel like I learned so much about myself during this deployment. I feel like I grew as a person. I learned more about who I am, what I want, and a little about what makes me tick. If you are currently going through a deployment, let me encourage you to use this time to learn about yourself and to better yourself. See what things in your life you can work on improving before your spouse gets home. It will be amazing to see the results at the end of the deployment!
5.        I learned that deployment can make your marriage stronger.
At the beginning of this deployment I was absolutely terrified of what this might do to our marriage. Would we change?  Would our marriage change?  Would we even know each other at the end of all this?  Sure deployment is scary, and I think every deployment is different when it comes to your marriage. It depends on what place you are at in your marriage when the deployment takes place. It also depends on what you make it. Are you going to be an understanding wife?  Are you going to pray your way through?  Are you going to have a positive outlook even when you both may not feel like it or when you are both having a bad day?  Sure there will be times you are going to argue, or be short with one another, but, more than that, I found we were able to communicate our needs better.
We didn't have any real face-to-face conversations. We emailed. And when you email, you have a response time in-between. It gives each of you time to think through a response. It also gives you a chance to write down your thoughts and feelings without getting interrupted. At times I felt frustrated that the communication was slow. But there were so many other times when I was able to really communicate how I felt about something through email, which gave him time to think about it and then give me a response—instead of us interrupting each other or arguing about it. Deployment CAN make a marriage stronger. You just have to find a way to do it. Don't let it get you down. Find ways to encourage and strengthen each other.
And, by and through His grace, this deployment is over!
Questions to Share:
1. Make a list of things that God is teaching you through this deployment.
2. What do you believe God is teaching your spouse through this deployment?
Kathryn is a military wife who blogs on www.singingthroughtherain.net
Excellent or Praiseworthy is posted on Monday and Thursday nights.
All Scripture is God-breathed and is useful for teaching, rebuking, correcting and training in righteousness, so that the man of God may be thoroughly equipped for every good work. — 2 Timothy 3:16
I received an email from a friend today—deployed and with limited internet connectivity. She grabbed the cyber-opportunity to let me know how she was doing physically/mentally/spiritually and added: " . . . went last night to my first women's Bible study session here. It's a small group that just got started a few weeks ago and we don't have a formal study yet, but the fellowship will be invaluable."
I cheered! The fellowship of believers in a small group is absolutely invaluable—priceless! To know that there is a core gathering of like-minded souls who will listen, pray for her, encourage her and whom she can encourage, understand and extend grace, teach and counsel, and hold her accountable—well, it warmed my heart. She's living in 125 degree heat, but my heart was equally warmed by her news.
This was a good time for me to review some of the principles of small group study found in the classic The Ultimate Road Trip: A Guide to Leading Small Groups. Granted, we don't know who will be leading my friend's group, but the value of their gathering brings to mind that there are experiences on the battle front and on the home front which may cause a small group to have to be uniquely flexible (understatement).
So here are a few elements, just for reminders:
God never intended us to live the Christian life alone. . . God created us to use our strengths and abilities to build each other up. In small groups, different members of the body of Christ work together to encourage each other and build up the entire body of Christ. (p. 20)
People are God's ultimate concern. . . When God became man, He said His purpose was to "seek and save that which was lost" (Luke 19:10). He was talking about people. (p. 30)
All small group leaders need to be in the process of developing certain qualities: godly character, compassion, competence, and commitment. (p. 25)
On the Front (battle or home), the one who is the leader, or facilitator, of a small group may vary from week to week. Some weeks your group may be led to just share and pray. . . .other weeks you may have the opportunity to delve into Scripture for an extended time. Some weeks you may not even be able to meet, but you (somehow) want to stay "connected" and intentional about checking up on each other.
These four leadership qualities: godly character, compassion, competence, and commitment are spelled out in Scripture for us. None of us is perfect, nor is the leader required to be. But we are to learn and grow together. Stepping out in faith and spending time together learning about the Lord and growing in His grace is what this small group adventure is all about.
I. Godly Character—found in Colossians 3:1-17:
Since, then, you have been raised with Christ, set your hearts on things above, where Christ is seated at the right hand of God. Set your minds on things above, not on earthly things. For you died, and your life is now hidden with Christ in God. When Christ, who is your life, appears, then you also will appear with him in glory.
Put to death, therefore, whatever belongs to your earthly nature: sexual immorality, impurity, lust, evil desires and greed, which is idolatry. Because of these, the wrath of God is coming. You used to walk in these ways, in the life you once lived. But now you must rid yourselves of all such things as these: anger, rage, malice, slander, and filthy language from your lips. Do not lie to each other, since you have taken off your old self with its practices and have put on the new self, which is being renewed in knowledge in the image of its Creator. Here there is no Greek or Jew, circumcised or uncircumcised, barbarian, Scythian, slave or free, but Christ is all, and is in all.
Therefore, as God's chosen people, holy and dearly loved, clothe yourselves with compassion, kindness, humility, gentleness and patience. Bear with each other and forgive whatever grievances you may have against one another. Forgive as the Lord forgave you. And over all these virtues put on love, which binds them all together in perfect unity.
Let the peace of Christ rule in your hearts, since as members of one body you were called to peace. And be thankful. Let the word of Christ dwell in you richly as you teach and admonish one another with all wisdom, and as you sing psalms, hymns and spiritual songs with gratitude in your hearts to God. And whatever you do, whether in word or deed, do it all in the name of the Lord Jesus, giving thanks to God the Father through him.
The need to be in the Bible, to confess your sins, and to seek to honor God in and through your life are steps to growth in godly character.
II. Compassion—found in Matthew 9:35-38:
Jesus went through all the towns and villages, teaching in their synagogues, preaching the good news of the kingdom and healing every disease and sickness. When he saw the crowds, he had compassion on them, because they were harassed and helpless, like sheep without a shepherd. Then he said to his disciples, "The harvest is plentiful but the workers are few. Ask the Lord of the harvest, therefore, to send out workers into his harvest field."
Loving concern for those in your group will grow as you meet together and share needs, challenges, and victories.
III. Competence—found in 2 Corinthians 3:4-6:
Such confidence as this is ours through Christ before God. Not that we are competent to claim anything for ourselves, but our competence comes from God. He has made us competent as ministers of a new covenant—not of the letter but of the Spirit; for the letter kills, but the Spirit gives life.
Humility and faithfulness are two qualities which group leaders and members appreciate in each other. As you depend on the Lord, He will develop your abilities.
IV. Commitment—found in I Corinthians 15:58:
Therefore, my dear brothers, stand firm. Let nothing move you. Always give yourselves fully to the work of the Lord, because you know that your labor in the Lord is not in vain.
Trust in the Lord to grow your group spiritually in His ways and in His time.
"My brethren. . .let us plainly and freely tell one another what God has done for our souls. To this end you would do well, as others have done, to form yourselves into little companies of four or five each and meet once a week to tell each other what is in your hearts that you may pray for and comfort one another as need may require. None but they who have experienced it can tell the unspeakable advantage of such communion of souls. None, I think, that truly loves his own soul and his brethren as himself will be shy of opening his heart in order to have their advice, reproof, admonition and prayer as occasions require. A sincere person will esteem it one of the greatest blessings." (p. 5) from George Whitefield, 18th century evangelist in America
Work Cited:
Campus Crusade for Christ authors, The Ultimate Road Trip: A Guide to Leading Small Groups (Orlando: CruPress, Third Edition/2008).
Questions to Share:
1. Is there an opportunity for you to join a small group of Christians in prayer or Bible study during this deployment? If not, would you consider starting such a group?
2. How would you like to see God grow you spiritually during this deployment? (in trust? in prayer? in Scripture memory? in sharing your faith?)  How would being part of a small group help to make that happen?
Excellent or Praiseworthy is posted on Monday and Thursday nights.
Although I hope to come to you soon, I am writing you these instructions so that, if I am delayed, you will know how people ought to conduct themselves in God's household, which is the church of the living God, the pillar and foundation of the truth. Beyond all question, the mystery of godliness is great: He appeared in a body, was vindicated by the Spirit, was seen by angels, was preached among the nations, was believed on in the world, was taken up in glory. — I Timothy 3:14-16
Our beloved pastor preached this Sunday on the Church. I will share only a brief outline, followed by best practices which any church can apply in their own way to serve the military in their midst. But if you want to hear the entire sermon, click here.
The Apostle Paul gave Timothy encouragement and direction in how to lead his church, most likely in ancient Ephesus. The instruction is valid today, and worthy of examination.
A. From I Timothy 3:15a we Remember what the church is:
It is a family. Paul describes the church as the house, or household, of God, depending on the translation. Paul's metaphor here is not that of a building—but of a family. Believers are members of a unique and special family, and this same truth is emphasized in Ephesians 2:19: "So then you are no longer strangers and aliens, but you are fellow citizens with the saints, and are of God's household." Also in Galatians 6:10 we read, "Therefore as we have opportunity, let us do good to all, especially to those who are of the household of faith."
It is the assembly of the living God. It is God's church, His family. In his letter to the Ephesians, Paul wrote that the church is "God's own possession, to the praise of His glory." (Ephesians 1:14). Because God dwells in us, when we come together we come as "the church of the living God." "And in Him you too are being built up together to become a dwelling in which God lives by His Spirit." (Ephesians 2:22)
B. Pastor John's second point is that in I Timothy 3:15b weRecognizewhat the church does:
The church is the defender of truth. In other words it guards and protects the precious truths of God's word. The church has the sacred stewardship of the Scriptures. It is the church and the church alone which has been tasked with providing the solid bedrock of truth as found in God's word.
The church is light shining in darkness. Every church should stand against the prevailing tide of a sinful culture.
The church is stability to the individual believer. We are in accountable relationships, for the good of each other. There should be within the body of Christ a willingness to be held accountable and a willingness to hold others accountable.
The church is the avenue by which we serve and encourage one another. In Hebrews 10:24 we read: "And let us consider one another in order to stir up love and good works."
The church is the agent by which the Great Commission is carried out. Paul writes in I Thessalonians 1:8: "For from you the word of the Lord has sounded forth, not only in Macedonia and Achaia, but also in every place. Your faith toward God has gone out . . . "
C. His last sermon point was: From I Timothy 3:16 we Recommit to Whom the church belongs:
After explaining what the church is and does, Paul goes into a praise chorus focused upon the person of Jesus. Why? The more you focus upon Jesus—the more you love Jesus—the more you will love the church and be committed to it. The church will be effective and productive and healthy and useful when glorifying, exalting, and lifting up Christ remains the central theme of all that we do.
The church is the family of God—the assembly of the living God. The church is the defender of truth—the light shining in darkness—the place of accountability and encouragement—the place to serve—and place that helps us to go on. And above all else—the church is led by Jesus—and therefore we say "Now to Him who is able to do exceedingly abundantly above all that we ask or think, according to the power that works in us, to Him be glory in the church by Christ Jesus to all generations, forever and ever. Amen." (Ephesians 3:20,21)
We can take what Pastor John has laid out before us as an exposition of God's word and apply it in our churches and chapels in order to serve those who serve our country so faithfully. Remember, if you believe in the sovereignty of God, military members come to your church or chapel for a reason—but they will only be there for a season.
So our question is, how will you Respond in order to minister to military members and families during that season so that they go on to their next assignment or deployment at a higher level of spiritual maturity?
Here are some best practices which my husband and I have observed and recorded (we use the word "church" to refer to both churches and chapels):
Prayer. If your church has a prayer meeting, a prayer team, or a prayer list, make sure your military members and families are on it, at their request. They need your prayers!
Hospitality. Practice hospitality. Military members and families are delighted to be included in meal times at members' homes—after church or during the week.
Small Group. Consider offering a small group Bible study or "life group" for your military members, both as in-reach to provide fellowship with a common bond and as an outreach to bring in other military members searching for spiritual growth.
Ask Good Questions. A church needs to approach a military member or family and ask good questions: "How can we serve you during your time here?" "How can we pray for you?" "What can we do to get you to the next level of spiritual training before sending you to your next assignment?"
Marriage Enrichment. Form a Marriage Enrichment Team in your church to serve your married couples with small group and seminar training. Military couples (singles, too) particularly need training in their relationships because of the unique challenges they encounter.
Special Days. Special emphases (or banquets) on Memorial Day, Veterans Day, and 4th of July are always appropriate times to honor our military. Suggest that the military wear their uniforms on one of these days—even the veterans!
"Commissioning". Before military members and families PCS, invite them to the front of the church during or at the close of worship for a special time of prayer. This can be considered a "commissioning" as you send them off to minister/serve at their new duty station.
Staff Training. Provide periodic education to your pastoral staff to ensure they remain keenly aware and appreciative of the unique challenges of military life. Hopefully they will be supportive, encouraging, and open to new ideas for helping.
Childcare. Anytime a study is formed or group is organized with military members and families include a plan for childcare, if possible.
Support Groups and Bible Studies. Consider offering a support group/Bible study group for those with combat trauma, or those who have a loved one with combat trauma. The books The Combat Trauma Healing Manual and When War Comes Home are excellent resources for these groups. A Bridges to Healing seminar might pave the way for this group to begin in your church.
Establish a Reputation. Sign on to the Military Missions Network (MMN) as a "military friendly" or a "military focused" church. Acquaint your Missions Team with MMN's "The 4th Missionary Journey" and the new web portal MilitaryBeliever.com!! www.militarymissionsnetwork.com
Relocation Services. Before they PCS, make sure that your military member and families are pointed to a like-minded church from your denomination or the Military Missions Network at their new duty station. This helps them to take steps to get connected immediately upon arrival.
People of calling. Be aware that the calling of First Responders is very similar to the military calling. Your church may desire to incorporate First Responders into ministry to military.
During the deployment cycle your church can also actively participate:
 Before Deployment. Schedule a time for the military member and spouse to spend with the pastoral staff, Sunday school teacher, or deacons. This is a time to set up accountability, to encourage, and to make sure that the needs of the family at home are discussed and assigned to appropriate church members.
Before Deployment. Call the service member and family up to the front of the church for a special time of prayer.
During Deployment. Assign someone to email daily or weekly prayers, devotions and/or sermons to the deployed service members as a group. Our church uses Oswald Chambers' daily prayers to email to our deployed group.
During Deployment. Remember the Holidays! The Sunday School classes can send each deployed member care packages and holiday greeting cards. Don't forget to honor the family at home with special giftings.
During Deployment. Support those at home. Consider offering a support group for the wives/husbands of those deployed. It might be a good opportunity to do a Bible study like Loving Your Military Man.
During Deployment. If the military member agrees, make their addresses available to the church body either in the bulletin or on the A-V screen for further communication and as a prayer reminder.
After Deployment. Recognize the service member and family for their sacrificial service after the deployment. You may want to give them an opportunity to speak, to thank the church for support, and/or to give their testimony of how God worked in their lives during their time of deployment.
In summary, the church is a precious gift from God and we should never take it for granted. To God be the Glory!
Hebrews 10:25—"Let us not give up meeting together, as some are in the habit of doing, but let us encourage one another—and all the more as you see the Day approaching."
Questions to Share:
1.  What church "best practices" can you identify as particularly helpful to you and your spouse during deployments?
2.  If you are not an active member of a local church, pray that the Lord would lead you to one.  If you are a member, consider how you can pray for your pastor and the church.
Excellent or Praiseworthy is posted on Monday and Thursday nights.
Let your conversation be always full of grace, seasoned with salt, so that you may know how to answer everyone. – Colossians 4:6
I've made a list of things people hate to hear when their spouse is deployed. Perhaps you could add to this list, but these are the statements about which I've heard complaints:
"I'm sorry."
"I know how you feel. I was a single mom."
"I know how you feel. My husband was away on business last month."
"I don't know how you do it!"
"Stay busy—it'll go quickly."
"You knew what you were in for when you married into the military."
"At least he's not in Afghanistan" or "At least he's not in Iraq."
"I watch 'Army Wives', so I know what you are going through."
"At least it's only six months and not fifteen months, like I went through."
"At least you don't have any kids (or have a job or fill in the blank) and have all that extra work."
Honestly, and I think you would agree, most folks are just trying to "connect" with you. They don't know what to say, so they feel the need to say something—and it just comes out wrong. We've all done it and lived to regret what we've said when the tables were turned–and we knew better.
So what do we say when we're wanting to encourage someone whose spouse is far away in service to our country? What would be gracious—not seeking to assume or compare what that person is going through? I've "collected" ten ideas from which to choose and modify—and of course will be willing to add more, if you will make suggestions. Here they are:
"Thank you for your service to our country, and to our Lord."
"How can I pray for you?"
"I admire your courage and sacrifice. You have my deepest respect and appreciation."
"What can I do to help you in a practical way?"
"The world is a better place because of what your family is doing."
"You represent what is good in our country."
"Your children are also serving, and we appreciate that."
"It is because of your bravery that we are able to live in freedom and security."
"Thank you for your commitment to bring freedom to nations who desperately need it."
"Your sacrifice and service is not in vain. We will remember what you did."
Perhaps you think these responses are "too wordy", and a sincere "thank you" would warm your heart if your spouse was deployed. But other ExcellentOrPraiseworthy readers might ponder them in order to be prepared for a good response when faced with the opportunity to encourage.
But let's consider this from the flip-side . . . what do we graciously say to someone after they have said something which could have hurt our feelings? Don't we want to be mature in our attitudes, understanding that others could not possibly understand what we are going through?
Let me include two wonderful quotes from two military wives whom I admire—to help in this effort. Sara Horn writes in "With a Little Help from My Friends" from Military Spouse magazine (June 2010):
"Civilian was 'they' and military was 'me.' 'They' actually tried equating their husbands' business trips to my husband's trip to the sandbox: so not the same thing. I was a military wife. Well, suddenly-military wife would be a more accurate term. Guard and Reserve spouses are suddenly thrown into a military existence when their service members deploy. And suddenly-military wives can be prone to seeing everything through one filter: the 'My Life Has Changed Forever and No One Has a Clue" filter . . . . But hindsight, they say, is 20/20 . . . . I finally realized I had placed a whole bunch of expectations on them—standards and beliefs that weren't necessarily fair . . . ." (p. 62)
Another perspective—because we need perspective in handling deployments with grace—is from my all-time favorite military-wife-book Footsteps of the Faithful by Denise McColl when she was a young mother of five, and wife of a submariner. She wrote:
" 'I don't know how you do this with five young children. . .' people often say. And each time my response can either be a trite and nonchalant, 'Well, it isn't all that bad . . .' or a spiteful 'I don't know how I do this either! He's sure going to make up for this when he gets home!' Or it could be (and this takes both boldness and humility), 'Well, I'm only doing this by God's grace, as Jesus does a good work through me. When I don't listen to Him and obey, I can say for certain that I don't do a very good job at this at all . . .'" (p. 137)
The truth is that there is only one who can truly understand what we are going through—one who has experienced all pain and loneliness—Jesus Christ. It is to Him we must run when we have our feelings hurt, when we are overwhelmed, or misunderstood. Running to anyone or anything else . . . . will eventually disappoint, or worse—ruin.
Respected Bible teacher, Jill Briscoe, commented on this foundational truth when her husband, Stuart, was traveling for an extended period of time: "Years ago I stopped looking to anyone but God to satisfy me. There is no man that can love me enough. No child that can need me enough. No job that can pay me enough. And no experience that can satisfy me enough. Only Jesus."
In conclusion, I like what Oswald Chambers, the author of My Utmost for His Highest, had to say about this subject.  He was a chaplain in World War I, serving in the camps near the front lines in Egypt.  In his writings on Job 8:7-10 he says, "Over and over again during this war men have turned to prayer. . . . The biggest thing you can do for those who are suffering is not to talk platitudes, not to ask questions, but to get into contact with God, and the 'greater works' will be done by prayer (see John 14:12-13).  Job's friends never once prayed for him . . . ."
Pray for each other.  Pray for yourself.  Pray for those who want to help, and say the right thing, but just don't know how.  Pray to grow close to Jesus.
Work cited:
Chambers, Oswald, The Complete Works of Oswald Chambers (Grand Rapids: Discovery House Publishers, 2000), p. 56.
Horn, Sara, "With a Little Help From My Friends," Military Spouse, June, 2010, p. 62.
McColl, Denise, Footsteps of the Faithful (Orlando: Campus Crusade for Christ, 1994), p. 137.
Jill Briscoe quoted from Alistair Begg's Truth for Life broadcast "Contentment or Corruption, Part Two, B", August 11, 2010.
Questions to Share:
1. What has someone said to you when your spouse was deployed that really encouraged you?  Why was that particularly helpful?
2. How can you best encourage each other as a couple while you are geographically separated during deployment?
Excellent or Praiseworthy is posted on Monday and Thursday nights.
"See, the Sovereign LORD comes with power, and His arm rules for Him. See, His reward is with Him, and His recompense accompanies Him. He tends His flock like a shepherd: He gathers the lambs in His arms and carries them close to His heart; He gently leads those that have young." — Isaiah 40:10,11
When I see it—in actions, words, or formal presentation, it's always a favorite combination . . . power with tenderness.
And it's not difficult to find in our military today. We often see pictures of service members, like the one below of an Army officer, fully armed and prepared for necessary battle, yet meeting with children on the street, or carrying a baby to safety . . . or holding a puppy . . . or protecting innocent civilians from harm.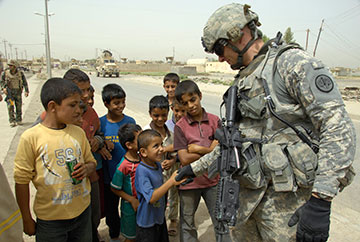 When I first read Eric Blehm's book on the life of Navy SEAL Adam Brown, Fearless, I was struck by this description: "Known for his compassion, Adam was always the first to do something like break open a light stick for a baby to play with or give a candy bar to a terrified child. But he wasn't the only one. In a group of men whose business is killing, the fury they release upon the enemy is rivaled only by the humanity they display for innocents caught in the crossfire." (p. 180)
In another description of Adam, his wife, Kelley, tells the story of the night when an intruder broke into their house in Virginia Beach. Right after he threatened the intruder and chased him out of the Brown home, Adam immediately went to check on the children and console Kelley. She said, "'Like that,' Kelley says, snapping her fingers, 'he went from this scary-sounding man back to my cuddly Adam. It gave me a glimpse—just a glimpse—of why he was so good at what he did. Why he was a SEAL.'" (p. 186)
I always knew this was the character of Jesus—total power, yet total tenderness, compassion and humility. Christ Jesus, our Lord and Savior, Son of Almighty God, sovereign creator of the universe, refers to himself in Matthew 11:29: "Take my yoke upon you and learn from me, for I am gentle and humble in heart, and you will find rest for your souls." Certainly we see contrast in how He submitted His power for our redemption at the cross.
But I saw this recently in Isaiah 40. God's power is described in verse 10: "See, the Sovereign LORD comes with power, and His arm rules for Him. See, His reward is with Him, and His recompense accompanies Him." And following immediately in verse 11 we see His tenderness: "He tends His flock like a shepherd: He gathers the lambs in His arms and carries them close to His heart; He gently leads those that have young."
A similar meaning is found in Psalm 89:13,14: "Your arm is endued with power; Your hand is strong, Your right hand exalted. Righteousness and justice are the foundation of Your throne; love and faithfulness go before You."
There is another part of the new book Fearless which includes a conversation which Adam Brown (a Christian–this book tells his journey of faith) had with his fellow SEAL, John Faas, about Stu Weber's classic book, Tender Warrior.  What is said affirms our topic:
"What ya got going there? John (Faas) said from the doorway, lifting his chin toward the book.
"Tender Warrior," Adam replied and showed John the cover.  "You can read it; I'm almost done.  Check this out," he said, thumbing backward through the pages.  "It was written by Stu Weber, a Vietnam veteran, Special Forces.  He became a chaplain."  Stopping at a passage, he handed the book to John, who read,
"The Warrior function is . . . unmistakable in Scripture . . . Within the epistles, the mature believing man is often described in militant terms–a warrior equipped to battle mighty enemies and shatter satanic strongholds.
The heart of the Warrior is a protective heart.  The Warrior shields, defends, stands between, and guards . . . He invests himself in 'the energy of self-disciplined, aggressive action.'  By Warrior I do not mean one who loves war or draws sadistic pleasure from fighting or bloodshed.  There is a difference between a warrior and a brute.  A warrior is a protector . . . Men stand tallest when they are protecting and defending."
The brotherhood of DEVGRU SEALs is built upon a foundation of mutual respect, and just as Adam aspired to what he considered John's "genius"–academically and as a warrior–John aspired to Adam's ability to juggle and, in his opinion, master the apparently paradoxical roles of fierce warrior and loving husband and father.  (p. 206,207)
Military men and women, and their families, demonstrate the attributes of the character of God daily—honor, courage, strength, sacrifice, patience, compassion, justice . . . and power with tenderness. Thank you.
Work Cited:
Blehm, Eric.  Fearless: The Undaunted Courage and Ultimate Sacrifice of Navy SEAL Team SIX Operator Adam Brown (Colorado Springs: WaterBrook Press, 2012)
Questions to share:
1. Recall a photo image or personal experience when an act of tenderness accompanied the presence of great power.
2. How does this prayer from Ephesians 3:16-19 express the power of God demonstrated in tenderness? "I pray that out of His glorious riches He may strengthen you with power through His Spirit in your inner being, so that Christ may dwell in your hearts through faith. And I pray that you, being rooted and established in love, may have power, together with all the saints, to grasp how wide and long and high and deep is the love of Christ, and to know this love that surpasses knowledge—that you may be filled to the measure of all the fullness of God."
« go back
—
keep looking »