Excellent or Praiseworthy is posted on Monday and Thursday nights.
. . . . . and I will dwell in the house of the LORD forever. — Psalm 23:6
It was the very last word that my Mother said—"forever." Every night after her stroke my husband and I would recite with her, as best she could, the Lord's Prayer, the 23rd Psalm, and then end our nightly time with singing "Jesus Loves Me." We did that for two months until the Lord took her home with Him. She was a devout Christ-follower and loved her Lord, so the thought of being with Him "forever" was fresh on her mind as she slowly slipped away from life on this earth.
On the other side of the world, our friend from church—a soldier serving downrange—was spending his nights on patrol. Before he would head out with his unit searching for IEDs, he would recite the 23rd Psalm. He never knew what the night would bring, so he wanted truth from Scripture to be fresh on his mind in case he or one of his buddies quickly slipped away from life on this earth.
Perhaps you are familiar with the 23rd Psalm:
The LORD is my shepherd; I shall not want.
He makes me lie down in green pastures;
He leads me beside the still waters.
He restores my soul;
He leads me in paths of righteousness for His name's sake.
Yea, though I walk through the valley of the shadow of death,
I will fear no evil;
For You are with me;
Your rod and Your staff, they comfort me.
You prepare a table before me in the presence of my enemies;
You anoint my head with oil,
My cup runs over.
Surely goodness and mercy shall follow me
All the days of my life;
And I will dwell in the house of the LORD
Forever. — Psalm 23 (NKJV)
But what if that's just not the way you look at life, or death? Perhaps you do not know the goodness and saving grace of Jesus Christ? Dr. David Powlison writes, "From Jesus' point of view, there are two fundamentally different ways of doing life. One way, you're connected to a God who's involved in your life. . . . The other way, you're pretty much on your own and disconnected. Let's call this the 'antipsalm 23′:
'I'm on my own.
No one looks out for me or protects me.
I experience a continual sense of need. Nothing's quite right.
I'm always restless. I'm easily frustrated and often disappointed.
It's a jungle—I feel overwhelmed. It's a desert—I'm thirsty.
My soul feels broken, twisted, and stuck. I can't fix myself.
I stumble down some dark paths.
Still, I insist: I want to do what I want, when I want, how I want.
But life's confusing. Why don't things ever really work out?
I'm haunted by emptiness and futility—shadows of death.
I fear the big hurt and final loss.
Death is waiting for me at the end of every road,
but I'd rather not think about that.
I spend my life protecting myself. Bad things can happen.
I find no lasting comfort.
I'm alone. . . . facing everything that could hurt me.
Are my friends really friends?
Other people use me for their own ends.
I can't really trust anyone. No one has my back.
No one is really for me—except me.
And I'm so much all about ME, sometimes it's sickening.
I belong to no one except myself.
My cup is never quite full enough. I'm left empty.
Disappointment follows me all the days of my life.
Will I just be obliterated into nothingness?
Will I be alone forever, homeless, free-falling into void?
Sartre said, "Hell is other people."
I have to add, "Hell is also myself."
It's a living death, . . . .
and then I die.'"—Powlison, Sane Faith, Part 1
Please read these two carefully—the psalm and the antipsalm. There is peace in one, and anguish from the lies of self-talk in the other. The latter occurs when you don't abide in Christ.
There are two different ways of "doing life." This reminds me of the plaque which says, "No Jesus, No Peace. Know Jesus, Know Peace." Which will you choose?
Work Cited:
Powlison, David, Boundless.Org
Questions to Share:
1. Do you trust in the truth of Psalm 23, or is your thinking more like that of the antipsalm?
2. Would you like to have the peace of confessed sin, forgiveness, and the promise of the fullness of life with Jesus? Then go to 4Laws.com to find that peace.
Excellent or Praiseworthy is posted on Monday and Thursday nights.
"There is no one holy like the LORD; there is no one besides You, there is no Rock like our God." — I Samuel 2:2
The occasion of Hannah's prayer in I Samuel 2:1-10 is the presentation of the child Samuel to Eli, the priest, and giving him in service to the LORD.
This follows Hannah's first prayer of desperation in I Samuel 1, when things were quite different. Unable to conceive and bitter by the treatment of Peninnah (the other wife), Hannah accompanied her husband, Elkanah, once a year to Shiloh where he made his annual sacrifice to the LORD. In Chapter 1 she explained to Eli that her weeping and prayers at that time were "out of my great anguish and grief" (I Samuel 1:16).
But her prayer in Chapter 2 is out of pure joy and delight. At long last she conceived and gave birth to a son, Samuel, whom she promised to bring to Eli once weaned. He grows up to be the prophet Samuel, the one who serves the nation of Israel and anoints King David.
It is in this second prayer that Hannah speaks of the difference God has made in her life. Specifically note three areas:
1. Knowing God makes a difference in her heart.
"My heart rejoices in the LORD . . ." (verse 1)
Remember that the heart, more than the seat of emotions, is the center of a person—thoughts, plans, will, decision. Her heart has been transformed and is now full of confident joy.
Knowing God makes a difference in our heart.
"You have filled my heart with greater joy. . ." Psalm 4:7
"I have set the LORD always before me. Because He is at my right hand, I will not be shaken. Therefore my heart is glad and my tongue rejoices; my body also will rest secure . . ." Psalm 16:8,9
". . .my heart trusts in Him, and I am helped." Psalm 28:7
"My heart is stirred by a noble theme. . ." Psalm 45:1
2. Knowing God makes a difference in her strength.
". . . in the LORD my horn (strength) is lifted high." (vs. 1)
This woman who previously prayed out of her great anxiety now speaks very differently. God has made a difference in her strength. Her strength is now found in the LORD.
Knowing God makes a difference in our strength.
"I love You, O LORD, my strength." Psalm 18:1
"The LORD is my strength and my shield; my heart trusts in Him, and I am helped." Psalm 28:7
"My flesh and my heart may fail, but God is the strength of my heart and my portion forever." Psalm 73:26
"The LORD is my strength and my song; He has become my salvation." Psalm 118:14
3. Knowing God makes a difference in how she approaches those who opposed her.
Thirdly Hannah says, "My mouth boasts over my enemies. . " Another translation reads, "I smile at my enemies." (vs. 1) Her very countenance is affected.
Knowing God makes a difference in our heart, our strength, and our countenance.
Why such triumph? At the end of verse 1 we see the reason—"for I delight in Your deliverance" or "Because I rejoice in Your salvation."
The word "salvation" is a simple reference to the fact that the LORD is the God who saves. In other words, Hannah praises God because of what He has done for her.
This is similar to the song of triumph in Exodus 15:1,2:
"I will sing to the LORD, for He has triumphed gloriously;
The horse and its rider He has thrown into the sea!
The LORD is my strength and my song,
And He has become my salvation;
He is my God, and I will praise Him,
My father's God, and I will exalt Him."
As Christians we know a God who looks on our affliction—who does answer our prayers—and a God who saves us.
Knowing that, how will He make a difference in your week? In your deployment?
"In You our fathers put their trust; they trusted and You delivered them. They cried to You and were saved; in You they trusted and were not disappointed." — Psalm 22:4,5
Questions to Share:  
1. How does knowing that God made a difference in Hannah's heart, strength, and countenance make a difference in your thinking?
2. I believe Hannah's prayer is a forerunner to Mary's song in Luke 2: "My soul praises the Lord and my spirit rejoices in God my Savior, for He has been mindful of the humble state of His servant." (vs. 46-48) How can you pray today for God's joy, strength, and salvation during the circumstances of your life?
Excellent or Praiseworthy is posted on Monday and Thursday nights.
If you falter in times of trouble, how small is your strength! — Proverbs 24:10
Think back to your childhood for a moment.  After doing something you would come to regret, were you ever told by your parents that you were "just askin' for trouble" when you committed that stupid act? Perhaps your response, like mine, was, "I wasn't asking for trouble . . . it just happened!"
The book of Proverbs would agree with your parents—or whoever has spoken wisdom into your life. Most of the time that we get into trouble, we know better.  There were several fathers whose teachings were compiled in the book of Proverbs, but King Solomon wrote around ninety percent of them. This is age-old wisdom passed on from one generation to the next . . . and the next . . . and we should not fail to continue to pass it on to our next.
So when are we "askin' for trouble?" Here are some examples of truth to be shared:
1. We are askin' for trouble when we ignore consequences:
"Since they hated knowledge and did not choose to fear the LORD, since they would not accept my advice and spurned my rebuke, they will eat the fruit of their ways and be filled with the fruit of their schemes." — Proverbs 1:29-31
Later in Proverbs we find the same message this way: "He who sows wickedness reaps trouble." — Proverbs 22:8
2. We are askin' for trouble when we listen to the wrong people and choose to ignore good advice:
"Wisdom will save you from the ways of wicked men, from men whose words are perverse, who leave the straight paths to walk in dark ways, who delight in doing wrong and rejoice in the perverseness of evil, whose paths are crooked and who are devious in their ways." — Proverbs 2:12-15
Or more simply put, "My son, if sinners entice you, do not give in to them." — Proverbs 1:10
3. We are askin' for trouble when we have the attitude that, "It won't happen to me!":
"Do not be wise in your own eyes; fear the LORD and shun evil." — Proverbs 3:7
"Pride goes before destruction, a haughty spirit before a fall." — Proverbs 16:18
4. We are askin' for trouble when we are lazy:
"The sluggard's craving will be the death of him, because his hands refuse to work." — Proverbs 21:25
"Lazy hands make a man poor, but diligent hands bring wealth." — Proverbs 10:4
5. We are askin' for trouble when we talk too much and listen too little:
"The wise in heart accept commands, but a chattering fool comes to ruin." — Proverbs 10:8
"When words are many, sin is not absent, but he who holds his tongue is wise." — Proverbs 10:19
6. We are askin' for trouble when we leave God out!
I've saved the best advice for last: "The fear of the LORD leads to life: Then one rests content, untouched by trouble."   — Proverbs 19:23
"Trust in the LORD with all your heart and lean not on your own understanding; in all your ways acknowledge Him, and He will make your paths straight." — Proverbs 3:5-6
These six instructions are such a brief summary of the great teaching from the book of Proverbs . . . what we might call, in the 21st century, "Life for Dummies." In Bill Hybels' classic writing on Proverbs, Making Life Work, we find this, "In verse after verse the father calls his sons to seek wisdom—and then he tells them why. Because it pays!" (p. 17)
Does it pay when you're in the military and deployed? Absolutely! There is instruction within these thirty-one chapters to handle it all—how to resist temptation; how to handle our money; how to grow in character and integrity; how to appreciate our friends; how to speak truth; how to plan for the future; how to seek Godly counsel; how to work hard; how to lead; how to be a good husband and wife and grow a strong family; how to manage anger; how to treat others with courtesy; how to be fair—and how to trust God in everything we do.
I have heard that reading Proverbs is like taking a vitamin pill every day—there are thirty-one chapters . . . . so read one chapter a day to keep foolishness away. It's never too late to build stronger relationships with others—and with God. If we heed the advice and warnings, we can build up our strength of character so that we will not "falter in times of trouble."
Work cited:
Hybels, Bill, Making Life Work: Putting God's Wisdom into Action (Downers Grove: InterVarsity Press, 1998)
Questions to Share:
1. What is your definition of wisdom? What have you done in your life that you consider to be wise?
2. What words of wisdom do you think you have to share with the next generation?
3. What do we do if we need wisdom in a situation? We pray for it. James 1:5 says, "If any of you lacks wisdom, he should ask God, who gives generously to all without finding fault, and it will be given to him." How can you pray for wisdom in your life right now?
Excellent or Praiseworthy is posted on Monday and Thursday nights.
But He said to me, "My grace is sufficient for you, for My power is made perfect in weakness" . . . That is why, for Christ's sake, I delight in weaknesses, in insults, in hardships, in persecutions, in difficulties. For when I am weak, then I am strong. — II Corinthians 12:9,10
We do not want to miss this grace—this pure grace of God that gets us from the excitement-building, heart-racing, glee-producing "Welcome Home" moment . . . through the adjustments and transitions which characterize reintegration. Hebrews 12:15 reads, "See to it that no one misses the grace of God . . .", and reintegration done well will validate that it is God's grace, and grace alone, that smooths the return home.
You will find a posting entitled "Greater Grace for Deployment" in the archives of Excellent or Praiseworthy.  In that posting we discussed the extreme demands on a marriage by multiple deployments. "Greater grace takes you from 'I can't do this anymore' to 'I can do all things through Him who strengthens me'" (Philippians 4:13).
Likewise the pure grace of God in reintegration takes us from "I didn't expect homecoming to be anything but sweet" to "God is able to make all grace abound to you, so that in all things at all times, having all that you need, you will abound in every good work" (2 Corinthians 9:8). This grace is so powerful, so cleansing, so redemptive that I can only call it "reintegrace." Indeed, God can take the strain of deployment and the uncertainty of transition and fashion it to be good because of His pure grace and mercy (Psalm 119:68).
If the journey of reintegration could be plugged into a GPS, the destination for a couple would be oneness. Genesis 2:24 states, "For this reason a man will leave his father and mother and be united to his wife, and they will become one flesh." Oneness in a marriage is not just a physical relationship, but emotional and spiritual as well. A couple who is geographically separated longs for the day when they are physically reunited. But the reuniting must also take the form of an emotional and spiritual oneness for there to be the real sense that they are back together. This is the challenge . . . and requires an intentional effort to demonstrate grace in at least seven areas:
1. The Grace of Daily Mercies
Change is inevitable when someone goes off to war . . . and the family at home changes, too. There can be a tendency to "compare" trials. The one on the front lines of war lived with danger every moment. The one at home lived with day-to-day struggles and demands. You each endured hardships, and any "one ups-manship" can only create conflict.
Grace says, "I acknowledge your fears and challenges. I want to imagine what it was like to walk in your shoes for a while so that I can appreciate what you've been through!" If necessary, initiate conversations, ask questions and listen to the answers. Examine scheduling priorities in order to have time together and plan getaways during reintegration . . . all in order to cultivate oneness. Oneness in marriage glorifies God, so committing to do the hard work of transitioning from being apart to being together will be something God honors. This is a daily exercise. Each day will bring new opportunities to see how everyone has changed—and how God can bring you back to oneness.
"Because of the LORD's great love we are not consumed, for His compassions never fail. They are new every morning; great is Your faithfulness" (Lamentations 3:23).
2. The Grace of Kind Words
Both of you as husband and wife have taken on different roles during deployment, and sometimes there can be harsh, demanding tones and explosive arguments when tasks are not done in a certain way. The demands of battle require expediency . . . the demands at home require prompt attention. Barking orders to each other can be a natural outgrowth of what you have experienced.
Grace says, "Humility and gentleness will shine best through my smile and kind speech." You are not each other's enemy, and it may take time to view each other lovingly.
"Do not let any unwholesome talk come out of your mouths, but only what is helpful for building others up according to their needs, that it may benefit those who listen" (Ephesians 4:29).  "Let your conversation be always full of grace . . . " (Colossians 4:6a).
3. The Grace of Perspective, Patience, and Purpose
You are both tired—and excited. It may take time to get back to normal physical patterns after lengthy separation and then travel. This is when it is extremely important to remember that reintegration is a season . . . a journey. Be patient with each other. The spouse who found great significance in the mission downrange may need to regain purpose in a normal household routine—and the spouse at home needs to gradually let go of some of the responsibilities which he or she managed alone. Reintegration is a synchronized "dance" that takes time to re-learn so that you don't step on each other's toes!
Grace says, "I'm so glad we're back together again, and I will be patient during this time of transition and help you to re-adjust . . . not criticize."
"Do nothing out of selfish ambition or vain conceit, but in humility consider others better than yourselves. Each of you should look not only to your own interests, but also to the interests of others" (Philippians 2:3,4).
4. The Grace of Forgiveness
The reality is that things may have happened during your deployment which will require difficult conversations . . . and forgiveness. Counseling with your chaplain, pastor, or Christian counselor may be necessary. Genuine repentance, taking responsibility for actions, and asking for forgiveness are steps one needs to take in order to begin the process of regaining trust.
Grace says, "I love you, and I am willing to pray with you and rely on God as together we learn to forgive." Rob Green states in his booklet, Reuniting after Military Deployment: Help for the Transition, "Honestly, you cannot offer grace in your own strength. It takes a willingness to depend on Christ to show God's grace through you. He is the only One who can give you the discipline and strength to consistently offer grace to others, especially when you are hurting" (p. 21).
"For if you forgive men when they sin against you, your heavenly Father will also forgive you. But if you do not forgive men their sins, your Father will not forgive your sins" (Matthew 6:14,15).
5. The Grace of Healing
Whether your wounds of war are visible or invisible, God is the healer. Your time of excitement at reintegration may be overshadowed by a long discovery of what is now going to be "different" in your marriage. Chaplain (ret) Dan Nigolian tells of his experience with PTSD in an appendix to The Greatest Warrior edition of the NIV Bible, "I was feeling guilty because I couldn't beat this and it was hurting my family. I hated the idea of seeing a psychologist and being on medication. But I hated damaging my relationships even worse, so I finally agreed to get help. I have concluded that it takes more courage to face what's inside you than to face the enemy . . . As I continue to fight this I'm learning to appreciate the present. Right here and right now, I am loved by God and by my family. . . It was being exposed to the death brought on by war that led to my own personal battle. But there's one person who's defeated death and that's Jesus (I Corinthians 15). So he can defeat the effects of death in me. And that's my hope and my rest."
Grace says, "We will walk steadfastly, and with hope, together in God's grace through the darkness of injury or combat trauma into the light of His Son, Jesus Christ."
"For I am convinced that neither death nor life, neither angels nor demons, neither the present nor the future, nor any powers, neither height nor depth, nor anything else in all creation (including war), will be able to separate us from the love of God that is in Christ Jesus our Lord" (Romans 8:38,39).
6. The Grace of Gratitude
The Apostle Paul wrote in I Thessalonians 5:18 that we are to "be joyful always, pray continually; give thanks in all circumstances, for this is God's will for you in Christ Jesus." Give thanks in ALL circumstances—really? The truth is that it is through giving thanks that God's light can shine even into the dark places of our lives—even in our disappointments, disillusionments, and discouragements. Ann Voskamp writes in One Thousand Gifts, "When we lay the soil of our hard lives open to the rain of grace and let joy penetrate our cracked and dry places, let joy soak into our broken skin and deep crevices, life grows" (p. 58). The transformation of a bitter attitude into one of humility . . . the transformation of a hurting marriage into a thriving marriage . . . it is all comes from a grateful heart proclaiming life from salvation freely offered in grace by Jesus Christ.
Grace says, "We thank God for bringing us back together, and we thank Him for all the ways He sustained us while apart."
"Do not be anxious about anything, but in everything, by prayer and petition, with thanksgiving, present your requests to God. And the peace of God, which transcends all understanding, will guard your hearts and your minds in Christ Jesus" (Philippians 4:6,7).
7. The Grace of Redemption
On the holy ground of deployment we can experience redemption. Reintegration can become a time of renewal . . . maybe even a time of "better." Perhaps there have been "lessons learned" . . . relationships appreciated in new ways . . . spiritual growth bringing you closer to God and closer to your spouse . . . time to remember God's faithfulness when busyness once reigned . . . awareness of new skills and confidence in abilities . . . new perspectives, even on pain. Ken Korkow, a Marine, shares in an appendix to The Greatest Warrior NIV Bible, "On my road to healing, I've discovered that God does not waste pain. If we allow him to, he will use it to shape us into the best version of ourselves."
Grace says, "I wouldn't have chosen deployment, but because of God's goodness and love for us, He has taken our experiences and made something good out of them."
"And we know that in all things God works for the good of those who love Him, who have been called according to His purpose" (Romans 8:28).
Rob Green summarizes truth about God's grace in reintegration with this, "Your personal relationship with Jesus sustained you during the (time) you were apart, and your relationship with Christ can help you reunite, too. All hope is not lost. The stories of divorce, discouragement, and depression that you have heard from other couples do not have to be your story. Just as Jesus redeemed you from an eternity separated from God, just as he rescued you from the weapons of the enemy, in the same way he can help you overcome the threats to your marriage. The Lord can ensure that your story is one of reunion, oneness, joy, peace and thankfulness" (p. 6).
It's all by His grace.  "For it is by grace you have been saved, through faith–and this not from yourselves, it is the gift of God–not by works, so that no one can boast" (Ephesians 2:8,9).
Works Cited:
The Greatest Warrior NIV Bible published by Biblica, 2012.
Green, Rob, Reuniting after Military Deployment—Help for the Transition (Greensboro; New Growth Press, 2011).
Voskamp, Ann, One Thousand Gifts (Grand Rapids:  Zondervan, 2010).
Questions to Share:
1. How did you see God work during the time you were separated geographically by deployment?
2. In what ways do you need to work on your marital relationship during reintegration in order for God's grace to be revealed?
Excellent or Praiseworthy is posted on Monday and Thursday nights.
Why are you in despair, O my soul? And why have you become disturbed within me? Hope in God, for I shall again praise Him for the help of His presence. — Psalm 42:5
Has loneliness during deployment caused you to "talk to yourself"? Do you often feel that no one understands your situation? Perhaps you have experienced that your family . . . . your neighbor. . . . maybe even your spouse does not really understand what you are going through. Well-meaning people may offer a listening ear, but sometimes that just doesn't help!  I think we've all been there.
When you read this verse above, written thousands of years ago, does it sound like the psalmist is talking to himself? Beth Moore, in her teaching from "Wising Up," made that interesting observation.
But now let me take it one step further—does it also sound like he is answering himself?? Read the verse again, and "listen." It seems that the psalmist has diagnosed his despair and realized that the prescription for his sickness of heart is praise of the living God—who knows his situation and offers the cure . . . HOPE.
Examine these verses from the book of Psalms and see if you recognize the same "conversation":
Find rest, O my soul, in God alone; my hope comes from Him. He alone is my rock and my salvation; He is my fortress, I will not be shaken. — Psalm 62:5,6
Praise the LORD, O my soul; all my inmost being, praise His holy name. Praise the LORD, O my soul, and forget not all His benefits. He forgives all my sins and heals all my diseases; He redeems my life from the pit and crowns me with love and compassion. — Psalm 103:1-4
Be at rest once more, O my soul, for the LORD has been good to you. For You, O LORD, have delivered my soul from death, my eyes from tears, my feet from stumbling, that I may walk before the LORD in the land of the living. — Psalm 116:7-9
Praise the LORD. Praise the LORD, O my soul. I will praise the LORD all my life; I will sing praise to my God as long as I live . . . . Blessed is he whose help is the God of Jacob, whose hope is in the LORD his God, the Maker of heaven and earth, the sea, and everything in them—the LORD, who remains faithful forever. — Psalm 146:1,2,5,6
When you find yourself having that "talk" with yourself . . . . maybe complaining about circumstances, maybe "rehearsing" a list of grievances, maybe just crying out in isolation . . . . do you also take the opportunity to grab those thoughts immediately and surrender them to the Lord, offering words of praise instead?  I often need to be reminded of this.
Whether you are all alone, or all alone in a crowd of people, He knows the inner lament of your soul. He is the God who hears. He knows you need hope, and He is the God who gives hope . . . . both for the circumstances of today and for eternity.
For everything that was written in the past was written to teach us, so that through endurance and the encouragement of the Scriptures we might have hope. . . . May the God of hope fill you with all joy and peace as you trust in Him, so that you may overflow with hope by the power of the Holy Spirit." — Romans 15:4,13
Questions to Share:
1. In what circumstances right now have you lost hope? Take a moment to praise God for His presence in your life. "In my distress I called to the LORD; I cried to my God for help. From His temple He heard my voice; my cry came before Him, into His ears." — Psalm 18:6
2. Take a moment to recall one time when God brought you through what seemed to be a hopeless situation. "I cried out to God for help; I cried out to God to hear me. When I was in distress, I sought the Lord; at night I stretched out untiring hands and my soul refused to be comforted . . . . Then I thought, 'To this I will appeal: the years of the right hand of the Most High.' I will remember the deeds of the LORD; yes, I will remember Your miracles of long ago. I will meditate on all Your works and consider all Your mighty deeds." — Psalm 77:1,2,10-12
Excellent or Praiseworthy is posted on Monday and Thursday nights.
Greater love has no one than this, that one lay down his life for his friends. — John 15:13
Bedford is a small town in rural Virginia. Nestled in the Blue Ridge foothills, it's a tranquil spot to visit and ponder the enormous price this community made in service to our country on June 6, 1944—D-Day. Upon this beautiful town fell proportionately the heaviest share of American losses on that day. For out of the 30 young men from Bedford who had joined the National Guard and were called into service in 1942, 22 were killed in the invasion.
For the "Bedford Boys" who landed on Normandy's Omaha Beach in 1944, their bonds meant just that—bonds. Bonds that were formed early and often. Their bonds began in the common church pews of Bedford and continued into the halls of the American Legion Posts. Their small town of 3,200 grew more than apple orchards and tobacco in their fields. They also grew the hearts and minds of those who served selflessly and quietly. From the nurturing of loving mothers . . . from the faith of their fathers and forefathers . . . came a generation that understood values, the sacrifice of hard work, freedom and faith.
To honor the memories of this town's young soldiers, and as a representative symbol of all of our nation's efforts during Operation Overlord, Congressional support for the creation of a National D-Day Memorial in Bedford culminated with the dedication of this beautiful spot on June 6, 2001.
At the Memorial Dedication Ceremony that day, President George W. Bush said these words to the many gathered:
"You have raised a fitting memorial to D-Day, and you have put it in just the right place—not on a battlefield of war, but in a small Virginia town, a place like so many others that were home to the men and women who helped liberate a continent.
Our presence here, 57 years removed from that event, gives testimony to how much was gained and how much was lost. What was gained that first day was a beach, and then a village, and then a country. And in time, all of Western Europe would be freed from fascism and its armies.
The achievement of Operation Overlord is nearly impossible to overstate, in its consequences for our own lives and the life of the world. Free societies in Europe can be traced to the first footprints on the first beach on June 6, 1944 . . . Fifty-three hundred ships and landing craft; 1,500 tanks; 12,000 airplanes. But in the end, it came down to this: scared and brave kids by the thousands who kept fighting, and kept climbing, and carried out General Eisenhower's order of the day—nothing short of complete victory. . . What was lost on D-Day we can never measure and never forget.
Bedford has a special place in our history. But there were neighborhoods like these all over America, from the smallest villages to the greatest cities. Somehow they all produced a generation of young men and women who, on a date certain, gathered and advanced as one, and changed the course of history. Whatever it is about American that has given us such citizens, it is the greatest quality we have, and may it never leave us. . ."
At the end of President Bush's speech, he said "The great enemies of that era have vanished. And it is one of history's remarkable turns that so many young men from the new world would cross the sea to help liberate the old. Beyond the peaceful beaches and quiet cemeteries lies a Europe whole and free—a continent of democratic governments and people more free and hopeful than ever before. This freedom and these hopes are what the heroes of D-Day fought and died for. And these, in the end, are the greatest monuments of all to the sacrifices made that day . . . God bless America. And God bless the World War II generation."
This history is all too real for one of our own—we have a Bedford native serving on board our ship. Growing up in Bedford gave our Chief Petty Officer a ton of strength and the value of a community's banding together to serve each other and protect their children.
He shared with us that some of his fondest memories came from simple things that you just don't get anywhere else. Values are taught, lessons are learned, and you are safe in your neighborhood because everyone truly knows everyone.
The "Bedford Boys' were known about, but not talked about often, he said. Perhaps no one outside of that generation understood how special the men and their families really were. Things changed when "The Boys" got national attention—the Memorial, a book, the President's visit . . . and then the local Army Reserve Unit was called up for Iraq. Stories that people hadn't talked about in a long time impacted our own shipmate, and he regards the "Bedford Boys" as representing the definition of service and sacrifice.
So on the anniversary of D-Day, we pause to thank you for your part in the fight for freedom that continues even to this day. Knowing freedom instills in us the desire to free others. And knowing the source of our freedoms grants us strength in the face of adversity—both for the "Bedford Boys" and for us here fighting today.
Questions to Share:
1. Is there someone in your family or home town who served in World War II that this chaplain's evening devotion brings to mind?  Spend a moment telling your spouse about them.
2. What do you think future generations will say about those who served in the Global War on Terror?
Excellent or Praiseworthy is posted on Monday and Thursday nights.
My father-in-law, who is mentioned in this devotion, went home to heaven on Friday, May 18, 2012.  He was buried a few days later with full military honors, a recipient of the Silver Star and Purple Heart, a member of the 101st Airborne who jumped into Normandy on D-Day.
"But commission Joshua, and encourage and strengthen him, for he will lead this people across and will cause them to inherit the land that you will see." — the words of the LORD to Moses in Deuteronomy 3:28
On the wall of my father-in-law's office hangs a small piece of paper framed as an important document, yellowed with age. On this paper are these words: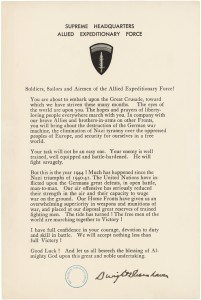 "Soldiers, Sailors and Airmen of the Allied Expeditionary Force!
You are about to embark upon the Great Crusade, toward which we have striven these many months. The eyes of the world are upon you. The hopes and prayers of liberty-loving people everywhere march with you. In company with our brave Allies and brothers-in-arms on other Fronts, you will bring about the destruction of the German war machine, the elimination of Nazi tyranny over the oppressed peoples of Europe, and security for ourselves in a free world.
Your task will not be an easy one. Your enemy is well trained, well equipped and battle-hardened. He will fight savagely.
But this is the year 1944! Much has happened since the Nazi triumphs of 1940-41. The United Nations have inflicted upon the Germans great defeats, in open battle, man-to-man. Our air offensive has seriously reduced their strength in the air and their capacity to wage war on the ground. Our Home Fronts have given us an overwhelming superiority in weapons and munitions of war, and placed at our disposal great reserves of trained fighting men. The tide has turned! The free men of the world are marching together to Victory!
I have full confidence in your courage, devotion to duty and skill in battle. We will accept nothing less than full Victory!
Good Luck! And let us all beseech the blessing of Almighty God upon this great and noble undertaking." — Dwight D. Eisenhower
You see, this framed document is an original, not a copy. Jim is one of the few surviving veterans of the 101st Airborne Division who jumped into Normandy on D-Day. My husband grew up hearing his Dad's stories of Carentan and St. Mere Eglise. Now our son (active-duty Air Force) carries the memory of a 1987 visit with his "Pappa" and his Dad to the beaches where these three generations scoured that historic countryside for clues to where Jim might have been during his mission now sixty-plus years ago.
The commission from General Eisenhower, which was handed out on paper to Jim and to the forces who took part in Operation Overlord, reminds me of the commission which was given by General George Washington to his troops when out-numbered by British soldiers near Brooklyn in August, 1776. Jane Hampton Cook, author of Battlefields and Blessings: Stories of Faith and Courage from The Revolutionary War, writes "Even though victory seemed questionable at best, Washington tried to compensate by giving his troops a commissioning:
'The enemy's whole reinforcement is now arrived, so that an attack must, and will soon be made. . . . And when called to it (action), remember, that liberty, property, life and honour, are all at stake; that upon (your) courage and conduct rest the hopes of (our) bleeding and insulted country; that (your) wives, children, and parents, expect safety from (you) only; and that we have every reason to believe, that heaven will crown with success so just a cause. . . . The enemy will endeavour to intimidate by show and appearance; but remember, they have been repulsed on various occasions by a few brave Americans; their cause is bad; and if opposed with firmness and coolness on their first onset, with our advantage of works, and knowledge of the ground, the victory is most assuredly ours.'" — George Washington
The definition of a "commission" is: "an authoritative order, charge, or direction." There are other versions of this definition, but they all include the matter of authority and a mission to be performed.  Notice the commission given in Deuteronomy 3, in the Scripture above, which contains those elements. And as a Christian I know that "The Great Commission," given by Jesus in Matthew 28:18-20 is something like "marching orders" for us:
"All authority in heaven and on earth has been given to me. Therefore go and make disciples of all nations, baptizing them in the name of the Father and of the Son and of the Holy Spirit, and teaching them to obey everything I have commanded you. And surely I will be with you always, to the very end of the age." — Jesus Christ
The Great Commission of Matthew 28 still applies today—and would remind us that there is work to be done. By the authority of Jesus Christ we are to go and make disciples throughout the world. . . . . see them baptized. . . .and teach them. . . .ever mindful that we are never alone in this endeavor. To God be the Glory!
Work cited:
1. http://www.archives.gov/historical-docs/todays-doc/index.html?dod-date=606
2. Cook, Jane Hampton, Battlefields & Blessings: Stories of Faith and Courage from The Revolutionary War (Chattanooga: Living Ink Books, 2007) p. 196-97.
Questions to Share:
1. How does historical perspective help you in facing the challenges you have in the battles of today?
2. How does the promise of God's presence strengthen you for the battles of today?
Excellent or Praiseworthy is posted on Monday and Thursday nights.
Editor's Note: This powerful writing is from Pastor Ed Choi, Lead Pastor Resident of Mars Hill Rainier Valley near Seattle, Washington. Used by permission, it was originally published on MarsHill.com blog, May 26, 2014. We thank Pastor Choi for his service to our country, and to our Lord.
"Therefore, since we have been justified through faith, we have peace with God through our Lord Jesus Christ, through whom we have gained access by faith into this grace in which we now stand. And we rejoice in the hope of the glory of God. Not only so, but we also rejoice in our sufferings, because we know that suffering produces perseverance; perseverance, character; and character, hope. And hope does not disappoint us, because God has poured out his love into our hearts by the Holy Spirit, whom he has given us." — Romans 5:1-5
How Jesus healed me from PTSD is truly a powerful redemptive work of grace in my life, but the recovery did not happen overnight. On my second deployment to Iraq (from August 2006 to October 2007) I served with the 1-26 Infantry Battalion, which sustained more casualties than any other military unit since Vietnam. We lost 35 soldiers and over 130 were wounded. Many of the wounded ended up as amputees. I conducted 24 memorial ceremonies for our fallen soldiers, provided over 200 hours of grief counseling, and was also wounded due to an IED blast. Before returning home I began experiencing what behavioral health experts call "burn out" and "compassion fatigue."
During my first months after returning from Iraq, I was angry, irritable, and depressed. My wife, Kathryn, and I were constantly arguing and I was having flashbacks and nightmares. I sought the help of Army psychologists and psychiatrists who helped me deal with my symptoms of Post Traumatic Stress Disorder, but not the deep scars of war.
There are many times I've prayed to God for healing like the Apostle Paul did in 2 Corinthians 12:8 where three times he asked the Lord to heal him but did not experience an immediate healing. With time, prayer, meditating on God's Word, being in a support group, and the love of my family, I was on the road to healing. But in December of 2011, I deployed again, this time to Afghanistan.
The deployment to Afghanistan was shorter (12 months) than my two previous deployments to Iraq (13 and 15 months) but it seemed longer and really took a toll on me. Our unit was part of the surge that operated in South Afghanistan, which had numerous insurgent strongholds resulting in many U.S. military and civilian casualties. I was attending and conducting memorial ceremonies for the fallen, took part in many Purple Heart ceremonies for those who sustained wounds, visited severely wounded soldiers in combat medical hospitals, and provided grief counseling. I started getting flashbacks and nightmares of Iraq even though I was in Afghanistan, as well as experiencing insomnia and depression.
After returning from Afghanistan, I was again given the opportunity to receive treatment from our Army psychologists and psychiatrists. What I have learned from these treatments is that continual exposure to trauma will compound PTSD. I discovered that dealing with only the symptoms and not the deep wounds of war is like putting a bandage over cancer. All the treatments and medications I was taking were like bandages. Only Jesus who died for my sins and sufferings, the Holy Spirit's power, and the love of God were able to heal the deep scars of trauma.
Being exposed to war, the three major things I struggled with were grief, anger, and survivor's guilt. Grief because the soldiers that I served were like my sons and daughters, so when one died in combat it affected me as if I was losing a child. I loved each one of them and I will never forget the names and faces of the 57 soldiers whom I had the honor to serve as chaplain. My grief would turn to anger; I was angry about the wars in Iraq and Afghanistan, angry with the faceless insurgents who were killing soldiers, and angry with God because I felt abandoned. There were many times I would pray, "My God, my God why have you forsaken me?"
I had both righteous and unrighteous anger. My righteous anger was due to how our politicians and military leaders were handling the wars in Iraq and Afghanistan. The righteous anger was also towards the faceless insurgents who used cruel and cowardly tactics in killing civilians and U.S. military personnel. But the pain and anguish of losing soldiers caused my unrighteous anger towards God. In my mind I understand that God is sovereign and he alone can take everything and use it for good, for Romans 8:28 says, "And we know that for those who love God all things work together for good, for those who are called according to his purpose," but I doubted his goodness and his sovereignty.
However, when I see Jesus who was crucified on the cross and see how God took the most horrific and painful thing and brought salvation to sinners, I can trust the Heavenly Father. Today I have surrendered my anger to God and I know deep in my mind and heart that God is good and his mercy endures forever. I have peace with God through our Lord Jesus Christ (Romans 5:1).
Survivor's guilt paralyzed me and many times I questioned why I came home when many others didn't. Why did I come back from combat with only minor physical wounds and many others returned with permanent, lifelong injuries?
Survivor's guilt kept me from enjoying God's grace towards me. I felt I was undeserving of surviving combat and being home with my family. After returning from my second deployment from Iraq, I received a call from a girl named Michelle Kim. Michelle was the sister of Private Jin Ho Kim, a soldier in our unit who was killed in Iraq. She asked if I would be willing to meet her and her parents. I agreed and we met for lunch and spoke for over two hours. They asked me a lot of questions about how and where their son died. They also wanted to know if he was a good soldier and if he enjoyed what he was doing in the Army. I asked them about Jin Ho and what was he like as a brother and son. Emotionally it was difficult to meet with them, but I was grateful to have the opportunity to do so.
After saying our goodbyes with tears and smiles, I felt a heavy burden of guilt. Kathryn was with me and when I was driving I had to pull over because of the overwhelming feeling of survivor's guilt. I cried in the car uncontrollably with tears of sorrow and pain, asking myself, "Why me?" I kept saying, "Why did I come home?" I cried out loud, "I should have died in Iraq!" Kathryn held me gently and kept saying to me, "It's okay." While going through Redemption Group last year I came to accept that the only reason I survived in combat was because the grace of our Lord overflowed for me . . . and the love that is in Christ Jesus (I Timothy 1:14—"The grace of our Lord was poured out on me abundantly, along with the faith and love that are in Christ Jesus"). I'm not any better or more special than any soldier who died in combat. Because of God's grace, which is God's undeserved favor towards us, he kept me safe through three deployments and alive today in order to serve him.
With his love and grace, God started to heal me from PTSD through the power of the Holy Spirit. He did not give me the answers to all my questions, but revealed to me that his grace is sufficient. God started to take my grief and turn it to joy. In Psalm 30:5 it says, "Weeping may tarry for the night, but joy comes with the morning." James 1:2 says, "Count it all joy, my brothers, when you meet trials of various kinds, for you know that the testing of your faith produces steadfastness." I'm not talking about happiness, but joy through pain in suffering. Pastor Mark preached on this in the second sermon in the James series when he said, "Happiness is because of your circumstances, joy is in spite of your circumstances . . . it's crazy joy." There will always be pain in my heart for the soldiers I've lost in combat, but today joy in Christ will be my strength, for the Scripture says, "The joy of the Lord is your strength" (Nehemiah 8:10)!
Through the three deployments (40 months total) to combat and being diagnosed with PTSD, God has revealed to me that his grace is sufficient. In 2 Corinthians 12:9, God said to Paul, "My grace is sufficient for you, for my power is made perfect in weakness." And like Paul I can say, "Therefore I will boast all the more gladly of my weaknesses, so that the power of Christ may rest upon me." Christ is my hope and salvation, he is my joy and peace, he is my treasure and redemption!
I'll conclude by quoting 2 Corinthians 4:5-11:
"For what we proclaim is not ourselves, but Jesus Christ as Lord, with ourselves as your servants for Jesus' sake. For God, who said, 'Let light shine out of darkness,' has shone in our hearts to give the light of the knowledge of the glory of God in the face of Jesus Christ. But we have this treasure in jars of clay, to show that the surpassing power belongs to God and not to us. We are afflicted in every way, but not crushed; perplexed, but not driven to despair; persecuted, but not forsaken; struck down, but not destroyed; always carrying in the body the death of Jesus, so that the life of Jesus may also be manifested in our bodies. For we who live are always being given over to death for Jesus' sake, so that the life of Jesus also may be manifested in our mortal flesh."
To God be the glory, forever!
Questions to Share:
1. How did God sustain Chaplain Choi during his three deployments? How has God sustained you during your deployments?
2. Pray for Pastor Choi as God uses his wartime chaplaincy experience to minister now to those in his church. Pray also for yourselves, as a couple, for God to use your deployment experience to minister to others.
Excellent or Praiseworthy is posted on Monday and Thursday nights.
The LORD looks from heaven; He sees all the sons of men; From His dwelling place He looks out on all the inhabitants of the earth, He who fashions the hearts of them all, He who understands all their works. — Psalm 33:13-15
The inscription on the Tomb of the Unknowns in Arlington National Cemetery reads:
"Here rests in honored glory an American soldier known but to God."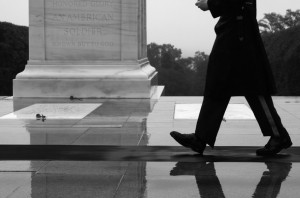 The soldiers from the 3d U.S. Infantry Regiment who guard it are held to the highest of standards—they learn and live Line 6 of The Sentinel's Creed.
They walk the plaza 24 hours a day, 365 days a year—no matter the weather. They change guard every 30 minutes to two hours, depending on the time of day and season of the year.
Being chosen to be a Tomb guard is a rare honor—and requires unfaltering attention to detail. Every step is measured . . . every movement set to a cadence that is ingrained in their minds as well as their hearts.
On this Memorial Day, we honor many who died in service to our country . . . and thank the guards charged with keeping watch over the unknowns who represent the utmost bravery of our military service members.
The Sentinel's Creed
My dedication to this sacred duty
is total and whole-hearted.
In the responsibility bestowed on me
never will I falter.
And with dignity and perseverance
my standard will remain perfection.
Through the years of diligence and praise
and the discomfort of the elements,
I will walk my tour in humble reverence
to the best of my ability.
It is he who commands the respect I protect,
his bravery that made us so proud.
Surrounded by well meaning crowds by day,
alone in the thoughtful peace of night,
this soldier will in honored glory rest
under my eternal vigilance.
- Simon 1971
In studying the guards and their noble calling, I was reminded of the eternal vigilance of God—our eternal guardian. Psalm 121 declares, "I lift up my eyes to the hills—where does my help come from? My help comes from the LORD, the Maker of heaven and earth. He will not let your foot slip—he who watches over you will not slumber; indeed, he who watches over Israel will neither slumber nor sleep. The LORD watches over you—the LORD is your shade at your right hand; the sun will not harm you by day, nor the moon by night. The LORD will keep you from all harm—he will watch over your life; the LORD will watch over your coming and going both now and forevermore."
That is eternal vigilance.
Questions to Share:
1. Pray together for the friends and families of those who gave the ultimate sacrifice while on military duty for our dear country—that the Lord would watch over them and comfort them.
2. Make a list of all of the places you have been stationed. Then read Psalm 139:7-10: "Where can I go from your Spirit? Where can I flee from your presence? If I go up to the heavens, you are there; if I make my bed in the depths, you are there. If I rise on the wings of the dawn, if I settle on the far side of the sea, even there your hand will guide me, your right hand will hold me fast." What do these verses say about where God has been when you were at a duty station?
Excellent or Praiseworthy is posted on Monday and Thursday nights.
Greater love has no one than this, that one lay down his life for his friends. — John 15:13
Time spent with chaplains is precious time. A few years ago we shared that precious time with a particular Navy chaplain who gave us a glimpse into his world of responsibility—which includes leading a chapel community, teaching Bible studies, completing administrative and training assignments (to name but a few of a myriad of tasks). . . .and being the notification officer and ministering chaplain to those in a wide circumference around his assigned duty station.
He gave me permission to share a story which he wrote in an article, "Journey of an American hero—Taking Kyle home." I share it, in reverence, not in detail but in the spirit of this Memorial Day as we honor those who, along with their families and communities, have paid the ultimate price to obtain and secure our freedom.
Chaplain (Commander) Manuel A. Biadog Jr., USN, had the honor of observing and participating as the family and community of Pawtucket, Rhode Island, carried Pfc. Kyle J. Coutu to his final resting place at Exeter Veterans' Cemetery on February 26, 2010. What I read about Pfc. Coutu in Chaplain Biadog's account allowed me to picture an all-American boy turned man who served as a Marine with the 3rd Battalion, 6th Marine Regiment, 2nd Marine Division, based out of Camp Lejeune, North Carolina. "Coutu has faithfully lived the highest core values of his Corps (Honor, Courage and commitment); his religious faith; and his country for which he fought and died. It is the trait of bravery and courage that Coutu lived each and every day in the Marine Corps. He never gave up believing in his family, friends, loved ones, fiancé, his fellow Marines and his homeland . . . .Coutu and 10 other Marines were killed in action during a major combat offensive against the Taliban in Helmand province, Afghanistan."
Chaplain Biadog recounts: "What stands out vividly in my mind more than anything else and moved me to tears was when I saw countless citizens—young and old—military veterans, state and local police, fire-fighters, teenagers, children and many others lining the streets and highways waving large and small American flags. These patriotic Americans waved the flags and welcomed their hero home."
On this Memorial Day, what Chaplain Biadog shared reminds us that "we owe tremendous gratitude to all patriots and military veterans—past and present—who were willing to give their todays, in order that we might have our tomorrows. We will always have a continuing remembrance and deepest thanks of their service, along with their surviving families, for the ultimate sacrifices they have made. It will always cost the lives of the best and brightest people, like Coutu, for the price they paid for freedom and liberty. All gave some, some gave all. Coutu gave his all."
The article ends with the words spoken by Pfc. Peter Lang, childhood schoolmate, fellow Marine, and best friend of Coutu, who escorted his remains home. Chaplain Biadog tells us: "As a final tribute . . . Lang memorized in his mind and heart the Marine Corps Prayer . . . and solemnly recited: 'Almighty Father, whose command is over all and whose love never fails, make me aware of thy presence and obedient to thy will. Keep me true to my best self, guarding me against dishonesty in purpose and deed and helping me to live so that I can face my fellow Marines, my loved ones, and thee without shame or fear. Protect my family.
Give me the will to do the work of a Marine and to accept my share of responsibilities with vigor and enthusiasm. Grant me the courage to be proficient in my daily performance. Keep me loyal and faithful to my superiors and to the duties my country and the Marine Corps have entrusted to me. Help me to wear my uniform with dignity, and let it remind me daily of the traditions, which I must uphold.
If I am inclined to doubt, steady my faith; if I am tempted, make me strong to resist; if I should miss the mark, give me courage to try again.
Guide me with the light of truth and grant me wisdom by which I may understand the answer to my prayer. Amen.'"
God helping us, we shall never forget.
Work cited:
Commander Manuel A. Biadog, Jr., "Journey of an American Hero—Taking Kyle Home," The Globe, Camp Lejeune, N.C., March 18, 2010, p. 10A.
Questions to Share:
1. On Memorial Day is there someone in particular whom you pause to remember? Share that with each other.
2. The words of the Marine Corps prayer are tender and powerful. Repeat that prayer for yourself and your spouse.
« go back
—
keep looking »