Excellent or Praiseworthy is posted on Monday and Thursday nights.
"You know when I leave and when I get back; I'm never out of your sight." — Psalm 139:3  from The Message
Where are you today?
Are you making the trek cross-country in order to be co-located with your spouse who is also active duty? Are you in the desert, far away from home? Or on a ship? Are you packing up for a move to a training base? Are you diligently working as a security guard during these nervous times? Are you burdened with too many unknowns and unmet expectations? Are you saying good-bye to a very close friend because of a re-assignment?
Are you thinking of the folks in Boston who experienced such horror, and praying for them and for our entire nation? Or perhaps you are called up to serve in Massachusetts because of this tragic event?
No matter where you are, know that God is with you. You are never alone.
When we need to be reminded of this truth as Believers, we go to Psalm 139. Tonight we total three Excellent or Praiseworthy postings in a row which make mention of Psalm 139. That is unusual for our devotional blog, but appropriate based on the mood of our country.
Psalm 139:1-18 is beautifully quoted on "Fighting Loneliness," the posting from Charmayne, an Air Force wife, last Thursday. But tonight's paraphrase of this psalm extolling God's omnipresence and His omniscience is not from a military wife, nor from anyone associated with the military—but from an elderly Christian saint, Mrs. Frances Nash, who was battling cancer and recovering from multiple surgeries in 2002.
During her period of recuperation, Mrs. Nash began the project of taking each of the one hundred and fifty psalms and expressing them in her own words. She writes, "I was not foolish enough to attempt to improve upon the originals, I simply wanted to make them 'mine' by resaying them in my own common everyday language. It was the perfect project for someone recuperating. It lifted, encouraged and strengthened me, chasing away impatience, boredom and self-pity—replacing the recuperation-blues with praise."  She closes her Introduction with this encouragement to you, " . . . my hope is that the mere simplicity of my words, written about, and to, Someone who is indescribably holy, awesome and forgiving will bring praise and joy to your hearts also."
O Lord, You have X-rayed me and seen through all my hidden secrets.
All my habits and whims are an open book to You.
When I wake up each morning You recognize all my words of the day before I speak them.
Quick and fleeting as some thoughts may be, not one of them escapes Your thorough understanding.
Wherever I go You accompany me;
You even stop with me when I must rest.
Your Presence surrounds me—covering, following, preceding me.
Lord God, Your fingers are on my pulse, knowing the health of my body, soul and imagination.
Even though I know this as fact, I still cannot grasp it complete, Father.
It is higher than my mind can reach.
May I not ever hide from You sometimes. Lord?
Is there no place I may go to escape Your total knowledge of me?
If my path leads me to joy, You are there in my joy.
When I am crushed by misery or fear—there You are beside me.
If I could ride upon the sunrise to the most distant parts of space,
You would already be there, with Your hand on my shoulder.
No matter whether darkness covers me or light illuminates me,
You always see the real me—just as I am.
The darkest dark is no hiding place. Darkness and daylight both exist by Your command,
So either way, we are still in Your spotlight.
While I was in the womb, Your protection held me close as You knitted me together—
Cell by cell and gene by gene.
I marvel in awe and wonder at the intricate interaction of my construction.
It is truly past human understanding.
And Lord—Your thoughts concerning me are as uncountable as grains of sand on the shore!
Each morning upon awakening, I realize anew that You are here with me.
So Lord God, keep me I pray from the stinginess of a praiseless heart, for that is unspoken blasphemy.
And Father, steer me away from those who are set against You.
Continue to search through me and know me.
Show me where hidden sin lies within me.
Then Lord, lead me along the path to wholeness.
Mrs. Nash completes her writing on Psalm 139 with this challenge, "To the well-known children's song, 'Jesus loves me, this I know,' add another line, 'Jesus knows me, this I love!'  Doesn't this sum up what David (the author of Psalm 139) learned centuries ago? Even though God knows His own people totally, He still loves us totally" (p. 203).
So no matter where in the world you are tonight, our Lord is right beside you. And He loves you. Be encouraged.
Work Cited:
Nash, Frances, Let All Creation Praise Him, self-published by the author in Jacksonville, Florida, in 2002.
Questions to Share:
1. What comfort does it give you as a Christian to know that God is always with you—"Wherever I go you accompany me"?
2. Who will you pray for tonight to be comforted by the truth that God is with them?
Excellent or Praiseworthy is posted on Monday and Thursday nights.
Fight the good fight of the faith. —  I Timothy 6:12
My husband returned four months ago from a year-long deployment to Afghanistan. This was our first deployment, and we were stationed in the United Kingdom when he was given the orders. We quickly had to decide whether I would stay in the UK or return to the States to be closer to family while he was gone.
My husband thought I would be happier being close to family, but I felt the Lord telling me to trust Him and stay in the UK, even if it meant I was going to be alone. This was a hard decision because I felt I was staring my biggest fear right in the face—I was going to be left alone in a foreign country while my husband went to war. Scary!
As my husband and I prepared for the deployment, and throughout the deployment, God was constantly reminding me of His precious promise in Deuteronomy 31:8 that He would never leave me nor forsake me. I needed to know that, and it was such a comfort to me.
Also, in Psalms 139:1-18, I was encouraged by King David when he cries out to God saying:
You have searched me, Lord, and you know me.
You know when I sit and when I rise; you perceive my thoughts from afar.
You discern my going out and my lying down; you are familiar with all my ways.
Before a word is on my tongue you know it completely, O LORD.
You hem me in—behind and before; you have laid your hand upon me.
Such knowledge is too wonderful for me, too lofty for me to attain.
Where can I go from your Spirit?
Where can I flee from your presence?
If I go up to the heavens, you are there; if I make my bed in the depths, you are there.
If I rise on the wings of the dawn, if I settle on the far side of the sea,
even there your hand will guide me, your right hand will hold me fast.
If I say, 'Surely the darkness will hide me and the light become night around me,'
even the darkness will not be dark to you; the night will shine like the day, for darkness is as light to you.
For you created my inmost being; you knit me together in my mother's womb.
I praise you because I am fearfully and wonderfully made; your works are wonderful,
I know that full well.
My frame was not hidden from you when I was made in the secret place.
When I was woven together in the depths of the earth, your eyes saw my unformed body.
All the days ordained for me were written in your book before one of them came to be.
How precious to me are your thoughts, O God!  How vast is the sum of them!
Were I to count them, they would outnumber the grains of sand.
When I awake, I am still with you.
This was such a comfort to me. Even when I felt lonely, God was always with me. The remembrance of that strengthened me.
Everyone experiences loneliness at one time or another. Because of the demands of the military life, military spouses experience the weight of husbands or wives leaving for duty on orders. The family is left to find a "new normal" while a very important part of the family is not physically present. Besides deployments and TDYs, moves can leave us in unfamiliar surroundings and with unfamiliar faces—and later having to say "good-bye" to those same faces. The military members, too, go all over the world to serve in detrimental environments, always meeting new people and doing new jobs. So how do we cope with the potential loneliness that comes with this lifestyle?
We do not need to be afraid of being alone—nor is this feeling of loneliness uncommon. When experiencing these feelings, we should do what King David did many times—cry out to God. This "man after God's own heart" (I Samuel 13:14), who often experienced war and was often "deployed" to fight for his people, writes over and over in the book of Psalms about being lonely as he turns to God for strength: "Turn to me and be gracious to me, for I am lonely and afflicted . . . Guard my life and rescue me; let me not be put to shame, for I take refuge in you. May integrity and uprightness protect me, because my hope is in you" (Psalm 25:16, 20-21).
Our year of deployment was the hardest time of our lives so far. But we learned valuable lessons. We grew closer to God and we grew in our marriage. We met great friends and we served those God placed around us. I found comfort in knowing feeling lonely was not abnormal. And most importantly, I found comfort in God and knowing that He promises to always be with my husband and with me. I may have felt physically alone, but God was always with me.
If you find yourself fighting loneliness, turn to God's word for encouragement and guidance first. Pray for God to place people around you who can be a support system. Also, pray for people whom you can serve. Serving others always helps us think less often about our circumstances and focus on helping others. Be ready for God to answer those prayers!
No matter where we go in the military—and no matter where our spouses go—our God is always with us. God knows you and He made you. He has placed you where you are for a reason. What a promise that is to us in this military lifestyle!
Questions to Share:
1. When have you felt the most alone?  What did you do to fight the feelings of loneliness?
2. How can you encourage each other during deployment when faced with loneliness?
Excellent or Praiseworthy is posted on Monday and Thursday nights.
"They are not just idle words for you—they are your life."  —  Deuteronomy 32:47a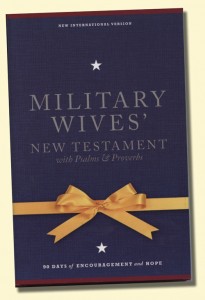 Recently my husband and I were with a group of military couples attending a marriage seminar. During one session, I had some time with just the wives, and I encouraged them to go to Psalm 139 whenever they felt lonely—to Psalm 145 whenever they felt hopeless—James 1 whenever they felt discouraged . . . and so on. The truth is—the Bible has the answers to whatever we need.
Because this is true, Zondervan Publishing wants to honor you as military wives with a special devotional Bible. They called on Jocelyn Green (faithdeployed.com) to edit this much-needed publication. Jocelyn writes in the Foreword, " . . . I couldn't be more thrilled that you have picked up this Bible. If what you want—what you desperately crave—is a faith that shields you, a hope that sustains you, and a peace that defies the stress of your lifestyle, there is simply no substitute for the Word of God . . . The Bible is powerful, living and active; it is sharper than any two-edged sword. And it is relevant to you. Amazingly, wonderfully and undeniably relevant."
The devotional Bible contains the New Testament, Psalms and Proverbs—along with 60 devotions written by "veteran women of God who have walked where you walk as the wife of a military man." There are also 30 stories told about heroines on the American home front which aptly illustrate a biblical principle. The purpose is that "these features will deepen your faith and enrich your personal relationship with Jesus Christ."
Here are some excerpts which will strengthen your heart and encourage you to delve into this material:
Marshele Carter Waddell writes about Matthew 10:28 in its application to her prayer life for her husband deployed as a SEAL. She says, "Though I prayed for my husband's physical safety many times a day, I never knew to pray for his mind. But the war came home with him, lodged in his spirit as an invisible wound" (p. 15).  She gives these guidelines: "1) Pray according to the Word of God; . . . 2) Pray with authority and confidence; . . . 3) Ask the Holy Spirit to pray through you; . . .4) Refuse to live in fear and doubt; . . . and 5) Believe God (p. 15)."
My contribution comes from Romans 12:12-13 describing the character of God in a Christian home. I share the story of a little girl telling about the family's search for housing at a new military assignment with this: "Oh, we have a home. We just haven't found a house to put it in!" (p. 188). Taking the Apostle Paul's challenge to "be joyful in hope, patient in affliction, faithful in prayer, share with the Lord's people who are in need, and practice hospitality" (p. 188), I apply these points to military life.
Bettina Dowell likens I Timothy 4:7-8 to the training experienced in military life. She says, "What did my training look like?  Extended deployments. Stressful working conditions for my husband. One in three 24-hour duty rotations. Lack of communication from my husband due to the ship's extended travels at sea. PCS moves. Orders that were delayed, changed, canceled or enacted at the last minute. Being hundreds of miles away from family for the first time in my life. All these things provided training for me, even though I did not recognize it at the time" (p. 259). She adds, "As a young bride, I thought the military just wanted to make our lives miserable. . . What I failed to see at the time was that God was using each and every stress to help me mature. The maturity of learning to trust God, even when my life circumstances were far from what I wanted them to be, was beneficial not only in our early days together but also throughout our marriage" (p. 259).
Jocelyn Green, the General Editor for this project, adds perspective in many of the "heroine" stories from past war-time conflicts. In "The Heroine of Gettysburg" she tells of Elizabeth Masser Thorn . . . a German immigrant who served our country valiantly during the Civil War as the caretaker of Evergreen Cemetery—preparing the graves for many killed during the battle of Gettysburg. Her sacrificial diligence illustrated Hebrews 6:10: "God is not unjust; he will not forget your work and the love you have shown him as you have helped his people and continue to help them" (p. 276).
Ronda Sturgill begins her writing on Psalm 77 with: "As I read Psalm 77, all I can think of are the many nights I have lain awake in distress, calling out to God. My desperate pleas and prayers on behalf of my family seemed at times to fall on deaf ears . . . But the author of Psalm 77 made a conscious decision to remember the deeds of the Lord. He looked beyond his present troubles and decided to remember the miracles of long ago . . . As the psalmist did this, his troubled spirit was transformed from hopeless to hopeful . . . Perhaps if I remember what God has done for me, my troubled spirit will be transformed as well" (p. 388).  Having met Ronda, I can testify that God's faithfulness has indeed given her assurance and encouragement during many challenging times—and she serves as a model for many military wives.
These are just a few of the devotions offered as lessons in godliness for today's military wives. Jocelyn concludes her Foreword with this charge:  "Just as surely as a physical enemy attacks our military, the enemy of your soul will attack you. The Bible is both your protection and your weapon. Read it, dwell in it, pray it, wield it. Be strong in the Lord and in his mighty power."
Work Cited:
Green, Jocelyn, General Editor, NIV Military Wives' New Testament with Psalms & Proverbs (Grand Rapids: Zondervan, 2013).
 Questions to Share:
1. Where do you turn for help during troubled times?
2. How can you encourage each other to turn to the Bible for answers to the questions of life?
Excellent or Praiseworthy is posted on Monday and Thursday nights.
When I consider Your heavens, the work of Your fingers, The moon and the stars, which You have ordained; What is man that You take thought of him, and the son of man that You care for him?  — Psalm 8:3,4
"Father, as we steam into another night and provide another over-watch into our skies . . . May we remember that You are the One who set the stars in motion and granted us life.
We invite Your presence into the mission ahead and on into the deck plates of our lives.
May our steps be safeguarded and unseen obstacles be removed.
May our shipmates become as family and our families become as treasure.
As we hold to their memories and the ones being built, Help us gain new understandings to the problems before us, while also granting grace to others who stand behind us.
Help us, Lord, to build upon our strengths while continuing to rely upon Yours. Amen"
Editor's Note:  The above evening prayer, delivered by a Navy chaplain recently at sea, brings to my mind "The Navy Hymn."  Also called "Eternal Father, Strong to Save," it was written as a poem by Rev. William Whiting of Winchester, England in 1860. The music accompanying these lyrics was added in 1861 by Rev. John Dykes, another English clergyman.
In 1879 it became practice for the first verse of this hymn to be sung at the conclusion of chapel services on Sundays at the United States Naval Academy at Annapolis.
Through the years, verses have been adapted to "The Navy Hymn" to reflect naval service by aviators, submariners, Seabees, SEALS, Marines, military families, and others who serve nobly.
Below are the first and last verses of a common version of "Eternal Father, Strong to Save" found in Protestant hymnals. We have also included a performance of these verses by the 2008 Naval Academy Mens' Glee Club.
Eternal Father, strong to save,
Whose arm hath bound the restless wave,
Who bids the mighty ocean deep
Its own appointed limits keep:
O hear us when we cry to Thee
For those in peril on the sea.
O Trinity of love and power,
Our brethren shield in danger's hour;
From rock and tempest, fire and foe,
Protect them where-so-e'er they go;
Thus evermore shall rise to Thee
Glad praise from air and land and sea.
Information from www.history.navy.mil Frequently Asked Questions on "Eternal Father, Strong to Save":  The Navy Hymn
Questions to Share:
1. How do you pray for each other while geographically separated during deployment?
2. Ask your spouse how you can pray for them during this next week, and then keep a journal of the prayer requests and how God answered them.
Excellent or Praiseworthy is posted on Monday and Thursday nights.
"Now that same day two of them were going to a village called Emmaus, about seven miles from Jerusalem. They were talking with each other about everything that had happened. As they talked and discussed these things with each other, Jesus Himself came up and walked along with them; but they were kept from recognizing Him." — Luke 24:13-16
I love the story of the two men on the road to Emmaus in Luke 24, as Jesus walks beside them and talks to them in the days after His resurrection but before His ascension. His presence was so real, but at first they did not know who He was. Jesus asks them, "What are you discussing together as you walk along?" (Luke 24:17) They answer with downcast looks, questioning how anyone could have missed knowing about the events in Jerusalem. They explain to the "unknown stranger" walking beside them that they know of Jesus by His reputation: "He was a prophet, powerful in word and deed before God and all the people." (Luke 24:19b) They continue to relate to their walking companion of their expectation of Jesus: "We had hoped that He was the one who was going to redeem Israel." (Luke 24:21a) And finally they express their frustration over the news that it had been three days and His tomb was open but He was missing.
Is this how we relate to Jesus? We know of His reputation, but He isn't what we expected, and we become frustrated when He doesn't "do" what we want.
Jesus seeks the companionship of the two men on the road to Emmaus, just as He seeks ours. And what happens next? He challenges their scholarship, at the point of Scripture. "And beginning with Moses and all the Prophets, He explained to them what was said in all the Scriptures concerning Himself." (Luke 24:27) They wanted a Messiah, and Jesus reaches into their knowledge and understanding of the Old Testament to prove that He is the One. They hear from Christ Himself that He had to suffer and die before entering His glory—something they did not as yet grasp.
But the story doesn't end there, because as yet there is no understanding on their part of who Jesus really is—no relationship. They invite Him to sit down and dine together. Jesus takes the bread, gives thanks, and then breaks it before He gives it to them with His nail-scarred hands. "Then their eyes were opened and they recognized Him, and He disappeared from their sight." (Luke 24:30) In spending time with Him, hearing truth from Him as He taught from Scripture, and being given the broken bread—they recognize Him. They admit to having their hearts burn within them during this experience on the road—and they return to Jerusalem proclaiming "It is true!The Lord has risen. . . . ." (Luke 24:34)
Christianity is not a religion. . . .it is a relationship. Jesus wants to make Himself known—just as He did with these two men in the gospel of Luke. And we can come to know Him by spending time with Him, by studying truth in Scripture, and by knowing that it is the Holy Spirit who will open our eyes to the brokenness of His body on the cross in order to give us fullness of life—beginning now and throughout eternity with Him.
In the days which followed this account, Jesus ascended to heaven where He now resides at the right hand of God, the Father. The book of Acts continues the story which is, even today, still being written in the hearts and lives of men and women throughout the world. In the first chapters of Acts we read of these early, powerful proclamations:
"With great power the apostles continued to testify to the resurrection of the Lord Jesus, and much grace was upon them all."— Acts 4:33
"Day after day, in the temple courts and from house to house, they never stopped teaching and proclaiming the good news that Jesus is the Christ."— Acts 5:42
Is your heart downcast? Do you not sense the presence of Christ where you are right now? If you are deployed, hopefully you received a camouflaged Bible and can open it to search the Scriptures (perhaps beginning with reading the gospel of John), and begin to see that Jesus' sacrifice on the cross was for you. Spending time in Scriptures, spending time with His people, spending time in worship—that's how you get to know the Lord no matter where you are in the world.
When a couple begins dating and they want to get to know each other, they spend time together. They talk, they share hopes and dreams, they grow as they experience life together. It's the same in our relationship with Jesus Christ—we spend time with Him in study, in prayer, and in seeing His faithfulness in our life experiences.
Go ahead—begin the journey on the road. . . . . .with Jesus beside you. You will never be the same. "Therefore, if anyone is in Christ, he is a new creation; the old has gone, the new has come!"— 2 Corinthians 5:17
Questions to Share:
1. Can you tell of a time when you had an expectation of God, and He delivered even more than you could have hoped or imagined?
2. Can you tell of a time that you felt all alone, and then you sensed God with you?
Excellent or Praiseworthy is posted on Monday and Thursday nights.
Jesus said to her, "I am the resurrection and the life.  He who believes in Me will live, even though he dies; and whoever lives and believes in Me will never die.  Do you believe this?"  — John 11:25,26
My Christmas celebration includes listening to the delivered words of Dr. S. M. Lockridge in his sermon, "That's My King!"  And a similar joy comes at Easter when I listen to his preaching "It's Friday. . . but Sunday's Comin'!"  This year I can share with you the powerful presentation put together with scenes from Mel Gibson's "The Passion of The Christ."  The video clip captures joy which Christians are experiencing because of the truth of the empty tomb on Resurrection Sunday:
What are you going to do with this truth?  The Apostle Paul wrote:  "For I delivered to you as of first importance what I also received, that Christ died for our sins according to the Scriptures, and that He was buried, and that He was raised on the third day according to the Scriptures. . ."  I Corinthians 15:3,4
We live in a world of turmoil and war, desperately in need of hope . . . . the hope that can only come through knowing Jesus Christ as Lord and Savior.
Can you share that hope with someone today?  "Praise be to the God and Father of our Lord Jesus Christ!  In His great mercy He has given us new birth into a living hope through the resurrection of Jesus Christ from the dead. . . "  I Peter 1:3
Questions to Share:
1. What difference has the understanding of Christ's resurrection made in your life?
2. Who could you share with about Christ's atonement for our sin made possible by His death on the cross followed by His resurrection?
Excellent or Praiseworthy is posted on Monday and Thursday nights.
The final words of Jesus before He ascended, "I am with you always, even to the end of the age." — Matthew 28:20
Let's admit it—there is a certain loneliness that comes with military service. Deployment brings geographic separation from loved ones. And even when there is camaraderie in the deployed unit, one can still feel a certain loneliness which accompanies maintaining a constant alert at a remote location or experiencing encroaching fear in battle.  Even when home there is a certain isolation which can occur because loved ones might not understand or appreciate the mission and calling . . . especially given the demands on schedules and families because of the ops tempo.  So whether active duty or the spouse of an active duty service member, loneliness can accompany the realities of aloneness, even if surrounded by others.
So I don't think we can remind one another too often that we are never alone. The presence of God is real and sure, and Easter week is a good time to say it again.
"God's very presence is his greatest gift to us. And yet I think it is a gift that most of us have never fully unwrapped. We've simply never embraced it for all of the intense joy and comfort it can give us. Maybe it's because we haven't believed the presence of God is enough to soothe and satisfy us. . . .the Bible, from beginning to end, is a story of God extending himself, lowering himself, sacrificing himself, so that you and I can know and experience the fulfillment of a relationship with him, the satisfaction and safety of his very presence. It is God telling us over and over again that he wants to be with us." Nancy Guthrie in The One Year Book of Hope, pgs. 105,106.
That intimacy, made very real in the power of the Holy Spirit, is such a gift. With it comes peace in the midst of chaos, security in the midst of danger, comfort in the midst of pain, reassurance in the midst of loneliness.
Two of my favorite "presence" reminders are from early chapters in the Old Testament. Jacob is alone at Bethel when God meets him in a dream and says, "I am the LORD, the God of your father Abraham and the God of Isaac. I will give you and your descendants the land on which you are lying. Your descendants will be like the dust of the earth, and you will spread out to the west and to the east, to the north and to the south. All peoples on earth will be blessed through you and your offspring. I am with you and will watch over you wherever you go, and I will bring you back to this land. I will not leave you until I have done what I have promised you." When Jacob awoke from his sleep, he thought, "Surely the LORD is in this place, and I was not aware of it." — Genesis 28:13-16
Later, in Exodus 33, Moses expresses his concern to the LORD about leading the Israelites out of Egypt and into the Promised Land. Who would go with him to guide and help? "The LORD replied, 'My Presence will go with you, and I will give you rest.'" — Exodus 33:14
It is a lie that we are alone. As Christians, we are never alone. Satan would desire to create isolation in our minds and hearts, which then leads to discouragement, deception, and destruction.
Psalm 139 is the ultimate "presence" reminder. . . . and I believe speaks to our military forces who might be experiencing loneliness in the air, sea, or ground battles or even alone at home:
"Where can I go from Your Spirit? Where can I flee from Your presence?
If I go up to the heavens, You are there (sounds like Air Force to me!);
If I make my bed in the depths (could that be a submarine?), You are there.
If I rise on the wings of the dawn (up early at home?), if I settle on the far side of the sea (our ground troops?),
Even there Your hand will guide me, Your right hand will hold me fast." —Psalm 139:7-10
And for a last reminder: One of the greatest commanders in the Old Testament was Joshua. When the Israelites were re-entering the land as the LORD had promised Jacob in the quote from Genesis 28, he encouraged them with these words, "Be strong and courageous. Do not be terrified; do not be discouraged, for the LORD your God will be with you wherever you go." — Joshua 1:9
Good words then. . . .good words now . . . .good words wherever you are in the world tonight. You are never alone if you know the presence of God.
Work cited:
Guthrie, Nancy, The One Year Book of Hope (Carol Stream: Tyndale House Publishers, Inc., 2005)
Questions to Share:
1. Do you know God's Son, Jesus Christ, as Lord and Savior? If not, then you are wrestling with unforgiven sin. Why not settle this once and for all and make this the best Easter of your life! Go to:
Godlovessoldiers.com
Godlovesmarines.com
Godlovessailors.com
Godlovesairmen.com
Godlovescoastguardsmen.com
2. Are feelings of loneliness predictable? Write out some promises of God's presence and bring them out as a reminder when those feelings come—or, better yet, memorize them to combat the enemy when he would tell you the lie of loneliness.
Excellent or Praiseworthy is posted on Monday and Thursday nights.
But He said to me, "My grace is sufficient for you, for My power is made perfect in weakness" . . . That is why, for Christ's sake, I delight in weaknesses, in insults, in hardships, in persecutions, in difficulties. For when I am weak, then I am strong. — II Corinthians 12:9,10
We do not want to miss this grace—this pure grace of God that gets us from the excitement-building, heart-racing, glee-producing "Welcome Home" moment . . . through the adjustments and transitions which characterize reintegration. Hebrews 12:15 reads, "See to it that no one misses the grace of God . . .", and reintegration done well will validate that it is God's grace, and grace alone, that smooths the return home.
You will find a posting entitled "Greater Grace for Deployment" in the archives of Excellent or Praiseworthy.  In that posting we discussed the extreme demands on a marriage by multiple deployments. "Greater grace takes you from 'I can't do this anymore' to 'I can do all things through Him who strengthens me'" (Philippians 4:13).
Likewise the pure grace of God in reintegration takes us from "I didn't expect homecoming to be anything but sweet" to "God is able to make all grace abound to you, so that in all things at all times, having all that you need, you will abound in every good work" (2 Corinthians 9:8). This grace is so powerful, so cleansing, so redemptive that I can only call it "reintegrace." Indeed, God can take the strain of deployment and the uncertainty of transition and fashion it to be good because of His pure grace and mercy (Psalm 119:68).
If the journey of reintegration could be plugged into a GPS, the destination for a couple would be oneness. Genesis 2:24 states, "For this reason a man will leave his father and mother and be united to his wife, and they will become one flesh." Oneness in a marriage is not just a physical relationship, but emotional and spiritual as well. A couple who is geographically separated longs for the day when they are physically reunited. But the reuniting must also take the form of an emotional and spiritual oneness for there to be the real sense that they are back together. This is the challenge . . . and requires an intentional effort to demonstrate grace in at least seven areas:
1. The Grace of Daily Mercies
Change is inevitable when someone goes off to war . . . and the family at home changes, too. There can be a tendency to "compare" trials. The one on the front lines of war lived with danger every moment. The one at home lived with day-to-day struggles and demands. You each endured hardships, and any "one ups-manship" can only create conflict.
Grace says, "I acknowledge your fears and challenges. I want to imagine what it was like to walk in your shoes for a while so that I can appreciate what you've been through!" If necessary, initiate conversations, ask questions and listen to the answers. Examine scheduling priorities in order to have time together and plan getaways during reintegration . . . all in order to cultivate oneness. Oneness in marriage glorifies God, so committing to do the hard work of transitioning from being apart to being together will be something God honors. This is a daily exercise. Each day will bring new opportunities to see how everyone has changed—and how God can bring you back to oneness.
"Because of the LORD's great love we are not consumed, for His compassions never fail. They are new every morning; great is Your faithfulness" (Lamentations 3:23).
2. The Grace of Kind Words
Both of you as husband and wife have taken on different roles during deployment, and sometimes there can be harsh, demanding tones and explosive arguments when tasks are not done in a certain way. The demands of battle require expediency . . . the demands at home require prompt attention. Barking orders to each other can be a natural outgrowth of what you have experienced.
Grace says, "Humility and gentleness will shine best through my smile and kind speech." You are not each other's enemy, and it may take time to view each other lovingly.
"Do not let any unwholesome talk come out of your mouths, but only what is helpful for building others up according to their needs, that it may benefit those who listen" (Ephesians 4:29).  "Let your conversation be always full of grace . . . " (Colossians 4:6a).
3. The Grace of Perspective, Patience, and Purpose
You are both tired—and excited. It may take time to get back to normal physical patterns after lengthy separation and then travel. This is when it is extremely important to remember that reintegration is a season . . . a journey. Be patient with each other. The spouse who found great significance in the mission downrange may need to regain purpose in a normal household routine—and the spouse at home needs to gradually let go of some of the responsibilities which he or she managed alone. Reintegration is a synchronized "dance" that takes time to re-learn so that you don't step on each other's toes!
Grace says, "I'm so glad we're back together again, and I will be patient during this time of transition and help you to re-adjust . . . not criticize."
"Do nothing out of selfish ambition or vain conceit, but in humility consider others better than yourselves. Each of you should look not only to your own interests, but also to the interests of others" (Philippians 2:3,4).
4. The Grace of Forgiveness
The reality is that things may have happened during your deployment which will require difficult conversations . . . and forgiveness. Counseling with your chaplain, pastor, or Christian counselor may be necessary. Genuine repentance, taking responsibility for actions, and asking for forgiveness are steps one needs to take in order to begin the process of regaining trust.
Grace says, "I love you, and I am willing to pray with you and rely on God as together we learn to forgive." Rob Green states in his booklet, Reuniting after Military Deployment: Help for the Transition, "Honestly, you cannot offer grace in your own strength. It takes a willingness to depend on Christ to show God's grace through you. He is the only One who can give you the discipline and strength to consistently offer grace to others, especially when you are hurting" (p. 21).
"For if you forgive men when they sin against you, your heavenly Father will also forgive you. But if you do not forgive men their sins, your Father will not forgive your sins" (Matthew 6:14,15).
5. The Grace of Healing
Whether your wounds of war are visible or invisible, God is the healer. Your time of excitement at reintegration may be overshadowed by a long discovery of what is now going to be "different" in your marriage. Chaplain (ret) Dan Nigolian tells of his experience with PTSD in an appendix to The Greatest Warrior edition of the NIV Bible, "I was feeling guilty because I couldn't beat this and it was hurting my family. I hated the idea of seeing a psychologist and being on medication. But I hated damaging my relationships even worse, so I finally agreed to get help. I have concluded that it takes more courage to face what's inside you than to face the enemy . . . As I continue to fight this I'm learning to appreciate the present. Right here and right now, I am loved by God and by my family. . . It was being exposed to the death brought on by war that led to my own personal battle. But there's one person who's defeated death and that's Jesus (I Corinthians 15). So he can defeat the effects of death in me. And that's my hope and my rest."
Grace says, "We will walk steadfastly, and with hope, together in God's grace through the darkness of injury or combat trauma into the light of His Son, Jesus Christ."
"For I am convinced that neither death nor life, neither angels nor demons, neither the present nor the future, nor any powers, neither height nor depth, nor anything else in all creation (including war), will be able to separate us from the love of God that is in Christ Jesus our Lord" (Romans 8:38,39).
6. The Grace of Gratitude
The Apostle Paul wrote in I Thessalonians 5:18 that we are to "be joyful always, pray continually; give thanks in all circumstances, for this is God's will for you in Christ Jesus." Give thanks in ALL circumstances—really? The truth is that it is through giving thanks that God's light can shine even into the dark places of our lives—even in our disappointments, disillusionments, and discouragements. Ann Voskamp writes in One Thousand Gifts, "When we lay the soil of our hard lives open to the rain of grace and let joy penetrate our cracked and dry places, let joy soak into our broken skin and deep crevices, life grows" (p. 58). The transformation of a bitter attitude into one of humility . . . the transformation of a hurting marriage into a thriving marriage . . . it is all comes from a grateful heart proclaiming life from salvation freely offered in grace by Jesus Christ.
Grace says, "We thank God for bringing us back together, and we thank Him for all the ways He sustained us while apart."
"Do not be anxious about anything, but in everything, by prayer and petition, with thanksgiving, present your requests to God. And the peace of God, which transcends all understanding, will guard your hearts and your minds in Christ Jesus" (Philippians 4:6,7).
7. The Grace of Redemption
On the holy ground of deployment we can experience redemption. Reintegration can become a time of renewal . . . maybe even a time of "better." Perhaps there have been "lessons learned" . . . relationships appreciated in new ways . . . spiritual growth bringing you closer to God and closer to your spouse . . . time to remember God's faithfulness when busyness once reigned . . . awareness of new skills and confidence in abilities . . . new perspectives, even on pain. Ken Korkow, a Marine, shares in an appendix to The Greatest Warrior NIV Bible, "On my road to healing, I've discovered that God does not waste pain. If we allow him to, he will use it to shape us into the best version of ourselves."
Grace says, "I wouldn't have chosen deployment, but because of God's goodness and love for us, He has taken our experiences and made something good out of them."
"And we know that in all things God works for the good of those who love Him, who have been called according to His purpose" (Romans 8:28).
Rob Green summarizes truth about God's grace in reintegration with this, "Your personal relationship with Jesus sustained you during the (time) you were apart, and your relationship with Christ can help you reunite, too. All hope is not lost. The stories of divorce, discouragement, and depression that you have heard from other couples do not have to be your story. Just as Jesus redeemed you from an eternity separated from God, just as he rescued you from the weapons of the enemy, in the same way he can help you overcome the threats to your marriage. The Lord can ensure that your story is one of reunion, oneness, joy, peace and thankfulness" (p. 6).
It's all by His grace.  "For it is by grace you have been saved, through faith–and this not from yourselves, it is the gift of God–not by works, so that no one can boast" (Ephesians 2:8,9).
Works Cited:
The Greatest Warrior NIV Bible published by Biblica, 2012.
Green, Rob, Reuniting after Military Deployment—Help for the Transition (Greensboro; New Growth Press, 2011).
Voskamp, Ann, One Thousand Gifts (Grand Rapids:  Zondervan, 2010).
Questions to Share:
1. How did you see God work during the time you were separated geographically by deployment?
2. In what ways do you need to work on your marital relationship during reintegration in order for God's grace to be revealed?
Excellent or Praiseworthy is posted on Monday and Thursday nights.
Speak to one another with psalms, hymns and spiritual songs. Sing and make music in your heart to the Lord, always giving thanks to God the Father for everything, in the name of our Lord Jesus Christ.  —  Ephesians 5:19,20
I had a lesson in how to "make music in your heart to the Lord" last week. It was a wonderful opportunity to realize how many times I sing praises, but fail to really "listen" to the words.
Each morning last week I opened my email to find a message from our pastor—sent to all the church membership. He began our days with encouraging messages containing only the lyrics to his favorite songs. The words immediately triggered in my mind the melodies—but what amazed me was the depth of spiritual understanding that took place in my heart as I focused on the words alone.
For example, here was Monday's offering:
"Amazing love,
How can it be
That You, my King, should die for me?
Amazing love,
I know it's true.
It's my joy to honor You,
In all I do, I honor You.
I'm forgiven because You were forsaken,
I'm accepted, you were condemned,
I am alive and well, Your Spirit is within me,
Because You died and rose again."  (Hillsong United)
This worship song became the theme for my day . . . with a heightened sense of truth from focusing on the language alone.
The next day our pastor sent:
"Great is Thy faithfulness, Oh God my Father
There is no shadow of turning with Thee.
Thou changest not, Thy compassions they fail not;
As Thou has been, Thou forever wilt be.
Great is Thy faithfulness! Great is Thy faithfulness!
Morning by morning new mercies I see;
All I have needed Thy hands hath provided
Great is Thy faithfulness, Lord, unto me!"  (Thomas Chisholm & William Runyan)
At this point, I was looking forward to opening my email each morning—expecting a gift of truth somehow unsavored during worship time on Sundays. I was not disappointed to find this in my inbox:
"You are my strength when I am weak
You are the treasure that I seek
You are my all in all.
Seeking You as a precious jewel
Lord, to give up I'd be a fool
You are my all in all.
Jesus, Lamb of God
Worthy is Your name
Jesus, Lamb of God
Worthy is Your name.
Taking my sin, my cross, my shame
Rising again I bless Your name
You are my all in all.
When I fall down You pick me up,
When I am dry You fill my cup
You are my all in all.
Jesus, Lamb of God
Worthy is Your name.
Jesus, Lamb of God
Worthy is Your name."  (Dennis Jernigan)
I have decided that sending spiritual songs to others—in lyric form—is a powerful method of encouragement as yet untried by me. What my pastor stirred in my heart is going to be a new approach of encouragement to others in my circle of friends.  After all, isn't the book of Psalms exactly this?
For those of you who are deployed, or serving on the home front, I offer this to strengthen your steps and your heart today:
"Jesus loves me! this I know,
For the Bible tells me so;
Little ones to Him belong,
They are weak, but He is strong.
Yes, Jesus loves me!  Yes, Jesus loves me!
Yes, Jesus loves me!  The Bible tells me so.
Jesus loves me! He will stay
Close beside me all the way;
Thou hast bled and died for me,
I will henceforth live for Thee.
Yes, Jesus loves me!  Yes, Jesus loves me!
Yes, Jesus loves me!  The Bible tells me so."  (Anna B. Warner & William Bradbury, 1st & 3rd stanzas)
May Jesus Christ be the song in your heart today, wherever you are, giving thanks to God the Father for everything.
Questions to Share:
1. Is there a hymn or praise song that comes to your mind right now?
2. Would you email the words to that song to someone who could use some encouragement?
Excellent or Praiseworthy is posted on Monday and Thursday nights.
This is the victory that has overcome the world, even our faith.  Who is it that overcomes the world?  Only he who believes that Jesus is the Son of God. — 1 John 5:4, 5
No doubt you associate March 17th each year as St. Patrick's Day, as I do. For as long as I can remember, the date set aside to celebrate St. Patrick, the patron saint of Ireland, has been a day dedicated to the wearing of green, to decorating with leprechauns and shamrocks, and to holding parades in locations where many Irish have settled.
But little did I know that March 17th is also a holiday because of a military victory. We'll get back to St. Patrick—because that's a very important story—but so is Evacuation Day. If I've done my homework right, Evacuation Day was the day in the Boston area when British General Sir William Howe led his troops onto their ships and left the city for Nova Scotia. The Continental Army, under the new command of General George Washington, strategically occupied Dorchester Heights overlooking Boston Harbor. Fortifications were built with artillery equipment captured at Fort Ticonderoga, and the British realized that their position within Boston was indefensible. Fearing a defeat similar to Bunker Hill, General Howe decided to evacuate, ending an 11 month siege of the city. Boston was never attacked again by the British, and this can be considered Washington's first victory of the Revolutionary War. The password for the day in General Washington's Continental Army encampment was "Saint Patrick," and March 17th was declared an official holiday for Suffolk County, Massachusetts in the early 1900s.
With the story of St. Patrick we find another victory, but of a different sort. His is the story of victory over bitterness, victory over the lies of a pagan culture, and, as Thomas Cahill in How the Irish Saved Civilization would even say, the victory over illiteracy and ignorance which would preserve writings so important to us today, including the Bible.
Patrick was a young man of sixteen years when kidnapped from his home in England around 400 A.D. and taken to Ireland. There he was sold to a chieftain who forced Patrick to tend his sheep. It was during this captivity that Patrick remembered his Christian upbringing, which he had formerly rejected. As he wrote in his Confessions, "I would pray constantly during the daylight hours" and "the love of God . . . surrounded me more and more." His understanding and love for God the Father, the Son, and the Holy Spirit grew during these lonely years of survival in the cold, rain, and snow. His writings do not show bitterness, however, because he used his time to grow in new love and faith. After six years as a slave-shepherd Patrick escaped and returned to his home in England, a changed man.
Feeling called to return to Ireland and proclaim the Gospel to the pagan and barbaric culture which he had left, Patrick began to study and prepare. Eventually he was ordained as a priest, and then a bishop. When he did return, he brought new hope to the land where he had been held captive, all because of his bold and faithful proclamation of Jesus Christ as Savior of the world. He even used the shamrock to explain the Trinity of Father, Son, and Holy Spirit.  He served in Ireland for 29 years, baptizing thousands and planting hundreds of churches. Besides individual lives redeemed, their new Christian faith gave the Irish people a revived love of learning—which then fostered literacy. The Irish monks were instrumental in copying books, including the Bible, which were in danger of being looted and destroyed during the final days of the Roman Empire as it crumbled.
This is a quick summary, no doubt, and there is much to appreciate in the legacy of St. Patrick. Although accounts of his biography differ in details, there seems to be little disagreement as to his passion to evangelize the people of Ireland because of his love for them and his love for our Lord. I am particularly inspired by his deep prayer life, and am touched by this writing called "The Breastplate," attributed to St. Patrick:
"Christ be within me, Christ behind me, Christ before me, Christ beside me, Christ to win me, Christ to comfort and restore me, Christ beneath me, Christ above me, Christ inquired, Christ in danger, Christ in hearts of all that love me, Christ in mouth of friend and stranger."
March 17th is a day to celebrate victory, whether Evacuation Day or St. Patrick's Day. The ultimate victory is through Jesus Christ, and as Christians we celebrate His life in us every day of the year. Paul writes in his letter to the Corinthians, "The sting of death is sin, and the power of sin is the law. But thanks be to God! He gives us the victory through our Lord Jesus Christ. Therefore, my dear brothers, stand firm. Let nothing move you. Always give yourselves fully to the work of the Lord, because you know that your labor in the Lord is not in vain." (1 Corinthians 15:56-58)
Resources:
Apostle to the Irish: The Real Saint Patrick by Charles Colson
Patricius: The True Story of St. Patrick by David Kithcart
Who Was the Real St. Patrick? by Deacon Keith A. Fournier
Saint Patrick from Wikipedia
Evacuation Day from Wikipedia
Service of the Scribes: How the Irish Saved Civilization, March 16, 1998 of Prison Fellowship
Questions to Share:
1. Why do you believe Patrick did not become a slave to "victim-hood" and refuse God's call to return to Ireland as a missionary?
2. What lessons can you learn from St. Patrick regarding personal victory over unfair treatment?
« go back
—
keep looking »