Excellent or Praiseworthy is posted on Monday and Thursday nights.
Editor's Note:  In honor and memory of my Mom, who passed away seven years ago, I am re-posting this article.
Precious in the sight of the LORD is the death of His saints. — Psalm 116:15
She was a strong woman. Perhaps that came from being the oldest of seven—no doubt a rowdy bunch. Perhaps it came from growing up during The Great Depression and having to work hard at home. Perhaps it came from having two pretty strict parents who expected a lot from their kids.
She was strong even in the days when it wasn't the "norm" to be a strong woman. She got her business degree in 1933 and left rural Virginia at age nineteen to head to Washington, D.C. for that much-desired government job with the U.S. Army Corps of Engineers. Because she came from a devout Methodist family, her first priority was to find a good church to attend—and that's where she met my Dad, at Mt. Vernon Place Methodist Church. They married in 1939—and not long after that she became a military wife.
Their duty stations aren't recognizable on lists of military installations today—long since closed. They would include Hondo Army Air Field in Texas and Romulus Army Air Field in Michigan, and the stories she would tell of these locations make me think that our experience in the military was very "cushy" in comparison. She would make long-distance moves alone with small babies when there was no interstate highway system, no air-conditioning, no disposable diapers, no car seats and no McDonald's. And the Army had to come up with some unusual ways to create maternity wards close to the bases—hence the reason my brother was born in a psychiatric hospital (at least that's the way the story goes).
Since rationing was a reality during World War II, she would tell stories of how she would make sure there was enough coal for heat for the times Dad would be able to come home between flights. Similar stories about tires, food items, and ice were shared—but the things I remember most were the stories about her friends.
Some things never change—what would we ever do without the friends we make during our military assignments? When family is far away, it's the friends we make in "remote" locations who are there to see us through the tough times of military service—and who help celebrate the joyful times. My Mom's friends became her real "family." She had friends who got her to church, who helped with babysitting, who gave her advice about new locations, who helped when help was needed—and who took the edge off the loneliness which accompanied war-time service. My Dad was a great letter-writer, but the reality was that communication in those days was sporadic at best.
I still have those letters. They are in "The Trunk." My parents' letters are filled with the small details of life in those days—and even some romance. They would often write each other of dreams for their life together when the War was over—before Dad eventually got out of the military and became a civil servant in the U.S. Food and Drug Administration, then a pharmacy professor, until he died in 1977. The skills which she developed in forming friendships during her military days served her well as they moved our family around the country in those years which followed. Each and every year she faithfully sent out the "Christmas letter" to all of those friends, and we even traveled to keep those relationships vibrant. I watched that tradition, and I learned. Maintaining friendships takes intentionality. And it's worth it.
Some of those friends of hers are still alive today, but very few. My Mom just passed away, ninety-four years old and weak. The strong woman she had been succumbed to the damage caused by strokes, and the Lord took her home. Her faith was strong to the end, and many a night my husband and I tucked her in with a recitation of The Lord's Prayer, the 23rd Psalm, and to the tune of "Jesus Loves Me." During her last days our dear nurses referred to her medical condition as "non-responsive," but she would join us with a word or two of those familiar verses from deep within her memory. Her faithful friends were able to say "good-bye" and "I love you" to her thanks to the modern technology of speaker phones.
Looking back, I remember that when she would come to visit us during each assignment—all over the world—she would reinforce our relationships with our friends by joining into their lives as well. She was "Grandma" to more than just our kids, and a great chocolate-chip-cookie-baker and cinnamon-roll-supplier to blocks of military housing. She knew that our friends were important and would be our "family" during most of our military career. As we mourn her death, we are not alone as she knew our friends and loved them.
But most importantly, she knew and loved the Lord. Jesus Christ was her Lord and Savior, and we know today she is in heaven with Him, with my Dad, and with the saints in Glory. Our son flew home from his overseas military assignment to join with our family at her funeral last week. He wove Scripture together for this beautiful prayer which he shared at the closing of her service:
Dear Lord, we thank You for the opportunity today to celebrate the life of my Grandma. Thank You for the blessing that each of us had—to know her and experience her love and encouragement for us as a mother, grandmother, sister, aunt, a teacher, and most of all, a friend. We praise and thank You that "You created her inmost being, You knit her together in her mother's womb." Indeed, "she was fearfully and wonderfully made," and "all the days ordained for her were written in Your book before one of them came to be." We rejoice that throughout her life, "You searched her and knew her…You knew when she sat and when she rose; You perceived her thoughts from afar…You discerned her going out and lying down…You were familiar with all her ways." Her skills and talents, her spirit and love, her encouragement and faithfulness that blessed us—all of these things were fashioned and given by You. And we are thankful that throughout all the victories and trials of life, You are always there—"Your hand always guided her, Your right hand surely held her fast." So tonight we celebrate my Grandma's life and rejoice for her "work produced by faith, her labor prompted by love, and her endurance inspired by hope in You our Lord, Jesus Christ." By and through Your grace, she "fought the good fight, she finished the race, and she kept the faith. . . now there is in store for her the crown of righteousness, which You, O Lord, will award to her on that day." And all of this is possible, through the love and gift of Your Son, Jesus Christ, who though He knew no sin, became sin for us, gave Himself up on the cross, and then conquered death so that even though death still takes us from this life, by faith, we may live with You, the lover and creator of our souls, through all eternity. Thank You for redemption, thank You for grace, thank You for unending love, and thank You for the gift of all of these born out in the life of my Grandma. "For from You and through You and to You are all things. To You be the glory forever! Amen."
These verses shared from Psalm 139, 1 Thessalonians 1, 2 Timothy 4, 2 Corinthians 5, and Romans 11 were ones she knew well. We have her Bible, well-worn and well-loved. They say that a worn-out Bible is the sign of a person who is not. For years that would have been true of my Mom. But her days were numbered, and since God's timing is always perfect—He took her home. Thank You, Lord, for the blessing of my Mom. She was a great military wife—and a great Mom. To You be the glory forever!
Questions to Share:
1. Look around you—which of your friends in the military do you think you will continue to keep up with in the years ahead?
2. Take a moment to pray and thank God for the gift of these special people in your life.
Excellent or Praiseworthy is posted on Monday and Thursday nights.
"You show that you are a letter from Christ, the result of our ministry, written not with ink but with the Spirit of the living God, not on tablets of stone but on tablets of human hearts." — 2 Corinthians 3:3
During the debate over the pros and cons of marriage vs. living together I would often read that one party would say, "Why get married?  It's just a piece of paper. We already FEEL married." In the military, that twisted logic just doesn't hold up.  A military marriage begins with one piece of paper—the marriage certificate. If you are not married "on paper," your relationship doesn't count. Shortly after the official marital documentation follows the military ID card, another important piece of paper. Without that important document, there are no privileges that come with being a military dependent.
Here are some other "papers" which will impact your life in the military:
—military orders to use to set up a move
—passports for military dependents
—travel orders
—leave and earnings statements
—training certificates
—promotion orders
—efficiency reports
—diplomas for training completion
—medical records
And those are just for starters. Before a deployment there is also what I call the "ugly" paperwork—but it should probably be referred to as being "well prepared." Wills, powers of attorney, life insurance, beneficiary information, contact information. . . .all are part of the process of getting ready to leave. And we can't forget budgets, passwords for accounts plus lists of phone numbers in case of emergency.
And after deployment there are new papers which affect dependents—perhaps orders for a PCS, appointment slips for medical evaluations or marriage counseling, notification of awards, change-of-command ceremonies, maybe even re-enlistment, separation or retirement paperwork.
My genealogist-friend claims that she can recreate lives by putting together the paperwork of someone's past. In the military, we can re-create our own lives simply by opening our filing cabinets and putting together the documents.
Paper, paper, paper. Our lives are described by these documents—but not defined. From report cards to paychecks, the world tells us that our worth is reflected on paper. Our task is to look instead to our Maker for our value. The paper He gives us, His Word, should be our mirror. In the Bible we learn we are significant. If we receive Jesus as Lord and Savior, the Bible says that we have the right to be called children of God. John 1:12 says, "Yet to all who received Him, to those who believed in His name, He gave the right to become children of God."  As His dependents, then, what are some of our privileges—His promises to us?
—We are heirs:
"The Spirit Himself testifies with our spirit that we are God's children. Now if we are children, then we are heirs—heirs of God and co-heirs with Christ, if indeed we share in His sufferings in order that we may also share in His glory." (Romans 8:16,17)
"Because you are sons, God sent the Spirit of His Son into our hearts, the Spirit who calls out, 'Abba, Father.' So you are no longer a slave, but a son; and since you are a son, God has made you also an heir." (Galatians 4:6)
—We are loved:
"How great is the love the Father has lavished on us, that we should be called children of God! And that is what we are!" (1 John 3:1)
"The LORD appeared to us in the past, saying: 'I have loved you with an everlasting love; I have drawn you with loving-kindness." (Jeremiah 31:3)
—We are forgiven:
"For He has rescued us from the dominion of darkness and brought us into the kingdom of the Son He loves, in whom we have redemption, the forgiveness of sins." (Colossians 1:13,14)
—We have access in prayer:
"Do not be anxious about anything, but in everything, by prayer and petition, with thanksgiving, present your requests to God." (Philippians 4:6)
"This is the assurance we have in approaching God:  that if we ask anything according to His will, He hears us.  And if we know that He hears us–whatever we ask–we know that we have what we asked of Him." (1 John 5:14)
—We are partakers of His divine nature:
"His divine power has given us everything we need for life and godliness through our knowledge of Him who called us by His own glory and goodness. Through these He has given us His very great and precious promises, so that through them you may participate in the divine nature and escape the corruption in the world caused by evil desires." (2 Peter 1:3,4)
—We have peace:
"Peace I leave with you; my peace I give you. I do not give to you as the world gives.  Do not let your hearts be troubled and do not be afraid." (John 14:27)
—We have the promise of eternity with Him:
"For God so loved the world that He gave His one and only Son, that whoever believes in Him shall not perish but have eternal life." (John 3:16)
Are these promises on paper? You bet they are, and written on our hearts, as well. A dependent's military ID states whom we "belong" to, but once we give our lives to our Lord and Savior, Jesus Christ, we belong to Him first and foremost. And the benefits of that are out of this world!
Questions to Share:
1.  What are the things that you feel define you in your life?
2.  What are the promises of God concerning your worth to which you can cling in times of despair?
Excellent or Praiseworthy is posted on Monday and Thursday nights.
All these people were still living by faith when they died . . . And they admitted that they were aliens and strangers on earth . . . they were longing for a better country—a heavenly one. Therefore God is not ashamed to be called their God, for He has prepared a city for them.—Hebrews 11:13,16
I remember sitting on the front porch of our new quarters –you know, the "townhouses" crammed side-by-side around a parking lot. Kids everywhere.
We arrived at this new assignment exhausted from an intense operational tempo—so this was supposed to be that wonderful year at the "schoolhouse" when we'd be able to catch our breath before moving on. But I just wasn't into it.
I remember speaking the words, "What in the world am I doing here?" and hoping no one heard me (yea, right—neighbors were in ear-shot of everything!).
From past assignments I could pretty much count on it taking about six months for a new place to "feel" like home. In the meantime I would go through the motions . . . and try to get in step with the local atmosphere and pace. I have heard others give similar guidelines for normality, including these statements:
It won't feel like home until the boxes are all unpacked.
It won't feel like home until the pictures are hung.
It won't feel like home until we've weathered our first big storm.
It won't feel like home until we've had our first company for dinner.
It won't feel like home until we've made our first trip to the emergency room.
It won't feel like home until we've had a holiday here.
It won't feel like home until my spouse is back from deployment.
Typical for our family was "It won't feel like home until the first batch of chocolate chip cookies comes hot out of the oven."
I tried. I tried to be flexible and adaptable—knowing that it was important for the kids to start with a good attitude. . . and important to my husband who didn't have time to "feel" anything about whether he was home or not!
One of the many things I admire about military families is their adaptability. Oswald Chambers, speaking about Joseph (Genesis 37-50) & his adaptation to life in and out of prison in Egypt, says, "Joseph's adaptability was superb. . . Adaptability is the power to make a suitable environment for oneself out of any set of circumstances. Most of us are all right if we can live in our own particular setting, with our own crowd, but when we get pitchforked somewhere else either we cannot adapt ourselves, or we adapt ourselves too easily and lose God." (p. 980)
Chambers credits Joseph's adaptability with his "uncommon spirit"—a life lived with the awareness of God's presence at every point and in every place. He states, "A life with presence, i.e., an uncommon spirit, redeems any situation from the commonplace. It may be cleaning boots, doing house work, walking in the street, any ordinary thing at all, but immediately it is touched by a man or woman with presence it ceases to be commonplace." (p. 980)
But as military members, and Christians, we have another way to look at our ability to move around and still be content. I believe we can be the perfect illustration, or metaphor, of how mature Christians are supposed to look at life on this earth. We are only pilgrims here, or sojourners . . . knowing that our true home is in heaven. In Philippians 3:19,20 the Apostle Paul contrasts a non-believer ("Their destiny is destruction, their god is their stomach, and their glory is in their shame. Their mind is on earthly things") with a believer in Jesus Christ ("But our citizenship is in heaven").
Oswald Chambers uses the description of Abraham in Genesis 23:3,4 as "a stranger and sojourner" to add: "Abraham could never say that he was at home in Canaan, he left his home (in Haran) never to find another on earth. The thought of pilgrimage sank deep into the Hebrew mind, and the note of the sojourner is, essentially the note of the Christian. . . The genius of the Spirit of God is to make us pilgrims, consequently there is the continual un-at-home-ness in this world (Philippians 3:20)." (p. 908)
So if you're feeling "not at home" today . . . wherever you are . . . maybe that's a good thing. In today's vernacular maybe we should "embrace" that, knowing as Christians we are not at home yet. And that perspective might be the reminder we need that there are better days ahead . . . once we are truly at home with our Savior in heaven. Be encouraged!
Work Cited:
Chambers, Oswald. The Complete Works of Oswald Chambers (Grand Rapids: Discovery House Publishers, 2000)
Questions to Share:
1. Name assignments where you experienced a difficult transition. What was the difference between those moves and others which were easier?
2. If there has been a period of time since the difficult assignments, can you thank God for some positive, perhaps unexpected, outcomes? In what ways has that prepared you for other life challenges?
Excellent or Praiseworthy is posted on Monday and Thursday nights.
Blessed are the poor in spirit, for theirs is the kingdom of heaven. Blessed are those who mourn, for they shall be comforted. — Matthew 5:3,4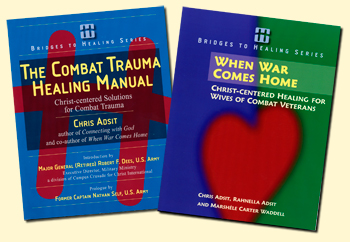 In just about every artistic rendering of a soldier's homecoming, be it a song, a movie or a television commercial, we are left with an emotional high that tells us all is well again. But if military wives assume their reunion with their husbands is a fairytale ending to their separation, disappointment is almost sure to set in.
"I have seen way too many military wives build up a fantasy in their minds about what life will be like once their husbands are home—and then be destroyed when this fantasy was not a reality," says National Guard wife Mary Whitlock. Mary says the hardest part of war wasn't her husband's deployment; it was when he first came home. His multiple concussions, exposure to constant combat and chlorine gas resulted in loss of short-term memory and an extremely heightened sense of anxiety which resulted in frustration and anger.
When author (Hope for the Home Front) and Navy SEAL wife Marshele Carter Waddell's husband returned from Iraq with only a broken leg, she praised God for his safety. "Now, months later, I sense that his leg is the least of our concerns," she says. "He is healing outwardly, but his soul walks with a limp."
As Marshele's husband goes through War's aftermath—the invisible wounds of Post Traumatic Stress Disorder—she and her children used to have little more than patience, devotion, and hope in their arsenal to help him win this battle on his home turf. She describes the experience this way:
"Life tries to return to what it was before, but can't. He fights against the relentless surf trying to move back to the sandy, safe shore but is drifting further . . . . swept out by a current of guilt, memories too painful to speak, questions too difficult to ask, the suffocating guilt of watching others die when he lived instead, the helplessness of not being able to save a friend, the naked ache of being so far from home, from love, from security, living in a dusty hell under fire at all times, fighting for what seemed an ungrateful and divided nation."
But since then, Marshele has teamed with others from Cru Military to write a new book which addresses the feelings and concerns of wives of PTSD sufferers. When War Comes Home is a helpful manual—a powerful gift to those who are facing despair and want to recover hope for their marriages and their lives. It followed the publication of the popular book The Combat Trauma Healing Manual, published by Cru Military (formerly Military Ministry) in 2007. Both of these valuable books are for sale online from CruMilitary.org.
Ecclesiastes 3:1-3 says, "To everything there is a season, a time for every purpose under heaven:  . . . . A time to kill, and a time to heal . . . ." And Who is the Healer?  In the Old Testament, God was also called "the Lord Who Heals." One of Jesus' many names in the Bible is "Physician," a name well-suited for one who performed so many healing miracles on both the physical and spiritual levels. While God works through modern medicine and counseling to heal the war's injuries of body and mind, we can also entrust the healing process directly to Him, the Author of Life itself. As we pray for healing for our spouses, we can also be praying for large doses of patience for ourselves.
Prayer written by Marshele Carter Waddell: "Lord, I cannot see the wounds caused by my husband's war-zone experiences; but, You can see them. Only You can heal him. Help me to come to You and to trust You to intercede for us when I cannot find the words. I ask for prayer partners who will remember to pray for us, come what may. I need someone to talk with, Lord, someone who has dealt with this before. Please provide Godly counsel and direction." In Jesus' Name, Amen.
Questions to Share:
1. Have you thought of God as a healer? In what ways can you remember Him healing you from hurts, fears, and discouragement?
2. How can you help each other recover from the wounds of war—whether they be emotional or physical?
Jocelyn Green is an award-winning freelance writer and author of Faith Deployed: Daily Encouragement for Military Wives (www.faithdeployed.com), from which this devotional was reposted (and updated) with permission from Moody Publishers.  She is also the co-author of Battlefields & Blessings: Stories of Faith and Courage from the War in Iraq & Afghanistan. She and her husband Rob live with their two children in Cedar Falls, Iowa.

Excellent or Praiseworthy is posted on Monday and Thursday nights.
As Jesus approached Jericho, a blind man was sitting by the roadside begging. When he heard the crowd going by, he asked what was happening. They told him, "Jesus of Nazareth is passing by."  He called out, "Jesus, Son of David, have mercy on me!"  Those who led the way rebuked him and told him to be quiet, but he shouted all the more, "Son of David, have mercy on me!" Jesus stopped and ordered the man to be brought to Him. When he came near, Jesus asked him, "What do you want me to do for you?"  "Lord, I want to see," he replied.  Jesus said to him, "Receive your sight; your faith has healed you."  Immediately he received his sight and followed Jesus, praising God. When all the people saw it, they also praised God."  — Luke 18:35-43
Can you put yourself in the shoes of a blind man sitting by the wayside and begging?  I cannot. However, I would imagine he must have felt he was in an "impossible" situation. As a blind man, he must have always been dependent on others to lead and assist him through life. How miserable would life be dependent on the mercy of others?
"Others."  Many times "others" have disappointed me more than I care to share. The "others" I thought I could count on during my "impossible" situation, were nowhere. Even my closest "others" deserted me when I needed them the most. "Impossible" situations can cripple us through our own emptiness, pain, sorrow, heartache, and hopelessness. Hopelessness can be so overwhelming, you can barely breathe. You feel as if you have been left sitting by the road as life passes you by pretending not even to notice. Begging? Yes, begging that the pain will stop. Begging for the long, dark night to fade as the brightest of a new day dawns. Begging for "why this or why that." Begging and pleading to find some way out of this "impossible" situation.
"When your doorbell rings" as mine did, announcing your beloved son had been killed in combat, it is as if your life is like a crystal vase dropped on the floor, instantly shattering into a million pieces. Who can put all the tiny, broken pieces crying out with pain and sorrow back together again? Can you? I could not. I found myself in an "impossible" situation just like the blind man. Without my permission, I was made to sit by the wayside, begging as a blind man. My sight blinded by my pain.
When your doorbell of life rings, no matter what it may bring, the "real you" answers the door. Your doorbell might ring announcing financial devastation, a serious illness, divorce, death, false religion, depression, or addiction. In the midst of your broken and helpless situation you have a choice to make. You could become angry, bitter, curse God, and even walk away from Him. "Others" may encourage you to be mad—after all, they think you have the right—look how God allowed "this" to happen to you. If God were good, then He would not have allowed this in your life, they say. "Others" lead you to believe you are entitled to enjoy a blessed and favored life, of course, without pain or sorrow.
Or, on the other hand, in Luke 18 we read how Bartimaeus (so named in the account in Mark), a blind man sitting by the wayside begging, heard Jesus was passing by. Instantly he began to cry out, "Jesus, Son of David, have mercy on me!" Despite discouragement from "others," he cried out even more.
Suddenly, JESUS STOPS. Jesus asks Bartimaeus a very specific and personal question, "What do you want me to do for you?" He answers, "Lord, I want to see." And Jesus says to him, "Receive your sight; your faith has healed you." Immediately he received his sight and followed Him . . . .
Likewise, you can choose by FAITH to surrender in the midst of your brokenness, admitting to yourself and then crying out, "Jesus, have mercy on me. You are my only hope in the midst of this 'impossible' situation." Just like the blind man, it seems I sit helpless by the wayside of my life, blind as to how to heal my wounded heart and put the pieces back together again. As with Bartimaeus, the blind beggar, when by FAITH we surrender our needs and cry out to Jesus for help, God WILL listen, hear, and see us in our "impossible" situation.
Brokenness and heartache can blind you spiritually. In your "impossible" situation it is imperative that you receive your "spiritual" sight. Jesus is the ONLY ONE who can open your spiritual eyes so that you can see HIM and HIS sovereign control in your life. Never, never underestimate God, even when you cannot feel, hear, or see Him. He is in control to accomplish His perfect will and His purpose.
As Jesus was passing by, He heard my desperate cry in the midst of my "impossible" situation. Jesus stopped. He asked, "Miss Jackie, what do you want me to do for you?"  I said, "Lord, I want to receive my spiritual sight. Open my eyes to see YOU."  Then Jesus said to me, "Receive your spiritual sight: your FAITH has saved you." Immediately I received my spiritual sight and followed Him with passion and purpose, glorifying God. My prayer continues to be that others will see and give praise to Him.
Jesus is passing by. Will you cry out to Him?
Questions to Share:
1. What is the "impossible" situation you are experiencing right now?
2. How can you "see" God working in your life, your spiritual life, right now?
Excellent or Praiseworthy is posted on Monday and Thursday nights.
Blessed is the nation whose God is the LORD . . . . — Psalm 33:12
It's a song, a famous song, but did you know that it really is a prayer? A prayer that we've all heardsung at athletic events, on the steps of the U.S. Capitol by our congressmen on September 11th, at the reopening of the stock market the following Monday, at church services during war and peacetime, at Republican and Democratic national conventions, on radio and television programs, in movies, and at patriotic rallies throughout our country and on foreign shores. Its words burn in our hearts because the lyrics ring true. . . .and the musical score combined with those words bring goose-bumps each time we hear or sing this beautiful prayer.
I am speaking of "God Bless America," written by Irving Berlin in 1918 and originally performed by the one-and-only Kate Smith in 1938. Irving Berlin wrote it for a camp show while serving in the Army in World War I stationed at Camp Upton on Long Island. The show's producers decided not to use it in 1918, but twenty years later Berlin offered it as the answer to a request he received for a patriotic song which Kate Smith could sing to commemorate the anniversary of the Armistice ending World War I. It was an immediate sensation with her debut radio performance in 1938. . . . and has been a national favorite ever since.
Irving Berlin, born Israel Baline, was five years old when his family immigrated to the U.S. from Siberia in 1893. He had a great appreciation for his adopted homeland of America—his patriotism was authentic. After his military service in World War I Berlin went on to a successful career, known for composing such hits as "White Christmas," "There's No Business Like Show Business," "Alexander's Ragtime Band," and "Cheek to Cheek." When World War II began, Berlin considered it an honor to compose and perform patriotic songs for military stationed around the world (often close to battle zones). At war's end, President Truman awarded Berlin the Medal of Merit for his courageous contribution to troop morale.
As you bravely serve our great country this 4th of July. . . .both at home and deployed, we pause to consider these lyrics, beginning with the original spoken introduction, as a prayer lifted to remind us of our personal and national need for God:
While the storm clouds gather far across the sea
Let us swear allegiance to a land that's free.
Let us all be grateful for a land so fair,
As we raise our voices in a solemn prayer:
God bless America,
Land that I love.
Stand beside her and guide her
Thru the night with the light from above.
From the mountains, to the prairies,
To the oceans, white with foam.
God Bless America, my home sweet home.
God Bless America, my home sweet home.
On this national holiday week, thank you for your brave and sacrificial service to our dear country, which we love. Your duty is making an eternal difference in the lives of many, both at home and across the sea. May God bless you. May God bless America.
[youtube https://www.youtube.com/watch?v=6LSarhZpnMs]
Work cited:
From en.wikipedia.org: Kate Smith, "God Bless America," and Irving Berlin.
Larkin Spivey, Battlefields & Blessings: Stories of Faith and Courage from World War II (Chattanooga: God and Country Press, 2009), p. 216.
Questions to Share:
1. Take these lyrics and pray for our nation, especially during these times of war.
2. How has God blessed America? How can you pray for God to continue to bless America?
Excellent or Praiseworthy is posted on Monday and Thursday nights.
May the God of endurance and encouragement grant you to live in such harmony with one another, in accord with Christ Jesus, that together you may with one voice glorify the God and Father of our Lord Jesus Christ. Therefore welcome one another as Christ has welcomed you, for the glory of God. — Romans 15:7
"I know it's a red light!" I growled at my wife.
My teenaged daughter groaned in the back seat, "Dad!"
That moment Sunday evening was huge. My wife was anxious because of my poor driving. The beast of pride had welled up inside of me. It could easily have led to isolation—icy, short interaction for the rest of the evening, and sleeping back-to-back.
There is a war going on for our souls
After a few quiet moments, my next words were, "Honey, I'm sorry. I had no right to speak to you like that. It came out of my pride and it was wrong." And to my daughter I added, "I am sorry. Please forgive me."
Because both found the grace to forgive me, the rest of the night was joyful.
As we drove home, my wife and I talked about the truth of repentance and forgiveness—and rejoiced that this is a reality in our lives. Sometimes we call it our "recovery time."
How long does it take us to get to repentance and forgiveness when our flesh and sinful nature get the best of us?  One of my favorite passages about marriage is from Dietrich Bonhoeffer. It is from his Letters and Papers from Prison, and he is commenting on Romans 15:7 (above):
"In a word, live together in the forgiveness of your sins, for without it no human fellowship, least of all a marriage, can survive. Don't insist on your rights, don't blame each other, don't judge or condemn each other, don't find fault with each other, but accept each other as you are, and forgive each other every day from the bottom of your hearts . . . From the first day of your wedding till the last the rule must be: 'Welcome one another . . . for the glory of God.' That is God's word for your marriage. Thank him for it; thank him for leading you thus far; ask him to establish your marriage, to confirm it, sanctify it, and preserve it. So your marriage will be 'for the praise of God's glory.' Amen."
This has become the model for our daily prayer time with each other. We recognize that we are a mess and we desperately need Jesus every day. In our prayer each morning, we welcome one another and give ourselves to God together. We thank Him for redeeming our marriage, and ask Him to continue to sanctify us and preserve us.
And in this process, we are learning how to live together in the forgiveness of our sin. We can only do that through Jesus Christ.
"Father, I pray for our dear military friends. Strengthen them during deployment. I pray for my own marriage. As Christ has accepted us, help us to accept one another in our marriages and in the body of Christ. As Christ has forgiven us, help us to forgive one another. Empower us all to 'live together in the forgiveness of our sins' that it would be for the glory of God!  I ask in the name of Jesus. Amen."
Work Cited:
Bonhoeffer, Dietrich, Letters & Papers From Prison (New York: Simon & Schuster, 1997 edition), p. 46,47.
Questions to Share:
1. In what ways is your marriage glorifying God?
2. Pray together for God to strengthen your marriage, to sanctify it and preserve it.
Excellent or Praiseworthy is posted on Monday and Thursday nights.
But He said to me, "My grace is sufficient for you, for My power is made perfect in weakness" . . . That is why, for Christ's sake, I delight in weaknesses, in insults, in hardships, in persecutions, in difficulties. For when I am weak, then I am strong. — II Corinthians 12:9,10
We do not want to miss this grace—this pure grace of God that gets us from the excitement-building, heart-racing, glee-producing "Welcome Home" moment . . . through the adjustments and transitions which characterize reintegration. Hebrews 12:15 reads, "See to it that no one misses the grace of God . . .", and reintegration done well will validate that it is God's grace, and grace alone, that smooths the return home.  His greater grace takes you from "I can't do this anymore' to 'I can do all things through Him who strengthens me" (Philippians 4:13).
Likewise the pure grace of God in reintegration takes us from "I didn't expect homecoming to be anything but sweet" to "God is able to make all grace abound to you, so that in all things at all times, having all that you need, you will abound in every good work" (2 Corinthians 9:8). This grace is so powerful, so cleansing, so redemptive that I can only call it "reintegrace." Indeed, God can take the strain of deployment and the uncertainty of transition and fashion it to be good because of His pure grace and mercy (Psalm 119:68).
If the journey of reintegration could be plugged into a GPS, the destination for a couple would be oneness. Genesis 2:24 states, "For this reason a man will leave his father and mother and be united to his wife, and they will become one flesh." Oneness in a marriage is not just a physical relationship, but emotional and spiritual as well. A couple who is geographically separated longs for the day when they are physically reunited. But the reuniting must also take the form of an emotional and spiritual oneness for there to be the real sense that they are back together. This is the challenge . . . and requires an intentional effort to demonstrate grace in at least seven areas:
1. The Grace of Daily Mercies
Change is inevitable when someone goes off to war . . . and the family at home changes, too. There can be a tendency to "compare" trials. The one on the front lines of war lived with danger every moment. The one at home lived with day-to-day struggles and demands. You each endured hardships, and any "one ups-manship" can only create conflict.
Grace says, "I acknowledge your fears and challenges. I want to imagine what it was like to walk in your shoes for a while so that I can appreciate what you've been through!" If necessary, initiate conversations, ask questions and listen to the answers. Examine scheduling priorities in order to have time together and plan getaways during reintegration . . . all in order to cultivate oneness. Oneness in marriage glorifies God, so committing to do the hard work of transitioning from being apart to being together will be something God honors. This is a daily exercise. Each day will bring new opportunities to see how everyone has changed—and how God can bring you back to oneness.
"Because of the LORD's great love we are not consumed, for His compassions never fail. They are new every morning; great is Your faithfulness" (Lamentations 3:23).
2. The Grace of Kind Words
Both of you as husband and wife have taken on different roles during deployment, and sometimes there can be harsh, demanding tones and explosive arguments when tasks are not done in a certain way. The demands of battle require expediency . . . the demands at home require prompt attention. Barking orders to each other can be a natural outgrowth of what you have experienced.
Grace says, "Humility and gentleness will shine best through my smile and kind speech." You are not each other's enemy, and it may take time to view each other lovingly.
"Do not let any unwholesome talk come out of your mouths, but only what is helpful for building others up according to their needs, that it may benefit those who listen" (Ephesians 4:29).  "Let your conversation be always full of grace . . . " (Colossians 4:6a).
3. The Grace of Perspective, Patience, and Purpose
You are both tired—and excited. It may take time to get back to normal physical patterns after lengthy separation and then travel. This is when it is extremely important to remember that reintegration is a season . . . a journey. Be patient with each other. The spouse who found great significance in the mission downrange may need to regain purpose in a normal household routine—and the spouse at home needs to gradually let go of some of the responsibilities which he or she managed alone. Reintegration is a synchronized "dance" that takes time to re-learn so that you don't step on each other's toes!
Grace says, "I'm so glad we're back together again, and I will be patient during this time of transition and help you to re-adjust . . . not criticize."
"Do nothing out of selfish ambition or vain conceit, but in humility consider others better than yourselves. Each of you should look not only to your own interests, but also to the interests of others" (Philippians 2:3,4).
4. The Grace of Forgiveness
The reality is that things may have happened during your deployment which will require difficult conversations . . . and forgiveness. Counseling with your chaplain, pastor, or Christian counselor may be necessary. Genuine repentance, taking responsibility for actions, and asking for forgiveness are steps one needs to take in order to begin the process of regaining trust.
Grace says, "I love you, and I am willing to pray with you and rely on God as together we learn to forgive." Rob Green states in his booklet, Reuniting after Military Deployment: Help for the Transition, "Honestly, you cannot offer grace in your own strength. It takes a willingness to depend on Christ to show God's grace through you. He is the only One who can give you the discipline and strength to consistently offer grace to others, especially when you are hurting" (p. 21).
"For if you forgive men when they sin against you, your heavenly Father will also forgive you. But if you do not forgive men their sins, your Father will not forgive your sins" (Matthew 6:14,15).
5. The Grace of Healing
Whether your wounds of war are visible or invisible, God is the healer. Your time of excitement at reintegration may be overshadowed by a long discovery of what is now going to be "different" in your marriage. Chaplain (ret) Dan Nigolian tells of his experience with PTSD in an appendix to The Greatest Warrior edition of the NIV Bible, "I was feeling guilty because I couldn't beat this and it was hurting my family. I hated the idea of seeing a psychologist and being on medication. But I hated damaging my relationships even worse, so I finally agreed to get help. I have concluded that it takes more courage to face what's inside you than to face the enemy . . . As I continue to fight this I'm learning to appreciate the present. Right here and right now, I am loved by God and by my family. . . It was being exposed to the death brought on by war that led to my own personal battle. But there's one person who's defeated death and that's Jesus (I Corinthians 15). So he can defeat the effects of death in me. And that's my hope and my rest."
Grace says, "We will walk steadfastly, and with hope, together in God's grace through the darkness of injury or combat trauma into the light of His Son, Jesus Christ."
"For I am convinced that neither death nor life, neither angels nor demons, neither the present nor the future, nor any powers, neither height nor depth, nor anything else in all creation (including war), will be able to separate us from the love of God that is in Christ Jesus our Lord" (Romans 8:38,39).
6. The Grace of Gratitude
The Apostle Paul wrote in I Thessalonians 5:18 that we are to "be joyful always, pray continually; give thanks in all circumstances, for this is God's will for you in Christ Jesus." Give thanks in ALL circumstances—really? The truth is that it is through giving thanks that God's light can shine even into the dark places of our lives—even in our disappointments, disillusionments, and discouragements. Ann Voskamp writes in One Thousand Gifts, "When we lay the soil of our hard lives open to the rain of grace and let joy penetrate our cracked and dry places, let joy soak into our broken skin and deep crevices, life grows" (p. 58). The transformation of a bitter attitude into one of humility . . . the transformation of a hurting marriage into a thriving marriage . . . it is all comes from a grateful heart proclaiming life from salvation freely offered in grace by Jesus Christ.
Grace says, "We thank God for bringing us back together, and we thank Him for all the ways He sustained us while apart."
"Do not be anxious about anything, but in everything, by prayer and petition, with thanksgiving, present your requests to God. And the peace of God, which transcends all understanding, will guard your hearts and your minds in Christ Jesus" (Philippians 4:6,7).
7. The Grace of Redemption
On the holy ground of deployment we can experience redemption. Reintegration can become a time of renewal . . . maybe even a time of "better." Perhaps there have been "lessons learned" . . . relationships appreciated in new ways . . . spiritual growth bringing you closer to God and closer to your spouse . . . time to remember God's faithfulness when busyness once reigned . . . awareness of new skills and confidence in abilities . . . new perspectives, even on pain. Ken Korkow, a Marine, shares in an appendix to The Greatest Warrior NIV Bible, "On my road to healing, I've discovered that God does not waste pain. If we allow him to, he will use it to shape us into the best version of ourselves."
Grace says, "I wouldn't have chosen deployment, but because of God's goodness and love for us, He has taken our experiences and made something good out of them."
"And we know that in all things God works for the good of those who love Him, who have been called according to His purpose" (Romans 8:28).
Rob Green summarizes truth about God's grace in reintegration with this, "Your personal relationship with Jesus sustained you during the (time) you were apart, and your relationship with Christ can help you reunite, too. All hope is not lost. The stories of divorce, discouragement, and depression that you have heard from other couples do not have to be your story. Just as Jesus redeemed you from an eternity separated from God, just as he rescued you from the weapons of the enemy, in the same way he can help you overcome the threats to your marriage. The Lord can ensure that your story is one of reunion, oneness, joy, peace and thankfulness" (p. 6).
It's all by His grace.  "For it is by grace you have been saved, through faith–and this not from yourselves, it is the gift of God–not by works, so that no one can boast" (Ephesians 2:8,9).
Works Cited:
The Greatest Warrior NIV Bible published by Biblica, 2012.
Green, Rob, Reuniting after Military Deployment—Help for the Transition (Greensboro; New Growth Press, 2011).
Voskamp, Ann, One Thousand Gifts (Grand Rapids:  Zondervan, 2010).
Questions to Share:
1. How did you see God work during the time you were separated geographically by deployment?
2. In what ways do you need to work on your marital relationship during reintegration in order for God's grace to be revealed?
Excellent or Praiseworthy is posted on Monday and Thursday nights.
Why are you in despair, O my soul? And why have you become disturbed within me? Hope in God, for I shall again praise Him for the help of His presence. — Psalm 42:5
Has loneliness during deployment caused you to "talk to yourself"? Do you often feel that no one understands your situation? Perhaps you have experienced that your family . . . . your neighbor. . . . maybe even your spouse does not really understand what you are going through. Well-meaning people may offer a listening ear, but sometimes that just doesn't help!  I think we've all been there.
When you read this verse above, written thousands of years ago, does it sound like the psalmist is talking to himself? Beth Moore, in her teaching from "Wising Up," made that interesting observation.
But now let me take it one step further—does it also sound like he is answering himself?? Read the verse again, and "listen." It seems that the psalmist has diagnosed his despair and realized that the prescription for his sickness of heart is praise of the living God—who knows his situation and offers the cure . . . HOPE.
Examine these verses from the book of Psalms and see if you recognize the same "conversation":
Find rest, O my soul, in God alone; my hope comes from Him. He alone is my rock and my salvation; He is my fortress, I will not be shaken. — Psalm 62:5,6
Praise the LORD, O my soul; all my inmost being, praise His holy name. Praise the LORD, O my soul, and forget not all His benefits. He forgives all my sins and heals all my diseases; He redeems my life from the pit and crowns me with love and compassion. — Psalm 103:1-4
Be at rest once more, O my soul, for the LORD has been good to you. For You, O LORD, have delivered my soul from death, my eyes from tears, my feet from stumbling, that I may walk before the LORD in the land of the living. — Psalm 116:7-9
Praise the LORD. Praise the LORD, O my soul. I will praise the LORD all my life; I will sing praise to my God as long as I live . . . . Blessed is he whose help is the God of Jacob, whose hope is in the LORD his God, the Maker of heaven and earth, the sea, and everything in them—the LORD, who remains faithful forever. — Psalm 146:1,2,5,6
When you find yourself having that "talk" with yourself . . . . maybe complaining about circumstances, maybe "rehearsing" a list of grievances, maybe just crying out in isolation . . . . do you also take the opportunity to grab those thoughts immediately and surrender them to the Lord, offering words of praise instead?  I often need to be reminded of this.
Whether you are all alone, or all alone in a crowd of people, He knows the inner lament of your soul. He is the God who hears. He knows you need hope, and He is the God who gives hope . . . . both for the circumstances of today and for eternity.
For everything that was written in the past was written to teach us, so that through endurance and the encouragement of the Scriptures we might have hope. . . . May the God of hope fill you with all joy and peace as you trust in Him, so that you may overflow with hope by the power of the Holy Spirit." — Romans 15:4,13
Questions to Share:
1. In what circumstances right now have you lost hope? Take a moment to praise God for His presence in your life. "In my distress I called to the LORD; I cried to my God for help. From His temple He heard my voice; my cry came before Him, into His ears." — Psalm 18:6
2. Take a moment to recall one time when God brought you through what seemed to be a hopeless situation. "I cried out to God for help; I cried out to God to hear me. When I was in distress, I sought the Lord; at night I stretched out untiring hands and my soul refused to be comforted . . . . Then I thought, 'To this I will appeal: the years of the right hand of the Most High.' I will remember the deeds of the LORD; yes, I will remember Your miracles of long ago. I will meditate on all Your works and consider all Your mighty deeds." — Psalm 77:1,2,10-12Talking to
Excellent or Praiseworthy is posted on Monday and Thursday nights.
"My dear brothers, take note of this: Everyone should be quick to listen, slow to speak, and slow to become angry . . ." — James 1:19
"Communication is a lot like tennis. One person begins the conversation by making a statement, and then perhaps asking a question—like serving the ball. The other person returns the ball by responding to the statement and/or question, and perhaps asks another question. And so the game continues."
This is an important paragraph from the HomeBuilders Bible study entitled Making Your Marriage Deployment Ready (p. 39), meant to help couples in their communication skills before they are geographically separated. But the truth is that communication skills are vital to the life of a marriage relationship—deployment or not.
Using the tennis analogy, a conversation can continue easily as one partner "volleys" the ball to the other. If the ball is "slammed" (perhaps insult or accusation), making it impossible for the tennis partner to return the exchange. . . or if the ball is hit out of bounds (not listening or paying attention), the conversation is over for the moment and has to begin again with a new statement or question.
Dennis and Mary Trexler of Cru Military have taken the analogy of tennis to explain some of the fundamentals of good communication in a talk they call, "Tennis Anyone?" As you read these "Tennis Rules of Serving" think about how they could correspond to a conversation between a husband and wife:
The server stands behind the baseline, in between the center mark and the sideline (Do you have your spouse's attention?);
The ball has to go over the top of the net on a serve (Have you made yourself clear, perhaps dealing with just one issue and not many issues?);
Your serve must reach the service box on the other side of the court (Are you focusing on the specific and not making generalizations?);
If the serve drops outside of the service box, you get a second chance to serve (Does your spouse understand what you said?);
You get two chances to serve. When you miss a serve, it is called a "fault" (Did you judge their motives without giving them a chance to explain?);
You cannot serve the ball before your receiver is ready (Are you prepared to use "I" statements and not "You" statements, giving them the chance to respond without defensiveness?).
When you initiate a conversation, there is the responsibility to be able to continue the conversation to a worthwhile end. Viewing this responsibility as being similar to one who serves the tennis ball with the intention of continuing the match may help.
But the Trexlers would be just as quick to tell us that there is responsibility on the part of the receiver. Here are their "Tennis Rules of Receiving":
You can stand wherever you want when receiving a serve, but the tennis ball cannot be allowed to bounce into the service box (Did you listen intently to your spouse or ignore them?);
If the serve is good, you must hit the ball back to the server (Did you receive what they said to you and answer them appropriately?);
The serve receiver has to let the ball bounce one time before hitting it back (Are you answering your spouse before they have even finished speaking?);
If you hit the ball before it bounces, the server gets the point (Have you been too quick to focus on "fixing the problem" instead of hearing what your spouse is feeling?).
These are just a few pointers which can help when a couple is trying—and trying hard—to communicate well. Just like tennis, it takes practice. Just like tennis, it takes desire to learn. Just like tennis, it takes rules for it to go smoothly. And just like tennis, it takes two! It takes both of you being intentional about "serving the ball" and "receiving the ball" for good communication in marriage to take place.
And what about communication during deployment? This does not mean that "all rules are off!" Quite the contrary—all rules still apply! You both have to make sure that you are listening well to the others' needs and feelings, that you are asking good questions which get to their heart, and that you "make contact" as often as possible to keep the relationship moving.
And remember—this is not a game! Communication in marriage is work, and it is serious business. But, in the end, you will both be winners!
Work Cited: Making Your Marriage Deployment Ready is available at Shop.FamilyLife.com and CruMilitary.org.
Questions to Share:
1. During deployment, do you communicate best by email, phone, or letter? What about your spouse? Discuss this between the two of you.
2. Has the difference in time zones been a barrier to your communication? What other difficulties have you had to overcome in order to communicate well with each other?
« go back
—
keep looking »