Excellent or Praiseworthy is posted on Monday and Thursday nights.
But a man who commits adultery lacks judgment; whoever does so destroys himself. — Proverbs 6:32
It seemed innocent enough. He was driving to military training in another state—and stopped for a cup of coffee. While in line waiting for the barista to complete his order, a lady in line struck up a conversation with him. One thing led to another, and they sat down to finish their coffees.
Turns out she was having some relationship problems with her ex . . . . . and he thought he could help. She gave him her phone number and they stayed in touch. He didn't tell his wife about the meeting—it all seemed innocent enough.
Again, one thing led to another . . . . and a year and a half later he and his wife are divorced, leaving three kids confused and hurting. He and the young woman at the coffee house are "dating"—an unlikely meeting now turned into a marriage disaster. Certainly there is a lot more to the story (there always is). But the details are only concentric circles around Satan's target of this young man's heart, and the ripple effect of the marital breakdown will continue for generations.
It's not a new story. In the Bible we read of King David's adulterous tryst with Bathsheba, a military leader's wife, and review a similar tragedy. In Chuck Swindoll's teaching on this familiar story of unrestrained lust, Pastor Swindoll cites the "steps downward": "1) seemingly innocent attraction; 2) curiosity (comparisons take place); 3) temptation (imagination); 4) fantasy (sin enters as dreams combine with imagination); 5) lust (restraints removed: ignoring personal standards & commitments, blindness to consequences, rationalizing the wrong, burning with excitement to proceed); 6) sin; 7) compulsion leading to addiction." (Insight for Living, May 20, 2011) James 1:14-16 states this clearly: "But each one is tempted when he is carried away and enticed by his own lust. Then when lust has conceived, it gives birth to sin; and when sin is accomplished, it brings forth death. Do not be deceived, my beloved brethren." God's judgment ensues.
Jim and Barbara Grunseth have similar words of explanation and warning in their book, Remember the Rowboats: Anchor your Marriage to Christ: "Marriage partners who fall into deep sin, or who file for divorce are pulled down the Devil's Ladder rung by rung (1st rung—The Devil isolates you; 2nd—He discourages you; 3rd—He deceives you; 4th—He destroys you). He (Satan) is a master at greasing the rungs. Help others to see this and to get off that ladder!" (p. 9)
Bob and Cheryl Moeller write in their "Marriage Minutes" that their most well-read article is entitled, "Why is it dangerously wrong to have a close friendship with someone of the opposite sex? Here are eight reasons":
1. If they are similar in age or potentially attractive to you, there is a problem.
2. Every love affair begins as a friendship, just as your marriage did.
3. As you spend time alone together (or even in a group), a deeper connection can develop.
4. You can learn to turn to them for emotional support (rather than your spouse).
5. The energy that should go to your spouse, now goes to your friendship with this other person.
6. Once the two of you share secrets, you've entered the danger zone.
7. Your emotional bond easily opens the door to a physical one.
8. Your heart is now divided in a way God never intended it to be.
If deployment has separated you and your spouse geographically . . . you need to be warned. What started out as an "innocent" conversation with someone of the opposite sex can lead down a path that you never intended to go down . . . . and down . . . . and down. The consequences are deadly. Be careful.
Make sure to guard your relationship with your spouse by avoiding intimate conversations with others, by breaking all connections that perhaps have already begun, by finding an accountability partner (another Christian of the same gender) who will help you to keep track of your thoughts and actions, and by developing your spiritual life with self-discipline so that the Holy Spirit will lead you with conviction and righteous purpose. Like Joseph in Genesis 39, you will know to run away from the lure of sexual temptation citing, "How then could I do such a wicked thing and sin against God?" (Genesis 39:9)
Don't be deceived. Be on guard at all times—your marriage, and future, is at stake.
Work Cited:
Grunseth, Jim & Barbara, Remember the Rowboats: Anchor Your Marriage to Christ (Minneapolis: River City Press, Inc., 2008)
Bob & Cheryl Moeller, Marriage Minutes, May 13, 2011  www.forkeepsministries.com
Questions to Share:
1. Can you think of a couple who experienced extra-marital temptations and succumbed to the devil's plans for destruction? What mistakes did they make?
2. Can you think of a couple who resisted extra-marital temptation? What steps did they take to avoid potential destruction?
Excellent or Praiseworthy is posted on Monday and Thursday nights.
Then He said to them all: "If anyone would come after Me, he must deny himself and take up his cross daily and follow Me. For whoever wants to save his life will lose it, but whoever loses his life for Me will save it." —Luke 9:23,24
I was intrigued by the title of the book I saw in my local bookstore, probably because of its shock value. The title was How to Ruin Your Life by 40, and written by a favorite author of mine, Steve Farrar. I knew there would be something valuable in this book for me, for many reasons.
And since I'm especially bad about reading the end of a book first (so I know how it turns out—if it's worth reading) . . . I was particularly grabbed by a closing section in the book entitled "The Greatest Fear." Could you guess what this author believes is "the greatest fear?". . .
"It is common knowledge that the greatest fear of men and women today is the fear of death. It usually appears as number one on top ten lists of people's greatest fears. This is understandable. We do not know when our last breath will be or for what reason it will cease, and this hanging ignorance of the end leaves many in a lingering tension. But there is one fear that always fails to make the top ten lists, and yet, it may be the biggest fear of all: It is the fear of dying to one's self." (p. 131)
Certainly as military members we are sensitive to the subject of death and dying. We understand sacrifice. We are prepared, or as Christians we should be. But the daily burden of unselfish living—putting others' needs above our own in every circumstance—how exactly do we do that? That is called "dying to self," and I think the author has a good point in raising this matter as a "fear."
Years ago Bible scholar and pastor/teacher Dr. John MacArthur taught about "dying to self" in a sermon from his daily radio program, "Grace to You."  He said that his favorite teaching on the subject was a lengthy paragraph from an anonymous writer—and he kept it on his desk as a daily reminder of what Jesus calls us to do in Luke 9:23,24, "If anyone would come after Me, he must deny himself and take up his cross daily and follow Me. For whoever wants to save his life will lose it, but whoever loses his life for Me will save it." I telephoned Dr. MacArthur's staff after hearing this teaching—it challenged me to the core—and they emailed me what he said over the radio . . . which I will pass on to you:
"When you are forgotten or neglected or purposely set at naught, and you sting and hurt with the insult of the oversight, but your heart is happy, being counted worthy to suffer for Christ—that is dying to self. When your good is evil spoken of, when your wishes are crossed, your advice disregarded, your opinions ridiculed and you refuse to let anger rise in your heart, or even defend yourself, but take it all in patient loving silence—that is dying to self. When you lovingly and patiently bear any disorder, any irregularity, or any annoyance, when you can stand face to face with waste, folly, extravagance, spiritual insensibility, and endure it as Jesus endured it—that is dying to self. When you are content with any food, any offering, any raiment, any climate, any society, any attitude, any interruption by the will of God—that is dying to self. When you never care to refer to yourself in conversation, or to record your own good works, or itch after commendation, when you can truly love to be unknown—that is dying to self. When you see your brother prosper and have his needs met and can honestly rejoice with him in spirit and feel no envy nor question God, while your own needs are far greater and in desperate circumstances—that is dying to self. When you can receive correction and reproof from one of less stature than yourself, can humbly submit inwardly as well as outwardly, finding no rebellion or resentment rising up within your heart—that is dying to self." —Anonymous
Whoa! I'm afraid I just can't do that!! I know I can't do that, and am afraid I will disappoint those who think I can! I'm afraid when the time comes, when unselfishness is absolutely required of me—that I will fail miserably! I'm afraid to admit there are desires within me which take precedence over the needs of others and obedience to my faith! Count me in—I'm afraid of the requirements of "dying to self!"
But the promise of Scripture is if I surrender to the lordship of Jesus Christ, that Christ actually lives in me—and with Christ nothing is impossible! Maybe there's hope for me! Galatians 2:20 reads, "I have been crucified with Christ and I no longer live, but Christ lives in me." So with Christ living in me, I might actually be able to demonstrate the impossible—I might actually be able to demonstrate His "love, joy, peace, patience, kindness, goodness, faithfulness, gentleness, and self-control." (Galatians 5:22,23)
Staying in the book of Galatians we read, "Those who belong to Christ Jesus have crucified the sinful nature with its passions and desires. Since we live by the Spirit, let us keep in step with the Spirit." (Galatians 5:24, 25) And further teaching on this is in Romans 6, for example in Romans 6:11: "In the same way, count yourselves dead to sin but alive to God in Christ Jesus." I am set free not only from the power of sin and guilt, but also set free from the fear of "dying to self." It is in dying to my own selfish nature that I am alive in the power of the Holy Spirit to truly live, to truly love.
What does this have to do with deployment? Everything. In and of ourselves we will not be able to stand up under the extreme demands of fighting this global war on terror. We will focus on the unfairness of it all. We will fear the unknown. We will let anger have the day, and we will take it all out on our spouse—the one we are supposed to love the most.
It is only in the power of the Holy Spirit, living in us, that we will have the ability to conquer bitterness, fear, anger . . . selfishness. And by thinking of our spouse and their struggles we can encourage them during this time of separation. We are set free to serve one another in love—even when apart. We can ask the tough questions, like "How are you today?" "Do you know how much I love you?" "How can I pray for you?" And in doing that we are facing our fear . . . the fear of dying to self. And having faced that fear, we can truly begin to live.
Work cited:
Farrar, Steve, How to Ruin Your Life by 40 (Chicago: Moody Publishers, 2006)
Questions to Share:
1. Do you believe that, in your marriage, you have been successful at living out Philippians 2:3,4: "Do nothing out of selfish ambition or vain conceit, but in humility consider others better than yourselves. Each of you should look not only to your own interests, but also to the interests of others."
2. During this deployment, how can you serve your spouse in love, considering their needs?
Excellent or Praiseworthy is posted on Monday and Thursday nights.
He is before all things, and in Him all things hold together. — Colossians 1:17
The story goes something like this: A military family has just arrived at their new duty station. They've settled into temporary quarters and have begun to look at housing options. The mother takes one of the little children with her to the commissary where the commander's wife spots her and decides to check on how the family is doing. In the course of the conversation, she asks, "Have you found a home yet?" The child answers, "Oh, we have a home—we just haven't found a house to put it in!"
There's a lot of truth in that statement! The military family, at its best, is indeed a unit. And whether they are at an assignment for quite a length of time or are moving from place to place as duty demands—they cling to each other. They've learned to exercise flexibility and resilience, made possible by that wonderful WD-40 known as "sense of humor" combined with a hopeful attitude.  They extend grace to each other, knowing that the challenges of war-time duty can bring us all to the point of being "frazzled." And they encourage each other to get through any and all situations.
What else can we say about the military family "unit"? This is the perfect time to answer this question because tomorrow, May 12th, is Military Spouse Appreciation Day–always the Friday before Mother's Day.
Each family is unique, but there are seven common elements which we can examine:
1. The family works as a "location" unit: When do we move? Where do we move? Do we move back to family-of-origin during deployments, or do we stay at the base/post for support? Do we buy or rent? Which school district do we want to live in? Do we live on base or in the local community? Do we try to stay together during an "unaccompanied tour," even if it means that we are non-command sponsored, or do we stay state-side during the remote tour? The military family must consider these options, and which is best for their individual circumstances.
2. The family works as a "vocation" unit: Is this assignment necessary for a career opportunity, or would it be best to stay put? Does the at-home spouse work outside of the home, or stay-at-home? Do we need extra training, which might cost more money, to get expertise in a new area in order to provide for the family long-term? Do we need to consider home-schooling of our children because of location constraints or travel opportunities?
3. The family works as a "logistics" unit: How much furniture do we put in storage? Which car do we ship overseas? What cell phone plan gives us the best ability to communicate? Do we want to buy new appliances or used ones? How much money should we budget for the deployed spouse to have to spend? Are wills, powers-of-attorney, and insurance papers all up-to-date—with computer passwords shared? Do we have a list of emergency phone numbers available? Do we have a list of "go-to" people for home and auto repairs?
4. The family works as a "consistency" unit: Who is available to keep and explain medical records to each "new" doctor or medical facility at each move, or at each visit? Who knows special educational needs for each child, which must be followed at each new location? Who in the family is responsible for what chore? How do we communicate best with each other—by email, phone, letter? Are we consistent in letting each other know what is happening, offering help, meeting needs. . . . so that trust is built into our family? Who handles discipline of the children during deployments–and how?
5. The family works as an "attitude" unit: Is each new challenge viewed as a crisis, or an opportunity to see God at work? Does the family walk a walk of faith. . . or of fear? Is the cup half-empty, half-full, or overflowing? Does cynicism reign, or confidence? Are our expectations of each other and each new situation in line with reality? Do we build each other up, or tear each other down? Do we have the attitude that each one of us is precious in the sight of God, or a burden? Is patience demonstrated? Is perspective put into each situation—that certain trials and troubles are for a season? Is the attitude of gratitude "built into" each day?
6. The family works as a "traditions" unit: Have we built into our family certain holiday traditions that provide security when everything else might be different? When half of the boxes are unpacked after a move, but the first batch of cookies comes out of the oven—does that signal that we are "home"? Is there a favorite movie, a favorite game, a favorite vacation spot. . . that holds memories which can be re-visited and provide enjoyment? Does the family traditionally look into the history of the new area into which we move? Are there patriotic traditions which continue in our family? Are successes or accomplishments celebrated a certain way—no matter what? Do we have devotional time once a day, or prayer time together, that happens everywhere we live?
7. The family works as a "loving" unit: Are mistakes met with blame or forgiveness? Is growth in knowledge and wisdom the desire for each family member? Do we listen to each others' frustrations, and dreams? Are we quick to criticize, or quick to cheer-lead? Does compassion and understanding rule the day, or bitterness and resentment? Is selfishness what we demonstrate, or can we serve each other daily, in humility? What church do we "plug into" in order to demonstrate spiritual gifts, worship, listen to sound-teaching of the Bible, and serve our Lord? Is gratitude expressed daily—for every breath and for every blessing? Is appreciation for each family member spoken and/or written? Are we kind to each other?
In so many instances it is the military spouse that holds these units together. The military spouse is the "super-glue," the "home front," the one who balances work and family demands, the "keeper of the stuff and the schedule," the one who provides that all-important consistency, presents a positive attitude, keeps family traditions alive, and loves loves loves. If there were an official song for a military spouse, it would be "You are the Wind Beneath My Wings." Most often, the military spouse is the Mom, but sometimes the Dad. . . . while other times both Mom and Dad are active-duty and must gently juggle (sometimes not so gently) all plates which are spinning a hundred miles an hour! Communication and cooperation must be at the forefront in order to keep the whole thing from falling apart!
But Who holds the military spouse together? And Who ultimately holds every situation, every decision, every circumstance, every family together–the real "super-glue"? For that we turn to Colossians 1:15-20 for this beautiful description of Jesus Christ, which includes: "He is before all things, and in Him all things hold together." (vs. 17) From the tiniest particle within the atom, to the grand expanse of the universe, Scripture tells us that Christ is supreme. And further in Colossians we find my favorite marriage and family verse: "Therefore, as God's chosen people, holy and dearly loved, clothe yourselves with compassion, kindness, humility, gentleness and patience.  Bear with each other and forgive whatever grievances you may have against one another.  Forgive as the Lord forgave you.  And over all these virtues put on love, which binds them all together in perfect unity." (Colossians 3:12-14)
Is Jesus Christ supreme in your home? Do you, as a family, go to Him in prayer and Scripture study for wisdom regarding assignments, career decisions, management of possessions, health care, attitudes, traditions, and how best to demonstrate love to each individual in the family?  Is your relationship with Jesus Christ the foundation for your relationships with others?
Take the time today, to voice your appreciation for your spouse and all they do to serve you, your family, your community, your country, and your Lord! And thank the Lord for the precious gift of your spouse!
Questions to Share:
1. In what ways does your family operate well as a unit?
2. In what ways does your family not operate so well as a unit?
3. Pray for the Lord to hold your family together during this deployment.
Excellent or Praiseworthy is posted on Monday and Thursday nights.
Be joyful in hope, patient in affliction, faithful in prayer. —  Romans 12:12
There is a church nearby which is preparing to send off one of their dear members to Afghanistan. Deployment is always tough . . . especially for military moms deploying for the first time. So her friends put together a little flip-book, filled with prayers just for her. They figure she can carry this handy little book with her everywhere in a pocket—ready to pull out anytime.
There are 31 prayers—each based on Scripture verses. Here they are, and if you would like to use this as a template for someone deploying, please do:
Day 1—"Give _____ a true sense of peace she takes refuge, emotionally and mentally, in You, her mighty Rock."  Psalm 62:7
Day 2—"Would you remind _____ daily to rejoice in YOU, even when she feels that there is nothing else in which to rejoice."  Philippians 4:4
Day 3—"I pray that _____ will have the strength to comprehend with all the saints what is the breadth and length and height and depth, and to know the love of Christ that surpasses knowledge, that she may be filled with all the fullness of God."  Ephesians 3:18,19
Day 4—"Let _____ be filled with the joy given by the Holy Spirit. Let _____ be joyful always, pray continually, and give thanks IN all circumstances, for this is Your will for her in Christ Jesus."  I Thessalonians 1:6; 5:16-18
Day 5—"Make Your Word a lamp to _____'s feet and a light for her path."  Psalm 119:105
Day 6—"Strengthen _____ to not be anxious about anything, but in everything by prayer and supplication with thanksgiving remind her to make her requests known to God."  Philippians 4:6
Day 7—"Because _____ loves me," says the Lord, "I will rescue her; I will protect her, for she acknowledges my name. She will call upon me and I will answer her."  Psalm 91:14-15a
Day 8—"May _____ think on whatever is true . . . noble . . . right . . . pure . . . lovely . . . admirable . . . excellent or praiseworthy."  Philippians 4:8
Day 9—"Let the light of your face shine upon my friend. Fill her heart with joy, and let her lie down and sleep in peace."  Psalm 4:6-8
Day 10—"May _____ overflow with thankfulness."  Colossians 2:6,7
Day 11—"Help _____ to be careful and wise in how she lives, making the most of every opportunity and understanding Your will for her life."  Ephesians 5:15-17
Day 12—"Strengthen _____ in all circumstances to take up the shield of faith, with which You will enable her to put out all of the flaming darts of Satan. Remind her daily to arm herself with the sword of the Spirit—Your powerful Word."  Ephesians 6:16
Day 13—"Fill _____ with Your Holy Spirit, that she might bear the Spirit's fruit: love, joy, peace, patience, kindness, goodness, faithfulness, gentleness, and self-control."  Galatians 5:22,23
Day 14—"Be _____'s strength and her song today as she chooses to trust and not be afraid."  Isaiah 12:2
Day 15—"Strengthen _____ to do everything without complaining."  Philippians 2:15,16
Day 16—"Thank You that You are _____'s shepherd, so she shall lack nothing. Thank You, too, that You restore _____'s soul . . . "  Psalm 23
Day 17—"Help _____ to continue to put her trust in You, O Lord, and proclaim 'You are my God. My times and my days are in Your hands.'"  Psalm 31:14,15
Day 18—"Remind _____ that Your grace is sufficient for all her weaknesses and difficulties."  2 Corinthians 12:9-11
Day 19—"Enable _____ to be strong and courageous. Don't let her get frightened or discouraged, but let _____ know that You will be with her wherever she goes."  Joshua 1:9
Day 20—"May _____ never be ashamed of the gospel, but let her recognize that it is the power of God for the salvation of everyone who believes."  Romans 1:16
Day 21—"May _____ continue to meditate on the great truth that in God's great mercy He has given _____ new birth into a living hope through the resurrection of Jesus Christ from the dead."  I Peter 1:3
Day 22—"Enable _____ to throw the full weight of her anxieties on You, for she is your personal concern."  I Peter 5:7
Day 23—"Show _____ that Your way is perfect and Your word is flawless. Be _____'s shield as she takes refuge in You."  2 Samuel 22:31
Day 24—"Strengthen _____ to use her gifts and talents for Your glory."  I Corinthians 10:31
Day 25—"Keep _____ from all harm. Watch over her life; watch over her coming and going, both now and forevermore."  Psalm 121:7,8
Day 26—"Do not let _____ look at the things man looks at, but let her see the world through Your eyes and respond to it with Your wisdom and Your love."  I Samuel 16:7
Day 27—"Lord, please lead _____ to flee evil desires and surround herself with companions and friends who will pursue righteousness, faith, love and peace—who call on You out of a pure heart."  2 Timothy 2:22
Day 28—"Fill _____ with the knowledge of Your will through all spiritual wisdom and understanding, so that she may live a life worthy of You and may please You in every way: bearing fruit in every good work and growing in the knowledge of You, Lord."  Colossians 1:9,10
Day 29—"Strengthen _____ to lay aside every weight and sin which clings so closely, and help her to run with endurance the race that is set before her, looking to Jesus . . . "  Hebrews 12:1,2
Day 30—"So, then, just as _____ received Christ Jesus as Lord, may she continue to live in Him, rooted and built up in Him, strengthened in the faith as she was taught, and overflowing with thankfulness."  Colossians 2:6,7
Day 31—"Encourage _____ with Your truth that You are able to do far more abundantly than all that _____ can ask or think, according to the power at work within her. To You be glory in the church and in Christ Jesus throughout all generations, forever and ever. Amen."  Ephesians 3:20,21
What I heard was that even before this friend left, she was carrying her prayer book around with her and using it for encouragement during those difficult days. There is no doubt in our minds this little flip book will get MUCH use. I thank God for a faithful church—and there is no doubt in my mind that they will be praying just as diligently for their friend.
Questions to Share:
1. Have you ever thought of taking Scripture verses and making them into prayers?  Which one of the prayers above could you use to pray for someone right now?
2. Which one of the prayers above would you use to pray for yourself right now, putting "me" into the underlined space?
Excellent or Praiseworthy is posted on Monday and Thursday nights.
"Salvation is found in no one else, for there is no other name under heaven given to men by which we must be saved." — Acts 4:12
"I have concluded that when it comes right down to it, there is really only one thing I as a pastor have to offer my congregation—and only one thing that the church has to offer the world. In my role as a pastor people come to me with all sorts of problems, but I confess: I am a physician with but one medicine to prescribe, and that is the gospel of Christ.  It may need to be applied in various ways, various aspects of it may need to receive the right emphasis, and it may need to be administered in the right form. But only the gospel of Jesus Christ can heal the deepest wounds of the human heart and enable us to prosper according to God's design, bringing glory to our Lord." Dr. Bill Kynes of Cornerstone Evangelical Free Church, Annandale, VA
This is a powerful quote, posted on The Gospel Coalition blog. Thank you, Dr. Kynes, for speaking truth to all of us.
It took me back to a worship service my husband and I attended near a military base in a remote region of Italy several years ago. The dear pastor was faithful to preach that one message, "one medicine", to a group worshipping together but representing many national languages and backgrounds, many ages and ranks, and many needs.
At the end of the service, with one voice, we sang "In Christ Alone," but in Italian. Knowing the words in English, it was all the more powerful to me because I could tell from the expressions of those around me–from Africa, from Europe, from the U.S.–that they knew exactly what they were singing.
These are the lyrics to what hymn writer Keith Getty says tells "the story of the whole Gospel":
In Christ alone my hope is found;
He is my light, my strength, my song;
This cornerstone, this solid ground,
Firm through the fiercest drought and storm.
What heights of love, what depths of peace,
When fears are stilled, when strivings cease!
My comforter, my all in all—
Here in the love of Christ I stand.
In Christ alone, Who took on flesh,
Fullness of God in helpless babe!
This gift of love and righteousness,
Scorned by the ones He came to save.
Till on that cross as Jesus died,
The wrath of God was satisfied;
For ev'ry sin on Him was laid—
Here in the death of Christ I live.
There in the ground His body lay,
Light of the world by darkness slain;
Then bursting forth in glorious day,
Up from the grave He rose again!
And as He stands in victory,
Sin's curse has lost its grip on me;
For I am His and He is mine—
Bought with the precious blood of Christ.
No guilt in life, no fear in death—
This is the pow'r of Christ in me;
From life's first cry to final breath,
Jesus commands my destiny.
No pow'r of hell, no scheme of man,
Can ever pluck me from His hand;
Till He returns or calls me home—
Here in the pow'r of Christ I'll stand.
So today, no matter your stage of deployment, no matter the condition of your marriage, no matter the decade of your life . . . we proclaim that you can stand on the one powerful name of Jesus Christ.
"For from Him and through Him and to Him are all things. To Him be the glory forever! Amen" — Romans 11:36
Work Cited: "In Christ Alone" Words and Music by Keith Getty & Stuart Townend, Copyright © 2001 Kingsway Thankyou Music on www.gettymusic.com
Questions to Share:
1.  If you have never heard the gospel of Jesus Christ, go to 4spirituallaws.com.  Based on the truth that we are all sinners and in need of a savior, what decision did you make concerning faith in Jesus Christ?
2.  If you are saved by the truth of the gospel of Jesus Christ, share with each other what part of the song particularly spoke to your heart today.
Excellent or Praiseworthy is posted on Monday and Thursday nights.
God is our refuge and strength, an ever present help in trouble. — Psalm 46:1
I sought the LORD, and He answered me; He delivered me from all my fears. — Psalm 34:4
We have much in common on board the ship. It wasn't that long ago we left our friends, boyfriends/girlfriends, spouses, children, and the dog—thousands of miles behind. So, what now, Chaplain? I'm so glad you asked . . . .
As a Chaplain, one prevailing question I hear and frequently consider is this: "Where is God during deployment?" "Does God's presence exist on a warship or in the sand of Afghanistan?"
The Scriptures teach God is omnipresent, meaning He is everywhere. In addition we recognize God inhabits His believing followers via His Holy Spirit. But for many of us the presence of God just doesn't voyage with us—He stays back home or port-side with our families. Let me explain. . . .
As I reflect about God's presence on a war ship, I consider what "types" of people likely constitute a ship—specifically what is the composition of individual spiritual journeys and experiences. I came up with four distinct categories which might help us consider why we often leave God behind and in port. Take a moment with me to see if you can locate yourself in any of the suggested caricatures. I found parts of me and my life experiences all over the place!
Category #1—"No Time for This!"—This group has absolutely no capacity for the spiritual realm—zero, nada, none!  Now, don't get me wrong, these are good people and great Sailors. . . .but even receiving an article from Chaps makes them uncomfortable. They silently wonder, "Why doesn't he just go away. . . ." They may even question why a Chaplain would embark a war ship—but that's a great question for another day. Most likely, they've already deleted my article with one quick stroke of a key and moved on.
Category #2—"The Real World"—This group possesses a cerebral reliance upon God which they can philosophically verbalize with great skill and expertise. They have come to an "understanding" with God—something like "You don't mess with me and I won't mess with you." This position closely resembles an ol'-fashioned Texas stand-off.
Category #2 agrees the spiritual realm is necessary. But, when pressed, they find it hard making the connection between the divine and daily, real-world practical stuff of life. From their vantage point, their personal experience reinforces the assumption that God feels distant, unrelated to their life and impotent over life's complexities.
Category #2 lives in the fast-lane of vain control—doing what "I" need to do to get "it" done. "You know how it is, Chaps, the only person I can rely on and trust is me!" They conclude, "If this were a perfect world, God would be a nice idea; but, this is a harsh, bitter world we live in! So let's get on with reality . . . I don't have time for a bunch of feel-good, idealistic religious emotionalism!"
Category #3—"Multiple Personalities"—This group is genuinely dedicated to a system of faith that is real to them, but incompatible to their assortment of "personalities." When home, they frequently attend church services with their family, volunteer, and even give thanks before meals. From all peripheral appearances they are collected and well-meaning religious folk.
To make matters more complex, they privately commit before leaving home that "this deployment will be different." However, for a variety of plausible reasons, they routinely forget and leave their value system behind on the Pier. As the ship pushes off, their sincere devotion quickly fades and slips into the depths of non-existence, only to reappear on the voyage home.
Category #3 has become skilled at deception and living comfortably within their own inconsistencies. The dichotomy of their two approaches is disturbing because they are intuitively aware the two totally distinct personalities conflict. They justify what has now emerged as a "lifestyle" suggesting, "I'm not this way at home with my family. . . .so, it's okay." But deep down they doubt the validity of their own argument.
Category #3 swiftly asserts they're not proud of who they are or what they've become. "But Chaps, this is the military! It is what it is . . . ." The implication is deafening: They rationalize that spiritual people cannot and will not be effective in this military culture. In their mind the split personalities are now completely justified.
In Category #3's consciousness, they know their "arrangement" is not compelling. And to make matters worse, they battle internally for something new because deep down they're convinced of only one truth: They're not satisfied! Category #3 silently longs for something richer, more fulfilling, and rewarding.
Category #3 is exhausted by the emotional gymnastics and finds it difficult to develop a cogent, clear program for moving forward. They are stuck in a bad cycle, and they know it. Rather than torment themselves with thoughts of yet another failed attempt at change, they resign themselves to suppress the sentiment for change deep down into their being and quickly move on. They convince themselves to be content living as one trapped between two worlds. God forbid anybody would ever find out what they really think. . . .
Category #4—"Isolated & Alone"—This group lives with a single reality each day—being committed to their faith makes them a secluded minority who is often professionally and socially marginalized. They diligently seek opportunities to practice and apply their faith regardless of the level of acceptance in their particular environment. They read their devotions on a routine basis, attend services, volunteer, and look to apply their faith in meaningful ways.
"Chaps, what's the problem with this group? Isn't this what you want. . . Man, you're not happy with anybody!" Well, let me explain. . .
This group lives in the awkward tension of the inner-personal. They silently struggle with the dominating and crippling thought: "I'm all alone here." As they examine their peers, they are conflicted by one prevailing thought: "I'm an oddity; quickly fading, and living on the verge of extinction." To make matters worse, they secretly speculate if living their faith consistently is really worth it. They're frequently lonely, disenchanted, and socially isolated from others. They want to make a positive spiritual contribution but don't see a lane for that to occur.
Conclusion—Well, that concludes my brief synopsis. Now you might be thinking: "Wow, this article is very judgmental and assumes a lot about people." But I'm only familiar with these categories of people because I've been all of them at one time or another! Does that surprise you?
Ultimately these categories describe my own journey and experience with God. I've been them all! How about you? Were you able to locate yourself?
I was once completely out of sorts with God and saw no real practical role for Him in my life. Honestly, most Christians were just a nuisance to me. I would privately reflect: "I know God's real, but so what? Who cares? He has made no visible or tangible difference in my life or the lives of others. So why waste my time?"
I could see no outlet for me to express my faith that made sense to me. Then, as life's circumstances began to churn around me and situations became more challenging, I grew closer to God—more accepting for the ways I could meet Him in church, prayer, and even in the fellowship of people with true faith. Knowing He loved me and wanted the best for me I made room for my gracious God who became central in my thinking and experience . . . .even while I was bombarded by life's pressures and demands. I was not alone. . . .and my faith was deepening in joy. Hope and peace became my companions as my personal relationship with Jesus Christ became the anchor for my soul—and the assurance of eternal life with Him became my perspective.
Looking back with more than twenty years of hindsight on my faith journey, I can say (without reservation) it has been the best journey of my life. I have absolutely NO REGRETS! How about you?
Questions to Share:
1. What is this deployment was as much about your spiritual life as it was the military?
2. What if strengthening your personal spiritual life would actually improve your professional work and bring greater satisfaction to your life? Why would you resist that . . . ?
3. What is God was attempting to use situations or people around you to get your attention . . .? Do you see any evidences of God working in or around your life? If you look closely, I would suspect you would quickly find Him.
4. What one character flaw hinders your life most today? What will you institute that will help you to improve? What's your motivation for changing or working on "you"?
Excellent or Praiseworthy is posted on Monday and Thursday nights.
Righteous are You, O LORD, and Your laws are right.The statutes You have laid down are righteous; they are fully trustworthy. . . .Your promises have been thoroughly tested, and Your servant loves them.— Psalm 119:137,138,140
We were in a sparsely-populated area of Maine having dinner at a local cafe, and had the privilege of talking with our waitress about her experience with deployment. Her husband had been a Guardsman serving in a remote area of Afghanistan with limited internet access.
These "unexpected" conversations during our travels never surprise us, as we find military families everywhere. With Guard and Reserve units pulling 52% of rotations to the Middle East, you don't have to be close to a base or post to have military in your midst. Right?
One thing we heard from this wife was her commitment to writing and sending her husband letters. Hand-written letters. Some would say this is a lost art in our culture of emails, instant messaging, Facebook, and texting. . . .but the truth is that there is something uniquely special about writing, and receiving, a letter from the one you love. It works.
This young lady told us that she remembered having a slow day on the job, and being able to write a four-page letter to her sweetheart—something that she tried to do as often as possible. My husband asked her if she numbered her envelopes (something we learned in the Vietnam War days) in case the postal system got the letters delivered out of sequence. We learned the hard way—numbering can help eliminate confusion and misunderstandings. No doubt this husband, far away from the woods of Maine, savored her loving letters delivered during "mail call."
Don't get me wrong, our family is all for modern technology—from Skype to Facetime to internet to cell phones. But we are also seeing more and more the advantage of that personal card, letter, or package. A while back I mailed a package containing a cassette recorder, microphone, and cassette tapes to our son's family overseas so that they can record Daddy reading favorite books to the children—and the children can record messages for their Dad while he is deployed. No doubt this can be accomplished with an MP3 player and the proper software, but the old cassette recorder just works so easily. Forty-plus years ago it was a new-fangled device, but it still works during war-time deployments. I remember many a lonely evening in a remote town in Oklahoma popping in those cassettes just to hear my husband's voice—and he did the same in Southeast Asia. It works.
What else works? What are some of "the old ways" that a couple can stay connected during deployment?
— Reading the Bible "together"—both of you with a One-Year Bible which you already have, or pick out together. Then you can write about what you read that touched you that day (or whenever you can). After all, isn't God's word His love letter to us? On May 8, 2008, we posted an EorP devotional entitled "WWII and Beyond—A Story of Commitment."In it we wrote about Louise and Eugene, separated for 3½ years during World War II after having been married for just 2 days at Ft. Stewart. They wrote each other about what they read in the Bible that day. They remained married for almost sixty years until Eugene's death. It worked.
— Reading devotionals "together"—we are seeing a return to the classics, "My Utmost for His Highest" and "Streams in the Desert."We love the new devotionals (especially online!), but there's something about reading from a book that has stood the test of time. If you both have a copy there is material for sharing from a deep level. It works.
— Picking a prayer time each day—knowing that there is a certain time each day (in the morning, at meal-times, before bed) when your family member is praying for you is very comforting and encouraging. One of my favorite devotional books is Battlefields & Blessings: Stories of Faith and Courage from the Civil War. In it are letters from moms, dads, chaplains, soldiers, children, pastors, generals, sisters, brothers, uncles, friends . . . . . telling their stories of faith in the midst of war. A recurring theme in these 365 letters is the prayers that they have for one another—and how they count on those prayers to get them through the hardships of the day. It worked.
— Carrying that special photograph—make sure that your spouse has your favorite photo—one you have picked for them to have or carry. Maybe it's one of the two of you in a memorable location, or at a special event . . . something that will bring happy memories along with the enduring look. It works.
— If you can't correspond in any way (especially submariners), keep a journal—it's an old way, but a good way, of staying connected. Our couple in Her Favorite Christmas Present (EorP posting on December 28,2009) is a dual-military couple and they are now both deployed. They learned before how valuable the journals were, and they are using them this time, too. It works.
— Read a book together—we have heard of couples reading The Pilgrim's Progress by John Bunyan together during deployment. I have found the chapter entitled "The Pilgrims Deal with Giant Despair" to be particularly relevant during deployment challenges. First published in 1678, it's a "classic among classics," and not beyond the children joining in the project. The second-most-popular book of all times, next to the Bible, there is wisdom in this allegory which will provide spiritual discussion for all ages.It works.
Perhaps you can think of some other "oldies but goodies"—methods of communication and spiritual growth which worked then and still work today. Be encouraged—be challenged—and don't waste this time which can be used to His glory!
Questions to Share:
1.  Which of these eight ideas above have you used in the past to communicate with your loved ones? Share with each other what worked. . . .
2. Which of these ideas would you like to try during this deployment? What would it take to get that started? The Old Ways—Still Work!
Excellent or Praiseworthy is posted on Monday and Thursday nights.
Editor's Note: The writer of this testimony, Beverly Weeks, posts regularly on the website intentionallyyours.org. She and her husband reach out in marriage enrichment ministry throughout North Carolina—including military couples stationed there. Our hope is that this testimony will be beneficial to those who are struggling in their marriage during deployment or any other time.
. . . clothe yourselves with compassion, kindness, humility, gentleness and patience. — Colossians 3:12b
Your beauty should not come from outward adornment . . . instead, it should be that of your inner self, the unfading beauty of a gentle and quiet spirit, which is of great worth in God's sight. — I Peter 3:3a, 4
How do you change your spouse? Nervously, I began to fidget, play around with my jewelry and crack my knuckles as I sat on the brown sofa. It had taken all my courage just to muster up enough strength to walk into the Christian counselor's office.
It just felt so awkward. I mean for years I had taught Sunday School, sung in the choir and now I was having to admit to a total stranger that I did not have it all together. I felt as if my marriage had fallen completely apart. In all honesty, I had already begun to "check out" of the marriage relationship….yet my husband pleaded for me to reach out to this one who was trained, and willing, to help.
I went to that counseling session really as a way to appease my husband. I wanted to be able to tell my friends that I had done everything possible before dissolving the marriage. I guess that deep down I went secretly hoping that the counselor would affirm my decision to separate from him. At the very least, I had hoped that she could tell me how to change him.
 I took a sip of water from my water bottle, composed myself and then all of a sudden me and my 150 plus pounds of head strong ATTITUDE decided to blurt out my frustrations… "Before you say anything, I want you to know that I am not taking him back if HE doesn't change this, this and this…" I proceeded to call off the things on my list, things that aggravated me to the core! "I mean how dare my husband not show me any affection, I feel like he always put his job before me, he never lets me help with making decisions, he is never affectionate, I am a people person, he loves staying at home, I love a clean house and he, well, let's just say we are totally opposite….."
I began to rattle them off, one fault right behind the other, until I noticed she wasn't saying very much. Of course, if the truth be known I didn't give her much of an opportunity! Finally, she lifted her pen, cleared her throat and spoke in a near silent whisper. Although full of conviction, her words were not at all what I had wanted to hear. "What if God is more interested in changing YOU than in changing your spouse?"
Hmmm. I want you to know that I did not exactly receive her words in the love of Christ! As a matter of fact, my fleshly sinful side wanted to leap off that sofa, pluck every blonde hair out of her head and her eyebrows and shout, "Lady, seriously, were you not just listening to what I said!?"
Her words, which were unsettling with me at the time, began to resonate in my ears. For the next few weeks and months, our marriage restoration and healing would begin with me first recognizing the fact that I could NOT change my spouse. No matter how hard I tried, the only person I could change was me. For some time I had naively thought that if I could just change my husband it would fix our relationship and the problems would vanish.
How to Change Your Spouse: The Power of the Two "P" Words
PRAY: I began to pray in a new way… Lord, change me. I remember one night just sitting on the end of my bed weeping and pouring my heart out to God. "God, You know my heart. You know all the ways my husband has hurt me, all my frustrations, the bitterness and the callous feelings. Lord, you know all my expectations, hopes and my dreams. Father, I realize that I cannot change him so I ask that You will help me to compromise, accept the things that I cannot change, and God use these things to make me stronger…"
Now I won't lie, for weeks it was just plain hard to pray that way. But I noticed over time that things really did begin to change for the better. My reactions changed, my behavior changed and it triggered my husband to want to make small changes.
PRAISE: I began to praise my husband. I learned right quick that my positive reinforcements to my husband added fuel in his tank. Pretty soon he began to pick up his towels, he began to be more affectionate, he agreed to go out more and ironically every one of the small changes that he had put into place were things I had completely stopped nagging him about! I totally got rid of six words from my vocabulary…"You have to change or else!"
You see in the past, my ultimatums had only stirred up bitterness and frustration. I found that my new words, "thank you for picking up the towels, thank you for helping in the kitchen, I like it when you hold my hand,"…. all of these affirmed him. For the first time, my husband began to feel respected.
As God began to change my heart, I was able to communicate with my husband more clearly. In the past I would have easily snapped and torn into him. I think my gentle and quiet spirit began to win him over. I am not saying everything was magically fixed. What I am saying is that instead of compressing and stuffing my frustrations (which earlier almost always led to an explosion), I began to communicate what I needed from him instead of assuming that he already knew.
You see, I learned it's not my place to change my husband. That is God's work. There was a lot of compromising, determination and a whole lot of hard work involved in turning around our marriage. NO, you cannot change your spouse, but you can pray that GOD will change you! In return, when GOD softens your heart your marriage will have no other choice but to change.
It's hard to believe that encounter with our Christian counselor was over two and a half years ago. Even more incredible is the fact that GOD has placed us in marriage ministry together. How AWESOME is that? She and her husband—my husband and I—humbly serving together helping couples just like us.
I want you to know that the change did not begin in my marriage. My husband and I are closer now than ever before. God has restored our home. That change began in me.
Work Cited:
http://www.intentionallyyours.org/2013/08/06/how-to-change-your-spouse/
Questions to Share:
1. Spend time in prayer asking God how He might want to change you in your relationship with your spouse.
2. Praise your spouse for something specific they do that you admire. If you are experiencing deployment, praise them in email or phone—or in writing.
Excellent or Praiseworthy is posted on Monday and Thursday nights.
"Praise be to the God and Father of our Lord Jesus Christ! In His great mercy He has given us new birth into a living hope through the resurrection of Jesus Christ from the dead . . . " — I Peter 1:3
Editor's Note:  Bob and Cheryl Moeller minister to marriages with "For Keeps Ministries: For Better For Worse." They write online articles called "Marriage Minutes" (forkeepsministries.org) from which this outline is taken. We are sharing this outlined article "Is it Friday, Saturday or Sunday in your Life?" because during deployment we can experience all three of these emotions—reeling, grieving, and rejoicing!
The Easter weekend is a picture of all our lives — which day is it in your life?
A. The reality is for some of us it's Friday in our lives (We are reeling).
Luke 24:13-19  "Now that same day two of them were going to a village called Emmaus, about seven miles[a] from Jerusalem. 14 They were talking with each other about everything that had happened. 15 As they talked and discussed these things with each other, Jesus himself came up and walked along with them;16 but they were kept from recognizing him.17 He asked them, "What are you discussing together as you walk along?" They stood still, their faces downcast. 18 One of them, named Cleopas, asked him, "Are you the only one visiting Jerusalem who does not know the things that have happened there in these days?" 19 "What things?" He asked."
1. We are stunned from unexpected and painful events in our life.
a. No one expected Jesus to end up dying on a Cross.
b. It is entirely possible these two men had witnessed the crucifixion in stunned disbelief.
c. For them it was a day of broken hearts that would never quite heal again.
2. Yet, even when it's Friday God is still working in our lives.
a. Jesus is still caring for our needs.
b. God's sovereign plan is still at work.
c. Spiritual victories on our behalf are still being accomplished.
3. If its Friday let the love of others be your strength.
B. The reality is for some it's Saturday in our lives (We are grieving).
Luke 24:19b-27  "About Jesus of Nazareth," they replied. "He was a prophet, powerful in word and deed before God and all the people. 20 The chief priests and our rulers handed him over to be sentenced to death, and they crucified him; 21 but we had hoped that he was the one who was going to redeem Israel. And what is more, it is the third day since all this took place. 25 He said to them, "How foolish you are, and how slow to believe all that the prophets have spoken! 26 Did not the Messiah have to suffer these things and then enter his glory?" 27 And beginning with Moses and all the Prophets, he explained to them what was said in all the Scriptures concerning himself."
1. We are confused by life and our unanswered questions.
a. Sorrow has replaced shock and we are filled with questions.
b. The way we thought life was supposed to turn out has not happened.
c. What we believe is being tested as never before.
2. Yet, even when it is Saturday God is working in our lives.
a. The Word of God is being fulfilled.
b. The plan of God is being accomplished.
c. The promises of God are being vindicated.
3. If it's Saturday let the Word of God be your strength.
C. The reality is for some it's Sunday in our lives (We are rejoicing).
1. We are left amazed and transformed by the turn of events.
a. We sense the presence of God in our lives once again.
b. We are fed and nourished by Jesus Himself.
c. We can see Jesus in our midst once again.
2. Yes, when it's Sunday God is at work in our lives.
a. It's a day of amazement and understanding.
b. It's a day of our hearts burning within us again.
c. It's a day of witness to what God has accomplished.
3. If it's Sunday let the presence of the risen Jesus be your strength.
D. Just remember….
Luke 24:28-35  "As they approached the village to which they were going, Jesus continued on as if he were going farther. 29 But they urged him strongly, "Stay with us, for it is nearly evening; the day is almost over." So he went in to stay with them.30 When he was at the table with them, he took bread, gave thanks, broke it and began to give it to them. 31 Then their eyes were opened and they recognized him, and he disappeared from their sight. 32 They asked each other, "Were not our hearts burning within us while he talked with us on the road and opened the Scriptures to us?" 33 They got up and returned at once to Jerusalem. There they found the Eleven and those with them, assembled together 34 and saying, "It is true! The Lord has risen and has appeared to Simon." 35 Then the two told what had happened on the way, and how Jesus was recognized by them when he broke the bread."
1. Whatever day of the week it is for you right now God has a special grace to get you through.
2. Even when it appears God isn't doing anything He is still at work.
3. Someday given enough time (and we may have to wait for heaven) God's plan will all make sense.
4. In the meantime God calls us to be wise and filled with faith.
Questions to Share:
1. If the tomb is empty what problem in your life is too big for God to heal or resolve?
2. Pray for your spouse to endure through the Fridays, Saturdays and Sundays of your life—and to see God at work through circumstances.
Excellent or Praiseworthy is posted on Monday and Thursday nights.
Editor's Note:  This posting is shared by a friend of Excellent or Praiseworthy, author Jocelyn Green. Jocelyn is the award-winning author of ten including fiction and nonfiction books. A former military wife herself, she offers encouragement and hope to military wives worldwide through her Faith Deployed books and The 5 Love Languages Military Edition, which she co-authored with best-selling author Dr. Gary Chapman. Her Heroines Behind the Lines Civil War novels, inspired by real heroines on America's home front, are marked by their historical integrity and gritty inspiration.
During our first year of marriage, my husband Rob and I rented the classic film Ben Hur with Charlton Heston to watch the night before Easter. The chariot race came up awfully fast. "I feel like we're supposed to care about who wins," I told Rob. "Shouldn't we get to know the characters a bit?" The movie was over in less than an hour. "Huh. I thought this was supposed to be a long movie." We shrugged and shook our heads. Only after taking the disc out and examining it more carefully did we realize what happened. We had played Side B.
Tonight my family and I are watching Ben Hur starting with Side A. (Funny how it's so much more satisfying that way.) It's a night-before-Easter tradition we cherish every year. The hope and awe of the characters when Christ is raised from the dead is absolutely contagious. and the best part is knowing that that Christ, the one who healed lepers and mended broken lives, is still alive, and He is my Christ, my Lord too. Hallelujah! A couple of years ago, while I was writing my Civil War series, I was delighted to learn that Lew Wallace, the author of Ben Hur, was a Civil War general before writing the novel. But it was only a few days ago that I learned more about the amazing story of how it all came about.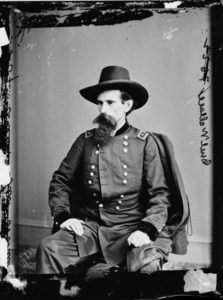 Lew Wallace, circa 1861
In September 1876, Wallace was on his way by rail to join thousands of other Union veterans at the Third National Soldiers Reunion in Indianapolis. When a man Wallace recognized popped into his sleeper car and invited him to have a talk, he agreed. The man was Robert Ingersoll, who had been a soldier at the Battle of Shiloh, where Wallace's military reputation had been stained by not bringing his men to the battle in time. In fact, the Union defeat at Shiloh was blamed, at least in part, on Wallace's failure. But Ingersoll, now the nation's most prominent atheist, didn't want to rehash Shiloh with the general that night on the train. Instead, he wanted to share his passion: the nonexistence of God.
Ingersoll talked until the train reached its destination. "He went over the whole question of the Bible, of the immortality of the soul, of the divinity of God, and of heaven and hell," Wallace later recalled. "He vomited forth ideas and arguments like an intellectual volcano." The arguments had a powerful effect on Wallace. Departing the train, he walked the pre-dawn streets of Indianapolis alone. In the past he had been indifferent to religion, but after his talk with Ingersoll his ignorance struck him as problematic, "a spot of deeper darkness in the darkness." He resolved to devote himself to a study of theology, "if only for the gratification there might be in having convictions of one kind or another."¹
Rather than study a stack of theology books, however, Wallace took a completely novel approach–literally. He decided to explore the divinity of Christ by writing a novel about Him. That novel was born four years later in the form of Ben-Hur: A Tale of the Christ, and was to become one of the best-selling American novels of all time. What delicious irony! A late-night conversation in which an atheist tried to persuade another into the camp of unbelief actually set the wheels in motion for one of the most influential biblical epics ever written. Amazing. Literature critics were less impressed, but readers loved it. The book sold as many as a million copies in its first three decades in print.
Ulysses S. Grant read Ben-Hur in a single, 30-hour sitting. President James A. Garfield wrote to Wallace after finishing it, "With this beautiful and reverent book you have lightened the burden of my daily life." Jefferson Davis's daughter Varina read the novel to him from night til dawn, "oblivious to the flight of time."² Ben-Hur was published fifteen years after the end of the Civil War, and a few years after the official end of the Reconstruction Era. It is the story of compassion triumphing over revenge, and of Christ's resurrection. I can only imagine how that must have resonated with Americans struggling for rebirth.  The truth is timeless, for those who saw the risen Christ, for Americans piecing their lives back together after the Civil War, for you and for me.
Because Jesus lives, Hope lives!
Sources: 1. Swansburg, John. "The Passion of Lew Wallace," Slate.com (link is external). March 26, 2013. 2. Ibid.
Questions to Share:
1. If you have seen the movie, Ben Hur, share one thing that you remember about the chariot race.
2. The face of Jesus is never shown in the movie, but His compassion is shown clearly at the beginning of the movie when He gives Ben Hur a drink of water.  Ben Hur never forgets that act of kindness which introduces him to the man of Jesus Christ.  Do you remember an act of kindness done for you which was instrumental in your decision to become a Christian?
« go back
—
keep looking »