Excellent or Praiseworthy is posted on Monday and Thursday nights.
"Sitting down, Jesus called the Twelve and said, 'If anyone wants to be first, he must be the very last, and the servant of all.'"  — Mark 9:35
"But God chose the foolish things of the world to shame the wise; God chose the weak things of the world to shame the strong.  He chose the lowly things of this world and the despised things—and the things that are not—to nullify the things that are, so that no one may boast before Him."  — 1 Corinthians 1:27-29
"For whoever wants to save his life will lose it, but whoever loses his life for Me will find it."  — Matthew 16:25
"Humble yourselves before the Lord, and He will lift you up."  — James 4:10
"But He said to me, 'My grace is sufficient for you, for My power is made perfect in weakness.'  Therefore I will boast all the more gladly about my weaknesses, so that Christ's power may rest on me.  That is why, for Christ's sake, I delight in weaknesses, in insults, in hardships, in persecutions, in difficulties.  For when I am weak, then I am strong."  — 2 Corinthians 12:9-10
I find the paradoxes of the Christian faith to be fascinating to study—and to experience!  The upside-down logic, or counter-intuitive thinking, or truth that is somehow self-contradictory causes me to pause and ponder.  Knowing the great truth that "What is impossible with men is possible with God" (Luke 18:27) allows me to grasp, as best I can, the huge paradox of the perfect, sinless Son of God dying on the cross for my guilt and shame.  Nancy Guthrie writes in The One Year Book of Hope:  "The Cross is the grand paradox that provides the foundation for the unsettling paradoxes of the gospel— Jesus' teachings that we must be poor if we want to be rich, mourn if we want to be happy, give everything away if we want to be rich, die so we can live.  Only in the shadow of the Cross do these paradoxes begin to make sense to us." (p. 250)
Probably my favorite prayer, using the paradoxes that were so well-understood by the Puritans, is from The Valley of Vision:  A Collection of Puritan Prayers and Devotions:
"Lord, High and Holy, Meek and Lowly,
Thou hast brought me to the valley of vision,
where I live in the depths but see thee in the heights;
hemmed in by mountains of sin I behold thy glory.
Let me learn by paradox
that the way down is the way up,
that to be low is to be high,
that the broken heart is the healed heart,
that the contrite spirit is the rejoicing spirit,
that the repenting soul is the victorious soul,
that to have nothing is to possess all,
that to bear the cross is to wear the crown,
that to give is to receive,
that the valley is the place of vision.
Lord, in the daytime stars can be seen from deepest wells,
and the deeper the wells the brighter thy stars shine;
Let me find thy light in my darkness,
thy life in my death,
thy joy in my sorrow,
thy grace in my sin,
thy riches in my poverty,
thy glory in my valley."
Perhaps the most glorious paradox that we have witnessed in couples experiencing deployment has been to observe how they have drawn closer together while living far apart.  This can only be accomplished in the love demonstrated in the cross of Jesus Christ—in that sacrificial giving of oneself that puts the other's interests above our own.
For example, we have heard couples share that it is during deployment that they are able to write letters which capture how much they truly appreciate each other; it is during deployment that they are able to pray for each other in ways which are overlooked during "normal" living; it is during deployment that the priorities of life come into clear focus; it is during deployment that opportunities to serve others take on a whole new importance; it is during deployment that they can see first-hand the utter futility of self-pity and the peace that comes with contentment; it is during deployment that evaluating past mistakes can make way to resoluteness for the future; it is during deployment that God can meet them at a spiritual level when loneliness could give way to despair; it is during deployment that fears can be conquered. . . .and the list can go on.  No one hopes for separation during war-time service, but the reality is that this global war on terror has demanded tremendous sacrifice by our military families.  The fact that couples are looking for ways to make their marriages stronger and more intimate in the face of these challenges of separation and danger is a bit of a paradox that is excellent—and praiseworthy!
"Our work as God's servants gets validated—or not—in the details.  People are watching us as we stay at our post, alertly, unswervingly. . . in hard times, tough times, bad times; when we're beaten up, jailed, and mobbed; working hard, working late, working without eating; with pure heart, clear head, steady hand; in gentleness, holiness, and honest love; when we're telling the truth, and when God's showing his power; when we're doing our best setting things right; when we're praised, and when we're blamed; slandered, and honored; true to our word, though distrusted; ignored by the world, but recognized by God; terrifically alive, though rumored to be dead; beaten within an inch of our lives, but refusing to die; immersed in tears, yet always filled with deep joy; living on handouts, yet enriching many; having nothing, having it all." —2 Corinthians 6:4-10 (The Message)
Guthrie, Nancy,  The One Year Book of Hope (Carol Stream:  Tyndale House Publishers, Inc., 2005)
Bennett, Arthur, editor,  The Valley of Vision:  A Collection of Puritan Prayers and Devotions (Edinburgh:  The Banner of Truth Trust, 1975)
Questions to Share:
1. In what ways can draw closer to your spouse during this deployment, even though you are apart?
2. In what ways can you draw closer to God during this deployment? (Psalm 46)
Excellent or Praiseworthy is posted on Monday and Thursday nights.
This is the victory that has overcome the world, even our faith.  Who is it that overcomes the world?  Only he who believes that Jesus is the Son of God. — 1 John 5:4, 5
No doubt you associate March 17th each year as St. Patrick's Day, as I do. For as long as I can remember, the date set aside to celebrate St. Patrick, the patron saint of Ireland, has been a day dedicated to the wearing of green, to decorating with leprechauns and shamrocks, and to holding parades in locations where many Irish have settled.
But little did I know that March 17th is also a holiday because of a military victory. We'll get back to St. Patrick—because that's a very important story—but so is Evacuation Day. If I've done my homework right, Evacuation Day was the day in the Boston area when British General Sir William Howe led his troops onto their ships and left the city for Nova Scotia. The Continental Army, under the new command of General George Washington, strategically occupied Dorchester Heights overlooking Boston Harbor. Fortifications were built with artillery equipment captured at Fort Ticonderoga, and the British realized that their position within Boston was indefensible. Fearing a defeat similar to Bunker Hill, General Howe decided to evacuate, ending an 11 month siege of the city. Boston was never attacked again by the British, and this can be considered Washington's first victory of the Revolutionary War. The password for the day in General Washington's Continental Army encampment was "Saint Patrick," and March 17th was declared an official holiday for Suffolk County, Massachusetts in the early 1900s.
With the story of St. Patrick we find another victory, but of a different sort. His is the story of victory over bitterness, victory over the lies of a pagan culture, and, as Thomas Cahill in How the Irish Saved Civilization would even say, the victory over illiteracy and ignorance which would preserve writings so important to us today, including the Bible.
Patrick was a young man of sixteen years when kidnapped from his home in England around 400 A.D. and taken to Ireland. There he was sold to a chieftain who forced Patrick to tend his sheep. It was during this captivity that Patrick remembered his Christian upbringing, which he had formerly rejected. As he wrote in his Confessions, "I would pray constantly during the daylight hours" and "the love of God . . . surrounded me more and more." His understanding and love for God the Father, the Son, and the Holy Spirit grew during these lonely years of survival in the cold, rain, and snow. His writings do not show bitterness, however, because he used his time to grow in new love and faith. After six years as a slave-shepherd Patrick escaped and returned to his home in England, a changed man.
Feeling called to return to Ireland and proclaim the Gospel to the pagan and barbaric culture which he had left, Patrick began to study and prepare. Eventually he was ordained as a priest, and then a bishop. When he did return, he brought new hope to the land where he had been held captive, all because of his bold and faithful proclamation of Jesus Christ as Savior of the world. He even used the shamrock to explain the Trinity of Father, Son, and Holy Spirit.  He served in Ireland for 29 years, baptizing thousands and planting hundreds of churches. Besides individual lives redeemed, their new Christian faith gave the Irish people a revived love of learning—which then fostered literacy. The Irish monks were instrumental in copying books, including the Bible, which were in danger of being looted and destroyed during the final days of the Roman Empire as it crumbled.
This is a quick summary, no doubt, and there is much to appreciate in the legacy of St. Patrick. Although accounts of his biography differ in details, there seems to be little disagreement as to his passion to evangelize the people of Ireland because of his love for them and his love for our Lord. I am particularly inspired by his deep prayer life, and am touched by this writing called "The Breastplate," attributed to St. Patrick:
"Christ be within me, Christ behind me, Christ before me, Christ beside me, Christ to win me, Christ to comfort and restore me, Christ beneath me, Christ above me, Christ inquired, Christ in danger, Christ in hearts of all that love me, Christ in mouth of friend and stranger."
March 17th is a day to celebrate victory, whether Evacuation Day or St. Patrick's Day. The ultimate victory is through Jesus Christ, and as Christians we celebrate His life in us every day of the year. Paul writes in his letter to the Corinthians, "The sting of death is sin, and the power of sin is the law. But thanks be to God! He gives us the victory through our Lord Jesus Christ. Therefore, my dear brothers, stand firm. Let nothing move you. Always give yourselves fully to the work of the Lord, because you know that your labor in the Lord is not in vain." (1 Corinthians 15:56-58)
Resources:
Apostle to the Irish: The Real Saint Patrick by Charles Colson
Patricius: The True Story of St. Patrick by David Kithcart
Who Was the Real St. Patrick? by Deacon Keith A. Fournier
Saint Patrick from Wikipedia
Evacuation Day from Wikipedia
Service of the Scribes: How the Irish Saved Civilization, March 16, 1998 of Prison Fellowship
Questions to Share:
1. Why do you believe Patrick did not become a slave to "victim-hood" and refuse God's call to return to Ireland as a missionary?
2. What lessons can you learn from St. Patrick regarding personal victory over unfair treatment?
Excellent or Praiseworthy is posted on Monday and Thursday nights.
"Unless the LORD had helped me, I would soon have settled in the silence of the grave. I cried out, 'I am slipping!' but your unfailing love, O LORD, supported me. When doubts filled my mind, your comfort gave me renewed hope and cheer." — Psalm 94:17-19
Have you ever felt "sick at soul"? Perhaps you could characterize this feeling as frustration over your plans being turned upside-down, or uncertainty over where things are leading, or losing control over everything that is happening in your life, or worry over finances, or concern over how you are going to make it through deployment without your spouse? Sound familiar? Read these verses and see if you can connect this feeling of soul sickness with something:
"Why are you downcast, O my soul? Why so disturbed within me? Put your hope in God, for I will yet praise Him, my Savior and my God." — Psalm 42:5, similar in 42:11 and Psalm 43:5
"Find rest, O my soul, in God alone; my hope comes from Him." — Psalm 62:5
"My soul faints with longing for Your salvation, but I have put my hope in Your word." — Psalm 119:81
"I wait for the LORD, my soul waits, and in His word I put my hope." — Psalm 130:5
"Know also that wisdom is sweet to your soul; if you find it, there is a future hope for you, and your hope will not be cut off." — Proverbs 24:14
Bible teacher Beth Moore says, "When our soul is sick it is because we are going through a time or season of hopelessness." Is that true in your life? Have you lost hope?
It has been my experience that when I have lost hope it is because I have forgotten one or more of these five things (which are all closely related):
God's Presence. When we think God has forgotten us, or has somehow lost track of us, we can lose hope. That is the perfect time to read Psalm 139, including these verses:
"Where can I go from Your Spirit? Where can I flee from Your presence? If I go up to the heavens, You are there; if I make my bed in the depths, You are there. If I rise on the wings of the dawn, if I settle on the far side of the sea, even there Your hand will guide me, Your right hand will hold me fast." — Psalm 139:7-10
When I read these verses, I think of "far side of the sea" as referring to those deployed to the Gulf, or to the desert. I think of the heavens as to where our airplanes are flying. And when I read verses 11-12, I think of night-vision goggles: "If I say, 'Surely the darkness will hide me and the light become night around me,' even the darkness will not be dark to You; the night will shine like the day, for darkness is as light to You." God never takes His eyes off of us. He knows where you are and what you are doing!
God's Perspective. When we lose perspective, we can lose hope. I'm not talking about just some kind of "positive attitude," but the ability to see that which is unseen—how God is working in and through your current situation (however treacherous), and then bringing you through it with renewed strength. If you have read Good to Great by Jim Collins, you read of the Stockdale Paradox. Admiral Jim Stockdale, the highest-ranking POW in Hanoi during the Vietnam War and imprisoned eight years, tells about how those who survived made it, not with optimism, but with this lesson: "You must never confuse faith that you will prevail in the end—which you can never afford to lose—with the discipline to confront the most brutal facts of your current reality, whatever they might be." (p. 85) A Christian's perspective—that this life is not all there is—is beautifully written by Paul in 2 Corinthians 4:16-18: "Therefore we do not lose heart. Though outwardly we are wasting away, yet inwardly we are being renewed day by day. For our light and momentary troubles are achieving for us an eternal glory that far outweighs them all. So we fix our eyes not on what is seen, but on what is unseen. For what is seen is temporary, but what is unseen is eternal." Deployments will end; our life on earth will end; but love never fails and life with our Savior in heaven will never end. That's perspective!
God's Power. When we forget God's power, we can lose hope. It's so easy to forget the things that our powerful God has done for us in the past. Therefore it's a good discipline to keep a journal, or list, of how God has gotten you through trials in the past. David did this before he went to fight Goliath. David remembered how God protected him in the past, and told King Saul, "The LORD who delivered me from the paw of the lion and the paw of the bear will deliver me from the hand of this Philistine." (1 Samuel 17:37) So often we forget the things we should remember, and remember the things we should forget. Remember God's powerful faithfulness!
God's Provision. When we try to project our strength for today into the unknown of tomorrow, we can lose hope. It's so easy to ask, "How in the world am I going to get through this?" This is the perfect time to remember the Manna Principle—God's provision of grace and strength is available when it is needed, and not before. Like God provided manna as food for the Jewish wanderers in the wilderness during their forty years before they reached the Promised Land, He provides for us today. It is sometimes a daily thing, sometimes hour-to-hour. We cannot store it up—He gives us a fresh supply of truth from His word and grace to endure when we have the need—and when we ask. I will never forget hearing an editor, who was on staff with Billy Graham's Decision magazine, proclaim the words from Lamentations 3:22-23 during devotional time, "How great a God we serve that His mercies are new every morning!"
God's Promises. When we forget that God is faithful, we can lose hope. I will never forget a particular gloomy day when meeting with some Navy wives, whose husbands were all deployed. We read Psalm 145 together, and were reminded in verse 13 that, "The LORD is faithful to all His promises . . ." The mood lifted as we remembered Isaiah 41:10, "So do not fear, for I am with you; do not be dismayed, for I am your God. I will strengthen you and help you; I will uphold you with My righteous right hand." He is faithful, and because of that we can have hope. "And hope does not disappoint us, because God has poured out His love into our hearts by the Holy Spirit, whom He has given us." Romans 5:5
Questions to Share:
1. Recall a time that you lost hope (perhaps now). Which one(s) of the list above had you forgotten?
2. Take time to pray to God, either alone or with your spouse, for forgiveness and strength to remember God's presence, God's perspective, God's power, God's provision, and God's promises.
Excellent or Praiseworthy is posted on Monday and Thursday nights.
". . . Be strong and courageous. Do not be terrified; do not be discouraged, for the LORD your God will be with you wherever you go." — Joshua 1:9
Father Joe O'Callahan, a professor of physics and mathematics at Holy Cross College, was compelled into service during the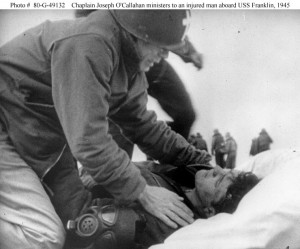 early stages of World War II, as his missionary sister was at risk during the occupation of the Philippines. That inspiration led to his commissioning as a chaplain in 1940 and eventually his wartime service aboard the USS Franklin. During an attack off the coast of Japan, Chaplain O'Callahan risked his life by organizing damage control parties and care for his sailors. From these actions and injuries, Father Joe inspired others and became the first Navy chaplain to be awarded the Medal of Honor.
Chaplain O'Callahan's official citation for the Medal of Honor reads:
For conspicuous gallantry and intrepidity at the risk of his life above and beyond the call of duty while serving as chaplain on board the U.S.S. Franklin when that vessel was fiercely attacked by enemy Japanese aircraft during offensive operations near Kobe, Japan, on 19 March 1945. A valiant and forceful leader, calmly braving the perilous barriers of flame and twisted metal to aid his men and his ship, Lt. Cmdr. O'Callahan groped his way through smoke-filled corridors to the open flight deck and into the midst of violently exploding bombs, shells, rockets, and other armament. With the ship rocked by incessant explosions, with debris and fragments raining down and fires raging in ever-increasing fury, he ministered to the wounded and dying, comforting and encouraging men of all faiths; he organized and led firefighting crews into the blazing inferno on the flight deck; he directed the jettisoning of live ammunition and the flooding of the magazine; he manned a hose to cool hot, armed bombs rolling dangerously on the listing deck, continuing his efforts, despite searing, suffocating smoke which forced men to fall back gasping and imperiled others who replaced them. Serving with courage, fortitude, and deep spiritual strength, Lt. Cmdr. O'Callahan inspired the gallant officers and men of the Franklin to fight heroically and with profound faith in the face of almost certain death and to return their stricken ship to port.[4]
But Chaplain O'Callahan's impact statement did not stop here. Throughout his life as a professor and a chaplain, he inspired others in a way that is often overlooked. His life directly influenced two other Medal of Honor Recipients, 1st LT Powers USMC and CAPT Kelly USN, and a Silver Star recipient, 1st LT Mullany.
What is your impact statement? What inspiration are you sharing?
Let us pray. . .
Lord, We thank you for the inspiration from the mentors and teachers in our lives. As we have been blessed by them and by You, help us to look beyond the bulkheads of our lives.
As we strive to seek You first, may we also find the "hatches, hanger bays and elevators" that place us upon the "flight decks" of our life.
As we strive to serve our fellow man, may we be more than just "A global force for good." May we be a local motivating force for others. May all those who come behind us find us faithful.
As we strive together, may we become our brothers' keeper; may we become that iron that sharpens iron (Proverbs 27:17), and allow others to rest when they are weary.
As we stand our watches and our flight ops become rack ops, may we awake to fight the good fight. Amen.
Work Cited:
Chaplain O'Callahan's Medal of Honor Citation: http://www.history.army.mil/html/moh/wwII-m-s.html
Questions to Share:
1. Is there someone you remember who inspired you to bravery?
2. How do you want to be remembered by succeeding generations?
Excellent or Praiseworthy is posted on Monday and Thursday nights.
"You alone are the LORD. You made the heavens, even the highest heavens, and all their starry host, the earth and all that is on it, the seas and all that is in them. You give life to everything, and multitudes of heaven worship You." — Nehemiah 9:6
With a group of military wives in a Bible study on Friday morning, I wondered out loud how our deployed service members ever got used to so much sand-color—that it all must be "very beige" in the desert. A soldier's wife quickly corrected me with a rebuke — "Oh, Linda, you're wrong! My husband tells me that he has never seen such beautiful sunrises and sunsets. And the stars—oh my . . . he tells me that at night he has never seen so many stars!!"
I stood corrected, and grateful that even in the midst of war there was the God-given ability to appreciate the wonders of His creation. There in the desert, in the cradle of civilization, the majesty of God is on display. Consider this:
— our sun, the closest star to us, is 109 times larger than the earth and its luminosity equal to 4 million-trillion 100-watt light bulbs;
— even at that, the sun is just an average star inside the galaxy called the Milky Way;
— the Milky Way contains over 100 billion stars;
— there are hundreds of billions of galaxies in this universe.
In Isaiah 40:26 we read, "Lift your eyes and look to the heavens: Who created all these? He who brings out the starry host one by one, and calls them each by name. Because of His great power and mighty strength, not one of them is missing." The thought that our God knows each of these stars by name is beyond my comprehension, and I am awe-struck.
My father was a navigator in World War II, back when the Air Force was the Army Air Corps. He used a sextant (which I have saved in my closet) to determine his aircraft's position and to plot his course—and knew many stars by name. I remember, as a little girl, going out at night with our family and seeing him point out the different constellations—and telling us how they got their names. The safety of his aircraft and crew depended on his ability to know these stars and know how to use the instruments correctly. Another concept that my father wanted to make clear was that the position of these stars was unchangeable—and it was because of their unchanging nature that he could trust them in order to navigate.
We see this same idea spoken of by Jerry Bridges, Christian author and speaker, who served in the Navy during the Korean War. Bridges reminds us that spiritually we need to "line up" with God just as the position of his ship did with the stars when they were underway. He writes, "In my Navy days before we had global positioning satellites we used a sextant to get our navigational position twice each day. At dawn and dusk we would 'shoot the stars' and get a position. And invariably after having done that, we had to make a minor course correction. Obviously if we didn't do that, not only daily, but in our case twice a day, we would soon find that we were way off course. You and I also need that daily course correction, and we do this as we have this focused time with God. . . Personal communication with God needs to be daily. If not we find ourselves drifting off course."
The same stars that shone down on Nehemiah, Isaiah, Jerry Bridges and my Dad shine down today on our troops. Let us take a moment to reflect on the majesty of His creation from the book of Psalms:
"When I consider Your heavens, the work of your fingers, the moon and the stars, which You have set in place, what is man that You are mindful of him, the son of man that you care for him?" — Psalm 8:3-4
"The heavens declare the glory of God; the skies proclaim the work of His hands." — Psalm 19:1
"By the word of the LORD were the heavens made, their starry host by the breath of His mouth." — Psalm 33:6
"In the beginning You laid the foundations of the earth, and the heavens are the work of Your hands." — Psalm 102:25
Perhaps we can all take time to look up into the heavens at night and consider how God loved us so much that He created this beauty, even for us. And not only is this celestial display beautiful, but it points to the unchanging steadfastness of God's character which we can count on to provide exact and unwavering guidance throughout the journeys of our lives.
Work Cited:
Bridges, Jerry, "Four Essentials for Finishing Well" in Stand: A Call for The Endurance of the Saints, edited by John Piper and Justin Taylor (Wheaton: Crossway Books, 2008)
Questions to Share:
Because of the unchanging nature of the God-created stars, my Dad was able to navigate across the oceans and deserts in war-time. Are there some unchanging characteristics of God by which you can navigate the trials of life?

Isaiah says that God knows the stars by name. And Jesus says that God also has numbered the very hairs of our head (Matthew 10:30). In what ways does that give you comfort?
Excellent or Praiseworthy is posted on Monday and Thursday nights.
Search me, O God, and know my heart; test me and know my anxious thoughts. See if there is any offensive way in me, and lead me in the way everlasting. — Psalm 139:23,24
I thought it was a handy little word at first—"issues." I could use it and not be too specific about what the problem, attitude, struggle, or complication was that I was dealing with. I could just say, "I have issues with _______."
But as time went on, I came to understand that using the word "issues" could also be a cop-out. I wouldn't have to be truthful about my . . . . . . . . . sin . . . . . . . . . I could just say I have "issues" with someone, and not say "I am bitter towards ____ because of my unforgiveness." I could say that I have issues with ____ and not say that I have gluttony, laziness, selfishness, jealousy, guilt, impulsiveness, denial, negativity, conflict, misunderstandings, exaggeration, cynicism, anger, presumption, impatience, stubbornness, resentment, pride, you know—the list goes on. Hmm.
Granted, there are times when this word is totally appropriate, like issues in politics or issues of doctrine. But when we use it to cover up what we are really dealing with—then I think we need to put on the belt of truth and deal with what the matter truly is.
You remember the belt of truth? A good study of Ephesians 6 reminds us that the belt of truth is the very first piece of armor we put on in the fight against that which would defeat us in the spiritual realm. And when we read Philippians 4:8 we see that the wonderful list of things which are excellent or praiseworthy, on which our minds are to dwell—begins with "whatever is true. . . ."
Do you have "issues" with truth?? On November 1, 2007, Excellent or Praiseworthy included this message from Dr. James MacDonald in the devotional entitled, "Whatever is True. . ."
"There are four times that are the 'toughest truth times' for which we need to put on the 'belt of truth':
Truth about personal responsibility. Here are some questions to ask:
'Am I taking responsibility for the situation I am in, or am I blaming someone else?'
Truth about my motives. 'Why do I really do what I do? Is it about Christ,
or about me?'
Truth about my future. 'I know that I am going to die someday.
Am I ready to stand before God?'
Truth about my relationship with God. 'Have I come to terms with my
sin nature and realized that forgiveness is only possible through Christ?'"
This is excellent teaching, and can bring us to the point where we can be still, let God examine our hearts, and then cry out to Him in confession and repentance. Does asking these questions from Dr. MacDonald help us to focus in on some of the real truth that we may be avoiding? And how many of our problems stem from a particular unconfessed sin in our hearts?
Those two steps—being still, and letting God examine our hearts—may be the most challenging steps of all. Maybe they're even "leaps" of faith, because we must trust God to see what we oftentimes cannot see, or will not see. Proverbs 3:5 says, "Trust in the LORD with all your heart and lean not on your own understanding." Fortunately God is the great cardiologist and knows exactly what to look for:
Psalm 139:23,24—"Search me, O God, and know my heart; test me and know my anxious thoughts. See if there is any offensive way in me, and lead me in the way everlasting."
Psalm 26:2,3—"Test me, O LORD, and try me, examine my heart and my mind; for Your love is ever before me, and I walk continually in Your truth."
1 Sam 16:7—"Man looks at the outward appearance, but the LORD looks at the heart."
When we allow God to examine our heart "issues" and know where we are weakest, then we can repent and know that His perfect treatment is available—a radical removal of sin by His forgiveness made possible on the cross, regular doses of Scripture reading and prayer, plus exercise of our spiritual gifts in service to others. Even during deployment–especially during deployment. But it all begins with that basic understanding of what is true about ourselves, our motives, our mortality, and Jesus Christ who is "the way, the truth, and the life." (John 14:6)
Do not seek to label sin as simply an "issue," but seek God who has given His Son, Jesus Christ, as the propitiation for our sin so that we no longer face death without Him but have life everlasting—with Him.
Questions to Share:
Have you used the word "issues" in place of sinful thoughts, motives, or actions?

Think of two people with whom you have had problems. In prayer, ask God to examine your heart and reveal to you if there is sin which has prevented you from having a good relationship with them. Then go to God in confession of that sin.
Excellent or Praiseworthy is posted on Monday and Thursday nights.
Call upon Me in the day of trouble; I will deliver you and you shall glorify Me. — Psalm 50:15
Living the Christian life. Living the Christian life in the military. Living the Christian life in the military during deployment. It's all difficult, right? Some would say impossible, but we know better. On a scale of one to God, nothing is impossible.
As Christians who know God's abundance and how He gives graciously and mercifully to us in every circumstance, we can still struggle with expressing to others exactly what "living the Christian life" means.
Theologian John Piper has for many years spoken on "what it means to live the Christian life" with three biblical phrases:  1) Living by Faith in the Son of God (Galatians 2:20); 2) Walking by the Spirit (Galatians 5:16); and 3) Serving in the Strength That God Supplies (I Peter 4:11).
But Piper goes on to explain what those phrases mean in everyday terms—by using an acronym, A.P.T.A.T. As Piper says, "It (the acronym) doesn't mean anything. I just find it easy to remember." The simple acronym summarizes in five distinct steps "the practical biblical meaning of living by faith, or walking by the Spirit, or serving in the strength God supplies." Why? "So that Christ gets trusted, you get helped, people get served, and God gets the glory."
Here are John Piper's five APTAT steps:
A – I acknowledge that without Christ I can do nothing. "I am the vine; you are the branches. If a man remains in me and I in him, he will bear much fruit; apart from me you can do nothing." (John 15:5)
P – I pray that God would make me love as Jesus loves, and work in me all that is pleasing to him. "May the God of peace, who through the blood of the eternal covenant brought back from the dead our Lord Jesus, that great Shepherd of the sheep, equip you with everything good for doing his will, and may he work in us what is pleasing to him, through Jesus Christ, to whom be glory for ever and ever. Amen." (Hebrews 13:21)
T – I trust the promise of God's help and strength and guidance. "So do not fear, for I am with you; do not be dismayed, for I am your God. I will strengthen you and help you; I will uphold you with my righteous right hand." (Isaiah 41:10)
A – I act in obedience to God's word. Doug Heil asked me last Sunday if Philippians 2:12 fit my acronym: "Work out your own salvation with fear and trembling"? I said yes, because look at the ground clause which follows: "for it is God who works in you to will and to do his good pleasure." Yes! Yes! We act. We obey! But what keeps this action from being a "work of law" is that we have acknowledged our helplessness, prayed for enablement, and trusted that precisely in and under our working and willing it is God who does the work! Therefore our act is a fruit of the Spirit not a work of the flesh. "Therefore, my dear friends, as you have always obeyed—not only in my presence, but now much more in my absence—continue to work out your salvation with fear and trembling, for it is God who works in you to will and to act according to his good purpose." (Philippians 2:12)
T – I thank God for whatever good comes. I give him the glory. "If anyone speaks, he should do it as one speaking the very words of God. If anyone serves, he should do it with the strength God provides, so that in all things God may be praised through Jesus Christ. To him be the glory and the power for ever and ever. Amen." (I Peters 4:11)
Since Piper states he has practiced APTAT consistently for the last thirty years, we would do well to examine exactly how this applies to Christian life in the military—specifically to deployment. If Piper is right, and his acronym APTAT is an aid to focus on making wise choices, facing obstacles, maintaining Christian integrity, and experiencing joy in spite of struggles, then we can ask, "What does APTAT look like in deployment?" Because if it is true, then it is true for deployment.
In deployment, "A" would mean—Admit that without Christ you are helpless in this deployment.
Christian military couples are competent and confident . . . always covered by the humility of knowing their strength comes only from their sovereign Lord.
"P" would mean—Pray for God's help for this deployment.
Pray before, during, and after deployment. Pray for God's leading, His protection, His peace. Pray for your family. And every time you communicate with your spouse, ask "How can I pray for you?" Then do it—and later ask, "Remember how you asked me to pray for _____. How did God answer my prayer?"
"T" would mean—Trust in a promise of God suited to your need in this deployment.
Write down your favorite Bible promises (Piper's favorites are Isaiah 41:10, Romans 8:32, Matthew 28:18, 20). Keep these in your pocket or wallet, on your mirror, placed everywhere you need to keep them "front and center" in your life—as much as possible.
"A" would mean—Act with humble confidence in God's help during this deployment.
Perhaps God will lead you to help someone else in their Christian life. Take the faith that you have to serve others—and to speak to them of the peace that you experience.
"T" would mean—Thank God for the good that comes from this deployment.
Keep your eyes and heart open for how God is growing you spiritually during these months of deployment. And thank Him for how He alone is working in your life.
Piper closes his 1988 teaching on APTAT with a reminder on prayer: "The first two (steps) and the last are acts of prayer. So let us enter this (week) with a deep awareness that prayer is not a mere devotional interlude in the real business of living; it is the pathway of faith and obedience. There is no other."
I pray that your prayer life during deployment will grow as you use APTAT steps, or however God leads, to come to Him regularly with what concerns you during this deployment.
Work Cited:
Hear and read John Piper's entire sermon on APTAT at:
http://www.desiringgod.org/sermons/practical-help-for-praying-for-help
Questions to Share:
1. In what ways can you apply these five steps to your daily life as a Christian in the military?
2. What unique spiritual challenges are you facing now that you can share with your spouse?
Excellent or Praiseworthy is posted on Monday and Thursday nights.
"For this reason a man will leave his father and mother and be united to his wife, and they will become one flesh." — Genesis 2:24
Not far from our house is a road with a sharp curve. The Department of Transportation has posted a warning sign and has even added a speed limit for what would be a safe turning speed for that curve. The sign has been there for many years—as long as the curvy road. On icy days we know to go even slower than the posted speed, because the curve is on a bit of an overpass and can be especially dangerous. People who have lived here for a long time are familiar with this spot. . . and do not hesitate to add their personal experiences and warnings to others who might not be as acquainted with the dangers.
And if you look about twenty yards behind the yellow "dangerous curve" sign with its prominent black arrow, you'll see another prominent "warning sign" near a tree—a white cross. Beneath the cross there are placed plastic flowers which change with the seasons, as obviously this memorial is tended by loved ones. What happened? Not knowing the details, we can only guess at the circumstances that brought about this crash and this death. Had that person been warned? Did they not heed the warning?
There are those couples who are familiar with deployments and can be vast sources of help in warning others of the dangers to the health of a marriage which can occur when we don't take seriously the special challenges of living separately due to military orders. They have safely navigated the twists and turns, and know the unique conditions under which a couple needs to take particular caution. Do you know some of these couples? Look around. . . ask around. . .pray to meet this couple who has lived victoriously in spite of the hazards. They have much wisdom to share.
And there are reasons to post warnings, as there are lives which have crashed and marriages that have burned as a result of problems which can come because of deployment and reintegration. Infidelity, poor communication resulting in misunderstandings, anger and bitterness, selfishness, pornography, lack of coping with adjustments, wrong expectations, substance abuse, physical abuse, and drifting apart—these are "dangerous curves."
A mentoring couple would probably point out that there are precautions you can make before deployment which will help you, as a military couple, to not only avoid trouble but to actually mature in your marriage due to the endurance required. There are things you can do to plan ahead for emergencies, for finances—even for gifts on special occasions and for good communication! Getting "plugged in" to support networks and to good churches, and setting up means of accountability so both of you can be warned of impending problems—these are a few ideas how we can prepare for maintaining oneness during deployments.
Recently a friend gave me a special gift book entitled Married for Life by Bill Morelan. It's one of those pretty gift books you find at a card shop, and the subtitle is "Inspirations from Those Married 50 years or More." This little book contains warnings, and encouragement, written by about 100 couples whose marriages have stood the test of time and trials. Claude and Elizabeth Steen's (married in 1943) chapter is entitled, "Learn to be Unselfish—Always put the Other's Interests First." Michael and Jean Duras (married in 1937 in Poland) named their vignette, "Pray With Each Other and For Each Other Daily." Melvin and Maggie Smith (married in 1933) wrote "First Make a Commitment to the Lord, Then to Each Other." Each chapter is accompanied by Scripture, truth from the word of God.
After all, it was God who designed and created marriage for our good. Just as the highway engineers, who designed and are in charge of the road near our house, knew to put up the sign for its correct use—the Bible contains instructions on how to love, respect, and treat each other in marriage. There are many good books available on Christian marriage plus many good Bible studies to challenge you. Some of these can even be done "together" during deployment. One of our favorite companion studies is "Loving Your Husband" by Cynthia Heald and "Loving Your Wife" by Jack and Cynthia Heald. There are twelve chapters in these studies—complementing the other so that you could work on them together and discuss your answers over email. HomeBuilders Bible studies are published by FamilyLife and are extremely helpful for small groups that want to grow in their marriages with God's blueprints, starting with Genesis 2:24. One HomeBuilders study written especially to handle deployment is entitled Making Your Marriage Deployment Ready.  It is six weeks long–and a perfect way for mentor couples to help those experiencing the challenges of deployment.  Also, we post questions at the end of each "Excellent or Praiseworthy" devotion (posted on Mondays and Thursdays) so that the chance for communication of deep thoughts is provided.
No doubt you have invested much in your relationship with your spouse. No one wants that to be lost in a head-on collision with selfishness or sin. Heed the warning signs, and drive (live) carefully!
Questions to share:
Do you know a couple from whom you could get advice about how to stay connected in your marriage during your deployment?

What could you do to learn from them and perhaps prevent some potential problems?
Excellent or Praiseworthy is posted on Monday and Thursday nights.
Love is patient, love is kind. — I Corinthians 13:4
I'm not sure that communication in marriage comes easily for anyone, but I got some good advice early on which has served me well. If I were to summarize what I learned in one word it would be kindness . . . . during two critical times:
1. "Hello"
The first lesson I got in communication kindness was from one of the few books on marriage available in those early days, Letters to Karen by Charlie Shedd. Written from a loving Dad to his soon-to-be-married daughter, Dr. Shedd tells Karen to be intentional about the "hellos" when her husband came home:
"Do greet him with gladness when he first comes home. One husband made this picturesque statement: 'She throws the garbage in my face first thing when I open the door.' Then he went on to explain that she had a knack for saving the worst news of each day and giving him this promptly on his arrival. You will recognize that he was a master with words as he mimicked her patter: 'Junior broke the neighbor's bird bath!' . . . .'That left rear tire on the station wagon is flat again!' . . . 'Won't you please fix my kitchen faucet?' . . . 'I understand the Watsons are getting a divorce!' . . . and so on in woeful detail. These evil tidings are strictly no good for his homecoming. Occasionally there must be exceptions, but every good meeting of minds will lay certain items aside for later consideration  . . . . From what I've seen, it's a good idea to now and then check your words of greeting." (p. 49,50)
What I learned was that the first few moments we spent back together after a day of work apart were "the most important five minutes of the day." It set the tone for the evening, and was a way of reminding each other that they were missed, valued, and appreciated and loved! It was so easy to "dump" all of the details of the day on him when he first walked in . . . . and that just isn't kind.
Recently I heard a talk about this very subject, and the speaker recommended that a suitable greeting for a couple coming back together after time apart (even a short time) was a "twenty-second kiss." He cited a story of a couple whose relationship was strained but decided to try this one seemingly little gesture to try restoring their once-vibrant romance. The couple was amazed at how simple this one act of kindness in a greeting was at getting them back on track.
Stop . . . . look  . . . . listen . . . . and a nice, long kiss makes for a wonderful greeting, no matter who gets home first and gets to welcome the other. It is a beautiful way to show love to your spouse.
2. "Good-bye"
The second thing I learned that was so helpful in practicing good communication skills was to always make sure that my "good-bye" was a sweet one, followed by "I love you." Granted it was a psychologist who instructed our squadron wives on this principle (yes, I was that ignorant), but it was true then and true now. Training accidents and enemy actions happen, and you never know what a day is going to bring—so the advice penetrated my heart. If something tragic happened to either one of us while apart I wanted our last words to be kind. I realized this one practice was not just an attempt to assuage guilt, but was a purposeful approach to maintaining peace between us as partners in life. It was smart to make our "good byes" as tender as possible.
We had many "hellos" and "good-byes" during our military days—with plenty of TDYs, deployments, training, exercises, and the Vietnam War. The "good-byes" were always difficult (understatement) . . . and the "hellos" were always glorious. Whether we were parting for a day, a week, a month or a year I always tried to stick by the training I had gotten from that one book and that one wives' meeting.
And as much as these principles apply to physical greetings and farewells–they also apply to written ones.  Yes, even during deployment communication of email, text, letter–also phone and skype . . . be kind.
I'm not naïve . . . . and life is complicated. But these two simple rules—greet each other with kindness; depart from each other with kindness—are as important as any two rules in marriage you will ever find. I'm glad I found them early.
For when we are kind to each other, we are demonstrating the very character of God:  "You are kind and forgiving, O Lord, abounding in love to all who call to You."  (Psalm 86:5)
Work Cited:
Shedd, Charlie W., Letters to Karen: On Keeping Love in Marriage (Nashville: Abingdon Press, 1965)
Questions to Share:
1. Share with your spouse a time when you remember the way they greeted you was especially kind.
2. Share with your spouse a time when you remember the way they said "good-bye" to you was especially kind.
Excellent or Praiseworthy is posted on Monday and Thursday nights.
I urge, then, first of all, that requests, prayers, intercession and thanksgiving be made for everyone—for kings and all those in authority, that we may live peaceful and quiet lives in all godliness and holiness. This is good, and pleases God our Savior, who wants all men to be saved and to come to a knowledge of the truth. — 1 Timothy 2:2
Growing up in Minnesota in the 1950s, February always meant two days off from school because of Abraham Lincoln's birthday on February 12th and the celebration of George Washington's birthday on February 22nd.  But sometime in the late 1960s or early 1970s dates shifted—and what I had experienced as two "for-sure" days off became one "iffy" day off on a Monday—to celebrate "Presidents' Day."
Back then I guessed that the purpose was to create a three-day weekend, which we enjoy, and to merge two celebrations of presidential birthdays into one grand holiday (especially for retailers to use in marketing). I have only recently found that there is much confusion over the origin of this "federal holiday" and that it is actually more closely linked to Washington's birthday than Lincoln's. Just reading about the history of this day left me confused, and our states seem to be equally confused. So whether it is Presidents' Day, or President's Day, or Presidents Day . . . . and whether or not schools in your area will be out that day . . . . and whether or not it is a holiday for you . . . . the fact remains that Abraham Lincoln and George Washington were two of our greatest presidents!
Perhaps you like to read biographies as I do. Years ago, when Elisabeth Elliott's radio program "Gateway to Joy" was still on the air, I remember her encouraging mothers to make sure that their children read biographies of missionaries! Her own study of Amy Carmichael led her to write such a biography, and I have often reflected on her emphasis of this opportunity to draw on lessons learned from the lives of saints. John Piper is another great teacher who challenges us to look into the lives of those in the past and states in his sermon, "Brothers, Read Christian Biography": "Biographies have served as much as any other human force in my life to overcome the inertia of mediocrity." (DesiringGod.org)
So, because I enjoy reading biographies, on this Presidents' Day it should not surprise you that I would want to look a bit at Abraham Lincoln and George Washington—and especially at the role of their marriages in their presidencies. They stand at sharp contrast to one another in terms of the personalities of their wives and the harmony in their households.
Gary Thomas has chosen to write about Lincoln's marriage in the chapter "Sacred Struggle" from his great book, Sacred Marriage. This should be a hint that domestic tranquility was not the norm in the Lincoln household, for many reasons. But Thomas sees a divine purpose amidst this struggle, and writes, "The connection one can make between Lincoln's marriage and his mission is not difficult. It is easy to see how a man who might quit on a difficult marriage would not have the character to hold together a crumbling nation. Lincoln was virtually obsessed with saving the Union; what better training ground than the difficult marriage that required such tenacity from him? It's important to see that not only did Lincoln's difficult marriage not deter him from achieving greatness, one might argue that it actually helped prepare him for greatness. Lincoln's character was tested and refined on a daily basis so that when the true test came, he was able to stand strong. Had Lincoln been obsessed with happiness, he wouldn't have mustered the strength to put up with Mary or to hold the nation together. He sensed a call to destiny, something that would in his mind supersede personal comfort, and his obedience to that destiny made world history." (Sacred Marriage, p. 136-37).
In contrast, George Washington found in Martha an affable and complementary mate, one in whom he could write on June 23, 1775, "I retain an unalterable affection for you, which neither time or distance can change." (MountVernon.org) The feeling was mutual, and one of his generals once described Martha as, "a modest and respectable person, who loves her husband madly." (Battlefields & Blessings, p. 140) Martha burned most of the letters which she and George wrote to each other, so there is little to study about their close relationship. But her willingness to share in the demands of his life both during the Revolutionary War and during the responsibilities of his political office speak to her devotion to her husband, to their marriage, and to the national cause.
So what does any of this have to say to us during deployments? I might be stretching things a bit, but I see two connections that we can make by pausing to look at these presidents and their marriages. One is that some things just don't change—countries at war call on the best from leaders. Washington and Lincoln gave us their all during pivotal times in our nation's history. What their marriages allowed them to learn or enjoy was providentially used by God to prepare them for the necessary tasks at hand. If you have visited Washington, D.C. you have seen monuments to these two amazing presidents with their words etched in stone . . . . words which were lived out in the founding and growth of this great nation—not without cost.
But secondly, in terms of practical application, how do you view your present leadership—perhaps in your unit, your post, your squadron, your ship? Do you pray for these leaders—for their marriages? Can you understand that their personal lives will perhaps affect their ability to lead during stressful times in this war? And taking it to a broader perspective, what about the leadership in your church, or in our nation? How can you encourage your pastor or chaplain to keep a good balance between the demands of the church or chapel and the priorities of the home? Reading the challenge given by Paul to young Timothy, we are reminded of the priority of his instruction: "I urge, then, first of all, that requests, prayers, intercession and thanksgiving be made for everyone—for kings and all those in authority, that we may live peaceful and quiet lives in all godliness and holiness." (1Timothy 2:2) Notice the link between our prayers for leadership and the effect on our lives. And if you know the context of this writing, you know that Paul wrote during a time of great suffering and persecution.
I have heard it said that it's very difficult to complain about someone for whom you are praying. Pray for your leaders . . . . whether they be military leaders, corporate leaders, church leaders, or political leaders. They are in authority because God has placed them there. Washington and Lincoln were men of integrity, raised up by God to serve us in our time of need. They were real men, with real lives and real struggles. And so it is today, and so we must pray. Some things just don't change . . . . and so we must pray.
Good leadership is a channel of water controlled by God; he directs it to whatever ends he chooses. — Proverbs 21:1 The Message
Questions to Share:
1. What are two challenges which Washington and Lincoln both faced during their presidencies?
2. How can you pray with your spouse for leaders today?
Work cited:
Cook, Jane Hampton, Battlefields & Blessings: Stories of Faith and Courage from The Revolutionary War (Chattanooga: Living Ink Books, 2007)
Thomas, Gary, Sacred Marriage (Grand Rapids: Zondervan, 2000).
« go back
—
keep looking »