Excellent or Praiseworthy is posted on Monday and Thursday nights.
The LORD looks from heaven; He sees all the sons of men; From His dwelling place He looks out on all the inhabitants of the earth, He who fashions the hearts of them all, He who understands all their works. — Psalm 33:13-15
The inscription on the Tomb of the Unknowns in Arlington National Cemetery reads:
"Here rests in honored glory an American soldier known but to God."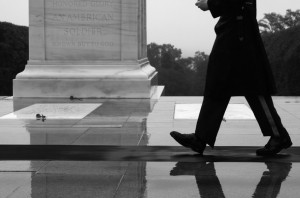 The soldiers from the 3d U.S. Infantry Regiment who guard it are held to the highest of standards—they learn and live Line 6 of The Sentinel's Creed.
They walk the plaza 24 hours a day, 365 days a year—no matter the weather. They change guard every 30 minutes to two hours, depending on the time of day and season of the year.
Being chosen to be a Tomb guard is a rare honor—and requires unfaltering attention to detail. Every step is measured . . . every movement set to a cadence that is ingrained in their minds as well as their hearts.
On this Memorial Day, we honor many who died in service to our country . . . and thank the guards charged with keeping watch over the unknowns who represent the utmost bravery of our military service members.
The Sentinel's Creed
My dedication to this sacred duty
is total and whole-hearted.
In the responsibility bestowed on me
never will I falter.
And with dignity and perseverance
my standard will remain perfection.
Through the years of diligence and praise
and the discomfort of the elements,
I will walk my tour in humble reverence
to the best of my ability.
It is he who commands the respect I protect,
his bravery that made us so proud.
Surrounded by well meaning crowds by day,
alone in the thoughtful peace of night,
this soldier will in honored glory rest
under my eternal vigilance.
– Simon 1971
In studying the guards and their noble calling, I was reminded of the eternal vigilance of God—our eternal guardian. Psalm 121 declares, "I lift up my eyes to the hills—where does my help come from? My help comes from the LORD, the Maker of heaven and earth. He will not let your foot slip—he who watches over you will not slumber; indeed, he who watches over Israel will neither slumber nor sleep. The LORD watches over you—the LORD is your shade at your right hand; the sun will not harm you by day, nor the moon by night. The LORD will keep you from all harm—he will watch over your life; the LORD will watch over your coming and going both now and forevermore."
That is eternal vigilance.
Questions to Share:
1. Pray together for the friends and families of those who gave the ultimate sacrifice while on military duty for our dear country—that the Lord would watch over them and comfort them.
2. Make a list of all of the places you have been stationed. Then read Psalm 139:7-10: "Where can I go from your Spirit? Where can I flee from your presence? If I go up to the heavens, you are there; if I make my bed in the depths, you are there. If I rise on the wings of the dawn, if I settle on the far side of the sea, even there your hand will guide me, your right hand will hold me fast." What do these verses say about where God has been when you were at a duty station?
Excellent or Praiseworthy is posted on Monday and Thursday nights.
Where can I go from Your Spirit? Where can I flee from Your presence? If I go up to the heavens, You are there; if I make my bed in the depths, You are there. If I rise on the wings of the dawn, if I settle on the far side of the sea, even there Your hand will guide me, Your right hand will hold me fast. — Psalm 139:7-10
For me, the story of "Taps" is a local story because I live close to where it was composed. I could easily drive to Berkeley Plantation in Virginia, where there is a monument marking the "birthplace" of Taps. Tour guides will tell you that the haunting 24-note bugle call is actually a revision of a French call to signal to the troops the end of the day and "lights out." The story goes like this:
"In of July of 1862, in the aftermath of the bloody Seven Days battles (Peninsular campaign), hard on the loss of 600 men and wounded himself, Union General Daniel Adams Butterfield called the brigade bugler to his tent. . . .Oliver Wilcox Norton, the bugler, tells the story, '. . . showing me some notes on a staff written in pencil on the back of an envelope (some accounts say that Butterfield hummed it to Norton), (he) asked me to sound them on my bugle. I did this several times, playing the music as written. He changed it somewhat, lengthening some notes and shortening others, but retaining the melody as he first gave it to me. After getting it to his satisfaction, he directed me to sound that call for Taps thereafter in place of the regulation call. The music was beautiful on that still summer night and was heard far beyond the limits of our Brigade. The next day I was visited by several buglers from neighboring Brigades, asking for copies of the music which I gladly furnished. The call was gradually taken up through the Army of the Potomac.'" From "History of Taps."
Not long after Taps was composed, it was used for the first time at a military funeral. Union Captain John Tidball, commander of an artillery battery, had it played for the burial of a cannoneer killed in action (during the Peninsular Campaign) because the traditional three rifle volleys fired over the grave might have alerted the enemy nearby. This event is commemorated in a stained glass window at The Chapel of the Centurion, also nearby at Ft. Monroe.
Ten months after it was written, Taps was played at the funeral of Confederate General "Stonewall" Jackson. By 1874 Taps was officially recognized by the U.S. Army and was required to be played at military funerals by 1891.
Taps is played throughout our nation on Memorial Day as it is traditionally sounded at funerals, wreath-laying, and memorial services. In order to honor those who died in service to our country, giving the ultimate sacrifice—Taps is played in remembrance of all of those who have insured our precious freedom. While we are hearing the strains perhaps you can also remember the words which are associated with the bugle call. While these lyrics are not "official," the first verse is commonly sung with these words:
"Day is done, gone the sun,
From the hills, from the lake,
From the sky.
All is well, safely rest,
God is nigh."
God is nigh. The definition of "nigh" is "near in space, time, or relation." The American College Dictionary, 1955.
God is near:
You are near, O LORD, and all Your commandments are truth. — Psalm 119:151
The LORD is near to the brokenhearted and saves those who are crushed in spirit. — Psalm 34:18
But as for me, the nearness of God is my good; I have made the Lord GOD my refuge, that I may tell of all Your works. — Psalm 73:28
The LORD is near to all who call upon Him, to all who call upon Him in truth. — Psalm 145:18
Let your gentle spirit be known to all men. The Lord is near. — Philippians 4:5
The last verse of Taps, traditionally, is similar to the first verse:
"Thanks and praise, For our days,
'Neath the sun, 'Neath the stars,
'Neath the sky,
As we go, This we know,
God is nigh."
Is there any doubt in your mind and heart that God is near, during deployment? Even during the lowly conditions of war in 1862, God was there. Jari A. Villanueva is a bugler and bugle historian, considered the country's foremost authority on Taps. He wrote: ".. . it is hard to believe that Butterfield could have composed anything that July in the aftermath of the Seven Days battles which saw the Union Army of the Potomac mangled by Lee's Army of Northern Virgina. Over twenty six thousand casualties were suffered on both sides. . . . In the midst of the heat, humidity, mud, mosquitoes, dysentery, typhoid and general wretchedness of camp life in that early July, it is hard to imagine being able to write anything." From "24 Notes that Tap Deep Emotions".
But write it (or revise it) he did, and Butterfield's desire to honor his soldiers is forever the way that we seek to honor our brave soldiers.
The Scripture from Psalm 139 is a reminder of what we declare in the singing of Taps. With a lump in our throats and perhaps tears in our eyes, we remember this Memorial Day, with grateful hearts, those courageous patriots who have gone before us in battle. . . . and we remember that our God is faithful . . . . and near.
Questions to Share:
1. What thoughts come to your mind when you hear Taps?
2. On this Memorial Day, is there someone who served our country whom you could tell your spouse about as a way of honoring them?
Note:  Additional information on Taps is available at www.tapsbugler.com
Excellent or Praiseworthy is posted on Monday and Thursday nights.
My father-in-law, who is mentioned in this devotion, went home to heaven on May 18th, 2012.  He was buried with full military honors, a recipient of the Silver Star and Purple Heart, a member of the 101st Airborne who jumped into Normandy on D-Day.
"But commission Joshua, and encourage and strengthen him, for he will lead this people across and will cause them to inherit the land that you will see." — the words of the LORD to Moses in Deuteronomy 3:28
On the wall of my father-in-law's office hangs a small piece of paper framed as an important document, yellowed with age. On this paper are these words: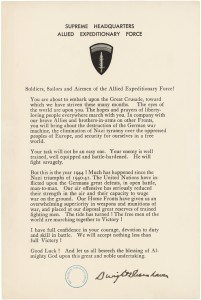 "Soldiers, Sailors and Airmen of the Allied Expeditionary Force!
You are about to embark upon the Great Crusade, toward which we have striven these many months. The eyes of the world are upon you. The hopes and prayers of liberty-loving people everywhere march with you. In company with our brave Allies and brothers-in-arms on other Fronts, you will bring about the destruction of the German war machine, the elimination of Nazi tyranny over the oppressed peoples of Europe, and security for ourselves in a free world.
Your task will not be an easy one. Your enemy is well trained, well equipped and battle-hardened. He will fight savagely.
But this is the year 1944! Much has happened since the Nazi triumphs of 1940-41. The United Nations have inflicted upon the Germans great defeats, in open battle, man-to-man. Our air offensive has seriously reduced their strength in the air and their capacity to wage war on the ground. Our Home Fronts have given us an overwhelming superiority in weapons and munitions of war, and placed at our disposal great reserves of trained fighting men. The tide has turned! The free men of the world are marching together to Victory!
I have full confidence in your courage, devotion to duty and skill in battle. We will accept nothing less than full Victory!
Good Luck! And let us all beseech the blessing of Almighty God upon this great and noble undertaking." — Dwight D. Eisenhower
You see, this framed document is an original, not a copy. Jim was one of the few surviving veterans of the 101st Airborne Division who jumped into Normandy on D-Day. My husband grew up hearing his Dad's stories of Carentan and St. Mere Eglise. Now our son (active-duty Air Force) carries the memory of a 1987 visit with his "Pappa" and his Dad to the beaches where these three generations scoured that historic countryside for clues to where Jim might have been during his mission now sixty-plus years ago.
The commission from General Eisenhower, which was handed out on paper to Jim and to the forces who took part in Operation Overlord, reminds me of the commission which was given by General George Washington to his troops when out-numbered by British soldiers near Brooklyn in August, 1776. Jane Hampton Cook, author of Battlefields and Blessings: Stories of Faith and Courage from The Revolutionary War, writes "Even though victory seemed questionable at best, Washington tried to compensate by giving his troops a commissioning:
'The enemy's whole reinforcement is now arrived, so that an attack must, and will soon be made. . . . And when called to it (action), remember, that liberty, property, life and honour, are all at stake; that upon (your) courage and conduct rest the hopes of (our) bleeding and insulted country; that (your) wives, children, and parents, expect safety from (you) only; and that we have every reason to believe, that heaven will crown with success so just a cause. . . . The enemy will endeavour to intimidate by show and appearance; but remember, they have been repulsed on various occasions by a few brave Americans; their cause is bad; and if opposed with firmness and coolness on their first onset, with our advantage of works, and knowledge of the ground, the victory is most assuredly ours.'" — George Washington
The definition of a "commission" is: "an authoritative order, charge, or direction." There are other versions of this definition, but they all include the matter of authority and a mission to be performed.  Notice the commission given in Deuteronomy 3, in the Scripture above, which contains those elements. And as a Christian I know that "The Great Commission," given by Jesus in Matthew 28:18-20 is something like "marching orders" for us:
"All authority in heaven and on earth has been given to me. Therefore go and make disciples of all nations, baptizing them in the name of the Father and of the Son and of the Holy Spirit, and teaching them to obey everything I have commanded you. And surely I will be with you always, to the very end of the age." — Jesus Christ
The Great Commission of Matthew 28 still applies today—and would remind us that there is work to be done. By the authority of Jesus Christ we are to go and make disciples throughout the world. . . . . see them baptized. . . .and teach them. . . .ever mindful that we are never alone in this endeavor. To God be the Glory!
Work cited:
1. http://www.archives.gov/historical-docs/todays-doc/index.html?dod-date=606
2. Cook, Jane Hampton, Battlefields & Blessings: Stories of Faith and Courage from The Revolutionary War (Chattanooga: Living Ink Books, 2007) p. 196-97.
Questions to Share:
1. How does historical perspective help you in facing the challenges you have in the battles of today?
2. How does the promise of God's presence strengthen you for the battles of today?
Excellent or Praiseworthy is posted on Monday and Thursday nights.
"Let us rejoice and be glad and give Him glory! For the wedding of the Lamb has come, and His bride has made herself ready." — Revelation 19:7
It was four years ago that my husband and I closely watched two weddings—one on TV and the other through photos on Facebook. One, a royal wedding, costing millions of dollars and the other probably less than $200. Both couples deeply in love and truly committed to each other; both weddings in churches; both military couples with obligations to duty; both brides beautiful and both grooms handsome; both families excited and happy for the couples.
With the images of the two Christian ceremonies in mind, I was impressed by what Bob and Cheryl Moeller wrote in their "Marriage Minutes" shortly thereafter.  Their article was entitled "Invite Jesus to Your Wedding—Goals for Your Wedding Day." If you are planning a wedding, or helping to plan one, perhaps these ideas might help to make it a sacred event with God's presence in mind:
"1. We will make our wedding a worship experience by making Jesus the very first person we invite.
2. We will resolve to make it a worship service, rather than a production.
3. We will set our goal to be married, not just to get married.
4. We will praise the Creator, rather than calling attention to us.
5. We will set a budget to honor God rather to impress people.
6. We will publicly honor our parents and grandparents.
7. We will remember it is Christ, not the pastor who really marries us.
8. We will call attention on our wedding day to our true future hope – the second coming of Christ (the wedding supper of the Lamb)."
Item #3 is a goal that will take you past your wedding day and into each day of your lives together.  Our prayer is that you seek to honor God in your marriage . . . and not just at your wedding.
Work Cited: from "Marriage Minutes" by Bob and Cheryl Moeller, May 2, 2011, on www.forkeepsministries.com
Questions to Share:
Also from the Moeller's "Marriage Minutes":
1. "Will people remember Jesus more than the two of us when the day is over?
2. Is the presence of Christ truly welcome in all our festivities including the reception?
3. Will the people who attend catch a glimpse of heaven?"
Excellent or Praiseworthy is posted on Monday and Thursday nights.
He is before all things, and in Him all things hold together. — Colossians 1:17
The story goes something like this: A military family has just arrived at their new duty station. They've settled into temporary quarters and have begun to look at housing options. The mother takes one of the little children with her to the commissary where the commander's wife spots her and decides to check on how the family is doing. In the course of the conversation, she asks, "Have you found a home yet?" The child answers, "Oh, we have a home—we just haven't found a house to put it in!"
There's a lot of truth in that statement! The military family, at its best, is indeed a unit. And whether they are at an assignment for quite a length of time or are moving from place to place as duty demands—they cling to each other. They've learned to exercise flexibility and resilience, made possible by that wonderful WD-40 known as "sense of humor" combined with a hopeful attitude.  They extend grace to each other, knowing that the challenges of war-time duty can bring us all to the point of being "frazzled." And they encourage each other to get through any and all situations.
What else can we say about the military family "unit"? This is the perfect time to answer this question, because last week on May 8th was Military Spouse Appreciation Day–always the Friday before Mother's Day.
Each family is unique, but there are seven common elements which we can examine:
1. The family works as a "location" unit: When do we move? Where do we move? Do we move back to family-of-origin during deployments, or do we stay at the base/post for support? Do we buy or rent? Which school district do we want to live in? Do we live on base or in the local community? Do we try to stay together during an "unaccompanied tour," even if it means that we are non-command sponsored, or do we stay state-side during the remote tour? The military family must consider these options, and which is best for their individual circumstances.
2. The family works as a "vocation" unit: Is this assignment necessary for a career opportunity, or would it be best to stay put? Does the at-home spouse work outside of the home, or stay-at-home? Do we need extra training, which might cost more money, to get expertise in a new area in order to provide for the family long-term? Do we need to consider home-schooling of our children because of location constraints or travel opportunities?
3. The family works as a "logistics" unit: How much furniture do we put in storage? Which car do we ship overseas? What cell phone plan gives us the best ability to communicate? Do we want to buy new appliances or used ones? How much money should we budget for the deployed spouse to have to spend? Are wills, powers-of-attorney, and insurance papers all up-to-date—with computer passwords shared? Do we have a list of emergency phone numbers available? Do we have a list of "go-to" people for home and auto repairs?
4. The family works as a "consistency" unit: Who is available to keep and explain medical records to each "new" doctor or medical facility at each move, or at each visit? Who knows special educational needs for each child, which must be followed at each new location? Who in the family is responsible for what chore? How do we communicate best with each other—by email, phone, letter? Are we consistent in letting each other know what is happening, offering help, meeting needs. . . . so that trust is built into our family? Who handles discipline of the children during deployments–and how?
5. The family works as an "attitude" unit: Is each new challenge viewed as a crisis, or an opportunity to see God at work? Does the family walk a walk of faith. . . or of fear? Is the cup half-empty, half-full, or overflowing? Does cynicism reign, or confidence? Are our expectations of each other and each new situation in line with reality? Do we build each other up, or tear each other down? Do we have the attitude that each one of us is precious in the sight of God, or a burden? Is patience demonstrated? Is perspective put into each situation—that certain trials and troubles are for a season? Is the attitude of gratitude "built into" each day?
6. The family works as a "traditions" unit: Have we built into our family certain holiday traditions that provide security when everything else might be different? When half of the boxes are unpacked after a move, but the first batch of cookies comes out of the oven—does that signal that we are "home"? Is there a favorite movie, a favorite game, a favorite vacation spot. . . that holds memories which can be re-visited and provide enjoyment? Does the family traditionally look into the history of the new area into which we move? Are there patriotic traditions which continue in our family? Are successes or accomplishments celebrated a certain way—no matter what? Do we have devotional time once a day, or prayer time together, that happens everywhere we live?
7. The family works as a "loving" unit: Are mistakes met with blame or forgiveness? Is growth in knowledge and wisdom the desire for each family member? Do we listen to each others' frustrations, and dreams? Are we quick to criticize, or quick to cheer-lead? Does compassion and understanding rule the day, or bitterness and resentment? Is selfishness what we demonstrate, or can we serve each other daily, in humility? What church do we "plug into" in order to demonstrate spiritual gifts, worship, listen to sound-teaching of the Bible, and serve our Lord? Is gratitude expressed daily—for every breath and for every blessing? Is appreciation for each family member spoken and/or written? Are we kind to each other?
In so many instances it is the military spouse that holds these units together. The military spouse is the "super-glue," the "home front," the one who balances work and family demands, the "keeper of the stuff and the schedule," the one who provides that all-important consistency, presents a positive attitude, keeps family traditions alive, and loves loves loves. If there were an official song for a military spouse, it would be "You are the Wind Beneath My Wings." Most often, the military spouse is the Mom, but sometimes the Dad. . . . while other times both Mom and Dad are active-duty and must gently juggle (sometimes not so gently) all plates which are spinning a hundred miles an hour! Communication and cooperation must be at the forefront in order to keep the whole thing from falling apart!
But Who holds the military spouse together? And Who ultimately holds every situation, every decision, every circumstance, every family together–the real "super-glue"? For that we turn to Colossians 1:15-20 for this beautiful description of Jesus Christ, which includes: "He is before all things, and in Him all things hold together." (vs. 17) From the tiniest particle within the atom, to the grand expanse of the universe, Scripture tells us that Christ is supreme. And further in Colossians we find my favorite marriage and family verse: "Therefore, as God's chosen people, holy and dearly loved, clothe yourselves with compassion, kindness, humility, gentleness and patience.  Bear with each other and forgive whatever grievances you may have against one another.  Forgive as the Lord forgave you.  And over all these virtues put on love, which binds them all together in perfect unity." (Colossians 3:12-14)
Is Jesus Christ supreme in your home? Do you, as a family, go to Him in prayer and Scripture study for wisdom regarding assignments, career decisions, management of possessions, health care, attitudes, traditions, and how best to demonstrate love to each individual in the family?  Is your relationship with Jesus Christ the foundation for your relationships with others?
Take the time today, to voice your appreciation for your spouse and all they do to serve you, your family, your community, your country, and your Lord! And thank the Lord for the precious gift of your spouse!
Questions to Share:
1. In what ways does your family operate well as a unit?
2. In what ways does your family not operate so well as a unit?
3. Pray for the Lord to hold your family together during this deployment.
Excellent or Praiseworthy is posted on Monday and Thursday nights.
"Salvation is found in no one else, for there is no other name under heaven given to men by which we must be saved." — Acts 4:12
"I have concluded that when it comes right down to it, there is really only one thing I as a pastor have to offer my congregation—and only one thing that the church has to offer the world. In my role as a pastor people come to me with all sorts of problems, but I confess: I am a physician with but one medicine to prescribe, and that is the gospel of Christ.  It may need to be applied in various ways, various aspects of it may need to receive the right emphasis, and it may need to be administered in the right form. But only the gospel of Jesus Christ can heal the deepest wounds of the human heart and enable us to prosper according to God's design, bringing glory to our Lord." Dr. Bill Kynes of Cornerstone Evangelical Free Church, Annandale, VA
This is a powerful quote, posted on The Gospel Coalition blog last week. Thank you, Dr. Kynes, for speaking truth to all of us.
It took me back to a worship service my husband and I attended near a military base in a remote region of Italy several years ago. The dear pastor was faithful to preach that one message, "one medicine", to a group worshipping together but representing many national languages and backgrounds, many ages and ranks, and many needs.
At the end of the service, with one voice, we sang "In Christ Alone," but in Italian. Knowing the words in English, it was all the more powerful to me because I could tell from the expressions of those around me–from Africa, from Europe, from the U.S.–that they knew exactly what they were singing.
These are the lyrics to what hymn writer Keith Getty says tells "the story of the whole Gospel":
In Christ alone my hope is found;
He is my light, my strength, my song;
This cornerstone, this solid ground,
Firm through the fiercest drought and storm.
What heights of love, what depths of peace,
When fears are stilled, when strivings cease!
My comforter, my all in all—
Here in the love of Christ I stand.
In Christ alone, Who took on flesh,
Fullness of God in helpless babe!
This gift of love and righteousness,
Scorned by the ones He came to save.
Till on that cross as Jesus died,
The wrath of God was satisfied;
For ev'ry sin on Him was laid—
Here in the death of Christ I live.
There in the ground His body lay,
Light of the world by darkness slain;
Then bursting forth in glorious day,
Up from the grave He rose again!
And as He stands in victory,
Sin's curse has lost its grip on me;
For I am His and He is mine—
Bought with the precious blood of Christ.
No guilt in life, no fear in death—
This is the pow'r of Christ in me;
From life's first cry to final breath,
Jesus commands my destiny.
No pow'r of hell, no scheme of man,
Can ever pluck me from His hand;
Till He returns or calls me home—
Here in the pow'r of Christ I'll stand.
So today, no matter your stage of deployment, no matter the condition of your marriage, no matter the decade of your life . . . we proclaim that you can stand on the one powerful name of Jesus Christ.
"For from Him and through Him and to Him are all things. To Him be the glory forever! Amen" — Romans 11:36
Work Cited: "In Christ Alone" Words and Music by Keith Getty & Stuart Townend, Copyright © 2001 Kingsway Thankyou Music on www.gettymusic.com
Questions to Share:
1.  If you have never heard the gospel of Jesus Christ, go to 4spirituallaws.com.  Based on the truth that we are all sinners and in need of a savior, what decision did you make concerning faith in Jesus Christ?
2.  If you are saved by the truth of the gospel of Jesus Christ, share with each other what part of the song particularly spoke to your heart today.
Excellent or Praiseworthy is posted on Monday and Thursday nights.
Be joyful in hope, patient in affliction, faithful in prayer. —  Romans 12:12
There is a church nearby which is preparing to send off one of their dear members to Afghanistan. Deployment is always tough . . . especially for military moms deploying for the first time. So her friends put together a little flip-book, filled with prayers just for her. They figure she can carry this handy little book with her everywhere in a pocket—ready to pull out anytime.
There are 31 prayers—each based on Scripture verses. Here they are, and if you would like to use this as a template for someone deploying, please do:
Day 1—"Give _____ a true sense of peace she takes refuge, emotionally and mentally, in You, her mighty Rock."  Psalm 62:7
Day 2—"Would you remind _____ daily to rejoice in YOU, even when she feels that there is nothing else in which to rejoice."  Philippians 4:4
Day 3—"I pray that _____ will have the strength to comprehend with all the saints what is the breadth and length and height and depth, and to know the love of Christ that surpasses knowledge, that she may be filled with all the fullness of God."  Ephesians 3:18,19
Day 4—"Let _____ be filled with the joy given by the Holy Spirit. Let _____ be joyful always, pray continually, and give thanks IN all circumstances, for this is Your will for her in Christ Jesus."  I Thessalonians 1:6; 5:16-18
Day 5—"Make Your Word a lamp to _____'s feet and a light for her path."  Psalm 119:105
Day 6—"Strengthen _____ to not be anxious about anything, but in everything by prayer and supplication with thanksgiving remind her to make her requests known to God."  Philippians 4:6
Day 7—"Because _____ loves me," says the Lord, "I will rescue her; I will protect her, for she acknowledges my name. She will call upon me and I will answer her."  Psalm 91:14-15a
Day 8—"May _____ think on whatever is true . . . noble . . . right . . . pure . . . lovely . . . admirable . . . excellent or praiseworthy."  Philippians 4:8
Day 9—"Let the light of your face shine upon my friend. Fill her heart with joy, and let her lie down and sleep in peace."  Psalm 4:6-8
Day 10—"May _____ overflow with thankfulness."  Colossians 2:6,7
Day 11—"Help _____ to be careful and wise in how she lives, making the most of every opportunity and understanding Your will for her life."  Ephesians 5:15-17
Day 12—"Strengthen _____ in all circumstances to take up the shield of faith, with which You will enable her to put out all of the flaming darts of Satan. Remind her daily to arm herself with the sword of the Spirit—Your powerful Word."  Ephesians 6:16
Day 13—"Fill _____ with Your Holy Spirit, that she might bear the Spirit's fruit: love, joy, peace, patience, kindness, goodness, faithfulness, gentleness, and self-control."  Galatians 5:22,23
Day 14—"Be _____'s strength and her song today as she chooses to trust and not be afraid."  Isaiah 12:2
Day 15—"Strengthen _____ to do everything without complaining."  Philippians 2:15,16
Day 16—"Thank You that You are _____'s shepherd, so she shall lack nothing. Thank You, too, that You restore _____'s soul . . . "  Psalm 23
Day 17—"Help _____ to continue to put her trust in You, O Lord, and proclaim 'You are my God. My times and my days are in Your hands.'"  Psalm 31:14,15
Day 18—"Remind _____ that Your grace is sufficient for all her weaknesses and difficulties."  2 Corinthians 12:9-11
Day 19—"Enable _____ to be strong and courageous. Don't let her get frightened or discouraged, but let _____ know that You will be with her wherever she goes."  Joshua 1:9
Day 20—"May _____ never be ashamed of the gospel, but let her recognize that it is the power of God for the salvation of everyone who believes."  Romans 1:16
Day 21—"May _____ continue to meditate on the great truth that in God's great mercy He has given _____ new birth into a living hope through the resurrection of Jesus Christ from the dead."  I Peter 1:3
Day 22—"Enable _____ to throw the full weight of her anxieties on You, for she is your personal concern."  I Peter 5:7
Day 23—"Show _____ that Your way is perfect and Your word is flawless. Be _____'s shield as she takes refuge in You."  2 Samuel 22:31
Day 24—"Strengthen _____ to use her gifts and talents for Your glory."  I Corinthians 10:31
Day 25—"Keep _____ from all harm. Watch over her life; watch over her coming and going, both now and forevermore."  Psalm 121:7,8
Day 26—"Do not let _____ look at the things man looks at, but let her see the world through Your eyes and respond to it with Your wisdom and Your love."  I Samuel 16:7
Day 27—"Lord, please lead _____ to flee evil desires and surround herself with companions and friends who will pursue righteousness, faith, love and peace—who call on You out of a pure heart."  2 Timothy 2:22
Day 28—"Fill _____ with the knowledge of Your will through all spiritual wisdom and understanding, so that she may live a life worthy of You and may please You in every way: bearing fruit in every good work and growing in the knowledge of You, Lord."  Colossians 1:9,10
Day 29—"Strengthen _____ to lay aside every weight and sin which clings so closely, and help her to run with endurance the race that is set before her, looking to Jesus . . . "  Hebrews 12:1,2
Day 30—"So, then, just as _____ received Christ Jesus as Lord, may she continue to live in Him, rooted and built up in Him, strengthened in the faith as she was taught, and overflowing with thankfulness."  Colossians 2:6,7
Day 31—"Encourage _____ with Your truth that You are able to do far more abundantly than all that _____ can ask or think, according to the power at work within her. To You be glory in the church and in Christ Jesus throughout all generations, forever and ever. Amen."  Ephesians 3:20,21
What I heard was that even before this friend left, she was carrying her prayer book around with her and using it for encouragement during those difficult days. There is no doubt in our minds this little flip book will get MUCH use. I thank God for a faithful church—and there is no doubt in my mind that they will be praying just as diligently for their friend.
Questions to Share:
1. Have you ever thought of taking Scripture verses and making them into prayers?  Which one of the prayers above could you use to pray for someone right now?
2. Which one of the prayers above would you use to pray for yourself right now, putting "me" into the underlined space?
Excellent or Praiseworthy is posted on Monday and Thursday nights.
But a man who commits adultery lacks judgment; whoever does so destroys himself." —Proverbs 6:32
Have you seen those billboards across America which are black with white lettering—with "messages" from God? Have you seen, "We Need to Talk . . . . God"? Or "Loved the Wedding, Invite Me To The Marriage . . . . God"? Or "Need Directions? . . . . God"? The sponsor of these billboards is apparently an anonymous client, but whomever it is has put truth on display which we can all clearly understand.
Or do we understand? Maybe we think that those messages are for "everybody else"—certainly not for us. When it comes to temptations we might say, "That'll never happen to me!" Or maybe we say, "I'm so far gone in sin that even God can't help me!"
Neither of these statements is true, for we are all vulnerable to temptation . . . no one is immune or exempt. And no sin is beyond the mercy and grace of our loving Father who said: "where sin increased, grace increased all the more." (Romans 5:20)  We see these two truths together in 1 Corinthians 10:12 & 13: "Therefore let him who thinks he stands take heed that he does not fall. No temptation has overtaken you but such as is common to man; and God is faithful, who will not allow you to be tempted beyond what you are able, but with the temptation will provide the way of escape also, so that you will be able to endure it."
Adultery is a common temptation during deployment—going back thousands of years. If you don't believe that, just look in the Bible (2 Samuel 11) for the account of David and Bathsheba—a very famous deployment infidelity, with grave consequences. Was there a way of escape? Certainly, and that is God's promise.
But sometimes we forget that God has something to say about adultery. Kinda' like that billboard sign that reads, "What Part of 'Thou Shalt Not' Didn't You Understand? . . . .God." That's like saying, "No. . . .Because I Said So. . . . God."
I like the way Bob and Cheryl Moeller put Scripture together in their on-line "Marriage Minutes" (bobandcherylmoeller.com) called "Eternity is Long, Don't Have An Affair" (counter to "Life is Short, Have an Affair"). They call this the "Top 10 Reasons to Not Have An Affair":
1. "Honor your marriage and its vows, and be pure; for God will surely punish all those who are immoral or commit adultery." Hebrews 13:4
2. "Present your bodies a living sacrifice, holy, acceptable unto God." Romans 12:1
3. "Let there be no sexual sin, impurity or greed among you. Let no one be able to accuse you of any such things." Ephesians 5:3
4. "But if you give yourself to the Lord, you and Christ are joined together as one person. That is why I say to run from sexual sin. No other sin affects the body as this one does. When you sin this sin it is against your own body. Haven't you yet learned that your body is the home of the Holy Spirit God gave you, and that He lives within you? Your own body does not belong to you. For God has bought you with a great price. So use every part of your body to give glory back to God because He owns it." 1 Corinthians 6:18-20
5. "Now change your mind and attitude to God and turn to Him so He can cleanse away your sins and send you wonderful times of refreshment from the presence of the Lord." Acts 3:19
6. "We try to live in such a way that no one will ever be offended or kept back from finding the Lord by the way we act, so that no one can find fault with us and blame it on the Lord." II Corinthians 6:3
7. "For, you have been given freedom: not freedom to do wrong, but freedom to love and serve each other." Galatians 5:13
8. "Nothing in all the world can be hidden from God. Everything is clear and lies open before Him, and to Him we must explain the way we have lived." Hebrews 4:13
9. "Remember, too, that knowing what is right to do and then not doing it is sin." James 4:17
10. "You shall not commit adultery." Exodus 20:14
If sexual temptation is something you struggle with, remember these scriptural truths and the promise that God will always provide His children with a way of escape from the "opportunity." Look for something else to do, somewhere else to go, someone else to spend time with, something else to look at, something else to listen to, something else to think about (Philippians 4:8).  Pray for eyes to see that "other way." There will always be a choice.
If we choose poorly, there are painful consequences—even for future generations. We know that. But we also know that God is faithful to His promise in Psalm 103:11-12: "For as high as the heavens are above the earth, so great is His love for those who fear Him; as far as the east is from the west, so far has He removed our transgressions from us." Jesus paid the price for our sin, on the cross:
"When you were stuck in your old sin-dead life, you were incapable of responding to God. God brought you alive—right along with Christ! Think of it! All sins forgiven, the slate wiped clean, that old arrest warrant canceled and nailed to Christ's Cross." Colossians 2:13,14 from The Message.
Questions to Share:
1. Which of the ten Scriptures above were new or enlightening to you, if any?
2. Are you surprised that God has so much to say about adultery? What is it about the vows of marriage which make infidelity a betrayal of trust and an offense to God?
Excellent or Praiseworthy is posted on Monday and Thursday nights.
"One thing God has spoken, two things have I heard: that You, O God, are strong, and that you, O Lord, are loving." — Psalm 62:11-12a
I was with military wives, studying Beth Moore's "Living Beyond Yourself", when I heard Beth speak these words on the video, "These two things I know from Psalm 62—that God is strong, and that He is loving." I immediately opened my Bible to read that psalm and get the context to that passage. . . because the simplicity, truth, and power of it cut right to my heart. Psalm 62 begins, "My soul finds rest in God alone; my salvation comes from Him. He alone is my rock and my salvation; He is my fortress, I will never be shaken." (vs. 1-2). And in verses 5-8 I read, "Find rest, O my soul, in God alone; my hope comes from Him. He alone is my rock and my salvation; He is my fortress, I will not be shaken. My salvation and my honor depend on God; He is my mighty rock, my refuge. Trust in Him at all times, O people; pour out your hearts to Him, for God is our refuge." Hallelujah!
During my quiet time the next day, I re-read Psalm 62 and "feasted" on the beautiful words of truth in verses 11 and 12: "One thing God has spoken, two things have I heard: that You, O God, are strong, and that You, O Lord, are loving." As I pondered God's demonstration of His love and His strength in my life, I was reminded of the song that I had just been singing the week before with my little granddaughter. You know it, and it goes like this:
"Jesus loves me, this I know, for the Bible tells me so.
Little ones to Him belong; they are weak but He is strong.
Yes, Jesus loves me! Yes, Jesus loves me! Yes, Jesus loves me!
The Bible tells me so."
When we're singing, my granddaughter and I even give extra volume and emphasis to "He is strong." Isn't that what Psalm 62 says? When I am weak (which is all the time), He is my rock, my fortress, my refuge. And He loves me—He gives me peace, salvation, hope, honor, security. I can trust Him. . . . .and He listens to me when I pour my heart out to Him in prayer or in song.
Wanting to take this even one step further, I decided to find out who wrote "Jesus Loves Me"—perhaps there was something more I could learn here. I found the lyricist was Anna B. Warner, and she lived in the state of New York from 1827-1915. Coming from a wealthy family, Anna and her sister began writing to earn money after their father lost his fortune in the depression of 1837. Anna penned the words to "Jesus Loves Me" as part of a novel that her sister, Susan, wrote in 1860 entitled Say and Seal.
But also fascinating is who wrote the melody to "Jesus Loves Me." It was William B. Bradbury. At the end of a Billy Graham crusade, when the crowd sings, "Just As I Am", they are singing another familiar tune by William B. Bradbury (words by Charlotte Elliott). And have you ever sung, "Sweet Hour of Prayer," or "He Leadeth Me", or "Savior, Like a Shepherd Lead Us"? These tunes were all written by William B. Bradbury. I do not know how Anna Warner and William Bradbury worked together to give us "Jesus Loves Me", but it truly was Spirit-led. For decades, all over the world, the power of truth in "Jesus Loves Me" comes through in that simple tune. Hearts are touched, lives are changed—for eternity.
But the scope of my research into what began with the words "These two things I know. ." was not over. As I was reading further about Anna Warner, I discovered that she led Bible studies with cadets at the U.S. Military Academy at West Point in the mid-1800s. And she is buried in the cemetery at West Point. So the writer of "Jesus Loves Me" taught Bible studies with military cadets—that touched my heart! Anna B. Warner, with her sister, was ministering to our military in a profound way perhaps as they were preparing to fight in the Civil War! No doubt she taught them the two things that she knew from Psalm 62—that God is strong, and that He is loving. The Bible tells me so!
Questions to share:
1. Share with your spouse what songs you remember from your childhood. Can you share when you first heard "Jesus Loves Me"?
2. Can you share how God has been your strength during this deployment? How has He demonstrated that He loves you during this time of separation?
Excellent or Praiseworthy is posted on Monday and Thursday nights.
Editor's Note: The writer of this testimony, Beverly Weeks, posts regularly on the website intentionallyyours.org. She and her husband reach out in marriage enrichment ministry throughout North Carolina—including military couples stationed there. Our hope is that this testimony will be beneficial to those who are struggling in their marriage during deployment or any other time.
. . . clothe yourselves with compassion, kindness, humility, gentleness and patience. — Colossians 3:12b
Your beauty should not come from outward adornment . . . instead, it should be that of your inner self, the unfading beauty of a gentle and quiet spirit, which is of great worth in God's sight. — I Peter 3:3a, 4
How do you change your spouse? Nervously, I began to fidget, play around with my jewelry and crack my knuckles as I sat on the brown sofa. It had taken all my courage just to muster up enough strength to walk into the Christian counselor's office.
It just felt so awkward. I mean for years I had taught Sunday School, sung in the choir and now I was having to admit to a total stranger that I did not have it all together. I felt as if my marriage had fallen completely apart. In all honesty, I had already begun to "check out" of the marriage relationship….yet my husband pleaded for me to reach out to this one who was trained, and willing, to help.
I went to that counseling session really as a way to appease my husband. I wanted to be able to tell my friends that I had done everything possible before dissolving the marriage. I guess that deep down I went secretly hoping that the counselor would affirm my decision to separate from him. At the very least, I had hoped that she could tell me how to change him.
 I took a sip of water from my water bottle, composed myself and then all of a sudden me and my 150 plus pounds of head strong ATTITUDE decided to blurt out my frustrations… "Before you say anything, I want you to know that I am not taking him back if HE doesn't change this, this and this…" I proceeded to call off the things on my list, things that aggravated me to the core! "I mean how dare my husband not show me any affection, I feel like he always put his job before me, he never lets me help with making decisions, he is never affectionate, I am a people person, he loves staying at home, I love a clean house and he, well, let's just say we are totally opposite….."
I began to rattle them off, one fault right behind the other, until I noticed she wasn't saying very much. Of course, if the truth be known I didn't give her much of an opportunity! Finally, she lifted her pen, cleared her throat and spoke in a near silent whisper. Although full of conviction, her words were not at all what I had wanted to hear. "What if God is more interested in changing YOU than in changing your spouse?"
Hmmm. I want you to know that I did not exactly receive her words in the love of Christ! As a matter of fact, my fleshly sinful side wanted to leap off that sofa, pluck every blonde hair out of her head and her eyebrows and shout, "Lady, seriously, were you not just listening to what I said!?"
Her words, which were unsettling with me at the time, began to resonate in my ears. For the next few weeks and months, our marriage restoration and healing would begin with me first recognizing the fact that I could NOT change my spouse. No matter how hard I tried, the only person I could change was me. For some time I had naively thought that if I could just change my husband it would fix our relationship and the problems would vanish.
How to Change Your Spouse: The Power of the Two "P" Words
PRAY: I began to pray in a new way… Lord, change me. I remember one night just sitting on the end of my bed weeping and pouring my heart out to God. "God, You know my heart. You know all the ways my husband has hurt me, all my frustrations, the bitterness and the callous feelings. Lord, you know all my expectations, hopes and my dreams. Father, I realize that I cannot change him so I ask that You will help me to compromise, accept the things that I cannot change, and God use these things to make me stronger…"
Now I won't lie, for weeks it was just plain hard to pray that way. But I noticed over time that things really did begin to change for the better. My reactions changed, my behavior changed and it triggered my husband to want to make small changes.
PRAISE: I began to praise my husband. I learned right quick that my positive reinforcements to my husband added fuel in his tank. Pretty soon he began to pick up his towels, he began to be more affectionate, he agreed to go out more and ironically every one of the small changes that he had put into place were things I had completely stopped nagging him about! I totally got rid of six words from my vocabulary…"You have to change or else!"
You see in the past, my ultimatums had only stirred up bitterness and frustration. I found that my new words, "thank you for picking up the towels, thank you for helping in the kitchen, I like it when you hold my hand,"…. all of these affirmed him. For the first time, my husband began to feel respected.
As God began to change my heart, I was able to communicate with my husband more clearly. In the past I would have easily snapped and torn into him. I think my gentle and quiet spirit began to win him over. I am not saying everything was magically fixed. What I am saying is that instead of compressing and stuffing my frustrations (which earlier almost always led to an explosion), I began to communicate what I needed from him instead of assuming that he already knew.
You see, I learned it's not my place to change my husband. That is God's work. There was a lot of compromising, determination and a whole lot of hard work involved in turning around our marriage. NO, you cannot change your spouse, but you can pray that GOD will change you! In return, when GOD softens your heart your marriage will have no other choice but to change.
It's hard to believe that encounter with our Christian counselor was over two and a half years ago. Even more incredible is the fact that GOD has placed us in marriage ministry together. How AWESOME is that? She and her husband—my husband and I—humbly serving together helping couples just like us.
I want you to know that the change did not begin in my marriage. My husband and I are closer now than ever before. God has restored our home. That change began in me.
Work Cited:
http://www.intentionallyyours.org/2013/08/06/how-to-change-your-spouse/
Questions to Share:
1. Spend time in prayer asking God how He might want to change you in your relationship with your spouse.
2. Praise your spouse for something specific they do that you admire. If you are experiencing deployment, praise them in email or phone—or in writing.
« go back
—
keep looking »