Excellent or Praiseworthy is posted on Monday and Thursday nights.
Therefore, as God's chosen people, holy and dearly loved, clothe yourselves with compassion, kindness, humility, gentleness and patience. Bear with each other and forgive whatever grievances you may have against one another. Forgive as the Lord forgave you. And over all these virtues put on love, which binds them all together in perfect unity. Let the peace of Christ rule in your hearts, since as members of one body you were called to peace. And be thankful." — Colossians 3:12-15
In the military it's always wedding season, and with each present I wrap I enclose our favorite wedding verse. It is Colossians 3:12-15. Perhaps this is a bit of an unusual choice for scriptural instruction on marriage, but my experience has been that it gets right to the very core of the challenges of married life.
As I was wrapping such a gift on Saturday, I thought of another couple who has been married only a short time but is experiencing big problems—and has asked my husband and I for help. Surely on their beautiful wedding day they could not have imagined the struggles they are now having. As I was writing out my favorite wedding Scripture on the card to the day's newlyweds I thought, "I wonder if we asked some good questions regarding these verses to our troubled couple, perhaps they would start to really wrestle with some of the problems they are having—and be convicted to communicate better with each other. Perhaps even forgive each other.
The power of questions. Have you ever noticed how many questions Jesus asked? For example, He asked Peter, "But what about you?' He asked. "Who do you say I am?" (Matthew 16:15)
He asked Martha: "I am the resurrection and the life. He who believes in Me will live, even though he dies; and whoever lives and believes in Me will never die. Do you believe this?" (John 11:25-26)
He asked the disciples when He calmed the storm: "Why are you so afraid? Do you still have no faith?" (Mark 4:40)
Jesus asked the tough questions, and I have been studying His questions in order to grasp how He could get to the heart of the matter—and cause people to think. So on Saturday, as I was inscribing the wedding gift, my question—to myself—was, "What kind of questions could we ask throughout the verses of Colossians 3 would get to the heart of the marriage problems with our couple who is seeking reconciliation?"
"Therefore, as God's chosen people, holy and dearly loved . . ." (vs. 12a)
Questions to ponder: Who stood with you on your wedding day, believing in your abilities to love each other? Do you truly have a relationship with Christ as your Lord and Savior?  How committed are you to living lives following God's rules? How important is the legacy of a good marriage?
". . . clothe yourselves with compassion, kindness, humility, gentleness and patience." (vs. 12b)
Questions to ponder: Have you been patient with each other? In what ways do you wish your spouse was more patient with you?  In what ways would your spouse wish you were more patient with them? Who taught you to be kind and compassionate, or are you still "a work in progress" regarding those attributes? What could you do for your spouse, while separated by deployment, which he or she would consider to be a demonstration of kindness? Who is the most humble person you know? How are you like that person?
"Bear with each other and forgive whatever grievances you may have against one another. Forgive as the Lord forgave you." (vs. 13)
Questions to ponder: Are you forgiving of each other? Are you aware of some of the things for which your spouse has already forgiven you? Have you said that you are sorry? asked for forgiveness? told the other that you will never do that again? asked what you could do to make things right?
"And over all these virtues put on love, which binds them all together in perfect unity." (vs. 14)
Questions to ponder: What was it about your spouse which attracted you to them in the first place? What did you used to tell them that you loved about them?  Are you ready and willing to die to self, and selfishness, and love unconditionally?
"Let the peace of Christ rule in your hearts, since as members of one body you were called to peace."(vs. 15a)
Questions to ponder: How much peace is there in your home right now? Has there ever been peace between you two? What happened? How badly do you want peace between you to be restored? Since Christ is the Prince of Peace, have you gone to Him and asked for peace in prayer? Then have you sought Him as the great Counselor?
"And be thankful." (vs. 15b)
Questions to ponder: What two things can you say that you are thankful for in your spouse? Even when deployed, especially when deployed, have you taken the opportunity to express to your spouse what you are grateful for in them? in your relationship in the past or now?
If we are serious about building our homes into dwellings where love reigns and God is glorified. . . . then perhaps we can take Jesus' example and be willing to ask and answer the tough questions. Perhaps you will find that it is in understanding the problems that He can lead you to the solutions.
Questions to Share:
1. How would you like to see your marriage grow in strength and love as outlined in Colossians 3:12-15?
2. Remember the vows that you took on your wedding day. How are you doing in keeping those vows?
Excellent or Praiseworthy is posted on Monday and Thursday nights.
Be strong and courageous.  Do not be terrified; do not be discouraged, for the LORD your God will be with you wherever you go. –  Joshua 1:9
"That's a great idea–I would have never thought of that!" A young Army wife shared with me something she had done to help prepare her family for her husband's upcoming deployment. Before her husband left for Iraq she had taken a picture of him with their children in each room of the house, and then framed them for displaying. The house was filled with Dad's presence—reminders of times when they were together. This wife knew that in the days and months ahead there would be moments when both she and the kids would wonder–is he really real? He feels so far away–he is so far away! But the pictures were there to bring back the memories of his presence in their everyday lives.
Are there times when you wonder if God is real? Pause to consider His presence in your life. I believe that the psalmist was expressing just that when He wrote:
"Where can I go from Your Spirit?
Where can I flee from Your presence?
If I go up to the heavens, You are there;
If I make my bed in the depths, You are there.
If I rise on the wings of the dawn,
If I settle on the far side of the sea,
Even there your hand will guide me,
Your right hand will hold me fast." — Psalm 139:7-10
It is His Word, His people, His creation, His faithfulness in our circumstances, His guiding hand, His Holy Spirit filling us that remind us of His presence! Just as this precious family in Texas is aware of Dad's presence in their home, we can be reminded of God's presence in our hearts and receive comfort and strength when we are in lonely times.
Read the story of Jacob's dream at Bethel in Genesis 28:10-22. The LORD reminds Jacob in this dream of His promises and the covenant in Genesis 12:2-3. Jacob awakes and his thought is of God's presence: "Surely the LORD is in this place, and I was not aware of it." What place are you in right now? Have you wondered if the LORD is with you, and you are not aware of it? He promises in Joshua 1:5, "I will never leave you or forsake you." The truth is, if you are His child, you are never alone no matter where you are. And you have His Word on that!
Questions to share with each other:
1. How does the writer encourage you in Psalm 139?
2. How is God ministering to you during this war?
Excellent or Praiseworthy is posted on Monday and Thursday nights.
"You are like light for the whole world.  A city built on a hill cannot be hid.  No one lights a lamp and puts it under a bowl; instead it is put on the lampstand, where it gives light for everyone in the house." — Matthew 5:14,15
Jesus was talking to a gathering of followers and just after telling them that they were like salt, He also told them that they were like light.  They were salt because God used them to preserve those around them, but they were also light because through them, Jesus intended them to illuminate the truth of who God is.  What is interesting to me in these verses is that Jesus doesn't suggest that a city in a valley or a light under a bowl has any less light, He just focuses on what to do with the light.  This is a call to do more with what we have.
My wife and I have only lived in military housing three times in my career.  We have mixed socially outside of military circles more than inside.  So, after many years, my wife doesn't consider herself to be a "military" wife and she thought that she had little to offer those around her.  One day we were with a couple who had just heard that the husband was being called up to deploy to Afghanistan.  It obviously came as a shock to them and the wife was very emotional.  My wife started talking to her and suddenly discovered that she did have something to offer, having been through a similar experience.  Just by talking with her and relating to her circumstances, my wife was able to shine a little light on where God was in the situation.
I think sometimes we think that being a light is what pastors, or people who have been to seminary, or missionaries who take the Bible to far corners of the world are called to do.  The followers who were listening to Jesus had never seen a seminary, there were no churches to pastor and the Bible we have now was a long way off from being printed.  Jesus followers then, as they are now, were ordinary people and yet Jesus said that they were like light. They just needed to place themselves where they would shine.
By choosing to follow Jesus, we already have the light in us. Fortunately, God provides the light – if it was up to me it might on occasion go out altogether. The light might wane from time to time as we face challenges that filter it somewhat, but it doesn't go away.  So what we need to do is to look for opportunities to place it where others can see it and can see who God is.
How does that look practically?  Well, first we need to ask God to help us deal with anything (sin) that might dim our light.  Then we need to ask God to give us opportunities to shine, be alert for those opportunities, and to act on them.  You may meet someone who is struggling with a deployment and they just need a listening ear – commit to have coffee with them.   You may meet someone who is making a bad choice in their marriage and needs some gentle but direct advice – be gentle, but honest in guiding them.  You may meet someone who just needs practical help like mowing a lawn or watching children for a while – sacrifice some of your time. The possibilities are endless, but each one shines a little light on who God is.
Now some of you reading this are already masters at serving others, so this is no big deal.  A lot of you, however, probably don't take the next step, which is talking to people about why you are so nice and helpful.  That's where you really get to shine a light on who God is.  You see, it's easy for the people you help to write off your helpfulness as you just being nice.  In a sense, you are taking the credit if you let that go by without telling them that you are who you are because of what God has done for you.  That can be really scary, but it is the end goal of shining your light.  Take a deep breath next time someone says "thanks, that's really nice" and say something like, "you know, I'm pretty selfish in myself, but God is helping me to think more of others".  See what happens!  Of course you will need to know what to tell them if they ask how they can accept Jesus as their Savior because you never know how quickly the Holy Spirit will move!
Now here's a thought– if we have a light each in our marriage, how much light can we shine if we work together as a couple?   Married couples in the military who follow Jesus have a unique opportunity to shine some light for other military couples, families and co-workers who are going through similar experiences as us.   I'd encourage you not to put that light in a valley or under a bowl, but look for opportunities to help those around you so that you can tell and show them who God is and what He has done for them.
Questions to share:
1.  Who can you think of right now who could do with some help?
2.  What can you do to help?
3.  When can you start?
4.  Pray about it, do it and see what God does with your light.
Excellent or Praiseworthy is posted on Monday and Thursday nights.
"If you hold to My teaching, you are really My disciples. Then you will know the truth, and the truth will set you free." — Jesus' words in John 8:31,32
You have heard it called many things—an A-Ha moment, a breakthrough, "it all came together," "something clicked," "my eyes were opened," "the light bulb came on". . . . all references to that time when a key element sinks into one's thought processes and truth makes sense—perhaps for the first time.
Because we have all had this wonderful experience at one point, we cling to the hope for that moment in others—when something that has confounded them, perhaps for years, no longer is a stumbling block and they are free to experience the remarkable liberty that truth brings. Marriage counselors especially work towards this end in hopes that one (or both) of the spouses in a troubled relationship will "put the pieces together" and whatever problem has them stymied will be "fixed," or at least relieved—allowing them to go on to the next level of breakthroughs. And because we know that A-Ha moments can take a lot of work in leading up to that moment of truth, and sometimes much time, we encourage ourselves and others to be patient and to persevere!
One of my favorite cinematic A-Ha moments occurs in "The Miracle Worker"—the true life story of Helen Keller, who became blind and deaf as a toddler due to an illness. In the 1962 movie, Anne Sullivan, Helen's teacher, works tirelessly to help her student, then almost seven years old, to associate an object with its name, spelling out the letters of the word with signals in Helen's hand. Over and over and over again she works with Helen, spelling out the names of objects throughout the house and countryside. This movie is worth seeing for the dramatic climax, when Helen finally "gets it," the meaning of the word "water." Helen understands, at one given moment, that the word "water" means the cold liquid that is poured into her hands from a garden pump—and then the whole world opens up to her as she leads her teacher around to every object in the Keller yard, learning one new word after another. The background music, the joy experienced by the Kellers, the fortitude of Anne Sullivan—all go together to create the on-screen brilliance of the moment when a life is changed seemingly in an instant.
I often recall, and speak about, two A-Ha moments in my life. One was on an August evening in Weatherford, Oklahoma, in 1980. My husband was TDY, and I was alone with my children while visiting relatives since we were between assignments and without a home. In my loneliness my thoughts were turning to spiritual matters—many questions went through my head and my heart. "What is life all about?" "Something's missing—what is it?" "What do I really believe in?" "What does faith in God mean?" One night I happened to attend (yes, it appeared to be just that random) a concert of a little Christian band traveling around the country in a raggedy old school bus. God bless that band—I wish I knew who they were so that I could thank them for their faithfulness! That night they spoke truth—seemingly directly to me—as they shared the gospel of Jesus Christ. Either it was the first time that I had heard, or it was the first time that I "heard." The Holy Spirit was at work in my heart. One of the band members told us that we are all sinners, and because of that we need a savior. That savior is Jesus Christ, the very Son of God, who loves us so much that He bore our sins on the cross so that we might be saved and spend eternity with God in heaven. It was my A-Ha moment—my break-through, as everything came together under the direction of the Holy Spirit. . . .it clicked, my eyes were opened, the light bulb came on in my head . . . . and "it all came together." The band member asked us that night to make a decision—to repent and to trust our life to Christ. With every head bowed and every eye closed in the audience, I raised my hand as one who committed their life to Jesus as Lord and Savior. I've had peace ever since.  I was indeed born again, a new creation in Christ.
Six years later, in 1986, I attended a marriage seminar at our base chapel in Germany. My husband must have been deployed, or he was home with the kids—or working weekends—I don't remember. Somehow it was just me. My neighbors dragged me along with them because initially I really wasn't interested. After all, my marriage was fine. But a small missionary group came to teach us that weekend. . . .and I learned that marriage was God's idea. There was a purpose to it, and that my husband and I would leave a legacy of faith for our children. A-Ha! Suddenly, yes suddenly, another light bulb came on! Our marriage wasn't just about us, or our kids, or our assignment or career. . . . .it was about God!  Once again, the Holy Spirit was at work in my heart.
Turns out that an A-Ha moment really is a series of small breakthroughs, "process items," which culminate at a point in time when it all comes together. . . . when we allow God to shed His light on our thinking and on our circumstances. . . . and then in humility we know that He is in control . . . .and we willingly turn the reins of our life over to Him. After all, He has always been in charge anyway. The freedom and the joy have been remarkable as I have seen God take me through the twists and turns of life with such love. None of it has been an accident. . . .and He has been so patient as He has worked with me over and over and over again until I "got it."  It's the working of the Holy Spirit! If I take the time to remember, I can see how He worked in and through other people, circumstances, Scripture, prayer—and I can see some of the steps which God used to bring me to my powerful moment of decision, the convergence. "I will remember the deeds of the LORD; yes, I will remember Your miracles of long ago.  I will meditate on all Your works and consider all Your mighty deeds."  (Psalm 77:11,12)
Many others who have placed their hearts and lives in Jesus' hands cannot point to a single moment of revelation of their need for repentance and rescue—it has been more of a gradual turning and light has been shed more and more on the truth of the good news of Jesus Christ. Either way, God is at work to touch hearts and change lives—forever.
I'm still a "work in progress," as God still has much to teach me. Perhaps you feel the same. Perhaps there are still pieces missing—and you wonder who God really is. Believe me—He longs to shine the light of His truth into whatever darkness you are experiencing right now. You will never be the same—you will be free! You will have peace! Pray "Yes, Lord, I am a sinner and I need a Savior. Please forgive my sins and take control of my life. Thank You for dying on the cross for me, and make me the kind of person You want me to be. I want You to be on the throne of my life, not me. I need You, Lord Jesus, and I receive You as my Savior and my Lord."
Did the Light come on? Tell someone about it. . . . maybe they need to hear, too.
"To be accustomed to our Lord's teaching is not to ask, 'What must I do to be good?' but, 'What must I do to be saved?'  How long does it take us to know what the true meaning of our life is?  One half second." —  Oswald Chambers
Questions to Share:
1. Recall a time in your life when you realized an important truth, seemingly in an instant. Perhaps it was in putting together something your parents taught you, or realizing your part in a series of events which turned out for good. . . .
2. Can you say that you have recognized your need for Jesus Christ? Spend time in prayer and confess your sin, committing your life to Him.
Excellent or Praiseworthy is posted on Monday and Thursday nights.
"All Scripture is God-breathed and is useful for teaching, rebuking, correcting and training in righteousness, so that the man of God may be thoroughly equipped for every good work." —2 Timothy 3:16
It all started at a church near Ft. Hood, Texas. We were meeting with the church-sponsored "Heroes" group—Army families who are either experiencing deployment, or redeployment and reintegration. It was a great night, with lots of good food and discussion. I asked the question, "During your last deployment, what would have helped?" A young wife named Tammy looked right at me and said, "An online devotional—that would have helped. . . .one designed for military." At that moment, when her eyes met mine, Excellent or Praiseworthy was born.
And so it launched on September 11, 2007. We did not plan for it to begin on 9/11—that's just when all of the necessary pieces came together. Seems symbolic and appropriate, however, considering the impact that 9/11 has had on all of our lives in this great nation, especially our military families. On this September 11th our nation remembers the tremendous sacrifice made by those who died in the face of the enemy named terrorism. We shall never forget such heroism and courage displayed that day and the days since as you defend and protect our country. And with these devotions we seek to serve you as you so faithfully serve us.
The name for this website came from Philippians 4:8, "Finally, brothers, whatever is true, whatever is noble, whatever is right, whatever is pure, whatever is lovely, whatever is admirable—if anything is excellent or praiseworthy—think about such things." Those in the military who are assigned the duty of defending our nation and liberating foreign nations have sacrificed much. We believe our calling in this online devotional is to offer a chance for couples to think on things which are true, noble, right, pure, lovely, and admirable in order to keep them spiritually connected and growing during their time of separation.
In the past seven years, we have posted 725 devotions—every Monday night and Thursday night.  The hope is that in the interval time between Tuesday and Friday couples will have the opportunity to read and discuss the "questions to share" over email or telephone. And many, many have. We know the site has been accessed approximately 182,000 times—from literally all over the world (186 countries–including Vanuatu?). And we know those readers are merely a subset of the total readership. Many "hits" are not recorded in our analytical data because the location of the internet servers is invisible to us for security reasons.
This large readership has been heartwarming and encouraging. Our goal has been to provide a reading which will give a couple something to read and share, prompting them to communicate at the "heart level" through Scripture, a story, and the "Questions to Share". If a commitment to marriage is a commitment to communication, then couples who can communicate what they think and feel, without becoming defensive or feeling threatened by rejection, are couples who can weather a tough situation together. Whether by phone, letter, email, webcam, or texting, a couple needs to be creative and intentional—and willing to share at the heart level—in order to finish the deployment strong.
One reader commented: "One of the challenges my husband and I faced this past year was remaining spiritually connected when separated by miles. Once I came across the 'Excellent or Praiseworthy' card the military ministry leader at church had given me and got on the website, we wanted to use the 'EorP' devotional as a springboard to spiritual conversations, with both of us reading it prior to our phone calls. My husband and I jumped on that bandwagon late in his deployment, but I would love to equip the families who are facing pending deployments with that tool. It is a very effective 'spiritual glue' for separated couples."
We have had 38 writers join this collaborative effort—providing spiritual lessons from their unique deployment stories. We are so grateful for these writers, and continue to look for more. In 2008 we added "categories." You will notice that the devotions are in one (or more) of five categories: Prayer, Marriage and Family, Lessons from History, Spiritual Training, and National Guard/Reserves. Obviously there is overlap in these, so we encourage you to explore the entire website for helpful devotional material categorized by topic.  Through the seven years we have also added photos, and even videos.  We continue to look for ways to serve you better.
A popular feature has been "The Deployment Dare" found on the sidebar.  All forty days from the popular book The Love Dare have been re-considered to meet the challenges of "doing the Love Dare" while geographically separated by deployment. If you haven't already, check it out!
We have observed, met and heard stories about couples who are growing closer together in their marriage relationship during deployment.  Some of these stories form the basis of EorP devotions. We have also observed, met and heard stories of individuals who are growing closer to the Lord during deployment—and we believe that the two are linked. Growing closer to the Lord will result in a closer marital bond—as God is the source of all oneness in marriage.
The legacy for the family of a couple who is intentional about their spiritual development—even in the face of the difficulties and challenges of deployment during war time—will impact generations to come for the Lord. After all, He is the one that holds couples together. "He is before all things, and in Him all things hold together" (Colossians 1:17).  He is the One whom we serve, the One whom we love, the One whom we follow. . . .and our desire is to be like Him. Thank you for your devotion to our Lord and Savior, and may God richly bless you as you serve our country!
"I pray that out of His glorious riches He may strengthen you with power through His Spirit in your inner being, so that Christ may dwell in your hearts through faith. And I pray that you, being rooted and established in love, may have power, together with all the saints, to grasp how wide and long and high and deep is the love of Christ, and to know this love that surpasses knowledge—that you may be filled to the measure of all the fullness of God. Now to Him who is able to do immeasurably more than all we ask or imagine, according to His power that is at work within us, to Him be glory in the church and in Christ Jesus throughout all generations, for ever and ever! Amen." — Ephesians 3:16-21
Questions to Share:
1. In what ways do we, as a couple, desire to grow closer to each other during this deployment?
2. In what ways do I, as an individual, desire to grow closer to the Lord during this deployment?
3. How are these two desires connected?
Excellent or Praiseworthy is posted on Monday and Thursday nights.
Pleasant words are a honeycomb, sweet to the soul and healing to the bones. — Proverbs 16:24
When I see an article on marriage, I automatically think "what does this say to a military marriage?" Ministry to military has wired me this way—thankfully.
So when I read the article on FamilyLife.com entitled "5 Biggest Little Ways to Improve Your Marriage" I naturally went to "what does this say to a military marriage?"
I might not have been as interested in this exercise if the article hadn't been written by Shaunti Feldhahn, who is a respected researcher on marriage statistics and author of For Men Only, For Women Only, and The Good News About Marriage. I knew whatever Shaunti wrote was well-studied and well-written.
And given that improving your marriage during deployment takes special grace and intentionality, I went right to applying her points to those areas of challenge unique to military marriages. The goal? Helping military marriages to see that there are ways they can help their marriage by doing "little things" as often as possible.
Shaunti writes, "Clearly, a few small actions won't fix deep relationship problems. But for most of us, a handful of simple day-to-day actions increase the likelihood that our spouse feels that we care deeply about them, instead of feeling that we don't. There's just enormous power in that!"
So using her research methods of surveying, Shaunti shares with us "The Fantastic Five for him" and "The Fantastic Five for her". "When individuals were asked on the survey if a particular action made them happy, the affirmative response numbers were staggeringly high for five specific actions for each gender, even among the struggling couples. Close to 100 percent of all husbands and wives said these actions mattered, with between 65 and 90 percent of all husbands and wives saying these actions would deeply please them."
Is this also true for military couples? I believe so.
Here are her "Fantastic Fives" and my additional suggestions for military couples:
The Fantastic Five for him
A wife will have a big impact on her husband's happiness when she does the following:
1. Notices his effort and sincerely thanks him for it . . . This deeply pleases 72 percent of all men.
What about during deployment? You really can't know what your husband specifically does each day and thank him for it, right? You can't thank him for mowing the lawn in the heat or playing with the kids when tired from work, unless he is the spouse at home. But you can thank him for doing his part to defend our country, and being the kind of man that people depend on. What Shaunti Feldhahn is telling us is a little word of thanks goes a long way to marital satisfaction.
2. Says 'You did a great job at __________.' This deeply pleases 69 percent of all men.
Closely related to #1, this takes the verbal affirmation (by email or cell or text or Skype or letter) one step further from thanks to praise.
3. Mentions in front of others something he did well. This deeply pleases 72 percent of all men.
Can you mention to your friends how proud you are of your husband and the job he is doing—whether at home or while deployed? Certainly you can. And with the speed of modern communication, the likelihood of this praise getting back to him is high.
4. Shows that she desires him sexually and that he pleases her sexually. This deeply pleases 85 percent of all men.
This one is a little more difficult to do when separated geographically by deployment. But not impossible! Why not say, "I can't wait to have you home and spend our own quality time together! I love and need you so much!" Be creative in your descriptions of your desires—you know what will please your husband to hear.
5. Makes it clear to him that he makes her happy . . . This deeply pleases 88 percent of all men.
We're talking about little things here, and for a husband to hear long distance that he is still adored is vital! This tip got the highest point value of all five. Does being married to him make you happy? Remember some of your happiest moments together and remind him of those. Or state what he does to make you smile. On a difficult day, this could make all the difference.
The objective is to repeat these simple but powerful actions frequently. While not a cure-all, they are crucial to knowing and feeling that our spouse cares.
The Fantastic Five for her
On his side, a husband will have a big impact on his wife when he does the following:
1. Takes her hand. This deeply pleases 82 percent of all women.
We have addressed the power of holding hands on ExcellentorPraiseworthy.org before. Go to "Holding Hands". Can you hold hands while deployed? Of course not . . . but you can take that special picture of you holding hands before deployment and put it where you will see it often. Or you can trace your hand and send it to each other with a message. Be creative—this little thing is very important (more than you think).
2. Leaves her a message by voice mail, e-mail, or text during the day to say he loves and is thinking about her. This deeply pleases 75 percent of all women.
This says that most women NEED to hear frequently that they are loved. Especially during dangerous times, I believe it's extra-important to close every conversation with "I Love You." You never know.
3. Puts his arm around her or lays his hand on her knee when they are sitting next to each other in public . . . This deeply pleases 76 percent of all women.
Again, this is not something little you can do during deployment, but you can communicate closeness with words. You can say, "If we were together right now, I would put my arm around you and hold you tight." You need to say it, because she needs to hear it.
4. Tells her sincerely, "You are beautiful." This deeply pleases 76 percent of all women.
I'm getting older, and the radiance of my youth is gone. But I would agree—I still like to hear that, to my husband, I am beautiful. Hearing him tell me that daily, or frequently, would be a sweet gift. Is it a little thing? Perhaps. Or maybe, to her, it's a big thing!
5. Pulls himself out of a funk when he's morose, grumpy, or upset about something, instead of withdrawing. (This doesn't mean he doesn't get angry or need space; it means he tries to pull himself out of it.) This deeply pleases 72 percent of all women.
Most wives would say that they sometimes tire of being a cheerleader to their husbands. Just once in a while it would be nice for him to draw strength from the Lord alone and impart that change-of-attitude to others instead of continuing in a slump. This point surprised me a bit, but I was in agreement.
In conclusion, knowing your spouse's love language (5lovelanguages.com) only helps to zero in on the importance of these 5 little day-to-day helps. And Shaunti closes with, "Because as it turns out, believing that the other person cares is far more important to building a happy marriage than most of us every realized." Understatement.
P.S. Reintegration is the Perfect time to start doing these "5 Biggest Little Ways to Improve Your Marriage". Especially if a wall of communication has been building over time and distance . . . and needs to come down!!
Work Cited:
Shaunti Feldhahn, "5 Biggest Little Ways to Improve Your Marriage" on www.FamilyLife.com
Questions to Share
1. Which of the Fantastic Fives were a surprise to you?
2. Which of these tips do you already do—and which will you start doing today?
Excellent or Praiseworthy is posted on Monday and Thursday nights.
Though I walk in the midst of trouble, You will revive me; You will stretch forth Your hand against the wrath of my enemies, and Your right hand will save me. — Psalm 138:7
An eerie feeling hovered in the hot, humid night air. Although darkness would soon be over for 19-year-old Lance Corporal Andy Stokes and his fellow Marines, they couldn't help but wonder if they would see the morning light.
It was March 21, 2003—the first day of the war in Iraq. While other 19-year-olds were attending college classes or working in the States, Andy found himself in a convoy of military vehicles. He joined the Marines after graduating from high school because he liked the idea of fighting to serve his country. His unit (the first Marine Expeditionary Force) was the first to cross the Iraqi border.
War became a reality when Andy was sitting in the back of a seven-ton truck. He says, "An RPG comes screaming right down the entire line of trucks. So, we all jump out and take up our security." In a matter of minutes, his combat training was transformed into battlefield experience.
When Andy's platoon later went down "Ambush Alley," the shortest and most direct path to Nasiriyah, Iraq, it was no secret that they were not alone. Many houses and buildings—perfect hiding spots for snipers—lined an approximate three-mile stretch of road.
Traveling at high speeds and without lights, the convoy began its treacherous journey. Andy sat in the back of a camouflaged truck and was changing ammunition when a rocket-propelled grenade landed within four feet of him. Popping sounds filled the air as bullets whizzed by, breaking the sound barrier.
The protective hand of God. After Andy and his fellow Marines reached their destination, they saw miles of billowing smoke. Witnesses told of flashing lines of bullets and of rocket propelled-grenades exploding everywhere. Despite this, every single Marine in the platoon dismounted their vehicles. Unbelievably, only one bullet hole was found in a single Humvee. That night, an entire platoon acknowledged that God had protected them.
Andy was much closer to the Lord when he returned to the States in July 2003. Although he became a Christian when he was in elementary school, he says: "I saw a lot of things last year (2003 deployment) and I thought, 'Whoa . . . . there are life and death situations all of the time.' I just wanted to be on that road (living for Christ)."
He sincerely tried to be a "good Christian" when he returned to Camp Pendleton. However, he says, "I could not do it all of the time."
In March 2004, Andy found himself in a too familiar and unsettling location; He was back in Iraq but now in Fallujah. This time, he understood the real cost of fighting for freedom. He knew that he could be killed at any moment from an unexpected mortar or rocket. He says, "And there was always that lingering in the back of your head. We were in constant combat for about a month and a half, and on and off, the rest of the time that we were there."
The power of prayer. Andy sent his parents, John and Sue Stokes, the names of those in his platoon to share with approximately 200 people who were praying for him. John says, "So I kept that list with me. And if I was in line at the bank, wherever I was, I would often . . . . pray through that list of names."
John frequently prayed through Psalm 138, and he personalized the following words in verses 7-8: "Though I walk in the midst of trouble, you preserve my life; you stretch out your hand against the anger of my foes, with your right hand you save me. The Lord will fulfill his purpose for me."
Sue specifically prayed: "That each one of these guys would come to know the Lord. That those who did know Him would grow in their faith by the miracles that we knew they were seeing—that they would not be wasted miracles of God. That they would recognize that they had seen the hand of the living God for a purpose far beyond them."
Friends of the Stokes, Raymond and Betty Ray, sent Andy a copy of The Purpose Driven Life, at the same time that his squad leader received a copy from his own mother. The two read the books together over 40 days and started sharing what they learned with their platoon. Andy says, "It (the book) pretty much worked its way through the platoon—our two copies."
Author Rick Warren says in The Purpose Driven Life (page 193), "God has a purpose for every problem."  The platoon certainly had many opportunities to look for God's purpose on the battlefield. Andy tells of a time when he and four other Marines hovered behind an embankment (berm) on the side of a dusty road. Sixty-millimeter mortars exploded before their eyes. (Mortars are explosives that are dropped into a tube and fired—sometimes from as far as a mile away.)
Andy explains: "The kill radius (for 60-millimeter mortars) is 5 meters, which is about 15 feet. So anything within 30 feet in diameter of where that hits is considered dead. And the casualty rate is 50 meters beyond that because it just throws rocks and shrapnel and everything all over the place."
Seeking protection, Andy and four friends crouched down with their backs against a huge pile of dirt when suddenly mortars exploded just a few feet in front of them. Shrapnel flew everywhere. Andy temporarily lost his hearing and one piece of shrapnel ricocheted from a buddy's glasses. The five Marines were dumbfounded: Why were they still alive?
Andy says, "My platoon sergeant was on my left and a couple of other buddies were on my right—we surely should not be here today. I could just picture an angel sitting in front of us who took all of the flack. It was pretty amazing to see that just explode right in front of us. Everybody who witnessed that said, 'We know that God is with us tonight.'"
Another time six men in Andy's platoon were traveling in a humvee when an Improvised Explosive Device detonated directly under the vehicle. The humvee was absolutely destroyed, yet all six Marines survived with minor shrapnel wounds.
One of Andy's buddies was shot in the head. Andy says, "It was a 7/62 caliber . . . . The holes it left were just pinholes. It should have taken his head clean off. How does that work?"
Andy says, "Everyone had seen all of this stuff happening and a lot of us were saying, 'That is God, definitely.' And I was also sharing with them how many people were back here praying for them. And they are just like, 'No kidding.'"
Welcome Home. A few weeks before Andy's platoon left Iraq on his second deployment, his fellow Marines started to realize that something was different. Andy says, "I think that's when it really started hitting everyone—our platoon is entirely intact. And they started thinking about the book and about me telling everybody that we had hundreds of people praying for our platoon individually by names."
But some of Andy's friends in other platoons will never return to loved ones. Andy says, "All of my friends who died in combat definitely fought with pride and totally with honor for their country . . . . He (God) had another purpose for that person (who died)."
On October 27, 2004, a group of about 50 people gathered at the Little Rock airport. Balloons and "Welcome Home" signs filled the air. A small child held a posted that said, "You are my hero."
At approximately 8:20 p.m. Andy Stokes walked down the runway. His shoulders were a little broader and his heart was a little heavier. He was no longer a boy who joined the Marines because he "liked the idea of fighting to serve my country." After two deployments in Iraq, he was a man who knew the inconceivable cost of freedom and the mighty power of prayer.
Questions to Share:
1. Where were you in March of 2003?  What have you learned from God teaching you through events in your life since then?
2. Can you look back to these past eleven years and tell each other how God has answered your prayers?
Mary Larmoyeux and her husband have two married sons and five grandchildren. The author of several books, including Help for Busy Moms, she has written articles for The Family Room, HomeLife, Discovery Years and other publications. To learn more about Mary visit her website at www.marymaywrites.com
Excellent or Praiseworthy is posted on Monday and Thursday nights.
Draw near to God and He will draw near to you. — James 4:8a
"A Gallup Poll that was done in 1997 by the National Association of Marriage Enhancement in Phoenix, Arizona, showed the divorce rate among couples who pray together regularly is 1 out of 1,152. That's a divorce rate of less than one percent." Greg and Erin Smalley
My wife and I had been in full-time ministry for five years. Our prayer life was active. But most of our prayers were for other people. After hearing a challenge from Dennis Rainey of FamilyLife, we began praying with each other every morning. If I had to leave early, I would call my wife and we would pray. One minute—two minutes—for each other—submitting ourselves to God for the day. It was humbling. In the beginning, I was surprised how many times I needed to apologize for something that had happened in the last 24 hours. I couldn't sincerely pray for her if there was anything going on . . . it forced me to repentance.
After a couple of months, I asked my wife how our praying together had impacted her. This is what she wrote:
When my husband and I pray together I feel protected—from the forces and desires within and the outside pressures of the world and the enemy. Prayer sets the priority and the vision for the day . . . I know that I am not alone, that my husband and I are on the same team working toward the same end of living this day in the atmosphere of God's grace and mercy. I feel loved and cared for when he prays honestly concerning the spiritual, emotional and physical needs of the kids. I often feel humbled and vulnerable when we pray about personal struggles—yet comforted, 'wrapped-up', knowing that my Father who sees and knows all, who has the infinite resources to counsel and give wisdom, fills us with His power to love deeply and bear one another's burdens. I feel like we have purpose beyond ourselves, beyond the here and now as we pray for others . . . I feel expectant wondering what the LORD will do with THIS DAY that He has made and given to us . . .
Can you believe it? I was blown away—that small step toward leading my wife spiritually had that depth of impact on her soul. Is it worth two minutes a day to make your wife feel like that? Thank You, Lord!
Because of all of the travel I am committed to, we spend days and weeks apart. That is not like a deployment, but certainly the premise—the truth—of this discipline of prayer as a couple holds whether you are facing the day together or many time zones apart. If you have more time—and if you can—either by email or text or phone—ask "how can I pray for you today?" Then connect your hearts, across the miles, in a simple prayer.
When I heard Dennis Rainey's challenge to pray together as a couple, I also heard him say this: "I believe that if every Christian couple would pray together regularly, our nation would experience a spiritual renewal of historical proportions, including a dramatic drop in the Christian community's divorce rate. And when the divorce rate drops within the church, we will see a spiritual and moral awakening in America. . . When you pray together, you multiply your joys, divide your sorrows, add to your experiences with God together, and help subtract your haunting past from your life. . . Many people are hesitant to start praying with their spouses. If this is the case, try saying this prayer:  'Lord, teach me how to pray with my spouse. I'm afraid.'"
Military couples are the most courageous people I know. Let me encourage you today—be courageous and begin a new routine of praying together every day. God will give you victory in your marriage.
Work Cited:
Rainey, Dennis, "The Secret to a Lasting Marriage" on www.familylife.com, 2001.
Questions to Share:
1. When you pray, what do you usually pray for?
2. Take the time to pray for or with your spouse the next time you communicate. If you need to, ask them first "How can I pray for you today?" Then do it—in a simple one minute prayer to our Father who loves us so much.
Excellent or Praiseworthy is posted on Monday and Thursday nights.
The LORD is faithful to all His promises and loving toward all He has made. Psalm 145:13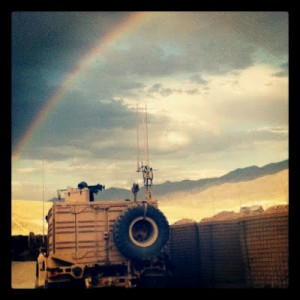 I'm not a young Army Wife.
This is not my first, or my second, or my third or my (you get the picture) deployment. And it doesn't matter. I miss my soldier as much as the next wife. My kids miss their Daddy as much as any kids would. Deployments are hard regardless of who you are and what number this one is for you.
We are nearing the end of this fifteen month deployment, and while I would so love to be closer than we are, I can wait. How? Because you see that image to the left? It is one of the most perfect reminders I can think of how God's promises are forever and they are changeless. No matter what is going on in our lives or in the world, God's promises stand. What a comfort that is! What peace that brings. When my soldier husband sent me the image, I just couldn't stop looking at it. I was so amazed to see a rainbow in Afghanistan! I'm not sure why I thought that was some type of great world wonder, but the image is just so powerful to me with the rainbow in the background of a place of combat.
I have so much to be thankful for in regards to everything that has happened since April of 2011. But one of the biggest joys I have is that as exhausted as I am at the end of each day, I wake up every morning and push through another day.
I am thankful, so thankful that we have a Gracious Heavenly Father.
I am thankful for rainbows and the reminders they are of God's word to us.
And I am thankful I have a soldier who loves me, but who loves Jesus more.
We are still in waiting mode for our reunion, but the days are getting much shorter!
Many of our unit's soldiers have already returned to their families. Mine will be one of the last, if I am blessed to have him return. I can't wait to feel him breathing next to me again. I have missed his presence in our lives so much. And I know he's missed ours in his. How blessed I am to have the life I do. I pray God will not let me forget the struggles I've faced and the lessons I've learned about my heart and my faith through the last 15 months. And I pray as I move forward, that I use those lessons to His glory.
Questions to Share:
1. Can you identify with this soldier's wife's perspective, now that she is near the end of their umpteenth deployment? Why or why not?
2. What about God's character and the faithfulness of His promises has helped sustain you through deployments?
Excellent or Praiseworthy is posted on Monday and Thursday nights.
"Then you will call upon Me and come and pray to Me, and I will listen to you. You will seek Me and find Me when you seek Me with all your heart." —Jeremiah 29:12,13
On the battlefields of the Civil War, one hundred and fifty-one years ago, the troops of the Army of Northern Virginia (Confederacy) experienced an event called for by their president, Jefferson Davis. On August 21, 1863, they observed a "day of prayer and fasting." General Robert E. Lee issued this order in response to President Davis' request:
"The President of the Confederate States has, in the name of the people, appointed the 21st day of August as a day of fasting, humiliation and prayer. A strict observance of the day is enjoined upon the officers and soldiers of this army. All military duties, except such as are absolutely necessary, will be suspended. . . . Soldiers! We have sinned against Almighty God. We have forgotten His signal mercies, and have cultivated a revengeful, haughty, and boastful spirit. We have not remembered that the defenders of a just cause should be pure in His eyes; that 'our times are in His hands;' and we have relied too much on our own arms for the achievement of our independence. God is our only refuge and our strength. Let us humble ourselves before Him. Let us confess our many sins, and beseech Him to give us a higher courage, a purer patriotism, and more determined will; that He will convert the hearts of our enemies,; that He will hasten the time when war, with its sorrows and sufferings, shall cease, and that He will give us a name and place among the nations of the earth." Christ in the Camp, p. 56
Revivals were becoming more common in the camps of the Confederacy, so much so that when the War ended and the soldiers headed home (some with new-found faith), their spiritual fervency was instrumental in creating what we now call "the Bible Belt." Christ in the Camp is a beautiful compilation of letters and reports from the field—chronicling what God brought about between chaplains, missionaries, and pastors and the soldiers and families whom they served during the Civil War. First published in 1887 by Chaplain J. William Jones, the book is over six hundred pages of actual accounts and correspondence which can only reinforce what was true then and now—our only hope is in Christ Jesus.
The introduction to the book is written by Chaplain J. C. Granberry, and includes this description of the military soldier:
"The martial imagery of which Paul (in the New Testament) was fond shows an analogy between the life of the soldier and the life of the saint. The centurion of Capernaum and the centurion of Cesarea were patterns of faith and of a devout spirit. The soldier's habits of unquestioning obedience to orders, of trust in superior officers, and of freedom from anxiety about things for which he is not responsible, fit into the life of faith. . . . . I have nowhere witnessed more complete, symmetrical and beautiful examples of Christian character than in the army. . . Not recklessly, but with thoughtful and prayerful solemnity, they went into fierce battle; yet the peace of God which passeth all understanding kept their hearts against alarm. . . . To God be all the glory!" (p. 15-16)
The Northern counterpart to Christ in the Camp is the fascinating book entitled From the Flag to the Cross, published in 1872. Story after story of soldiers making decisions to follow Christ—both before battle and after battle, sometimes in the hospital and sometimes in prison—fills the pages of this book by Chaplain A. S. Billingsley. The book also tells of the contribution that the U.S. Christian Commission made to the spiritual life of the U.S. Army: "The efficiency and success of the Commission were wonderful. Beginning with eighteen members in 1861, before the close of the war it had engaged nearly five thousand delegates laboring for the temporal and spiritual wants of the men. Talking Christ to them, preaching to and praying for and with them, was the principal business of a great part of the delegates. In all, they preached to them over 58,000 sermons, and held with them over 77,000 prayer-meetings, and gave them 1,466,748 Bibles and parts of Bibles, 18,000,000 religious newspapers, 1,370,000 hymn-books, over 8,000,000 knapsack-books, and 39,000,000 pages of tracts, and wrote for them 92,000 letters. The total value of the whole amount contributed in four years was $6,291,107.68. With zealous hearts these noble brethren 'went about doing good,' relieving and comforting the officer, soldier, and sailor wherever they found them.'" (p. 333) Among the members of the U.S. Christian Commission, who served side-by-side with chaplains, was pastor and evangelist Dwight L. Moody.
I particularly enjoy the vignettes of interviews held by chaplains with soldiers in From the Flag to the Cross. One such visit between a hospital chaplain and a soldier yielded this exchange:
"While it has often been said by the thoughtless and careless, 'We can't live out religion in the army;' and although it is often said by a certain class of professors, 'the army is a hard place to be a Christian, and live it out,' yet at our first interview with James H. Finney, 1st N.Y. Engineers, we found him entertaining a very different view, and being fully conscious of the enjoyments and consolations of the Christian religion, he says, 'It would be hard to live in the army without it.' Opposed, as we are, by the combined powers of the world, the flesh, and the devil, life at best is a warfare from the cradle to the grave. And although the temptations are greater and the restraints weaker some places than others, yet, since God's grace is sufficient at all times and under all circumstances to guide, guard, and sustain the believer, he can, if he will, at all times walk worthy of his vocation, and so live and act that his life will be an embodiment of the great doctrines of the cross of Christ. And it is impugning the wisdom, mercy, powers, and grace of God to say that he cannot." (p. 139-140)
So we have begun with a call to prayer on the battlefield and ended with a call to faithfulness from a wounded soldier to his chaplain. Perhaps some things in military life have changed, but the charge given above from 2 Corinthians 12:9 will never change: "But He (the Lord) said to me (the apostle Paul), 'My grace is sufficient for you, for My power is made perfect in weakness.' Therefore I will boast all the more gladly about my weaknesses, so that Christ's power may rest on me. That is why, for Christ's sake, I delight in weaknesses, in insults, in hardships, in persecutions, in difficulties. For when I am weak, then I am strong."
Are you feeling weak today? Remember that "Jesus Christ is the same yesterday and today and forever." ( Hebrews 13:8)  He is the same Christ who ministered to soldiers in the Civil War, and He can minister to you today. Call to Him—He will answer. He loves you!
Work Cited:
Jones, J. William, Christ in the Camp (Harrisonburg: Sprinkle Publications, 1986. Originally published by B. F. Johnson & Co. in 1887)
Billingsley, Amos S. From the Flag to the Cross (Birmingham: Solid Ground Christian Books, 2006. Originally published by New World Publishing Co. of Philadelphia in 1872)
Questions to Share:
1. Chaplain Granberry refers to Philippians 4:7. Look that up in a Bible, and then read verses 8 and 9 which follow. How does Paul say that the God of peace can be with you?
2. In what ways does studying what was demanded of soldiers in the past inspire you to fulfill your mission today?
« go back
—
keep looking »