Excellent or Praiseworthy is posted on Monday and Thursday nights.
Blessed are the poor in spirit, for theirs is the kingdom of heaven. Blessed are those who mourn, for they shall be comforted. — Matthew 5:3,4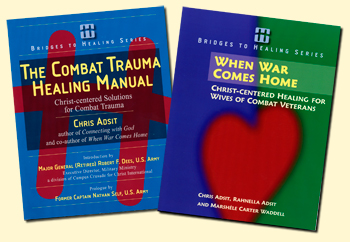 In just about every artistic rendering of a soldier's homecoming, be it a song, a movie or a television commercial, we are left with an emotional high that tells us all is well again. But if military wives assume their reunion with their husbands is a fairytale ending to their separation, disappointment is almost sure to set in.
"I have seen way too many military wives build up a fantasy in their minds about what life will be like once their husbands are home—and then be destroyed when this fantasy was not a reality," says National Guard wife Mary Whitlock. Mary says the hardest part of war wasn't her husband's deployment; it was when he first came home. His multiple concussions, exposure to constant combat and chlorine gas resulted in loss of short-term memory and an extremely heightened sense of anxiety which resulted in frustration and anger.
When author (Hope for the Home Front) and Navy SEAL wife Marshele Carter Waddell's husband returned from Iraq with only a broken leg, she praised God for his safety. "Now, months later, I sense that his leg is the least of our concerns," she says. "He is healing outwardly, but his soul walks with a limp."
As Marshele's husband goes through War's aftermath—the invisible wounds of Post Traumatic Stress Disorder—she and her children used to have little more than patience, devotion, and hope in their arsenal to help him win this battle on his home turf. She describes the experience this way:
"Life tries to return to what it was before, but can't. He fights against the relentless surf trying to move back to the sandy, safe shore but is drifting further . . . . swept out by a current of guilt, memories too painful to speak, questions too difficult to ask, the suffocating guilt of watching others die when he lived instead, the helplessness of not being able to save a friend, the naked ache of being so far from home, from love, from security, living in a dusty hell under fire at all times, fighting for what seemed an ungrateful and divided nation."
But since then, Marshele has teamed with others from Military Ministry to write a new book which addresses the feelings and concerns of wives of PTSD sufferers. When War Comes Home is a helpful manual—a powerful gift to those who are facing despair and want to recover hope for their marriages and their lives. It followed the publication of the popular book The Combat Trauma Healing Manual, published by Cru Military (formerly Military Ministry) in 2007. Both of these valuable books are for sale online from CruMilitary.org.
Ecclesiastes 3:1-3 says, "To everything there is a season, a time for every purpose under heaven:  . . . . A time to kill, and a time to heal . . . ." And Who is the Healer?  In the Old Testament, God was also called "the Lord Who Heals." One of Jesus' many names in the Bible is "Physician," a name well-suited for one who performed so many healing miracles on both the physical and spiritual levels. While God works through modern medicine and counseling to heal the war's injuries of body and mind, we can also entrust the healing process directly to Him, the Author of Life itself. As we pray for healing for our spouses, we can also be praying for large doses of patience for ourselves.
Prayer written by Marshele Carter Waddell: "Lord, I cannot see the wounds caused by my husband's war-zone experiences; but, You can see them. Only You can heal him. Help me to come to You and to trust You to intercede for us when I cannot find the words. I ask for prayer partners who will remember to pray for us, come what may. I need someone to talk with, Lord, someone who has dealt with this before. Please provide Godly counsel and direction." In Jesus' Name, Amen.
Questions to Share:
1. Have you thought of God as a healer? In what ways can you remember Him healing you from hurts, fears, and discouragement?
2. How can you help each other recover from the wounds of war—whether they be emotional or physical?
Jocelyn Green is an award-winning freelance writer and author of Faith Deployed: Daily Encouragement for Military Wives (www.faithdeployed.com), from which this devotional was reposted (and updated) with permission from Moody Publishers.  She is also the co-author of Battlefields & Blessings: Stories of Faith and Courage from the War in Iraq & Afghanistan. She and her husband Rob live with their two children in Cedar Falls, Iowa.

Excellent or Praiseworthy is posted on Monday and Thursday nights.
Although I hope to come to you soon, I am writing you these instructions so that, if I am delayed, you will know how people ought to conduct themselves in God's household, which is the church of the living God, the pillar and foundation of the truth. Beyond all question, the mystery of godliness is great: He appeared in a body, was vindicated by the Spirit, was seen by angels, was preached among the nations, was believed on in the world, was taken up in glory. — I Timothy 3:14-16
Our beloved pastor preached one particular Sunday on the Church. I will share only a brief outline, followed by best practices which any church can apply in their own way to serve the military in their midst. But if you want to hear the entire sermon, click here.
The Apostle Paul gave Timothy encouragement and direction in how to lead his church, most likely in ancient Ephesus. The instruction is valid today, and worthy of examination.
A. From I Timothy 3:15a we Remember what the church is:
It is a family. Paul describes the church as the house, or household, of God, depending on the translation. Paul's metaphor here is not that of a building—but of a family. Believers are members of a unique and special family, and this same truth is emphasized in Ephesians 2:19: "So then you are no longer strangers and aliens, but you are fellow citizens with the saints, and are of God's household." Also in Galatians 6:10 we read, "Therefore as we have opportunity, let us do good to all, especially to those who are of the household of faith."
It is the assembly of the living God. It is God's church, His family. In his letter to the Ephesians, Paul wrote that the church is "God's own possession, to the praise of His glory." (Ephesians 1:14). Because God dwells in us, when we come together we come as "the church of the living God." "And in Him you too are being built up together to become a dwelling in which God lives by His Spirit." (Ephesians 2:22)
B. Pastor John's second point is that in I Timothy 3:15b we Recognize what the church does:
The church is the defender of truth. In other words it guards and protects the precious truths of God's word. The church has the sacred stewardship of the Scriptures. It is the church and the church alone which has been tasked with providing the solid bedrock of truth as found in God's word.
The church is light shining in darkness. Every church should stand against the prevailing tide of a sinful culture.
The church is stability to the individual believer. We are in accountable relationships, for the good of each other. There should be within the body of Christ a willingness to be held accountable and a willingness to hold others accountable.
The church is the avenue by which we serve and encourage one another. In Hebrews 10:24 we read: "And let us consider one another in order to stir up love and good works."
The church is the agent by which the Great Commission is carried out. Paul writes in I Thessalonians 1:8: "For from you the word of the Lord has sounded forth, not only in Macedonia and Achaia, but also in every place. Your faith toward God has gone out . . . "
C. His last sermon point was: From I Timothy 3:16 we Recommit to Whom the church belongs:
After explaining what the church is and does, Paul goes into a praise chorus focused upon the person of Jesus. Why? The more you focus upon Jesus—the more you love Jesus—the more you will love the church and be committed to it. The church will be effective and productive and healthy and useful when glorifying, exalting, and lifting up Christ remains the central theme of all that we do.
The church is the family of God—the assembly of the living God. The church is the defender of truth—the light shining in darkness—the place of accountability and encouragement—the place to serve—and place that helps us to go on. And above all else—the church is led by Jesus—and therefore we say "Now to Him who is able to do exceedingly abundantly above all that we ask or think, according to the power that works in us, to Him be glory in the church by Christ Jesus to all generations, forever and ever. Amen." (Ephesians 3:20,21)
We can take what Pastor John has laid out before us as an exposition of God's word and apply it in our churches and chapels in order to serve those who serve our country so faithfully. Remember, if you believe in the sovereignty of God, military members come to your church or chapel for a reason—but they will only be there for a season.
So our question is, how will you Respond in order to minister to military members and families during that season so that they go on to their next assignment or deployment at a higher level of spiritual maturity?
Here are some best practices which my husband and I have observed and recorded (we use the word "church" to refer to both churches and chapels):
Prayer. If your church has a prayer meeting, a prayer team, or a prayer list, make sure your military members and families are on it, at their request. They need your prayers!
Hospitality. Practice hospitality. Military members and families are delighted to be included in meal times at members' homes—after church or during the week.
Small Group. Consider offering a small group Bible study or "life group" for your military members, both as in-reach to provide fellowship with a common bond and as an outreach to bring in other military members searching for spiritual growth.
Ask Good Questions. A church needs to approach a military member or family and ask good questions: "How can we serve you during your time here?" "How can we pray for you?" "What can we do to get you to the next level of spiritual training before sending you to your next assignment?"
Marriage Enrichment. Form a Marriage Enrichment Team in your church to serve your married couples with small group and seminar training. Military couples (singles, too) particularly need training in their relationships because of the unique challenges they encounter.
Special Days. Special emphases (or banquets) on Memorial Day, Veterans Day, and 4th of July are always appropriate times to honor our military. Suggest that the military wear their uniforms on one of these days—even the veterans!
"Commissioning". Before military members and families PCS, invite them to the front of the church during or at the close of worship for a special time of prayer. This can be considered a "commissioning" as you send them off to minister/serve at their new duty station.
Staff Training. Provide periodic education to your pastoral staff to ensure they remain keenly aware and appreciative of the unique challenges of military life. Hopefully they will be supportive, encouraging, and open to new ideas for helping.
Childcare. Anytime a study is formed or group is organized with military members and families include a plan for childcare, if possible.
Support Groups and Bible Studies. Consider offering a support group/Bible study group for those with combat trauma, or those who have a loved one with combat trauma. The books The Combat Trauma Healing Manual and When War Comes Home are excellent resources for these groups. A Bridges to Healing seminar might pave the way for this group to begin in your church.
Establish a Reputation. Sign on to the Military Missions Network (MMN) as a "military friendly" or a "military focused" church. Acquaint your Missions Team with MMN's "The 4th Missionary Journey" and the new web portal MilitaryBeliever.com!! www.militarymissionsnetwork.com.
Relocation Services. Before they PCS, make sure that your military member and families are pointed to a like-minded church from your denomination or the Military Missions Network at their new duty station. This helps them to take steps to get connected immediately upon arrival.
People of calling. Be aware that the calling of First Responders is very similar to the military calling. Your church may desire to incorporate First Responders into ministry to military.
During the deployment cycle your church can also actively participate:
 Before Deployment. Schedule a time for the military member and spouse to spend with the pastoral staff, Sunday school teacher, or deacons. This is a time to set up accountability, to encourage, and to make sure that the needs of the family at home are discussed and assigned to appropriate church members.
Before Deployment. Call the service member and family up to the front of the church for a special time of prayer.
During Deployment. Assign someone to email daily or weekly prayers, devotions and/or sermons to the deployed service members as a group. Our church uses Oswald Chambers' daily prayers to email to our deployed group.
During Deployment. Remember the Holidays! The Sunday School classes can send each deployed member care packages and holiday greeting cards. Don't forget to honor the family at home with special giftings.
During Deployment. Support those at home. Consider offering a support group for the wives/husbands of those deployed. It might be a good opportunity to do a Bible study like Loving Your Military Man.
During Deployment. If the military member agrees, make their addresses available to the church body either in the bulletin or on the A-V screen for further communication and as a prayer reminder.
After Deployment. Recognize the service member and family for their sacrificial service after the deployment. You may want to give them an opportunity to speak, to thank the church for support, and/or to give their testimony of how God worked in their lives during their time of deployment.
In summary, the church is a precious gift from God and we should never take it for granted. To God be the Glory!
Hebrews 10:25—"Let us not give up meeting together, as some are in the habit of doing, but let us encourage one another—and all the more as you see the Day approaching."
Questions to Share:
1.  What church "best practices" can you identify as particularly helpful to you and your spouse during deployments?
2.  If you are not an active member of a local church, pray that the Lord would lead you to one.  If you are a member, consider how you can pray for your pastor and the church.
Excellent or Praiseworthy is posted on Monday and Thursday nights.
"Haven't you read," (Jesus) replied, "that at the beginning the Creator 'made them male and female,' and said, 'For this reason a man will leave his father and mother and be united to his wife, and the two will become one flesh'? So they are no longer two, but one. Therefore what God has joined together, let man not separate." — Matthew 19:4-6
Year after year I saw my mother putting a copy of a "Prayer for a Bride and Groom" into an envelope and sending it as a wedding gift to some young couple whom she knew. I didn't pay much attention. I knew it was a special prayer she had found in a magazine years ago, and had made many copies so as to be ready to send it when she would get a wedding invitation. Then it was time for my own children to get married, and out came the copy of the prayer as her gift. This time I paid attention.
"O God of love, Thou hast established marriage for the welfare and happiness of mankind. Thine was the plan and only with Thee can we work it out with joy. Thou hast said, 'It is not good for man to be alone. I will make a helpmeet for him.' Now our joys are doubled since the happiness of one is the happiness of the other. Our burdens now are halved since when we share them, we divide the load.
"Bless this husband. Bless him as provider of nourishment and raiment and sustain him in all the exactions and pressures of his battle for bread. May his strength be her protection, his character be her boast and her pride, and may he so live that she will find in him the haven for which the heart of a woman truly longs.
"Bless this loving wife. Give her a tenderness that will make her great, a deep sense of understanding and a great faith in Thee. Give her that inner beauty of soul that never fades, that eternal youth that is found in holding fast the things that never age.
"Teach them that marriage is not living merely for each other; it is two uniting and joining hands to serve Thee. Give them a great spiritual purpose in life. May they seek first the kingdom of God and His righteousness, and the other things shall be added unto them.
"May they not expect that perfection of each other that belongs alone to Thee. May they minimize each other's weaknesses, be swift to praise and magnify each other's points of comeliness and strength, and see each other through a lover's kind and patient eyes.
"Now make such assignments to them on the scroll of Thy will as will bless them and develop their characters as they walk together. Give them enough tears to keep them tender, enough hurts to keep them humane, enough of failure to keep their hands clenched tightly in Thine, and enough of success to make them sure they walk with God.
"May they never take each other's love for granted, but always experience that breathless wonder that exclaims, 'Out of all this world you have chosen me.'
"When life is done and the sun is setting, may they be found then as now still hand in hand, still thanking God for each other. May they serve Thee happily, faithfully, together, until at last one shall lay the other into the arms of God. This we ask through Jesus Christ, Great Lover of Our Souls. Amen."
No wonder my mother loved this prayer—it's beautiful, and not only "tells it like it is", but "tells it like it should be." No wonder she wanted to pass it on to young couples as it has truth for the ages.
When I finally read it and studied it, I was curious as to who had written it. At the bottom of her copies was the name "Rev. Dr. Louis Hadley Evans." I did not know that name, so I went to my computer and "Googled" it. Wow—I had no idea. There was a link with my life! Being a missionary with Cru (formerly Campus Crusade for Christ), I knew the story of how our founders, Bill and Vonette Bright, came to know the Lord through the ministry of First Presbyterian Church of Hollywood, California, and one of their staff, Dr. Henrietta C. Mears. The teaching and discipling ministry of this church was powerful in their lives. Others influenced and taught by these great saints at that time included Billy Graham and Richard Halverson. And who was the pastor of their church? Rev. Dr. Louis Hadley Evans
In Dr. Bright's book, Come Help Change the World, he writes this about his pastor: "Over a period of months I began to be greatly impressed with the eloquence and personality of the pastor, Dr. Louis Evans. He presented Jesus Christ and the Christian life in an attractive way I had never known before. So, as a matter of intellectual integrity, I was forced to begin an in-depth study of the life of Jesus. The more I read and studied, the more I became convinced that He was more than just a great historical figure. Over the months I concluded that He was truly the Son of God."
Dr. Bright goes on to write of a night in 1945 when Dr. Mears challenged the college and young adult group to consider Saul's question, "Who are You, Lord, and what will You have me do?" "This is one of the most important questions you can possibly ask of God, even today," Dr. Mears told us. "The happiest people in the world are those who are in the center of God's will. The most miserable are those who are not doing God's will." It was later that night that Bill Bright gave his life to the Lord. And in 1948, Dr. Mears led Vonette to the Lord. In 1951, Campus Crusade for Christ was begun. What a great story! Hallelujah!
But there is more to my story with Dr. Evans' wedding prayer. I decided to check with the church in Hollywood, because I studied and learned that Dr. Evans' son was a friend of Bill & Vonette Bright's and had gone on to lead a wonderful ministry of his own in Washington, D.C. I thought perhaps he was still alive, but he passed away in 2008. To make a long story short, I ended up having a delightful conversation with Colleen Townsend Evans, the wife of Dr. Louis H. Evans, Jr., and friend of the Brights, in ministry and life. She sent me an original copy of "The Wedding Prayer", which we now have in a special place in our home. What a gracious and generous gift!
So it started with my mother sending out this beautiful prayer to help couples begin their married life well. . . . .and ended with my time in conversation and sharing with the good friend of our Campus Crusade founders. Amazing. How the ministry of a faithful pastor and servants of God touched lives! Thank you, Rev. Dr. Louis Hadley Evans. . . thank you, Dr. Henrietta Mears, for your faithful service in the 1940s and 1950s in Hollywood, California, where a young couple named Bright was moved by the Holy Spirit to begin a ministry to fulfill the Great Commission. They probably heard and knew this prayer well. It's a great legacy to share, with truth to stand the test of time.
Bright, Bill, Come Help Change the World (Orlando: NewLife Publications, 1999), p. 23-24.
Questions to Share:
What part of the prayer in the paragraph "Bless this husband" especially speaks to you? What part of the prayer in the paragraph "Bless this loving wife" especially speaks to you?
In what ways does Dr. Evans address in the prayer the growth that might take place in a marriage from challenges like deployment?
Excellent or Praiseworthy is posted on Monday and Thursday nights.
Whatever you do, work at it with all your heart, as working for the Lord, not for men, since you know that you will receive an inheritance from the Lord as a reward.  It is the Lord Christ you are serving. — Colossians 3:23
When we were writing the first draft of the HomeBuilders Bible study, Making Your Marriage Deployment Ready, we did what was suggested and got a copy of the Command magazine published by Officer's Christian Fellowship in order to track down an article by Anne Borcherding entitled "Share My Calling." The article begins with Anne telling the reader about a conversation she had with her husband, Rob, when he explained: "'This isn't just a job for me. This is my calling, and I need you to share my calling.' As he described his commitment to the Army, my husband's voice was filled with emotion. It grabbed my attention. Rob and I were attending an intensive marriage retreat before the first of three deployments to Iraq. God opened my eyes that day to an essential element of both Rob's service in the military and our marriage."
My husband and I were drawn in to the truth in her article. This was important. "Share My Calling" went on to include a description of Anne's struggle with understanding her husband's devotion to military duty . . . . and her role in all of that. Anne wrote, "I did not immediately embrace the idea of shared calling. It was a process. Initially I thought, 'I love my husband, I am there for him, but the military is his calling not mine.' However, God began to open my eyes to a different outlook."
Her writing contained a definition of "calling" and also four ways in which God revealed to her, over time, how He wanted her to be obedient to His purpose for their marriage: by examining her attitude, by recognizing the link between her husband's profession and his identity, by remembering God's purpose for marriage, and by reflecting on her biblical role as a helper to her husband. Next she summarized six tough questions, with biblical answers, which she worked through in order to further analyze this whole issue of her husband's noble calling to military service—and what it meant to her as a wife.
Our co-authors, Keith and Sharon Morgan, agreed that this mention of shared calling should be a part of the deployment Bible study. We deemed it so pivotal that we put it into the very first chapter. You see, this matter is at the very core of some struggles being experienced in military marriages today ("I didn't sign up for this!!"). Our decision was validated by feedback from our field test groups. It turns out that the two-page section in Session One of Making Your Marriage Deployment Ready resonated with several of the spouses, and they heartily endorsed it to be included in the final draft.
Here are the discussion questions we ask on pages 13-14 of Making Your Marriage Deployment Ready after explaining the topic:
— Have you ever considered your military service as a "calling"?
— At this point in your marriage, would you say you have a "shared calling" to the military? Is that something you've even thought about?
— If you were to have a shared calling, how do you think that would affect the way you view deployment?
What happened in Rob & Anne Borcherding's life after she prayed and worked through this personal challenge? "Believing God to be true to His Word, I chose to join Rob in his call to military service. Life has not magically become easier. His three trips to Iraq didn't just fly by, and feelings of frustration haven't disappeared. But, I have a new-found desire to serve, love, and minister to the military community. I am far less irritated by, and more supportive of, the demands his job places on him. My better attitude has also brought a surprise added benefit—an improved relationship with my husband!"
Perhaps you struggle with the matter of a shared calling to the military.  Please be encouraged–Mrs. Borcherding's experience is meant to be shared. As explained in 2 Corinthians 1:3,4: "Praise be to the God and Father of our Lord Jesus Christ, the Father of compassion and the God of all comfort, who comforts us in all our troubles, so that we can comfort those in any trouble with the comfort we ourselves have received from God."
Questions to Share:
What part has God played in your decision to join the military or to remain in military service?

Pray together for opportunities to minister to others who are experiencing deployment. Serving others is one way in which we can take the focus off of ourselves and on to a higher purpose of the military calling.
Excellent or Praiseworthy is posted on Monday and Thursday nights.
The LORD will watch over your coming and going both now and forevermore. — Psalm 121:8
Some PCS moves you anticipate—others come as a surprise. Some moves are a relief—others are a burden. But no matter if you have faced "good" moves or "bad" moves, there is one thing they all have in common—change. And some people deal well with change—others do not.
I always have a ready ear for moving stories because they are such a common element in our military life experience. We can all connect over moving stories! Recently I had the opportunity to read two womens' thoughts on moving—even spiritual thoughts. So I readily pass them along to you in the hopes that you might find some common element in your experiences—and perhaps draw some hope from what they share.
Penny Hunt, a Christian writer and speaker, gave me this writing to share from her experiences of moving in the Navy:
"Here we go again! Time to face the change, pack up our now life and start a new one; time to find the kids a school, learn new streets and names in a place where no one knows ours and dare to make a friend.
Help me, Lord. This change is hard. I feel so sad my teeth ache. I do not want to go. I do not want to be brave and smart and smile. I want to stay here and keep things as they are.
Tell me again how much You love me and how You will never leave me. Lift my head, hold my hand and help me pack a box.
Show me the way to grow through this change and not just go through it."
Bea Fishback, an author of three Bible studies on military life, had this to say about moving from her Army experience:
"In twenty years of military service we moved ten times. Each time I learned something new. . . . like how to pack effectively, and that I didn't need three sets of dishes, sixteen pots and pans, and three hundred books. And I learned that it took something special to make a building a home. As we moved our possessions from one house to the next a strange thing would happen. The old home lost its "life." What made our government quarters, apartment, or building unique was our family and our special things. Each picture, rug, and piece of furniture represented something about us.
Take the pictures of our son dressed as "Uncle Sam" and our daughter as the "Statue of Liberty" shot on a fourth of July many years ago when we were stationed in another country. As each thing was removed the house became empty and hollow. What was once our home became a building again. And our new house took on the feelings of love, warmth, and hopefully a welcome to all who entered.
Sounds a bit like us. Take this body of ours. We determine what it becomes by what we put inside. Put inside the things of the world and you get a hollow place, not a home for a godly heart. Put inside the things of God and it becomes a beautiful place of residence. Lay down the carpet of love, put in peace, joy, patience, kindness; cuddle up with a blanket of tenderness, and hang up the pictures of forgiveness and what do you get? A heart people are drawn to, a place that offers comfort. Ultimately this brings others to desire the God who makes our heart His home—wherever our duty assignment or how many times we move."
No matter how we "look" at moving. . . in military life, it's reality. So there's a choice—to see the move as an opportunity given by God to explore what He has for us and our families in a new location. Or we can grumble and complain over it all, making everyone miserable in our old and new paths.
Which way is God-honoring?
Questions to Share:
What has been your favorite assignment during your time in the military?

Why was that your favorite?

What was your least favorite assignment—why?

Draw some spiritual lessons—things God taught you—during both of those moves.
Excellent or Praiseworthy is posted on Monday and Thursday nights.
Editor's Note:  On the morning of June 15th, I awakened with this news from Elisabeth Elliot's husband, Lars Gren, posted on her webpage:  "We rejoice for Elisabeth that she is home with her Lord as of 6:15 am, June 15, 2015. Thank you for your prayers and messages of comfort."  Her webpage (elisabethelliot.org) also included this truth, which I had experienced through many years of listening to her "Gateway to Joy" radio program:  "Elisabeth Elliot was one of the most influential Christian women of our time. For a half century, her best selling books, timeless teachings and courageous faith have influenced believers and seekers of Jesus Christ throughout the world. She used her experiences as a daughter, wife, mother, widow, and missionary to bring the message of Christ to countless women and men around the world."  I thank God for her, and hope you are encouraged by this message which she shared often with her listeners.
The LORD delights in the way of the man whose steps He has made firm; though he stumble, he will not fall, for the LORD upholds him with His hand. — Psalm 37:23
This is a crazy time in my life—probably in yours, too, especially if you are dealing with deployment. There is more going on than I can wrap my mind around. At times like this I sometimes don't know what to do. And then a voice, Elisabeth Elliot's voice, comes into my mind saying: "Do the next thing." How many times did I hear her read this poem on her radio program, "Gateway to Joy"?  Many, I recall. I believe she used to say that it was passed on to her from her mother, one of those anonymous poems that speaks truth to our souls and keeps us going. It's simple wisdom—for deployment days and stressful days and days of restlessness.
From an old English parsonage down by the sea
There came in the twilight a message to me;
Its quaint Saxon legend, deeply engraven,
Hath, it seems to me, teaching from Heaven.
And on through the doors the quiet words ring
Like a low inspiration: "Do the Next Thing."
Many a questioning, many a fear,
Many a doubt, hath its quieting here.
Moment by moment, let down from Heaven,
Time, opportunity, and guidance are given.
Fear not tomorrows, child of the King,
Trust them with Jesus, do the next thing.
Do it immediately, do it with prayer;
Do it reliantly, casting all care;
Do it with reverence, tracing His hand
Who placed it before thee with earnest command.
Stayed on Omnipotence, safe 'neath His wing,
Leave all results, do the next thing.
Looking for Jesus, ever serener,
Working or suffering, be they demeanor;
In His dear presence, the rest of His calm,
The light of His countenance be thy psalm,
Strong in His faithfulness, praise and sing.
Then as He beckons thee, do the next thing.
Carry on. God is with you. . . He is sovereign. . . He loves you and is faithful. Do the next thing. I will, too.

Questions to Share:
1. How does this poem speak to you today?
2. Is there someone you know who is overwhelmed with whom you could share this word of encouragement?
Excellent or Praiseworthy is posted on Monday and Thursday nights.
Therefore, if the Son makes you free, you shall be free indeed. —John 8:36
I opened my email one morning and read a message from a sweet military wife whose husband was in Afghanistan. She had been reading postings on Excellent or Praiseworthy, and was grateful for the encouragement. Then she closed her comment with, "I'm so thankful for America, a free country that allows me to know what true freedom is in Christ!"
Afterwards, I picked-up the morning newspaper and saw a pastor's column in the "Living" section which was entitled, "True Independence is with Jesus Christ." Beautifully written, he shared, "My real independence day was July 5, 1993. It was the day that I truly invited Jesus Christ into my heart and pledged to live the rest of my life honoring him. I was raised in church, but wasn't free. July 5, 1993, was the day my Lord took away the guilt of my past and encouraged me to look toward my future. . . .Since that day, I discovered that real freedom is not allowing sin to dominate my life any longer. Real freedom is knowing and pursuing my God-given purpose while I live on this Earth. . . . Today, I plan to celebrate the holiday with family and friends . . . . but I won't just be celebrating our country's freedom. I will also celebrate Jesus freeing me from my past, my sins, my own selfish ways, the opinions of others and so much more. There is nothing like freedom in Christ. That's what true independence is all about." Rev. Kevin Swann, The Daily Press, July 4, 2010, p. 5.
But that wasn't all—I next opened "Facebook," just to see what had happened overnight. There was a posting from a Guard chaplain which read, "Great message heard at church (must have been at the EARLY service!). Pastor said real FREEDOM is found in Jesus Christ. I say, AMEN! No matter what happens in the world, everlasting freedom is given to those who have trusted in Jesus Christ as Lord and Master."
Yep, I got the message! Three timely reminders, lest I forget on this holiday celebrating our blessed nation's birthday, that true freedom is found in Jesus Christ, and Jesus Christ alone. What a gift of grace from our Heavenly Father who gave His Son, that we might be truly free:
"To the Jews who had believed Him, Jesus said, 'If you hold to my teaching, you are really My disciples. Then you will know the truth, and the truth will set you free.'" — John 8:32
"Now the Lord is the Spirit, and where the Spirit of the Lord is, there is freedom." — II Corinthians 3:17
"It is for freedom that Christ has set us free." —Galatians 5:1
"To Him who loves us and has freed us from our sins by His blood, and has made us to be a kingdom and priests to serve His God and Father—to Him be glory and power for ever and ever! Amen." —Revelation 1:5,6
Questions to Share:
1. What 4th of July celebrations do you remember from the past?
2. Share with your spouse your testimony of when you were set free from the bonds of sin by the shed blood of Jesus Christ. If you have not made that decision, join with Pastor Swann and make today your personal independence day. Go to How To Know God.
Excellent or Praiseworthy is posted on Monday and Thursday nights.
"Haven't you read," He replied, "that at the beginning the Creator 'made them male and female,' and said, 'For this reason a man will leave his father and mother and be united to his wife, and the two will become one flesh'? So they are no longer two, but one. Therefore what God has joined together, let man not separate." — Matthew 19:4-6
A friend in North Carolina introduced me to "standing for your marriage" as a concept and movement. I had always known there were those who refused to give up on their dying or dead marriage—but I had never heard it called "standing".
Since then I have paid close attention to articles, books, websites, testimonies, and seminars about standing. I know in the military community the stresses on a marriage can cause either the husband or wife—sometimes both—to say, "Enough! I'm done!" So in order to shed light (God's light) on a different path for your marriage, I have compiled this information using the letters S.T.A.N.D. It is not exhaustive but is an introduction to standing for your marriage—and that includes a military marriage—for your study and (perhaps) application.
"S"—What is "Standing"?
One who has chosen to believe God for the healing and restoration of their marriage, and to take definite steps towards that renewal, is a husband or wife who is standing for their marriage. Dr. Ed Wheat, in his book How to Save Your Marriage Alone, writes, "If you are in this group, I do indeed consider you special. First, by your stand you indicate a commitment to the sacredness and permanence of marriage that is God-honoring; second, you have the courage to face your own problems instead of running from them or hiding behind false pride; and third, you exhibit the maturity which, even when there is no response, can choose to love with a steadfast love that is tough and real, intelligent and purposeful, wholly committed to your partner's well-being." (p. 7)
If your husband or wife has left you, either emotionally or physically, I urge you to get a copy of Dr. Wheat's little 62-page book. If God is calling you to be a stander, this book will get you started in the right direction with encouragement and advice.
"T"—Trust God and His promises.
Kim Sorgius includes this imperative in her article "5 Steps to Standing for Your Marriage" found on the "Intentionally Yours" marriage ministry website. Her first step is entitled "Wrap Yourself in Promise" where she states, "Skip this one and you'll crash and burn in days. Over the past 3 years, I've met a lot of standers. Some standing for just 2 months, some for 5 years. No matter how long, they all agree that standing is the hardest thing you will EVER do. There is just something nearly impossible about loving a person who spats hate in your face, often daily. But, every day thousands of people do it and so can you . . . if you are wrapped in promise. You must learn God's promises and stand on them, daily. Make a list and put it on the fridge. Keep a running journal if you need to. Whatever it takes to remind you what God has said."
And what has God said?
"Jesus looked at them and said, 'With man this is impossible, but not with God; all things are possible with God'" (Mark 10:27).
"Is any one of you in trouble? He should pray" (James 5:13).
"Be joyful in hope, patient in affliction, faithful in prayer" (Romans 12:12).
"The LORD is faithful to all His promises and loving toward all He has made" (Psalm 145:13).
"Trust in the LORD with all your heart and lean not on your own understanding; in all your ways acknowledge Him, and He will make your paths straight" (Proverbs 3:5,6).
Kim goes on to encourage you to "let go." That reminds me of the old saying, "Let go and Let God." Her advice is to rely on God for your spouse, your needs, your future—in prayer!
"A"—Your Attitude is pivotal.
Sherry Jennings, whose husband left her for an adulterous affair, writes in "I'm Done: What to Do When You are Sick of Your Marriage": "Prayer changes everything. When you seek God's face, curl up on His lap and cry out to Jesus, things change . . . As you pray, God softens your heart and enlightens you with His understanding. Spending time talking with God invites Him into your situation, your circumstances, your perceptions, your understanding, and powerfully reminds you He is God and you are not . . . thankfully! Allow Him to break your heart for what breaks His. As you pray, God will show you where you need to forgive . . . and where you need to seek forgiveness." In this article do not overlook how Sherry's attitude changed regarding how she should pray for Scott—and for the "other woman"—based on Proverbs 5:5-23.
The testimony of Scott & Sherry Jennings' healed marriage is on IntentionallyYours.org.  An attitude of hope based on the truth of Scripture and the testimonies of His saints will go a long way in fighting discouragement.
"N"—Your marriage is a covenant, NOT a contract!
In our years of teaching God's blueprints for marriage to military couples, we always remind them they made a covenant with each other, not a contract. Far from a 50/50 arrangement of "you scratch my back and I'll scratch yours". . . God teaches that "Covenant love is a never-stopping, never-giving up, unbreaking, always-and-forever love" (from Jesus Storybook Bible). It is 100/100 . . . each spouse giving their all.
Also, we know and experience that marriage is NOT about you—it is about living and loving to the glory of God. Gary Thomas' powerful quote from Sacred Marriage is, "What if God designed marriage to make us holy more than to make us happy?"
So standing for your marriage may be the way we demonstrate the Gospel of Jesus Christ to a watching world—"A new command I give you: Love one another. As I have loved you, so you must love one another. All men will know that you are My disciples if you love one another" (John 13:34,35).
God's word says—"But those who marry will face many troubles in this life . . ." (I Corinthians 7:28). God allows difficult things in our lives so that His glory may be revealed. This is hard teaching, but it is true. Standing will be very difficult—perhaps the most difficult thing you have ever done—but it is a call to commitment to your vows. An excellent resource for more information on this is RejoiceMinistries.org.  I found the Q&A (under Resources) to be particularly insightful.  Click on the question to receive the answers. Thousands have been helped with this information and encouragement.
"D"—Take Definite Steps.
Spend time in prayer with God and ask Him to reveal what definite and deliberate steps you need to take to grow spiritually, build community, learn more about marriage, and help your children.
Watch your words. Sherry Jennings article "How to Speak Life into Your Dead Marriage!" is helpful and enlightening. Read it! "The tongue has the power of life and death . . ." (Proverbs 18:21).
Consider going to a seminar to learn good marriage skills. We recommend FamilyLife's Weekend to Remember, Art of Marriage, Dr. Gary Chapman's The Five Love Languages, and Dr. Emerson Eggerichs' Love and Respect.
Explore useful websites such as Rejoice Marriage Ministries and Intentionally Yours.
Build a community of support. Find a good church where you can worship. Pray to meet a friend (of the same gender)—or friends—who will support your stand (not everyone will). Get a mentor or prayer partner who will hold you accountable . . . and will encourage you during the tough days of standing (there will be). Also on IntentionallyYours.org you can contact the ministry about their online community "Intentionally Standing".
Help your children by helping yourself first. "The Oxygen Mask" on ExcellentorPraiseworthy.org  was not written for standers, but the concepts are similar and important. Read it and remember that your children will greatly benefit from your spiritual growth in Christ-like behavior. The Spirit-filled life is known by love, joy, peace, patience, kindness, goodness, faithfulness, gentleness, and self-control (Galatians 5:22).S.T.A.N.D. for Your Marriage
Standing for your marriage will require supernatural vigilance. Every aspect of your life will be affected. But don't forget—God is faithful. His promises are true. He is a god of redemption. Standing may be difficult for a season, but with God's help it may produce a legacy of a long-lasting marriage for generations to come. I pray so.
Work Cited:
Thomas, Gary. Sacred Marriage (Grand Rapids: Zondervan Publishing, 2000).
Wheat, Ed. How to Save Your Marriage Alone (Grand Rapids: Zondervan Publishing, 1983).
Websites: IntentionallyYours.com; RejoiceMinistries.org; ExcellentorPraiseworthy.org
Questions to Share:
1. Which of the points made in this devotion was surprising to you? Why?
2. Pray with your spouse for the Lord to increase your love for each other and to remain committed to your marriage vows—even when times are tough (especially when times are tough).
Excellent or Praiseworthy is posted on Monday and Thursday nights.
Why are you in despair, O my soul? And why have you become disturbed within me? Hope in God, for I shall again praise Him for the help of His presence. — Psalm 42:5
Has loneliness during deployment caused you to "talk to yourself"? Do you often feel that no one understands your situation? Perhaps you have experienced that your family . . . . your neighbor. . . . maybe even your spouse does not really understand what you are going through. Well-meaning people may offer a listening ear, but sometimes that just doesn't help!  I think we've all been there.
When you read this verse above, written thousands of years ago, does it sound like the psalmist is talking to himself? Beth Moore, in her teaching from "Wising Up," made that interesting observation.
But now let me take it one step further—does it also sound like he is answering himself?? Read the verse again, and "listen." It seems that the psalmist has diagnosed his despair and realized that the prescription for his sickness of heart is praise of the living God—who knows his situation and offers the cure . . . HOPE.
Examine these verses from the book of Psalms and see if you recognize the same "conversation":
Find rest, O my soul, in God alone; my hope comes from Him. He alone is my rock and my salvation; He is my fortress, I will not be shaken. — Psalm 62:5,6
Praise the LORD, O my soul; all my inmost being, praise His holy name. Praise the LORD, O my soul, and forget not all His benefits. He forgives all my sins and heals all my diseases; He redeems my life from the pit and crowns me with love and compassion. — Psalm 103:1-4
Be at rest once more, O my soul, for the LORD has been good to you. For You, O LORD, have delivered my soul from death, my eyes from tears, my feet from stumbling, that I may walk before the LORD in the land of the living. — Psalm 116:7-9
Praise the LORD. Praise the LORD, O my soul. I will praise the LORD all my life; I will sing praise to my God as long as I live . . . . Blessed is he whose help is the God of Jacob, whose hope is in the LORD his God, the Maker of heaven and earth, the sea, and everything in them—the LORD, who remains faithful forever. — Psalm 146:1,2,5,6
When you find yourself having that "talk" with yourself . . . . maybe complaining about circumstances, maybe "rehearsing" a list of grievances, maybe just crying out in isolation . . . . do you also take the opportunity to grab those thoughts immediately and surrender them to the Lord, offering words of praise instead?  I often need to be reminded of this.
Whether you are all alone, or all alone in a crowd of people, He knows the inner lament of your soul. He is the God who hears. He knows you need hope, and He is the God who gives hope . . . . both for the circumstances of today and for eternity.
For everything that was written in the past was written to teach us, so that through endurance and the encouragement of the Scriptures we might have hope. . . . May the God of hope fill you with all joy and peace as you trust in Him, so that you may overflow with hope by the power of the Holy Spirit." — Romans 15:4,13
Questions to Share:
1. In what circumstances right now have you lost hope? Take a moment to praise God for His presence in your life. "In my distress I called to the LORD; I cried to my God for help. From His temple He heard my voice; my cry came before Him, into His ears." — Psalm 18:6
2. Take a moment to recall one time when God brought you through what seemed to be a hopeless situation. "I cried out to God for help; I cried out to God to hear me. When I was in distress, I sought the Lord; at night I stretched out untiring hands and my soul refused to be comforted . . . . Then I thought, 'To this I will appeal: the years of the right hand of the Most High.' I will remember the deeds of the LORD; yes, I will remember Your miracles of long ago. I will meditate on all Your works and consider all Your mighty deeds." — Psalm 77:1,2,10-12Talking to
Excellent or Praiseworthy is posted on Monday and Thursday nights.
Don't let anyone look down on you because you are young, but set an example for the believers in speech, in life, in love, in faith and in purity. — I Timothy 4:12
My husband and I had two similar conversations recently—one with a young sailor and the other with a young airman. Both are Christians, happily married, and growing in their faith. Both wanted to invite others (neighbors, friends at work) to attend a local marriage seminar our church was sponsoring. Both said the same thing to us, "It seems all of these folks are struggling in their marriages—I hear about it all the time!!—but they won't come to the seminar. They're not interested. They don't want to hear anything about it!!"
And they both asked us, "What do we do?" "We want to offer them help, but it's like they don't care to listen to what we have to say!"
Ever been there? Maybe you are the one frustrated because you have THE answer to marital struggles and no one wants to hear . . . or maybe you were the one who "tuned-out" a similar suggestion in years past because life was just too complicated, or you didn't want to be bothered on a weekend, or you needed a babysitter, or you wanted to go but your spouse didn't, or you thought you would be asked to "air your dirty laundry in front of strangers" or . . . the list of excuses goes on and on.
In both cases, we encouraged our military friends not to give up, but to set a good example especially in their work ethic, their language, and their marriage. They both said they had been doing that, but "it's not making any difference."
We persisted in our encouragement, because this is just too important:
Be patient! One of the advantages of being older is you can look back and see how God worked in your life to bring about change—and often transformation takes time.
Be pure! Another advantage of being older is you can look back and see how God worked in your life to bring about change—and often that takes someone to set a good example.
Be positive! A big advantage of being older is you can look back and see how God worked in your life to bring about change—and often that takes someone to encourage you.
Be in prayer! For them—for yourself. It's probably THE most important thing you can do. A huge advantage of being older is you can look back and see how God worked in your life to bring about change—and to thank Him. And to pray for others to know Him, too.
God is always at work, and He uses us in that work if we are obedient to His direction. Whether we know it or not, people are watching—and listening—and noticing the way we honor each other in our marriage, the way we speak (to everyone), and the attitudes we demonstrate in our jobs.
A week ago, all of this "came home" to our hearts in a very real way. We attended a reunion of our squadron stationed in Europe in the 1970s. We were not Christians then, and said and did some things which we regret. But the reunion was a time to celebrate our friendships through the years—and to reconnect with those whom we had not seen. Life, for all of us, had taken unexpected twists and turns . . . but smiles melted the years away forging bonds of understanding without a word spoken.
I saw a lady whom I had not seen in a very long time. A devout Christian and wife of a former POW, she and her husband had set a godly example for us in ways she had not realized—and I had not voiced. But the Holy Spirit moved me to thank her for her example, and I took the time to enumerate the ways in which we "had been watching" during those years.
As a young wife without much military experience, I watched how she spoke to her husband in public with respect. I knew how they made their decision for off-base housing—with prayer. I learned from her quiet attitude when unscheduled TDYs came up and we all jumped into disgust and complaining—except her. Her countenance was lovely—before I even knew the word "countenance." But I was watching!!
So at the reunion I had the chance to thank her for being patient, for being pure, and for being positive. We connected heart-to-heart . . . and we prayed.
Let me encourage any of you who are struggling with your role in the military—People are watching. And they are listening. And they need the Lord. They need hope. With the Holy Spirit alive and active in your hearts, know that you are making an eternal difference in the lives of others by being light in a dark world.
And God will be glorified.
Questions to Share:
1. Is there someone you remember who modeled Christ-like living to you? Share with your spouse who that was and how they influenced you.
2. If possible, write a note or email to that person. If not possible, thank God for them and pray for them today—that they would continue to lead others in their walk and their talk.
« go back
—
keep looking »