Excellent or Praiseworthy is posted on Monday and Thursday nights.
For physical training is of some value, but godliness has value for all things, holding promise for both the present life and the life to come. — 1 Timothy 4:8

Most of us are familiar with waiting. We probably complain about it. "Not wasting time" is probably high on our New Year's resolution lists. I'm a commercial airline pilot now, but when I was in the Air Force I spent a good amount of time on ground or airborne alert in the A-7 and A-10 Close Air Support business—waiting to scamble on the ground commander's call. So I'm familiar with waiting, and with watching people wait.
I remember one particular time of waiting, over twenty-five years ago. It was the winter of 1986 . . . we were not at war, but the young fighter pilots sitting alert in their A-10s at Suwon Air Base, Republic of Korea, felt differently. It was our job to enforce a cease fire agreement from an armistice that was initiated some thirty-three years prior. We were ordered to wait—to wait for the launch signal that would send us to an area where we had trained, doing what we were prepared to do—but this time under different conditions. It was a dangerous time. But we had to wait for the signal. As we waited, our minds raced, wandered, feared, or angered . . .
It happens to all of us when we wait. Sometimes what starts in our minds can go to feelings—an impression—coming quickly and stealing our awareness of reality, distracting us from what we need to focus on while we wait. You see, there is a huge difference between "waiting" and "wasting time." There is a purpose in waiting, or should be . . . a strategic pause in which the Spirit of God can speak if we will have ears to hear what He would have to say to us. Times of waiting might be fertile opportunities to listen and perhaps to act . . . and as we learn over time how this works in our lives we can call the conditioning effort "Wait Training."
Perhaps you are in a waiting mode right now—waiting to deploy, waiting to return home, waiting for your family to be together again, waiting for a new assignment, waiting for a promotion, waiting for medical reports, waiting for a job offer, waiting for the birth of a baby, waiting for paperwork on a business transaction, maybe even waiting for the long day to end. I'd propose that there are three activities which can train us in the way we should wait, and make our waiting more productive than destructive:
1). Begin with prayer. Center your thoughts on who God is and how you can grow in love by growing in your knowledge of Him, who is Love. Perhaps you have a favorite spot to go to and pray—communicating with God who loves you and has a plan for your life. This contemplative time can bring you to call out to Him in your praise of Him, in your thanksgiving of the many ways in which He has blessed you, in your confession of sin, in your distress and pain, in your hope, in your time of intercession for others. Reading His word and being still in His presence will bring you to that deep communion with Him—and lead you to pray. Even if you don't have a particular place or time to pray, remember that He is always there—always ready to hear you no matter when or whatever circumstance you might be in. Train yourself to pray always: "And pray in the Spirit on all occasions with all kinds of prayers and requests. With this in mind, be alert and always keep on praying for all the saints." (Ephesians 6:18) "Be joyful always, pray continually; give thanks in all circumstances, for this is God's will for you in Christ Jesus." (1 Thessalonians 5:16-18) "Is any one of you in trouble? He should pray." (James 5:13a) "Devote yourselves to prayer, being watchful and thankful." (Colossians 4:2)
2). Work at what He calls you to do. Our faith can grow as we wait if we will do what the old saints would call "doing the next thing." There is a great cycle here—in faith we produce works which are pleasing to Him, which He has prepared in advance for us to do—and in turn that inspires our faith to more expressions of love and worship. It takes stepping out . . . . actively seeking His will in the period of waiting. Perhaps you need to ask just that, "Lord, what is it that You would have me do during this time? I don't want to be frustrated—I want to grow in my knowledge and love of You!" There is no division between our spiritual life and our work life—it's all His! In the military, and on the home front, there are tasks which we are called to do every day. Do them as unto the Lord. "Whatever you do, work at it with all your heart, as working for the Lord, not for men." (Colossians 3:23) Perhaps He is calling you to more training, perhaps to more responsibilities at your work place or church, perhaps you need to be more diligent in your self-discipline to strengthen some weaknesses. Perhaps He wants you to begin a Bible study with others, or perhaps He even wants you to write down your experiences with what He is teaching you in patience and endurance during this time. Laziness can steal time which the Lord would have us to use—even in waiting!
3). Wait (on others). Here is a different definition of "wait," so stay with me! This definition of "wait" is "to attend as a servant." Whom can you serve—or "wait on"—during this time? Watch for opportunities to help someone. Perhaps God has given you this unique time, this Kairos, as a special gift in order to serve someone during their time of need. Perhaps you are the at-home spouse and see the chance to help a neighbor who could use a hand or a listening ear . . . . or you are deployed and can help someone who is overwhelmed in their situation. Serving others, "waiting" on them, is a way in which our Father gets us through our wait training. I see it happen all the time in airports—people who help a young mother with strollers and bags, people who let someone go ahead of them because of their flight connection, people who will change seats in the gate area so that a family can sit together. These acts of kindness do not go unnoticed by our heavenly Father who wants us to use our Chronos time (minutes, hours, days) to serve Him. " . . . whatever you did for one of the least of these brothers of mine, you did for me." (Matthew 25:40)
Perhaps you are one of those who keeps a "countdown calendar" for when your deployment will be over. That can be a hopeful tool, but with a little Wait Training, each day can be more than just an uncomfortable experience, or a square filled in a meaningless picture puzzle, before redeployment and reintegration. Make the Training Circuit . . . . pray, work, and "wait" on others . . . and repeat as many times as necessary! Don't forget: " . . . those who wait on the LORD shall renew their strength; they shall mount up with wings as eagles; they shall run, and not be weary; they shall walk and not faint." (Isaiah 40:31) That's the ultimate result of good Wait Training!
And what about that time back in '86, when our squadron waited? The signal never came—but we were trained, and we were ready if needed. So there's the question to spur us on—are you trained to wait (pray, work, "wait"), ready for this unique (and perhaps difficult) time to be all that the Lord wants it to be?
I wait for the LORD, my soul waits, and in His word I put my hope. — Psalm 130:5
But you must return to your God; maintain love and justice, and wait for your God always. — Hosea 12:6
But as for me, I watch in hope for the LORD, I wait for God my Savior; my God will hear me. — Micah 7:7
Yet the LORD longs to be gracious to you; He rises to show you compassion. For the LORD is a God of justice. Blessed are all who wait for Him! — Isaiah 30:18
I waited patiently for the LORD; He turned to me and heard my cry. He lifted me out of the slimy pit, out of the mud and mire; He set my feet on a rock and gave me a firm place to stand. He put a new song in my mouth, a hymn of praise to our God. Many will see and fear and put their trust in the LORD. — Psalm 40:1-3
Questions to Share:
1. Is there a time that you can remember in which you had to wait—and God revealed something that you would not have learned otherwise? What did you learn?
2. What are you waiting for right now? What is God teaching you during this time?
3. Make sure you pray for guidance, work at your God-given tasks, and watch for how you can serve others.
Excellent or Praiseworthy is posted on Monday and Thursday nights.
I urge, then, first of all, that requests, prayers, intercession and thanksgiving be made for everyone—for kings and all those in authority, that we may live peaceful and quiet lives in all godliness and holiness. This is good, and pleases God our Savior, who wants all men to be saved and to come to a knowledge of the truth. — 1 Timothy 2:2
Growing up in Minnesota in the 1950s, February always meant two days off from school because of Abraham Lincoln's birthday on February 12th and the celebration of George Washington's birthday on February 22nd.  But sometime in the late 1960s or early 1970s dates shifted—and what I had experienced as two "for-sure" days off became one "iffy" day off on a Monday—to celebrate "Presidents' Day."
Back then I guessed that the purpose was to create a three-day weekend, which we enjoy, and to merge two celebrations of presidential birthdays into one grand holiday (especially for retailers to use in marketing). I have only recently found that there is much confusion over the origin of this "federal holiday" and that it is actually more closely linked to Washington's birthday than Lincoln's. Just reading about the history of this day left me confused, and our states seem to be equally confused. So whether it is Presidents' Day, or President's Day, or Presidents Day . . . . and whether or not schools in your area will be out that day . . . . and whether or not it is a holiday for you . . . . the fact remains that Abraham Lincoln and George Washington were two of our greatest presidents!
Perhaps you like to read biographies as I do. Years ago, when Elisabeth Elliott's radio program "Gateway to Joy" was still on the air, I remember her encouraging mothers to make sure that their children read biographies of missionaries! Her own study of Amy Carmichael led her to write such a biography, and I have often reflected on her emphasis of this opportunity to draw on lessons learned from the lives of saints. John Piper is another great teacher who challenges us to look into the lives of those in the past and states in his sermon, "Brothers, Read Christian Biography": "Biographies have served as much as any other human force in my life to overcome the inertia of mediocrity." (DesiringGod.org)
So, because I enjoy reading biographies, on this Presidents' Day it should not surprise you that I would want to look a bit at Abraham Lincoln and George Washington—and especially at the role of their marriages in their presidencies. They stand at sharp contrast to one another in terms of the personalities of their wives and the harmony in their households.
Gary Thomas has chosen to write about Lincoln's marriage in the chapter "Sacred Struggle" from his great book, Sacred Marriage. This should be a hint that domestic tranquility was not the norm in the Lincoln household, for many reasons. But Thomas sees a divine purpose amidst this struggle, and writes, "The connection one can make between Lincoln's marriage and his mission is not difficult. It is easy to see how a man who might quit on a difficult marriage would not have the character to hold together a crumbling nation. Lincoln was virtually obsessed with saving the Union; what better training ground than the difficult marriage that required such tenacity from him? It's important to see that not only did Lincoln's difficult marriage not deter him from achieving greatness, one might argue that it actually helped prepare him for greatness. Lincoln's character was tested and refined on a daily basis so that when the true test came, he was able to stand strong. Had Lincoln been obsessed with happiness, he wouldn't have mustered the strength to put up with Mary or to hold the nation together. He sensed a call to destiny, something that would in his mind supersede personal comfort, and his obedience to that destiny made world history." (Sacred Marriage, p. 136-37).
In contrast, George Washington found in Martha an affable and complementary mate, one in whom he could write on June 23, 1775, "I retain an unalterable affection for you, which neither time or distance can change." (MountVernon.org) The feeling was mutual, and one of his generals once described Martha as, "a modest and respectable person, who loves her husband madly." (Battlefields & Blessings, p. 140) Martha burned most of the letters which she and George wrote to each other, so there is little to study about their close relationship. But her willingness to share in the demands of his life both during the Revolutionary War and during the responsibilities of his political office speak to her devotion to her husband, to their marriage, and to the national cause.
So what does any of this have to say to us during deployments? I might be stretching things a bit, but I see two connections that we can make by pausing to look at these presidents and their marriages. One is that some things just don't change—countries at war call on the best from leaders. Washington and Lincoln gave us their all during pivotal times in our nation's history. What their marriages allowed them to learn or enjoy was providentially used by God to prepare them for the necessary tasks at hand. If you have visited Washington, D.C. you have seen monuments to these two amazing presidents with their words etched in stone . . . . words which were lived out in the founding and growth of this great nation—not without cost.
But secondly, in terms of practical application, how do you view your present leadership—perhaps in your unit, your post, your squadron, your ship? Do you pray for these leaders—for their marriages? Can you understand that their personal lives will perhaps affect their ability to lead during stressful times in this war? And taking it to a broader perspective, what about the leadership in your church, or in our nation? How can you encourage your pastor or chaplain to keep a good balance between the demands of the church or chapel and the priorities of the home? Reading the challenge given by Paul to young Timothy, we are reminded of the priority of his instruction: "I urge, then, first of all, that requests, prayers, intercession and thanksgiving be made for everyone—for kings and all those in authority, that we may live peaceful and quiet lives in all godliness and holiness." (1Timothy 2:2) Notice the link between our prayers for leadership and the effect on our lives. And if you know the context of this writing, you know that Paul wrote during a time of great suffering and persecution.
I have heard it said that it's very difficult to complain about someone for whom you are praying. Pray for your leaders . . . . whether they be military leaders, corporate leaders, church leaders, or political leaders. They are in authority because God has placed them there. Washington and Lincoln were men of integrity, raised up by God to serve us in our time of need. They were real men, with real lives and real struggles. And so it is today, and so we must pray. Some things just don't change . . . . and so we must pray.
Good leadership is a channel of water controlled by God; he directs it to whatever ends he chooses. — Proverbs 21:1 The Message
Questions to Share:
1. What are two challenges which Washington and Lincoln both faced during their presidencies?
2. How can you pray with your spouse for leaders today?
Work cited:
Cook, Jane Hampton, Battlefields & Blessings: Stories of Faith and Courage from The Revolutionary War (Chattanooga: Living Ink Books, 2007)
Thomas, Gary, Sacred Marriage (Grand Rapids: Zondervan, 2000).
Excellent or Praiseworthy is posted on Monday and Thursday nights.
"No discipline seems pleasant at the time, but painful. Later on, however, it produces a harvest of righteousness and peace for those who have been trained by it." — Hebrews 12:11
The story of Joseph in the Old Testament is one of jealousy and betrayal—and the goodness and sovereignty of God. At age seventeen, Joseph's brothers sell him to Midianite merchants who take him to Egypt where he is then sold to Potiphar, one of Pharoah's officials. Because of a false accusation by Potiphar's wife, Joseph is put into prison. In Genesis 39:20b-22 Scripture records, "But while Joseph was there in the prison, the LORD was with him; He showed him kindness and granted him favor in the eyes of the prison warden. So the warden put Joseph in charge of all those held in the prison, and he was made responsible for all that was done there."
Through the providence of God, Pharaoh releases Joseph from prison after many years of confinement and puts him in charge of the whole land of Egypt. (This is just a brief summary of a great story–please read it!) Because of Joseph's Spirit-led wisdom and discernment, at age thirty he is able to lead Egypt to prepare during times of abundant harvest for a coming time of famine. This widespread famine eventually forces Joseph's brothers to travel from Canaan in order to buy food—not realizing that the high-ranking official they meet in Egypt is their brother Joseph, whom they had sold into slavery. Perhaps you know how the story unfolds. . . .with the Israelites moving to Egypt and eventually returning to their promised land in the book of Exodus, led by Moses.
What did Joseph learn during his time in prison as someone unjustly accused? What must have seemed to me like frustration and loneliness really was a school for patience, leadership skills, business principles, perspective, peace, mercy, endurance, perseverance, self-control, and forgiveness. In other words, character. At the end of Genesis, we hear Joseph speak to his brothers the great words, "You intended to harm me, but God intended it for good to accomplish what is now being done, the saving of many lives." (Genesis 50:20) What grace!
I recently watched the 1980s movie "The Karate Kid" and was impressed by the period of training that the aspiring young man, Daniel, went through with Mr. Miyagi. If you have seen the movie, you know that Mr. Miyagi promises to teach Daniel karate, and in turn Daniel promises to do what Mr. Miyagi says—no questions. Then begins a strenuous time for Daniel of polishing Mr. Miyagi's cars ("wax on, wax off"), sanding his deck flooring ("sand the floor"), painting the fenced-in perimeter of his yard ("up. . . down") and painting his house ("side to side"). What seems to Daniel to be just manual labor is really a time of training his muscles for the elements of karate—but he does not see it as that. In one particular scene, Daniel erupts in anger accusing Mr. Miyagi of just getting his property improved through his hard work. Mr. Miyagi immediately puts him through the first paces of "putting it all together"—revealing to Daniel that he has been learning the hand movements of karate all along, without realizing it. Fast forward to the end of the movie (after much more training) and Daniel wins the karate tournament, earning the respect of those who had originally tried to harm him.
What is God training you for during this deployment? Does it feel like loneliness and frustration? Does it feel like so much "wax on, wax off"(mission preparations?). . . . . "sand the floor" (take care of the kids?). . . . "up, down" (pay the bills?). . . . "side to side" (month after month?). . . .and in the midst of all of that you cannot see what God is doing? Is it only when it is over that you can look back and see how God is putting it all together—and you have learned patience, grace, wisdom, discernment, perspective, endurance, self-control, perhaps forgiveness . . . in other words, character?
And is it possible to have hope for the future because of the opportunity you've been given to grow in character—if you can understand and have "eyes to see"? Paul writes in Romans 5:3-5: "we also rejoice in our sufferings, because we know that suffering produces perseverance; perseverance, character; and character, hope. And hope does not disappoint us, because God has poured out His love into our hearts by the Holy Spirit, whom He has given us."
I heard an Air Force fighter pilot once speak on the similarities between military training and spiritual training. His three points were: 1) they both require discipline and focus; 2) they both require repetition and practice; 3) they both are a "race" and not a "sprint."
What this military pilot knew, what Mr. Miyagi taught Daniel, and what Joseph learned in prison was that focus. . . that faith-perspective which gives us hope in the midst of the "training" God is putting us through. . . is key to endurance. The great warrior-king David wrote in Psalm 141, "My eyes are fixed on you, O Sovereign LORD." May we all have thankful eyes to see what God is doing in our lives, even now. What looks like months of painful testing during deployment may actually bring a harvest of righteousness if we allow ourselves to be "trained by it."
Questions to share:
1. During this deployment, can you see God working in you to develop new character traits?
2. What every-day training is He using to cause you to endure?
Excellent or Praiseworthy is posted on Monday and Thursday nights.
"Love bears all things, believes all things, hopes all things, endures all things. . . . Love never fails." — 1 Corinthians 13:7,8
Editor's Note:  This devotion was originally posted on February 14, 2008.
Because we are approaching Valentine's Day, which has its challenges and opportunities during deployment, I want to share with you a tender (yet powerful) story of a young Christian couple who kept their marriage strong and vibrant during World War II. Married for two days, they were separated by active duty for three and a half years (he on the front lines in Germany and she serving in the Pacific, in Papua New Guinea). When I met them in 1990, they had been married for almost fifty years. They went on, from that point, to live and love together another 10 years before he passed away. Recently I sat down with Louise, now living with her daughter and son-in-law, and recorded her story.
Louise and Eugene met while attending classes at Gardner-Webb College in North Carolina in 1940. . . . and Louise is quick to say that what attracted her to Eugene was that he was a good Christian and he always treated her like a lady.
But after two years of dating he was drafted, and it wasn't long before he found out that he was going to be assigned overseas. Unbeknownst to Eugene, Louise had also decided to join the Army through the prompting of her brother. When Eugene found out that Louise had enlisted, he said that he thought it was a good idea. "I'll know where you are and you'll know where I am," he said. Then over the phone from Delaware he asked if he could come down to where she was training at Ft. Stewart and "get married before I leave." She said yes, as did her father and her commanding officer. They were married, both in uniform, in Savannah, Georgia, in January of 1942. Two days later he left for training to prepare for Germany. They did not see one another until the war ended in 1945.
Intrigued by her courageous story, I had to ask several key questions that evening:
Knowing that your husband was in combat every day, how would you pray for him?
Louise answered, "I would just turn him over to the Lord. I told Him that I couldn't do anything but He could do it all."
She added a story of witnessing to her bunk-mate, "Well, I had my Bible with me, and my bunk-mate from New York. . . she asked me one night 'Louise, what are you reading?' And I said, 'My Bible.' Then she said, 'Why are you reading?' And I said, 'Because I like to and I get my strength from the Lord'. . . . . . . .I had to explain everything from beginning to end how I became a Christian. She said, 'Louise can I see your Bible? I want to read it.'" Louise told her that the next time they would go to the PX she would see if they had a small pocket Bible. "So I bought her one. And when I would read, she would read."
How would you and Eugene communicate with each other?
"He would write when he could, and I would write every night." Louise told me that during one spell, she didn't hear from Eugene for two months — and she had to go to her commanding officer to begin an investigation to try and find out what had happened. Turns out he, and others, were being hidden by a Belgium family after they were separated from their unit during the fighting in Bastogne. Louise heard from him again when he returned to his unit. Eugene and she stayed in touch with that brave family even after the war.
Did he ever talk about the war after he got home?
"A little bit, but not too much. He wouldn't. . . He was mum on a lot of stuff. Whether he wanted to forget. . . .I don't know. . . .So I just let him talk when he wanted to. . . . In the summer time, if it came a thunder cloud, I would have to put him in a car and go to ride. He thought it was guns shooting. It took him a good while to get over that, but he did."
When you would write a letter to him in Germany, when would he get it?
"Sometimes it would be a couple of months. . .sometimes the mail would be slow because it would go over on a ship."
Did you ever get lonely?
"Oh, more times than I had fingers and toes."
How did you get through that?
"Prayer. Reading the Bible. I'd pray and I'd read, and I'd pray and I'd read. I'd get through. And he had his Bible. . . . .he would write about how he would ask the Lord to guide him. One time he asked me where I was reading in the Bible and when I answered him I told him. And he wrote back that he was reading up with me."
So you kinda' read through the Bible together?
"Yes. He read mostly in the New Testament and he would tell me where he was reading and that way we could keep up with each other."
Did you ever think, "This is too hard. I don't know if I can make it?"
"No. I was totally committed. . . .to my job, to my commanding officer, and to my husband. And I knew he was like me. I never doubted him."
What would you have to say to these service members and their spouses today?
"If they'll trust in the Lord. . . .if they'll put Him first. . . they've got to put Him first before themselves and trust Him and He will take care of them. But they've got to believe. Commitment is the main thing. Be committed to your husbands. . . and husbands, be committed to your wives. It's a two-way street."
Louise was not in New Guinea during that entire time of their wartime separation, as she was called home in 1944 because her father was dying. The Red Cross helped get her back home to be with him before he died. Arriving back in the States, she was discharged at Ft. Bragg. She hurried home to her father's bedside. At that point, however, he was in a coma—and she is not sure if he ever knew she was there. After that she stayed with her mother and alternated with visits to her in-laws until Eugene came home a year and a half later. She describes his homecoming, "My mother-in-law was sweeping the back porch. And we heard an awful commotion with her hollering (we thought she had fallen), so we ran out to see what was wrong. . . . .and there stood my husband!"
Married two days, and separated by war for three and a half years with letters as their only means of communication. Perhaps you know a couple like this. Perhaps your grand-parents lived this. Perhaps you have a similar story, as the cycle of deployments has become so stressful throughout the years.
Where do you turn?  Try turning, like Louise, to prayer and your Bible.
"May the Lord direct your hearts into God's love and Christ's perseverance." — 2 Thessalonians 3:5
Questions to share:
1. Do stories like this give you greater confidence in your marriage? How?
2. Can you use your circumstances to witness to someone close by — like Louise did with her bunk-mate?
Excellent or Praiseworthy is posted on Monday and Thursday nights.
"Haven't you read," He replied, "that at the beginning the Creator 'made them male and female,' and said, 'For this reason a man will leave his father and mother and be united to his wife, and the two will become one flesh'? So they are no longer two, but one. Therefore what God has joined together, let man not separate." — Matthew 19:4-6
It is not unusual to discover magazines and newspapers with advice for romance and marriage-building in anticipation of Valentine's Day. Lately I have been pleased to notice how this secular advice has lined up with advice shared in Christian communities. That's because it works!
I recently read a newspaper article espousing marriage-enriching habits of holding hands, having regular date nights, going to bed at the same time . . . and thought, "That's exactly what Jim and Barbara would advise!"
Jim and Barbara Grunseth have been teaching and counseling couples for years. Their advice is sound, biblical, and practical. So I decided to get out my dog-eared and well-worn copy of one of their books, Remember the Rowboats: Anchor your Marriage to Christ, to share some of their timeless advice. You won't find these points in newsstand copy, but you will find them encouraging and helpful—and true:
In this particular book they speak of "Seven Ropes to Tie Two Boats"—as if you and your spouse are two rowboats and you don't want to drift apart:
"In addition to the essential requirement of the Lord Jesus being the faithful, strong Anchor of your marriage, Barbara and I want to get real practical with you. Couples that come in for biblical counseling have none of the following seven ropes tying their two rowboats together. To keep from drifting, you need the seven ropes that will tie your two rowboats tightly together. Couples with teachable and humble hearts that tie their marriage with these seven ropes do not break up. They have disciplined themselves in obedient surrender to the Lord Jesus Christ. They have chosen to hold fast together and let nothing get in between them. Nothing!" (p. 65)
What are these seven ropes? Let me summarize from their writing:
1. "First Rope—Hold Hands Everywhere"
The Grunseths add: "Some people think this concept is shallow and silly. It does not matter what they think. It works! . . . When you hold hands, you are telling the world: you are in love; God was right in bringing you two together; you are fulfilling God's plan by filling each other's gaps (hands clasped together); you need each other's strengths and weaknesses; you want to honor God by your commitment to each other." (p. 66)
When you are together again after this deployment, consider holding hands everywhere you go!
2. "Second Rope—Same Bed Time"
"Remember if the devil has a middle name it would probably be 'isolation'. Going to bed together at the same time promotes oneness, togetherness, and marital love." (p. 67)
But you say—"we're in the military and experiencing deployment right now . . . so how in the world do we go to bed at the same time????" Of course this is a legitimate question—and getting creative with "staying connected even though worlds apart" is a challenge military couples must face.
One Guardsman currently serving in Afghanistan shared with us that he Skypes with his children before they go to bed—reading from the Bible and praying with them. Then, after they are in bed, he Skypes again with his wife—reading from the Bible and praying with her. This takes intentionality, especially with the time difference. Obviously not all of you can do this—perhaps very few. We understand that. Internet availability, band-width challenges—not to mention mission demands are real. But keeping up some form of communication, if possible, can bring about a spiritual intimacy which can help a couple bridge the distance while apart. Check out other devotions on Excellent or Praiseworthy for ideas.
3. "Third Rope—Cuddle Pray at Bedtime"
The Grunseths are big on this—a couple holding each other and praying together at the end of the day, at bedtime. My husband and I hold each other and pray together in bed first thing in the morning. Some couples do both—morning and night. Some couples kneel in prayer by their bed at night. The key word is together. They write, "In Christian marriage, the most important level of intimacy is your prayer life with God and your mate." (p. 68)
Again—how do you do this if deployed? I believe the best way is to ask each other, when you can, "How can I pray for you today?" And then do it—yes, pray out loud on the phone, or write out a prayer on email or text. Or pick out a time each day when you have agreed to pray for each other—if possible. And during reintegration this is especially important. A couple reuniting after many months apart needs to connect physically, emotionally, and spiritually. Prayer can bridge a chasm which has been created by this time away from each other. As simple or difficult as these suggestions may sound, God honors and answers prayer.
4. "Fourth Rope—Insist on the Weekly Date"
Time together alone is special time. Dedicating time together in your busy schedule can be difficult, but it may also spare you from becoming so "schedule oriented" or "child-centered" that you neglect each other. Jim and Barbara recommend a weekly date to renew and refresh your relationship. It might just be 15 minutes alone—away from the house, if possible. But together in a special place.
If deployed, this is going to be difficult, but not impossible. Be creative and think of ways you can open a care package "together" by Skype; write each other describing a favorite date; plan dates when you will be back together; spend Facetime together—some couples even watch movies "together". Something that says to the other, "You're special. I love you."
5. "Fifth Rope—Return Blessings"
When conflict arises, and it will, Scripture is very clear that we are to return insults with blessings (I Peter 3:8,9). Easier said than done. Jim and Barbara write, "The worst thing a couple can do is leave conflicts unresolved. Decide right now that no sun will ever set on your unresolved conflicts and anger. . . As soon as God convicts you (gets through your tough hide of pride), do three things: pursue the offended person; admit your failure; request their forgiveness." (p. 75)
It is very easy for misunderstandings to arise with email, Facebook, texting, and cell phone conversations during deployment. Be careful. Make sure you are clear in your communication and always seek to compliment and encourage each other. Deployment is difficult for both of you!  Make sure you speak kindly towards each other!  And if you need to apologize, do it sooner rather than later.
6. "Sixth Rope—Establish Talk Times"
The Grunseths describe in their book one busy couple with twelve children who demonstrated this discipline very well. They even lit a candle each evening and set it between them to signal to the children that this was special "Mom and Dad" time. "This husband and wife just took turns sharing their High Point and then their Low Point of the day respectively. While the one was sharing, the other just listened and comforted and affirmed. They did not try to fix one another or correct one another. They just loved through quiet, tender listening." (p. 76)
Can you do this while deployed? When you have the chance to listen to your spouse, just listen. Ask good questions, comfort, affirm.
7. "Seventh Rope—Serve in Church Together"
Here is what the Grunseths suggest: "Remember, if God has you married, then He intends to shine His truth and love to others through the oneness and togetherness of your marriage. Barbara and I encourage you, if possible, to not just go to church together, but also to serve together. We know in some cases this will be difficult but we find it a great way to be together and to be a witness as a team. We recommend you serve God together just like you should take vacations together and sleep in the same bed together. . . We know there are exceptions but we believe you should strive to serve together." (p. 78) A deployed service member can maintain accountability with his/her church and thus stay "connected" while serving overseas. Also one can pray for the church—and keep in close touch with the congregation's prayer concerns.
We believe military couples are the most resilient and strongest couples in the world. Your commitment to mission—and to each other—is demonstrated in sacrificial ways each day. The recitation of these "ropes" is meant to encourage you to grow in commitment to your spouse—and to bring glory to God as you live out the Gospel in the context of covenant marriage.
Jim and Barbara close this section in their book with this blessing, "We trust that God will bless you as you implement these ropes into your marriage." (p. 79)
Work Cited:
Grunseth, Jim and Barbara, Remember the Rowboats: Anchor your Marriage to Christ (Minneapolis: River City Press, Inc., 2008).
Go to MarriageAnchors.com for free book downloads. The Grunseths want to share!
Questions to Share:
1. Do any of these 7 "ropes" surprise you?  Which ones?  Share with your spouse how you can implement one or more even while deployed.
2. Have you known a married couple who has grown in their love and commitment through the years of military service?  If you can, share this devotion with them and ask how they have seen the benefit of any of these "ropes".
Excellent or Praiseworthy is posted on Monday and Thursday nights.
"But when the Holy Spirit comes upon you, you will be filled with power, and you will be witnesses for Me in Jerusalem, in all of Judea and Samaria, and to the ends of the earth."  —  Acts 1:8
During World War II the Germans became suspicious of the improved effectiveness of British pilots, especially at night. The British had a secret that made them so much more powerful than the German pilots – a secret that they covered for a time by leaking false information that they were feeding their pilots carrots in order to see better in the dark. Their secret was a newly-developed system called radar. Radar helped pilots accurately find their targets and navigate through hazards. Once people understood how effective radar was, no one wanted to fly without it. Today it is so common place that we no longer think about how much radar is used.
Christians have their own not-so-secret weapon to help us navigate through hazards and stay on target – the Holy Spirit.Upon conversion, when we are born-again, the Holy Spirit is given to us—a gift. Unlike radar, He's way smarter than us and there's no limit to how far ahead He can see. Like radar, He is an essential element of our protection and if we choose to live our lives without His help, we are putting ourselves at risk. Unfortunately, like radar, we can ignore Him, which in effect switches Him off for us and we lose the benefit of having Him.
As a husband, father, and a member of the military, I have personally learned over time how important it is to tap into the power of the Holy Spirit. He is the prompt in my head when I am walking into trouble and need to turn the other way. He guides me in how to love and lead my wife and children. He is my battle buddy when I'm away from home and no one else is around – when I need someone to talk to, to keep me company, and to keep me accountable. He is the conduit through whom God channels His power for me to do the things I need to do at the times when I don't have the strength to do them myself.
That can sound a bit fluffy or spooky if you haven't come to the same conclusions I have. I'm a conservative person and a skeptic by nature, so this reliance on the third person of the Trinity—the Holy Spirit, hasn't come naturally for me. It has come through God's patience and teaching through experience. I found myself in places where I really needed help, not just for me but also so that I could be the spouse and parent I needed to be. I needed help to overcome my own bad habits, help to keep going when I felt defeated by life, and help to choose wisely when things were confused.
I found that I could ask the Holy Spirit to fill me (meaning that I wanted Him to take control of my actions, words, and thoughts) and amazing things would happen. Not spooky or strange things, but real things in my life. I found that my behavior improved through no effort of mine other than asking the Holy Spirit to help me out. I found that my prayer was more effective in that I would ask for things and answers would come – not in a flood, but enough that I noticed things were happening. As I relied more on the Holy Spirit, regularly confessed sin to Him and handed issues over to Him, I saw God work in my marriage and my family more and more. Reliance on the Holy Spirit was no longer "fluffy", it was just good common sense to use the power God offered me.
Jesus was speaking in Acts 1:8, telling His followers that the Holy Spirit would fill them with power and that power would transform their lives and the lives of others. To be an effective witness for Jesus, even in our own homes, it's important to have our lives together. Not perfect, but together. I don't know about you, but the whole reason why I trusted Christ with my life in the first place was because I can't get my life together on my own. I needed His forgiveness and His atonement for my sin. If Jesus suggests I should tap into the power of the Holy Spirit to be a good witness to my wife, to my children, to my fellow military personnel, to my community and to the ends of the earth, that's good enough for me.
Let me encourage you to not struggle through life with your radar off. Talk to the Holy Spirit every day.  Ask Him to take control of your marriage, your family and your life—and see what God's power can do.
Questions to share:
1. As a Christian, how would you say things are going for you in your marriage, your family or life in general? Are you defeated, stalled or winning?
2. If you're defeated or stalled, chances are you need to ask the Holy Spirit to take control. What stops you from doing that?
3. Pray and ask God to help you understand the Holy Spirit's purpose and to help you draw daily on His power in your marriage, family and life.
Excellent or Praiseworthy is posted on Monday and Thursday nights.
O LORD, You have searched me and You know me. You know when I sit and when I rise; You perceive my thoughts from afar. You discern my going out and my lying down; You are familiar with all my ways. Before a word is on my tongue You know it completely, O LORD. You hem me in—behind and before; You have laid Your hand upon me. Such knowledge is too wonderful for me, too lofty for me to attain. — Psalm 139:1-6
I really enjoy a good movie. I find that there are movie clips and movie quips which stick with me because they make a strong point—a point that is transferable in its application. One such cinematic moment which has remained with me through the years is from "You've Got Mail," starring Tom Hanks and Meg Ryan.
In the movie Hanks is a successful businessman, owning a chain of large book stores. When one of his "Fox Books" opens up around the corner from Meg Ryan's small children's book store (started by her mother), it sadly causes her store to lose clientele to the "mega" store—complete with a coffee shop and cheaper prices. Eventually she is forced to close "The Shop Around the Corner." The redemptive part of the movie is that Hanks and Ryan begin to work through their adversarial business relationship, and eventually fall in love. But during the tense days of their "friendship" he tries time and again to tell her that putting her out of business was just that—business—it wasn't "personal." Her confrontational come-back was, "What is that supposed to mean? . . . . All that means is that it wasn't personal to you. But it was personal to me. It's personal to a lot of people. What is so wrong with being personal anyway? Because whatever else anything is it ought to begin by being personal!"
That line has stuck with me, because I find it to be true. I love that my Savior is my personal Savior. I love that His word, the Bible, speaks directly to my heart— a "love letter" written personally to me. And I love that at the end of Paul's letters he gets very personal, too, and sends greetings to those who have helped him and served alongside him. For example, in the final chapter of Romans we find this very personal expression of gratitude, "Greet Priscilla and Aquila, my fellow workers in Christ Jesus. They risked their lives for me. Not only I but all the churches of the Gentiles are grateful to them. Greet also the church that meets at their house." (Romans 16:3-5) That's personal. . . .as Paul thanks his fellow saints for saving his life!
What does this have to do with deployment? Well, when I was recently reading from Battlefields & Blessings: Stories of Faith and Courage from the War in Iraq & Afghanistan, I came to the devotional for July 9th, entitled "Our Story." It was submitted by Stephanie Olsen, the wife of military police officer Joe Olsen. The Olsens were married for four weeks before he left for 18 months of service in Iraq as a National Guardsman, returning in July of 2004.
Stephanie wrote: "Many people ask me how it feels to be the wife of a former serviceman. I can sum it up in one word: personal. It's very personal because it's now our story, our sacrifice, our time lost. Joe's deployment to Iraq directly affected who we were and who we are today. Surviving the experience for Joe (physically and emotionally), and for me (psychologically and emotionally), taught us that living out our vows was overwhelmingly important and real. In good times and bad—I was his wife, and he was my husband. We held it together even though we were apart. . . . We stayed true to each other even in a long separation. Through every trial. Overcoming all obstacles. This is our story. Our legacy. Our history. It is who we are." (p. 246-247)
"It's personal." I was staggered by Stephanie's choice of words to describe their experience in the military during wartime. With that one word she expressed their past together ("Our history"), their present ("our story") and the impact for their future ("Our legacy").
We serve a personal God—one who loves us so much that He sent His only Son to die for our sins. We are redeemed. . . . we are rescued. I am redeemed. . . . I am rescued. And because of that I can go to Scripture and read these verses and know that they apply to me and anyone who knows Jesus as Lord and Savior:
His love is personal: The LORD is compassionate and gracious, slow to anger, abounding in love. — Psalm 103:8
His provision is personal: The LORD is my shepherd, I shall lack nothing. — Psalm 23:1
His guidance is personal: Trust in the LORD with all your heart and lean not on your own understanding; in all your ways acknowledge Him, and He will make your paths straight. — Proverbs 3:5,6
His salvation is personal: That if you confess with your mouth, 'Jesus is Lord,' and believe in your heart that God raised Him from the dead, you will be saved. For it is with your heart that you believe and are justified, and it is with your mouth that you confess and are saved. — Romans 10:9,10
His comfort is personal: Praise be to the God and Father of our Lord Jesus Christ, the Father of compassion and the God of all comfort, who comforts us in all our troubles, so that we can comfort those in any trouble with the comfort we ourselves have received from God. — 2 Corinthians 1:3
His grace is personal: For it is by grace you have been saved, through faith—and this not from yourselves, it is the gift of God—not by works, so that no one can boast. — Ephesians 2:8,9
His peace is personal: Peace I leave with you; My peace I give you. I do not give to you as the world gives. Do not let your hearts be troubled and do not be afraid. — John 14:27
Stephanie Olsen wrote in another devotional entry: "In the darkest, hardest, and most unsure moments (of deployment), God was there. In the frustrations He was there. In the uncertainty He was there. And I lived through it because He was there." (p. 246)
God is there. . . . for you and for me. It's personal.
Work cited:
Cook, Jane Hampton, and Jocelyn Green and John Croushorn, Battlefields & Blessings: Stories of Faith and Courage from The War In Iraq & Afghanistan (Chattanooga: God & Country Press, 2009).
Questions to Share:
Read the Scriptures above. Which promise do you most need to hear and remember right now? Why?
If you do not know God: go to "How to Know God Personally".  He wants to have a close relationship with you.
Excellent or Praiseworthy is posted on Monday and Thursday nights.
Whatever you do, work at it with all your heart, as working for the Lord, not for men, since you know that you will receive an inheritance from the Lord as a reward. It is the Lord Christ you are serving.
—Colossians 3:23,24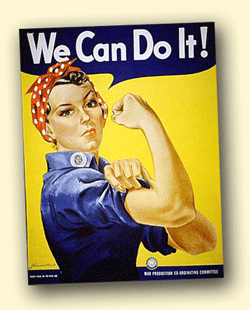 Years ago I knew a "Rosie the Riveter." She was my husband's grandmother, now deceased, who had proudly and courageously served during World War II in a factory which manufactured aircraft near Dallas/Ft. Worth. Her life was very difficult—she was a widow whose oldest son had enlisted in the Army, leaving her with the need for a decent income in order to care for her daughter during the years of rationing and national sacrifices.
Jobs were plentiful then for women who were willing to work in factories—not a common job for mothers in the years prior to WWII. But with so many men off at war it became necessary for companies to look to American women to fill the vacancies. Conditions were tough and the pay was not always equal to what the men had made. . . .but for many it was their patriotism which kept them going until their husbands and sons returned home to once again fill labor pools throughout the land.
Some say that the work force has never been the same—that the entrance of women into traditionally male-dominated jobs brought lasting changes with the attitude of "We Can Do It!" displayed in this 1942 poster. No doubt this poster, and others like it, accomplished the purpose of recruiting large numbers—as many as 11 million—women to work on assembly lines so vital to our national defense.
The woman depicted in this "Rosie the Riveter" iconic wartime poster, Geraldine Hoff Doyle, died on December 26, 2010, in Michigan at the age of 86. Her obituary ran in newspapers across the U.S., catching my attention because of the familiarity of the poster in military memorabilia. Geraldine's (Rosie is a fictitious name) bandana-wearing image was made famous by a United Press photographer at a Lansing, Michigan, factory where she worked for a brief time early in the war. Her picture was then used by an artist hired by the Westinghouse Company's War Production Coordinating Committee in order to create posters for the war effort. She married Dr. Leo Doyle in 1943 and worked in his dental office, while raising their six children, until she was 75 years old. To me she represents many hard-working women who rallied behind their nation and their families to do what was needed during a difficult time in our history.
Isn't that what families do? Today we see spouses courageously caring for their children during extended times of wartime separation from their military loved ones, filling in the gaps with faithful attention. We see grandparents caring for young children because both active-duty parents are deployed. We see Guardsmen and Reservists leaving behind good jobs to fulfill an obligation with distinction. We see husbands and wives sacrificing precious years because they believe in the cause of freedom for nations which could never gain it on their own—and who believe that our beloved country must be protected from an enemy which few understand. While not all across our land realize the legacy of shared sacrifice, veterans and their families can all speak to the importance of the values of duty, honor and country.
Families in every war have sacrificed, and certainly that is true in this global war on terror. Keeping "hope on the home front" in order to preserve our national unity and purpose is a familiar calling in our military community. As we begin 2017, we thank God for each and every one of you who is serving sacrificially in ways we will never know.
You are heroes.
Work Cited:
McLellan, Dennis, "Geraldine Hoff Doyle (1924-2010) Reportedly Inspired Famous Wartime Poster," Daily Press, December 31, 2010.
"Rosie the Riveter" found on wikikpedia.org
Questions to Share:
1. What sacrifices have veterans in your family made in years before your current military service?
2. What legacy would you like to leave for future generations in terms of your military service?
Excellent or Praiseworthy is posted on Monday and Thursday nights.
"The Lord is king. He is clothed with majesty and strength. The earth is set firmly in place and cannot be moved… The Lord rules supreme in heaven, greater than the roar of the ocean, more powerful than the waves of the sea…" —Psalms 93:1 and 4
When I was in Afghanistan I took a couple of long drives to other camps and was always wary of what could happen on those drives. We did a lot of preparation to make sure the risks were reduced to a minimum. One time I had a forward air controller with me, someone who could call for help from the Air Force if we needed it. It was amazing how much more relaxed I was knowing that if someone did give us trouble, some serious firepower would turn up quickly in order to help us out. That is why I like Psalm 93 so much — it reminds me that we have some serious firepower backing us up all the time.
It's a pretty simple Psalm that declares God's Lordship over everything and everywhere, and tells us that He is more powerful than anything else we can imagine. The writer says that "The Lord is King" and that He "rules supreme in heaven" and is greater than the ocean and "more powerful than the waves".
Sometimes we accept these statements from a human perspective and somehow manage to limit God. We know what a king is, but our human kings have human flaws and they don't last. Most of us have seen and been in the ocean when it is relatively benign. But most of us have never seen truly gigantic waves and understood just how powerful you need to be in order to be more powerful than the waves. To really start to understand the power and control that God has, we need to dwell some more on verse 1.
God is clothed in majesty. Why is that so important to know? God is not like an earthly ruler who needs symbols of office so you know He is King. He doesn't need robes and crowns and scepters – if you get near Him there will be no question who is in charge because His very being screams that He is majestic and in total control.
God is clothed in strength. One version says He is "armed with strength". God doesn't need weapons or armor or body guards to be strong. He is armed with strength itself and no one and nothing can overcome Him. His strength never wanes. . . He never feels tired or even slightly less strong after using His strength. Think of the strongest, most powerful person or machine or thing that you know (other than God). Whatever or whoever you thought of is pathetically weak next to God.
God's majesty and strength holds the earth firmly in place. There is nothing and no one who has the authority or strength to move it even slightly unless God allows it.
As a husband and a father I need to remind myself that I am with God and He is with me. Because of who God is, I have nothing to fear. No human enemy, no natural disaster, no deployment stress, no bad days, no lonely times, no financial pressures, no children having problems, no troublesome workmates, no leaky roof, no car accidents, no illness, or any other difficulties or threats that are thrown at me and my family can defeat me in the end. I am with a God who is clothed in majesty and armed with strength, and that's infinitely better than even having the US Air Force on call to help me out.
Questions to Share:
1. What difficulties or threats are you facing right now in your marriage, with your children, with your work? Write them down.
2. Which of those things do you think are too big for God to deal with? Which of them will make Him tired if He has to deal with them? Which of them exist beyond His authority?
3. Remind yourself daily just how majestic and strong God is. Ask the Holy Spirit to help you draw on God's strength to live your life under His authority.
Excellent or Praiseworthy is posted on Monday and Thursday nights.
I am not saying this because I am in need, for I have learned to be content whatever the circumstances.I know what it is to be in need, and I know what it is to have plenty.I have learned the secret of being content in any and every situation, whether well fed or hungry, whether living in plenty or in want.I can do everything through Him who gives me strength. —  Philippians 4:11-13
It was at Ft. Hood that we first heard the phrase, "I don't want to just survive, I want to thrive!" A young Army wife was expressing her determination that, no matter what the circumstances, she was going to make the best of the deployment which she and her husband were facing (again). Seated around the table were others who agreed with her—they were tired of being categorized in a role of "victim" and were wanting to show the world what good stuff Army wives are made of! It was impressive. . . . a meeting I don't think I will ever forget.
Since that day we have studied what it means to "thrive" during deployment. There are going to be good days and bad days, but generally speaking we have noticed five characteristics of a person who is thriving during deployment:
A person who is thriving is a person who is growing. I learned in freshman biology that one of the characteristics of life is growth. That is true at the cellular level, and true at the heart-level. It's very possible to just survive one day after another during a deployment—but that wouldn't be "thriving." Looking for opportunities to learn new skills, meet new people, maybe even travel to new places all characterize someone who is growing.
A person who is thriving is a person who is in "community." Isolation is a killer! Whether you choose to join a Family Readiness Group, a Bible study, a neighborhood support group, or to get plugged into a good church—do it! We need each other, especially during deployments!
A person who is thriving is one who has faith in God. We are spiritual beings, and we serve a God who wants us to get to know Him. Learning of His goodness, His holiness, His righteousness, His provision, and His protection (for starters) will cause us to grow in faith.
A person who is thriving understands the sovereignty of God. Things don't happen by accident—God has a plan. Knowing that He loves us and has a plan for our life will cause us to look at deployments as an opportunity to thrive.
A person who is thriving is one who understands commitment. To a person of integrity, making a vow of commitment means keeping a vow of commitment. It is in that atmosphere of trust that someone can thrive.
And committing your life to Jesus Christ is the greatest opportunity one can take in order to thrive! It is in trusting Him to forgive your sins and to make of your life something beautiful that true fulfillment takes place.
"Commit your way to the LORD;
trust in Him and He will do this:
He will make your righteousness shine like the dawn,
the justice of your cause like the noonday sun."  —  Psalm 37:5-6
Don't just survive—thrive, in Christ!
Questions to share:
1. Do you want to just "mark time" until you're together again after the deployment, or do you want to make this time apart count for something productive?
2. Have you ever known someone who used their time of deployment as a time to change for the better?
keep looking »