Excellent or Praiseworthy is posted on Monday and Thursday nights.
"Thanks be to God for His indescribable gift." —2 Corinthians 9:15
Is this the Bible verse that you normally think of when you think of Christmas?
Probably not . . . . Traditionally we go to the second chapter of Luke and begin with, "In those days a decree went out from Caesar Augustus that all the world should be taxed." (Luke 2:1)
But it makes a wonderful study to look throughout the Bible for verses which point to the coming of God's gift of Jesus Christ! We can even look at the verses as far back as Genesis 12:2-3 as a promise of the coming of Jesus' presence on earth:
I will make you into a great nation and I will bless you;
I will make your name great, and you will be a blessing.
I will bless those who bless you, and whoever curses you I will curse;
and all peoples on earth will be blessed through you. (Genesis 12:2,3)
This promise to Abraham can be traced throughout the generations of Israel and finds fulfillment in the truth that all people on earth are blessed through the Messiah, Jesus Christ. What an indescribable gift of grace!
Another well-read part of the traditional Christmas story is found in Matthew 2—the visit of the magi. The gifts offered to the Christ child are recorded as gold, frankincense and myrrh. When my friend Jenny returned to the States after her family's military assignment in Germany, she heard a radio broadcast about these three gifts which gave her an idea. It was during their Germany assignment that she and her husband had adopted two Russian orphans, a sister and brother, bringing the number of their children to six. Buying Christmas presents for six children—well, she was looking for help! The radio program made this suggestion—to give your children the same gifts that the wise men (magi) gave the baby Jesus. Here's the idea:
Gold—gold is valuable, so this is an age-appropriate and valuable gift that the child actually wants, needs, or asks for. Jenny puts a price limit on it and even wraps it in gold paper—which she buys on sale the year before. This is a great reminder that gold was a gift fit for a king. . . . and Jesus is our King of Kings.
Frankincense—frankincense is used in worship, so this gift is something spiritual . . . perhaps a new Bible, a devotional book, a CD from a Christian singing group, a video which teaches a spiritual lesson. Jenny wraps this gift in white paper. This is a great reminder that frankincense was a scent used in the temple by the priests . . . and Jesus is our perfect High Priest.
Myrrh—myrrh is an ointment meant for the body, so this gift is something for her kids' bodies—like new pajamas, clothes, or even something from the mall store for lotions, etc. Plain brown paper wrapping conceals this gift under the Christmas tree. This is a great reminder that myrrh was a valuable perfume and used for preparing a body for burial . . . and Jesus was born to die as our Savior for the forgiveness of our sins.
Get the idea? Jenny reports that her Christmas shopping has been simplified and that their tree looks so beautiful every year with gold, white, and brown wrapped packages underneath. She has passed this idea on to other military friends, and we're all grateful for the idea. Perhaps you can imagine the opportunities for discussion concerning the true meaning of Christmas because of this method of gift-giving.
At the beginning of Lee Strobel's book, The Case for Christmas (an excerpt from his book, A Case for Christ), he gives his testimony of how he discovered the true meaning of Christmas—in the gift of Jesus Christ. Strobel had been part of a local project to give gifts to a poor family in Chicago. When he visited the family (a grandmother named Perfecta Delgado and her two granddaughters) on Christmas Eve he was surprised by the family's reaction to the outpouring of Christmas presents from the community:
"'This is wonderful; this is very good,' she said, gesturing toward the largess. 'We did nothing to deserve this—it's a gift from God. But,' she added, 'it is not his greatest gift. No, we celebrate that tomorrow. That is Jesus.' To her, this child in the manger was the undeserved gift that meant everything—more than material possessions, more than comfort, more than security. And at that moment, something inside of me wanted desperately to know this Jesus—because, in a sense, I saw him in Perfecta and her granddaughters.
"They had peace despite poverty, while I had anxiety despite plenty; they knew the joy of generosity, while I only knew the loneliness of ambition; they looked heavenward for hope, while I only looked out for myself; they experienced the wonder of the spiritual while I was shackled to the shallowness of the material—and something made me long for what they had. Or, more accurately, for the One they knew.'" (The Case for Christmas, pages 8,9)
At the end of the book, Strobel concludes with his decision to accept Jesus Christ as the greatest gift of all:
"I had come to the point where I was ready for the Christmas gift that Perfecta Delgado had told me about years earlier: the Christ child, whose love and grace are offered freely to everyone who receives him in repentance and faith. Even someone like me.
"So I talked with God in a heartfelt and unedited prayer, admitting and turning from my wrongdoing, and receiving his offer of forgiveness and eternal life through Jesus. I told him that with his help I wanted to follow him and his ways from here on out. . . . I know that some people feel a rush of emotion at such a moment; as for me, there was something else that was equally exhilarating: there was the rush of reason.
"Over time, however, there has been so much more. As I have endeavored to follow Jesus' teachings and open myself to his transforming power, my priorities, my values, my character, my worldview, my attitudes, and my relationships have been changing—for the better. It has been a humbling affirmation of the apostle Paul's words: 'Therefore, if anyone is in Christ, he is a new creation; the old has gone, the new has come.'
"And now, what about you?" (The Case for Christmas, pages 90,91)
The best gift of all is the indescribable gift of Jesus Christ, the Savior of the world—"For God so loved the world, that He GAVE his one and only Son, that whoever believes in Him shall not perish but have eternal life." (John 3:16) May the presence of Jesus Christ in your life be the very best gift for you this Christmas!
"But the angel said to them, 'Do not be afraid; for behold, I bring you good news of great joy which will be for all the people; for today in the city of David there has been born for you a Savior, who is Christ the Lord." (Luke 2:10,11)
Work Cited:
Strobel, Lee, The Case for Christmas (Grand Rapids: Zondervan, 1998)
Questions to share:
1. Have you thought of Jesus as a gift of salvation that you receive? Timothy writes, "I was shown mercy so that in me, the worst of sinners, Christ Jesus might display his unlimited patience as an example for those who would believe on Him and receive eternal life." (1 Timothy 1:16)
2. Are you feeling alone during this deployment? Read Psalm 16 to yourself, or maybe even to your spouse. His presence can be very real to you this Christmas.
3. If you are ready, like Lee Strobel was, pray the same prayer that he did (highlighted above) in repentance and faith. May this be the best Christmas ever—one you will never forget!
Excellent or Praiseworthy is posted on Monday and Thursday nights.
Editor's Note:  December 7th is the anniversary of the attack on Pearl Harbor. In remembrance of that world-changing event, this devotion is posted to tell one of God's great redemptive stories.
All the prophets testify about Him that everyone who believes in Him receives forgiveness of sins through His name. — Acts 10:43
Sgt. Jacob Daniel DeShazer was a crew member in the legendary Doolittle Raiders, a team of 80 brave military servicemen who volunteered and were organized to retaliate for the Japanese attack on Pearl Harbor by bombing Tokyo. DeShazer was among those captured by the Japanese Army after bailing out of his plane over Japanese-occupied China. He spent 40 months in captivity, 34 months of it in solitary confinement, and was the victim of cruel torture and starvation. In his own words, DeShazer said, "My hatred for the enemy nearly drove me crazy. . . My thoughts turned toward what I heard about Christianity changing hatred between human beings into real brotherly love and I was gripped with a strange longing to examine the Christian's Bible to see if I could find the secret. I begged my captors to get a Bible for me. At last, in the month of May, 1944, a guard brought me the book, but told me I could have it only for three weeks. I eagerly began to read its pages. Chapter after chapter gripped my heart."
Particularly fascinating to DeShazer was his reading of the prophets in the Old Testament. Six times he read through their writings, and focused on the mention of a divine Redeemer to come, one born in human flesh. Then he went on to the New Testament and found there the fulfillment of those prophecies in the birth, life, death and resurrection of Jesus Christ.
If you confess with your mouth, "Jesus is Lord," and believe in your heart that God raised Him from the dead, you will be saved. For it is with your heart that you believe and are justified, and it is with your mouth that you confess and are saved. — Romans 10:9,10
On June 8, 1944, DeShazer confessed his sins and received the forgiveness and salvation promised him in God's word. Even though he remained in prison for more than a year, he was freed from hatred—free to love. He wrote the following in a post-war tract, "I Was a Prisoner of Japan": "How my heart rejoiced in my newness of spiritual life, even though my body was suffering so terribly from the physical beatings and lack of food! But suddenly I discovered that God had given me new spiritual eyes and that when I looked at the enemy officers and guards who had starved and beaten my companions and me so cruelly, I found my bitter hatred for them changed to loving pity."
But I tell you who hear me: Love your enemies, do good to those who hate you, bless those who curse you, pray for those who mistreat you . . . love your enemies, do good to them, and lend to them without expecting to get anything back. Then your reward will be great, and you will be sons of the Most High, because He is kind to the ungrateful and wicked. — Luke 6:27-28,35
With his new-found faith, DeShazer was anxious to "try out" the principles which he had been studying in Scripture, particularly the command to love your enemies. One day he was particularly mistreated by a cruel guard. He decided that the next morning he would greet that guard without bitterness and say "Good morning!" in Japanese. God gave DeShazer the grace to continue with that new treatment, and after a week the guard who had been so mean actually gave him extra food. DeShazer was grateful and decided that God's way really worked!
Then Jesus came to them and said, "Therefore go and make disciples of all nations, baptizing them in the name of the Father and of the Son and of the Holy Spirit, and teaching them to obey everything I have commanded you. And surely I will be with you always, to the very end of the age." — Matthew 28:18-20
Physical freedom came for DeShazer and other prisoners-of-war on August 20, 1945. Returning to his home in Oregon, DeShazer began seminary training shortly thereafter at Seattle Pacific College, married, and returned to Japan as a missionary. He served with his family as Free Methodist missionaries in Japan for thirty years, planting 23 churches. Many thousands of Japanese responded to this former POW's invitation to receive Christ as Lord and Savior—but probably the most notable was Mitsuo Fuchida.
Fuchida was handed DeShazer's tract "I Was a Prisoner of Japan" in a train station after the war's end. Commander Fuchida led the Japanese air fleet which bombed Pearl Harbor, the man who had called "Tora! Tora! Tora!" After reading the tract, Fuchida, like DeShazer, was moved by Jesus' cry from the cross, "Father, forgive them. They do not know what they are doing." (Luke 23:34) In September of 1949, Fuchida accepted Christ as Savior, was baptized in 1951, and went on to become a missionary in Asia.
However, I consider my life worth nothing to me, if only I may finish the race and complete the task the Lord Jesus has given me—the task of testifying to the gospel of God's grace. — Acts 20:24
Over the next years, Fuchida and DeShazer spoke to many crowds together and individually, sharing their testimony of the power of Jesus Christ to transform lives. Fuchida's desire was for people to remember him for the message of his changed heart more than the memory of the Pearl Harbor attack. In 1970 Fuchida wrote in his testimony "From Pearl Harbor to Calvary": "He is the only One who was powerful enough to change my life and inspire it with His thoughts. He was the only answer to Jake DeShazer's tormented life. He is the only answer for young people today." Mitsuo Fuchida died in 1976 at the age of 74, and Jake DeShazer died in 2008 at the age of 95. Two former enemies now together in Heaven.
Does this story speak to you? Are you in a prison of hatred or bitterness? Do you hope for relief? The answers are in the person of Jesus Christ, and written in the words of Scripture and on the hearts of true followers of Christ. It is level ground at the foot of the cross . . . and we are all sinners. We all need forgiveness of sin, all of us. Take the time to repent and to turn your life over to Him.
For God so loved the world that He gave His one and only Son, that whoever believes in Him shall not perish but have eternal life. For God did not send His Son into the world to condemn the world, but to save the world through Him. — John 3:16,17
Work cited:
The Doolittle Raiders
Christianity Today
Breakpoint – With Chuck Colson
Commander Fuchida's Testimony
Questions to Share:
1. What did you read about Sgt. DeShazer and Commander Fuchida that particularly inspired you?
2. Which of the six Scriptures highlighted spoke to you in a way which inspired you to know more about the Lord?
Excellent or Praiseworthy is posted on Monday and Thursday nights.
"A cheerful heart is good medicine, but a crushed spirit dries up the bones." — Proverbs 17:22
"All the days of the oppressed are wretched, but the cheerful heart has a continual feast."  — Proverbs 15:15
Sometimes the most obvious is overlooked. . . . A sense of humor is vital to a healthy marriage! Do we need to say that again? A sense of humor is vital to a healthy marriage! The ops tempo of military life is such that we can often overlook this VERY important truth!
Given the importance of laughter and humor in any relationship, it was refreshing to read Bob and Cheryl Moeller's Marriage Minutes. With their permission, we are sharing this:
"Many spouses see laughter as a frivolous use of time. Yes, it feels good to laugh but nothing important gets accomplished. Other spouses see it as a denial of reality. With so much sorrow and sadness in the world how can we ignore the suffering in our lives and laugh? Still others have become cynical or embittered in their marriage. They find nothing to laugh about given all the pain their spouse or marriage is causing them.
Yet the Scriptures take a different opinion. Solomon, perhaps the wisest man ever to write a book, says that laughter is good medicine and that a merry heart has a continual feast.
Why should couples look for the humor in life and enjoy laughter with one another on a regular basis?
Laughter is a form of humility—It means we don't take ourselves too seriously. That's a very effective way to combat pride or self-focus which can do much damage to our own spiritual and emotional health.
Laughter is a form of rest—It allows us to take a much needed break from the stress and serious business of marriage and relax for a moment. The Bible clearly teaches our lives are to have a rhythm to them of work and rest, work and rest, work and rest.
Laughter is a form of worship—Joy, merriment, and laughter all find their roots in the image of God. In other words God created them and gave them to us to enjoy. When we are filled with joy, merriment, and laughter we are acknowledging and enjoying one aspect of our Creator God—and that can become worship.
Laughter is a form of love—When we give our spouse the gift of joy or laughter we are nourishing their hearts, lifting their spirits, and encouraging them to press on. Whenever we build our spouse up in this way we are showing love toward them."
So during deployment how do you enjoy humor? It won't be the same way as when you're together, but that doesn't mean you shouldn't seek to share this aspect of looking at life with some light-hearted moments over email, skype, text, or letter. Try it. . . .you might like it!
Questions to Share:
Was a sense of humor something that attracted you to your spouse when you were dating?
Share with each other a time when laughter got you through a particularly tough time in your relationship.
Excellent or Praiseworthy is posted on Monday and Thursday nights.
Blessed is the nation whose God is the LORD . . . – Psalm 33:12
Each year we celebrate Thanksgiving in the tradition of the Plymouth colony's harvest at the end of their first year in the New World, 1621. Did these early settlers have cause to thank an Almighty God for their condition? Consider the following facts:
The Pilgrims did not come to America to seek religious freedom.
As a group, they had sought and found asylum in Holland from religious persecution more than twelve years earlier. They, like the Puritans, believed that the Church of England was corrupt. Unlike the Puritans who sought to "purify" the Church from within, these "Separatists" believed the Church was beyond purification. The Church could only be under the headship of Jesus Christ. Therefore, no one, not even the Queen of England could claim title as "Head of the Church." Because of their convictions these believers were hounded unmercifully. The bishops of the Church of England feared these believers who "spoke enthusiastically of experiencing an encounter with Jesus Christ" might create little clusters of "fanatics" with no semblance of order and no conformity! Under the rule of James I and Charles I, they were literally driven underground and fled to Holland. It should be noted that James I was the sponsor of the King James Version of the Bible, first published in 1611.
Strong conviction led 102 men, women and children to brave sixty-six days at sea confined to an area one-half the size of a volleyball court.
As described by author and historian Peter Marshall, among the several reasons for their leaving was the fact that they "cherished a 'great hope and inward zeal' of at least playing a part, if only as a stepping stone for others, in carrying the Light of Christ to remote parts of the world." They were taking Christ's words in the Great Commission (Matthew 28:19-20) to heart and believed that America was the site God had chosen for them. Were they right?
How committed were they?
The captain and part owner of the Mayflower, Christopher Jones, was hired to take them to just south of the Hudson River—the northernmost boundary of the Virginia Charter. In turn of funding their voyage, they would become indentured servants to English investors who expected 100% return on their investment in the New World. The love and worship of money, it turns out, is not a characteristic of only the 21st century.
They landed 100 miles north of their intended site.
Despite being tossed about by severe storms, they landed less than 100 miles north of their intended site on the Hudson. The area was Cape Cod. All attempts to move south, approximately a five day journey, were frustrated by headwinds, shoals, riptides, and the approach of winter. After much prayer, they decided to remain at the northern end of the Cape. However, this placed them outside the jurisdiction of the Virginia Company's charter. They were ungoverned—accountable to no one, and totally unsupported. The fear of mutiny led them to quickly draft the Mayflower Compact. This document, founded on the ancient Hebrew tradition that all men are equal in the sight of God, was the "first time in recorded history that free and equal men had voluntarily covenanted together to create their own new civil government." The Compact is two short paragraphs—only 200 words long.
Was this the landing site God intended for them? Consider the following:
The site located by a scouting party consisted of over twenty acres of cleared land ready to plant but obviously uninhabited for several years. The area also had four nearby streams, excellent drainage, a beach and protected harbor, in addition to an open field of fire for defense with muskets and cannons.
They were later to learn that the land had belonged to the fiercest tribe of Indians on the coast—the Patuxet—who had brutally murdered every white man they encountered. The entire tribe had been wiped out by a mysterious plague just four years before their arrival. Neighboring tribes shunned the area fearing bad spirits. The land they "found" literally belonged to no one!
The Pilgrims lost forty-seven, almost half of their number to illness during the first winter. Although horrifying by today's standards, this was still better than the 80-90% mortality rate of the Jamestown Settlement. Sunday worship was the high point of their week. The Bible was still a new and fascinating book for them, having only been in the hands of the common man for less than ten years. Do we take our access to God's word for granted?
The first two Indians they encountered spoke fluent English!
Samoset was the adventurous exploring chief of the Algonquin tribe of Maine. He had been exploring the area for eight months when he strolled into their camp in the spring of 1621. Squanto is not a legend—he was the sole remaining Patuxet Indian. Squanto (Tisquantum was his real name) had been captured and taken to England for nine years and returned to America before being recaptured and sold into slavery in North Africa. He was subsequently rescued by friars who introduced him to the Gospel.
The Pilgrims were indebted to Squanto's teaching for their survival the first year. These city dwellers appeared to become his personal mission. He taught them how to fish, plant corn, and trap for furs. The trading and farming skills he taught them became their economic and physical deliverance. Was Squanto an agent of God?
The First Thanksgiving
Governor Bradford declared a day of Thanksgiving in October of 1621. The celebration of safety, blessing, and a prosperous harvest, accompanied by over ninety Indian guests, ended up lasting more than three days.
Thus was born the tradition of the first Thanksgiving in America. A God-fearing people who had placed their very existence in a hostile new land solely in His hands responded with prayer, worship, love, and gratitude for His provisions; then shared it with their pagan neighbors with whom they were living in peace. Are we expected to do any less?
America's heritage is a Christian heritage!
Work Cited:
The majority of this information and all quotes are taken from The Light and the Glory by Peter Marshall.
Questions to Share:
1. What were you taught about the history of Thanksgiving in America? Were there any details in this writing which reminded you of what you were taught?
2. What are you thankful for this year? Has your time of geographic separation from loved ones during deployment been a time during which you could reflect on your life?
Excellent or Praiseworthy is posted on Monday and Thursday nights.
"Be joyful always; pray continually; give thanks in all circumstances, for this is God's will for you in Christ Jesus." 1 Thessalonians 5:16-18
Our family has a tradition of gathering around the Thanksgiving table and beginning our time together by sharing one thing that we're grateful for that year. And so it goes— around the table with everyone adding their deep thoughts or silly remembrances from the past 12 months. Through the years I remember such blessings being voiced as new babies, surviving moves, finding new jobs, getting over illnesses, new marriages, interesting vacations, finishing up educational goals, new cars, new pets, etc.
Recently we were with a large group of military couples—all ranks and branches— where every couple in the room offered one thing for which they were grateful. It's not hard to imagine what was shared: "I'm grateful to be home." "I'm grateful to be alive." "I am thankful for my spouse who kept everything going at home while I was gone." "I'm thankful that we, as a couple, survived the deployment." When we are with a group like that my husband and I know that we are standing on hallowed ground. There is a deep sense of wonder at how God has provided and protected. . . .and there were a few tears by the time we were done sharing our many blessings.
It doesn't matter where we are, or which military group we are with, the proclamations of gratitude are profound and powerful—and deeply felt. I read a devotional recently, however, that reminded me to be a little more specific in my thanks-giving. You see, what we are really asked to do in Scripture is to give thanks—and more specifically, to give thanks to God. So the next time I am asked what I am thankful for, I am going to say, "I am thankful to God for _______." No doubt this is always implied by our families and our groups as they are sharing their deep gratitude—but I think it's a good reminder that everything, everything is from God—every breath that we take, every moment of every day, everything around us in creation—everything.
I was also raised with a weekly singing of the Doxology at our church. I remember a time or two around our Thanksgiving table when we closed out our time of thankful sharing (before the food got too cold) with the singing of this centuries old chorus:
"Praise God from Whom all blessings flow;
Praise Him all creatures here below.
Praise Him above all heavenly hosts.
Praise Father, Son, and Holy Ghost."
Jill Carratini, a favorite devotional writer for Ravi Zacharias' A Slice of Infinity, on November 24, 2008, wrote:
"Being thankful is therefore always more than a glib note of gratitude or a warm sentiment in general; it requires something far more personal. It not only chooses to recognize the gifts before us, but recognizes that there must also be a giver. There is someone to thank. There is one from whom all blessings flow."
The second reminder that struck me this year was from 1 Thessalonians 5:16-18. Perhaps this year, more than other years, you are questioning what God's will is for your life. And in this Scripture verse it is so clearly stated, "Be joyful always; pray continually; give thanks in all circumstances, for this is God's will for you in Christ Jesus."
Margaret Manning, also a great writer for A Slice of Infinity, shared her thoughts on this verse as a definitive proclamation for God's will in our lives:
"Thanksgiving is God's will for God's people because when we give thanks for who God is and what God has done in our lives, there is no room for jealousy of what others' have, no room for complaining about what we lack. Even in times of deepest sorrow, there is a joy that rises up on the heart when praise comes even with tears. Thanksgiving makes the heart full of gladness which overflows from our lives and spills out into acts of kindness and generosity. When we are grateful, we cannot help but share our gratitude. And this is the will of God for our lives. I am grateful for a day set apart to focus on thanksgiving, but I am challenged to live into God's will for my life by giving thanks in everything, every day of the year."  (November 25, 2008)
There are many times in my life when we have wondered what God's will was for us as a military family. Questions arose such as "Which assignment do we put in for?" "Should we take the assignment at the base in the States, or try for an overseas one?" "Which training track does God want me to go into?" "Is the timing right for an unaccompanied tour, or should we wait until after the next assignment?" "Should we buy a house, rent, or live on base?" "Should the family stay near the base during this deployment, or move home with the folks?" "Do we stay in the service or get out?" Decisions were oftentimes made on the basis of open doors vs. closed doors, or maybe a list of pros and a list of cons. Prayers were spoken and decisions were made with thanks for His guidance.
Yet God's Word is very clear—in all things we are to give thanks. That is His will for us. Easier said than done at times that are challenging (like deployments that keep families separated during the holidays), but His promises are always for our good. "Through Jesus, therefore, let us continually offer to God a sacrifice of praise—the fruit of lips that confess His name. And do not forget to do good and to share with others, for with such sacrifices God is pleased." (Hebrews 13:15-16) It is indeed through Jesus Christ that we can offer our praises to God for the freedom we have in forgiveness and in the knowledge of eternal life with Him.
Finally, and we shouldn't need a reminder for this, we thank God for each one of you who are serving our country so faithfully (that includes the families!), all over the world. As Paul says in his letter to the Philippians (chapter 1, verse 3), "I thank my God every time I remember you." We at Cru Military appreciate so much your sacrifices and give thanks to God for your gifts to all of us so that we, and others in this world, can live in freedom.
Questions to Share:
1. Name two things for which you are thankful to God this year.
2. Tell your spouse two things for which you are thankful to God for them this year.
Excellent or Praiseworthy is posted on Monday and Thursday nights.
Editor's Note: I asked Diana Juergens, author of Wife of a Soldier, A Journey of Faith, to share with me her thoughts on parenting during deployment. Rich and Diana are the parents of eight daughters and had completed their sixth (or was it seventh?) deployment.  This devotion has been so popular that we are delighted to re-post it.
"He who believes in Me, as the Scripture has said, out of his heart will flow rivers of living water."  —John 7:38
Parenting well during a deployment begins with our faith—which begins with belief in the truth of Scripture. Being "plugged in" to our source of faith, the Lord Jesus, allows us to be full of "living water" (the Holy Spirit) which will then flow through us to our children. To put it another way—as Jesus tells us in John 15:5—we are to "abide in the vine." "I am the vine, you are the branches. He who abides in Me, and I in him, bears much fruit; for without Me you can do nothing." God is making it very clear when He describes Himself as the vine and His people as the branches that the branches must abide (remain in, stay) in the vine to bear fruit. Without the vine, the branch is nothing. Both of these verses quoted point to the most important source for parenting—Jesus Christ. He is the provider of our strength, joy, wisdom, and discernment (the fruit of abiding) to care for and train up our children while our husbands are gone.
Our family just experienced a 15 month separation. As I look back, I can point to seven truths to share about parenting during deployment:
1. Your relationship with God must be a priority.
I made my time with God the first thing I did every morning. Even if I went to bed late, I chose to rise before my children in order to have time with God. I knew that extra hour of sleep would not make up for the kind of strength I would need as a geographical single parent.
2. Remember that you are setting an example for your children.
I was humbled when my oldest daughter told me, "Watching you respond through difficult times, knowing your heart was hurting, has demonstrated to me that your source of peace is God. By your example, I know Him to be my only source, too." Sometimes I think that our children learn more by watching than they do by listening! Here are some questions to ask yourself: Do your children see you reading your Bible and praying? Are you being their example of faith to draw near to God (James 4:8), to allow God to be your refuge (Psalm 141:8), and to allow Him to be your source of joy (Habakkuk 3:18) in spite of your circumstances? Your Godly example will impact their journey of faith and their everyday life.
3. Make sure that you teach your children about the sovereignty of God.
The verse I read with my children is Jeremiah 29:11-13: "For I know the thoughts that I think toward you, says the LORD, thoughts of peace and not of evil, to give you a future and a hope. Then you will call upon Me and go and pray to Me, and I will listen to you. And you will seek Me and find Me, when you search for Me with all your heart."
Knowing that God has chosen this time apart can give you the assurance that it is what is absolutely best for your lives. God loves us, and His Word confirms that He is good (Nahum 1:7). He uses all things for good for those who love Him and are called according to His purpose (Romans 8:28). This deployment separation is a wonderful opportunity to teach your children how to trust God by embracing the new work which he wants to do in and through your family.
4. Pray.
As parents, we are to be shepherding our children according to God's heart and with His knowledge and understanding (Jeremiah 3:15). The children and I begin the day in prayer and devotional time together—the keys to parenting during a long separation include daily prayer and time in God's Word as a family. And during our times separated as a family, due to the calling placed on our soldier, we have learned to run to God when our hearts are hurting, afraid and overwhelmed. We stop what we are doing and let the tears fall as we cry out to God for His comfort and peace. He has intervened every time and provided exactly what we have needed. God has used these painful times to draw us each closer to Him. Each deployment has provided the circumstances that have taught our family life lessons of faith. We also use our devotional time as an opportunity to pray for the safety of our soldier and his unit, our nation's president and those in leadership, and for the people within the nation to which my husband is deployed.
5. Discuss God's purpose for this deployment.
We must encourage our children with examples from God's Word, to believe that God knows exactly what He is doing. His goal is to always use our circumstances to increase our faith and trust in Him, while using us to touch other's lives with His love. Memorizing Deuteronomy 32:4a ("He is the Rock, His work is perfect.") will help you stay focused on the call placed on your lives, to be separated as a family for such a time as this (Esther 4:14b). You can make this even more real by locating the country to which your husband is deployed in an atlas and learning all you can about it and its people. Find an organization, like Voice of the Martyrs that will help you send care packages to the hurting people within that nation. You can also give your children a vision for the time apart by teaching them to serve others who are experiencing deployment and need help. Look for ways to use the gifts and talents within your family to reach out and be a blessing to others. There is no room for a sorrowful heart when you are serving and encouraging others. Many years ago my wise husband designated Matthew 5:16 as our family verse, and we seek to let our "light shine" to the glory of God.
6. Journal what God is doing in your family's life.
Our family (including my husband while he is away) keeps a record of all God is doing in us and through us by journaling. An inspiration for this was Jeremiah 30:2. It has been a wonderful encouragement to our family as we read our entries and reread ones already written. Each entry is a new testimony of God's plan and faithfulness.
7. Actually this one should be first—prepare your hearts in prayer before the deployment.
There is much to do to prepare for deployment, but don't forget to pray that God will prepare your hearts, as a family, for what He will do while you are separated. Begin to pray for new opportunities to arise which will allow your family light to shine, to bring glory to God. Remember, He who has called you to this time apart is faithful. "He who calls you is faithful, who also will do it."  (1 Thessalonians 5:24)
Questions to Share:
1. How can you implement the seven points above with your family during deployment?
2. Pray for God's guidance to teach, lead, and love your children with grace and compassion—and wisdom—during this time of separation.
Excellent or Praiseworthy is posted on Monday and Thursday nights.
I have fought the good fight, I have finished the race, I have kept the faith. Now there is in store for me the crown of righteousness, which the Lord, the righteous Judge, will award to me on that day—and not only to me, but also to all who have longed for His appearing. — 2 Timothy 4:7,8
The speech known as "The Gettysburg Address" was the dedication ceremony message for the Soldiers' National Cemetery, Gettysburg, Pennsylvania, given by President Abraham Lincoln on November 19, 1863—150 years ago today.  Following a two-hour-long oration by the Honorable Edward Everett, Lincoln spoke ten sentences in less than three minutes which summarized and inspired—and gave us perhaps the greatest speech in American history:
"Four score and seven years ago our fathers brought forth on this continent a new nation, conceived in liberty, and dedicated to the proposition that 'all men are created equal.'
Now we are engaged in a great civil war, testing whether that nation, or any nation, so conceived and so dedicated, can long endure. We are met on a great battle-field of that war. We have come to dedicate a portion of that field, as a final resting place for those who here gave their lives that that nation might live. It is altogether fitting and proper that we should do this.
But, in a larger sense, we can not dedicate, we can not consecrate, we can not hallow this ground. The brave men, living and dead, who struggled here, have consecrated it, far above our poor power to add or detract. The world will little note, nor long remember what we say here, but it can never forget what they did here. It is for us the living, rather, to be dedicated here to the unfinished work which they who fought here have thus far so nobly advanced. It is rather for us to be here dedicated to the great task remaining before us—that from these honored dead we take increased devotion to that cause for which they gave the last full measure of devotion—that we here highly resolve that these dead shall not have died in vain—that this nation, under God, shall have a new birth of freedom—and that government of the people, by the people, for the people, shall not perish from the earth."
I know what that speech does to me—it speaks to my heart of everything real and good about America and its defense of freedom around the globe. What was true in 1863 reminds me of our nation's purpose on the battlefield today.
But have you ever wondered how this particular visit to the battlefield affected President Lincoln? Coming just 4 ½ months after the Union army's decisive defeat of the Confederate forces at the Battle of Gettysburg, Lincoln was so moved by the view of acres of soldiers' graves that he gave his heart and life to Jesus Christ right there.
Later, when asked by a friend if he loved Jesus, Lincoln, after weeping, said: "When I left home to take this chair of State I requested my countrymen to pray for me; I was not then a Christian. When my son died, the severest trial of my life, I was not then a Christian. But when I went to Gettysburg, and looked upon the graves of our dead heroes, who had fallen in defense of their country, I then and there consecrated myself to Christ. Yes, indeed, I do love Jesus."
In many ways, you are the ones we honor today, on the 150th anniversary of that momentous speech. You are the ones who carry on the fight. You are the ones who fulfill Lincoln's call to "here highly resolve that these dead shall not have died in vain—that this nation, under God, shall have a new birth of freedom—and that government of the people, by the people, for the people, shall not perish from the earth."
Those words grip us. And God gripped Lincoln's heart that day in November of 1963. According to accounts, it was at Gettysburg that Lincoln gave his heart and life to Jesus Christ.
My day was in 1980, in a little church in Oklahoma—when my husband was deployed.  In repentance and faith, has that day happened in your life?
For the wages of sin is death, but the gift of God is eternal life in Christ Jesus our Lord. — Romans 6:23
Work cited:
The Gettysburg Address is found at www.ourdocuments.gov
Tuley, Terry. Battlefields & Blessings: Stories of Faith and Courage from The Civil War (Chattanooga: Living Ink Books, 2006), p. 318.
Questions to Share:
1. What are your thoughts now that you read the words of the Gettysburg Address as a couple fighting in the current war?
2. Can you point to a day when you gave your heart and life to Jesus Christ as Lord and Savior?  Perhaps today is that day!
Excellent or Praiseworthy is posted on Monday and Thursday nights.
"My dear brothers, take note of this: Everyone should be quick to listen, slow to speak, and slow to become angry . . ." — James 1:19
"Communication is a lot like tennis. One person begins the conversation by making a statement, and then perhaps asking a question—like serving the ball. The other person returns the ball by responding to the statement and/or question, and perhaps asks another question. And so the game continues."
This is an important paragraph from the HomeBuilders Bible study entitled Making Your Marriage Deployment Ready (p. 39), meant to help couples in their communication skills before they are geographically separated. But the truth is that communication skills are vital to the life of a marriage relationship—deployment or not.
Using the tennis analogy, a conversation can continue easily as one partner "volleys" the ball to the other. If the ball is "slammed" (perhaps insult or accusation), making it impossible for the tennis partner to return the exchange. . . or if the ball is hit out of bounds (not listening or paying attention), the conversation is over for the moment and has to begin again with a new statement or question.
Dennis and Mary Trexler of Cru Military have taken the analogy of tennis to explain some of the fundamentals of good communication in a talk they call, "Tennis Anyone?" As you read these "Tennis Rules of Serving" think about how they could correspond to a conversation between a husband and wife:
The server stands behind the baseline, in between the center mark and the sideline (Do you have your spouse's attention?);
The ball has to go over the top of the net on a serve (Have you made yourself clear, perhaps dealing with just one issue and not many issues?);
Your serve must reach the service box on the other side of the court (Are you focusing on the specific and not making generalizations?);
If the serve drops outside of the service box, you get a second chance to serve (Does your spouse understand what you said?);
You get two chances to serve. When you miss a serve, it is called a "fault" (Did you judge their motives without giving them a chance to explain?);
You cannot serve the ball before your receiver is ready (Are you prepared to use "I" statements and not "You" statements, giving them the chance to respond without defensiveness?).
When you initiate a conversation, there is the responsibility to be able to continue the conversation to a worthwhile end. Viewing this responsibility as being similar to one who serves the tennis ball with the intention of continuing the match may help.
But the Trexlers would be just as quick to tell us that there is responsibility on the part of the receiver. Here are their "Tennis Rules of Receiving":
You can stand wherever you want when receiving a serve, but the tennis ball cannot be allowed to bounce into the service box (Did you listen intently to your spouse or ignore them?);
If the serve is good, you must hit the ball back to the server (Did you receive what they said to you and answer them appropriately?);
The serve receiver has to let the ball bounce one time before hitting it back (Are you answering your spouse before they have even finished speaking?);
If you hit the ball before it bounces, the server gets the point (Have you been too quick to focus on "fixing the problem" instead of hearing what your spouse is feeling?).
These are just a few pointers which can help when a couple is trying—and trying hard—to communicate well. Just like tennis, it takes practice. Just like tennis, it takes desire to learn. Just like tennis, it takes rules for it to go smoothly. And just like tennis, it takes two! It takes both of you being intentional about "serving the ball" and "receiving the ball" for good communication in marriage to take place.
And what about communication during deployment? This does not mean that "all rules are off!" Quite the contrary—all rules still apply! You both have to make sure that you are listening well to the others' needs and feelings, that you are asking good questions which get to their heart, and that you "make contact" as often as possible to keep the relationship moving.
And remember—this is not a game! Communication in marriage is work, and it is serious business. But, in the end, you will both be winners!
Work Cited: Making Your Marriage Deployment Ready is available at Shop.FamilyLife.com and CruMilitary.org.
Questions to Share:
1. During deployment, do you communicate best by email, phone, or letter? What about your spouse? Discuss this between the two of you.
2. Has the difference in time zones been a barrier to your communication? What other difficulties have you had to overcome in order to communicate well with each other?
Excellent or Praiseworthy is posted on Monday and Thursday nights.
Be strong and courageous. Do not be afraid or terrified because of them, for the LORD your God goes with you; He will never leave you nor forsake you. — Deuteronomy 31:6
But the noble man makes noble plans, and by noble deeds he stands. —  Isaiah 32:8
Our son entered active duty military service in June of 1999.
Wait a minute—that's not entirely true.  Our son entered military service the day he was born!  As a military brat he served throughout his childhood with moves, ceremonies, separations, travels, promotions and uncertainties.  As a child I believe that most of the reality of sacrifice he experienced was surrounded by the aura of "adventure."
Now he is the one who is helping his children enjoy and accept the adventures of military service—knowing full well there is sacrifice involved.
At some point in his life he took "ownership" of this ideal of noble service to one's country.  At some point he knew in his heart that there is a cost to freedom, and it is a cost which some are called to pay with their lives. At some point he understood that American citizenship is an honor and privilege, and worth fighting for to insure that gift for future generations.
"At some point." My husband and I know when that "point" occurred—when our (then) 11 year old son went to Normandy with his Grandfather and Dad to visit where "Pappa" jumped into France on D-Day, 1944. Our young boy walked along the beaches, through the Normandy American Cemetery and Memorial, amongst the old German defensive bunkers, and up and down country roads trying to find "the bridge" which was Pappa's objective where he was to join up with his unit—on two sprained ankles. Ten days later, Pappa was wounded near Carentan—so these three visitors to the past included a search for that intersection.
After recovering from his wounds, Pappa went on to finish his enlistment in the Army during World War II in the sweep across Germany. And if you visit his house today you will find his Purple Heart, Silver Star, and other medals framed and mounted on his office wall.  Next to them is the original copy of Eisenhower's commission—handed to him and to other brave young men who risked their lives for the freedom of Europe—and all of us—on D-Day.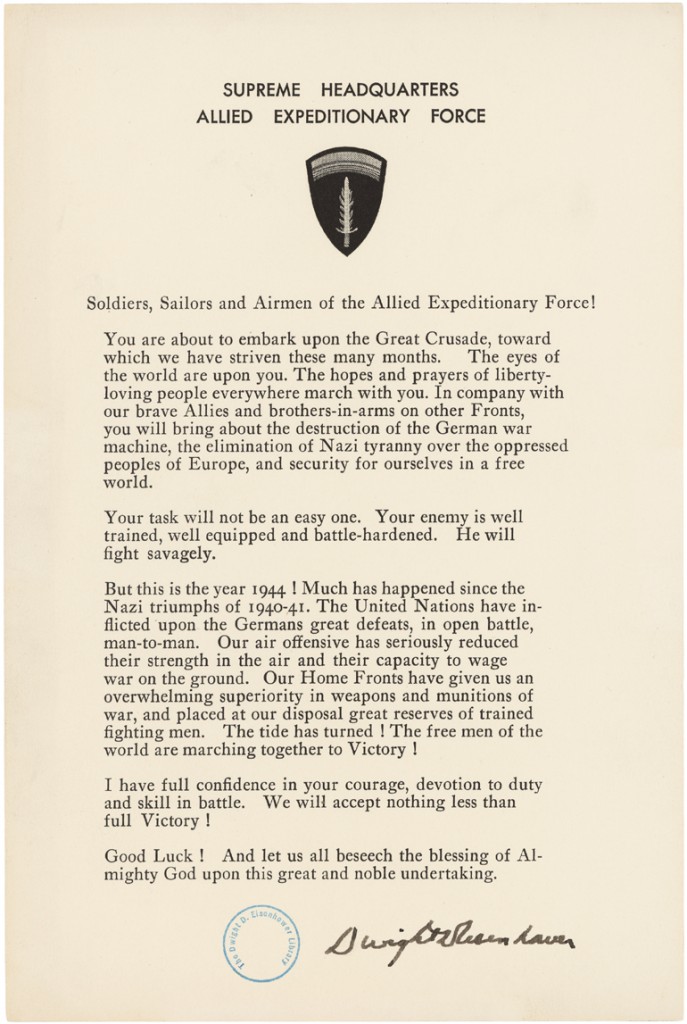 There are not many soldiers left who fought above the beaches of Normandy–just last year Pappa went home to be with the Lord. He received full military honors at his funeral, an honor humbly received by our family.  The Honor Guard of professional combat veterans from Ft. Hood was such a blessing to us.
Our son continues the legacy of military service which is so evident in our family. Perhaps your family is the same—you are passing on something that you saw, lived and valued enough to invest in for your future generations. Or perhaps your family is first to serve your country in military duty.
What we can say for sure is that others are watching. Perhaps your children, like our son, are seeing the fruit of honorable service and sacrifice. "The eyes of the world are upon you."
We are proud of you.  On this Veterans' Day, we say "thank you for your service to our dear country, and to our Lord."
Questions to Share:
1. What prompted you to join the ranks of those in military service?  Was it a decision that you made together as a couple?
2. How would you like to remember these days of active duty service twenty (or more) years from now?  Share with each other your thoughts.
Excellent or Praiseworthy is posted on Monday and Thursday nights.
Outdo one another in showing honor. — Romans 12:10
My husband and I have the privilege of working with all five branches of the military. But until two years ago we had never been part of a Marine Corps birthday ceremony, officially celebrated on the 10th of November to mark that date in 1775 when the Continental Congress declared two battalions of Marines would be raised.
Before then, we had never heard the detailed explanation of the traditions surrounding the Marine Corps birthday celebration.  We had never seen a Marine Corps birthday cake cut with the sword and given ceremoniously to the oldest and youngest Marines present.  At the particular celebration location where we gathered, the oldest Marine present was 72 years old and the youngest was 70 years old. . . there were as many smiles in our group as there were tears.
Particularly meaningful was that part of the ceremony when the birthday greeting was given by video–and this year it is given by the Commandant, General James F. Amos and Sergeant Major Michael P. Barrett:
On this 238th birthday of the Marine Corps, we have the opportunity to reflect on things that are honorable. . . including the heroic service of Marines and their families throughout the history of the United States. It does us well to think on things that are honorable: "Finally, brethren, whatever is true, whatever is honorable, whatever is right, whatever is pure, whatever is lovely, whatever is of good repute, if there is any excellence and if anything worthy of praise, dwell on these things." (Philippians 4:8) Betsy Childs writes in Ravi Zacharias' devotional site, A Slice of Infinity, of the value of thinking in this way, "While it took me a while to think of things that fit these characteristics, once I thought of them, my heart was full of gratitude and admiration. I found that I started looking out for these things, striving to recognize excellence and make note of it in my mind." ("Think on These Things" 4/17/07)
It seems fitting to close this tribute to our fellow service members and their dear families with The Marine's Prayer: "Almighty Father, whose command is over all and whose love never fails, make me aware of Thy presence and obedient to Thy will. Keep me true to my best self, guarding me against dishonesty in purpose and deed and helping me to live so that I can face my fellow Marines, my loved ones and Thee without shame or fear. Protect my family. Give me the will to do the work of a Marine and to accept my share of responsibilities with vigor and enthusiasm. Grant me the courage to be proficient in my daily performance. Keep me loyal and faithful to my superiors and to the duties my country and the Marine Corps have entrusted to me. Make me considerate of those committed to my leadership. Help me to wear my uniform with dignity, and let it remind me daily of the traditions which I must uphold. If I am inclined to doubt, steady my faith; if I am tempted, make me strong to resist; if I should miss the mark, give me courage to try again. Guide me with the light of truth and grant me wisdom by which I may understand the answer to my prayer. Amen."
Thank you, Marines, for your proud and sacrificial service. And as we thank them, we thank all of you—the Soldiers, Airmen, Sailors, Coast Guardsmen. . . active duty, Guard, Reserve . . . and your families. . . for your faithfulness to serve in a noble cause with dignity and honor.
"Pray for us. We are sure that we have a clear conscience and desire to live honorably in every way." Hebrews 13:18
Questions to Share:
1. What emotions did the video invoke in your spirit? Share those with your spouse.
2. In what ways is your military service leaving a legacy of honor in your family? How has God prepared you to serve in this way?
keep looking »