Excellent or Praiseworthy is posted on Monday and Thursday nights.
Righteous are You, O LORD, and Your laws are right.The statutes You have laid down are righteous; they are fully trustworthy. . . .Your promises have been thoroughly tested, and Your servant loves them.— Psalm 119:137,138,140
We were in a sparsely-populated area of Maine having dinner at a local cafe, and had the privilege of talking with our waitress about her experience with deployment. Her husband had been a Guardsman serving in a remote area of Afghanistan with limited internet access.
These "unexpected" conversations during our travels never surprise us, as we find military families everywhere. With Guard and Reserve units pulling 52% of rotations to the Middle East, you don't have to be close to a base or post to have military in your midst. Right?
One thing we heard from this wife was her commitment to writing and sending her husband letters. Hand-written letters. Some would say this is a lost art in our culture of emails, instant messaging, Facebook, and texting. . . .but the truth is that there is something uniquely special about writing, and receiving, a letter from the one you love. It works.
This young lady told us that she remembered having a slow day on the job, and being able to write a four-page letter to her sweetheart—something that she tried to do as often as possible. My husband asked her if she numbered her envelopes (something we learned in the Vietnam War days) in case the postal system got the letters delivered out of sequence. We learned the hard way—numbering can help eliminate confusion and misunderstandings. No doubt this husband, far away from the woods of Maine, savored her loving letters delivered during "mail call."
Don't get me wrong, our family is all for modern technology—from Skype to Facetime to internet to cell phones. But we are also seeing more and more the advantage of that personal card, letter, or package. A while back I mailed a package containing a cassette recorder, microphone, and cassette tapes to our son's family overseas so that they can record Daddy reading favorite books to the children—and the children can record messages for their Dad while he is deployed. No doubt this can be accomplished with an MP3 player and the proper software, but the old cassette recorder just works so easily. Forty-plus years ago it was a new-fangled device, but it still works during war-time deployments. I remember many a lonely evening in a remote town in Oklahoma popping in those cassettes just to hear my husband's voice—and he did the same in Southeast Asia. It works.
What else works? What are some of "the old ways" that a couple can stay connected during deployment?
— Reading the Bible "together"—both of you with a One-Year Bible which you already have, or pick out together. Then you can write about what you read that touched you that day (or whenever you can). After all, isn't God's word His love letter to us? On May 8, 2008, we posted an EorP devotional entitled "WWII and Beyond—A Story of Commitment."In it we wrote about Louise and Eugene, separated for 3½ years during World War II after having been married for just 2 days at Ft. Stewart. They wrote each other about what they read in the Bible that day. They remained married for almost sixty years until Eugene's death. It worked.
— Reading devotionals "together"—we are seeing a return to the classics, "My Utmost for His Highest" and "Streams in the Desert."We love the new devotionals (especially online!), but there's something about reading from a book that has stood the test of time. If you both have a copy there is material for sharing from a deep level. It works.
— Picking a prayer time each day—knowing that there is a certain time each day (in the morning, at meal-times, before bed) when your family member is praying for you is very comforting and encouraging. One of my favorite devotional books is Battlefields & Blessings: Stories of Faith and Courage from the Civil War. In it are letters from moms, dads, chaplains, soldiers, children, pastors, generals, sisters, brothers, uncles, friends . . . . . telling their stories of faith in the midst of war. A recurring theme in these 365 letters is the prayers that they have for one another—and how they count on those prayers to get them through the hardships of the day. It worked.
— Carrying that special photograph—make sure that your spouse has your favorite photo—one you have picked for them to have or carry. Maybe it's one of the two of you in a memorable location, or at a special event . . . something that will bring happy memories along with the enduring look. It works.
— If you can't correspond in any way (especially submariners), keep a journal—it's an old way, but a good way, of staying connected. Our couple in Her Favorite Christmas Present (EorP posting on December 28,2009) is a dual-military couple and they are now both deployed. They learned before how valuable the journals were, and they are using them this time, too. It works.
— Read a book together—we have heard of couples reading The Pilgrim's Progress by John Bunyan together during deployment. I have found the chapter entitled "The Pilgrims Deal with Giant Despair" to be particularly relevant during deployment challenges. First published in 1678, it's a "classic among classics," and not beyond the children joining in the project. The second-most-popular book of all times, next to the Bible, there is wisdom in this allegory which will provide spiritual discussion for all ages.It works.
Perhaps you can think of some other "oldies but goodies"—methods of communication and spiritual growth which worked then and still work today. Be encouraged—be challenged—and don't waste this time which can be used to His glory!
Questions to Share:
1.  Which of these eight ideas above have you used in the past to communicate with your loved ones? Share with each other what worked. . . .
2. Which of these ideas would you like to try during this deployment? What would it take to get that started? The Old Ways—Still Work!
Excellent or Praiseworthy is posted on Monday and Thursday nights.
Editor's Note: The writer of this testimony, Beverly Weeks, posts regularly on the website intentionallyyours.org. She and her husband reach out in marriage enrichment ministry throughout North Carolina—including military couples stationed there. Our hope is that this testimony will be beneficial to those who are struggling in their marriage during deployment or any other time.
. . . clothe yourselves with compassion, kindness, humility, gentleness and patience. — Colossians 3:12b
Your beauty should not come from outward adornment . . . instead, it should be that of your inner self, the unfading beauty of a gentle and quiet spirit, which is of great worth in God's sight. — I Peter 3:3a, 4
How do you change your spouse? Nervously, I began to fidget, play around with my jewelry and crack my knuckles as I sat on the brown sofa. It had taken all my courage just to muster up enough strength to walk into the Christian counselor's office.
It just felt so awkward. I mean for years I had taught Sunday School, sung in the choir and now I was having to admit to a total stranger that I did not have it all together. I felt as if my marriage had fallen completely apart. In all honesty, I had already begun to "check out" of the marriage relationship….yet my husband pleaded for me to reach out to this one who was trained, and willing, to help.
I went to that counseling session really as a way to appease my husband. I wanted to be able to tell my friends that I had done everything possible before dissolving the marriage. I guess that deep down I went secretly hoping that the counselor would affirm my decision to separate from him. At the very least, I had hoped that she could tell me how to change him.
 I took a sip of water from my water bottle, composed myself and then all of a sudden me and my 150 plus pounds of head strong ATTITUDE decided to blurt out my frustrations… "Before you say anything, I want you to know that I am not taking him back if HE doesn't change this, this and this…" I proceeded to call off the things on my list, things that aggravated me to the core! "I mean how dare my husband not show me any affection, I feel like he always put his job before me, he never lets me help with making decisions, he is never affectionate, I am a people person, he loves staying at home, I love a clean house and he, well, let's just say we are totally opposite….."
I began to rattle them off, one fault right behind the other, until I noticed she wasn't saying very much. Of course, if the truth be known I didn't give her much of an opportunity! Finally, she lifted her pen, cleared her throat and spoke in a near silent whisper. Although full of conviction, her words were not at all what I had wanted to hear. "What if God is more interested in changing YOU than in changing your spouse?"
Hmmm. I want you to know that I did not exactly receive her words in the love of Christ! As a matter of fact, my fleshly sinful side wanted to leap off that sofa, pluck every blonde hair out of her head and her eyebrows and shout, "Lady, seriously, were you not just listening to what I said!?"
Her words, which were unsettling with me at the time, began to resonate in my ears. For the next few weeks and months, our marriage restoration and healing would begin with me first recognizing the fact that I could NOT change my spouse. No matter how hard I tried, the only person I could change was me. For some time I had naively thought that if I could just change my husband it would fix our relationship and the problems would vanish.
How to Change Your Spouse: The Power of the Two "P" Words
PRAY: I began to pray in a new way… Lord, change me. I remember one night just sitting on the end of my bed weeping and pouring my heart out to God. "God, You know my heart. You know all the ways my husband has hurt me, all my frustrations, the bitterness and the callous feelings. Lord, you know all my expectations, hopes and my dreams. Father, I realize that I cannot change him so I ask that You will help me to compromise, accept the things that I cannot change, and God use these things to make me stronger…"
Now I won't lie, for weeks it was just plain hard to pray that way. But I noticed over time that things really did begin to change for the better. My reactions changed, my behavior changed and it triggered my husband to want to make small changes.
PRAISE: I began to praise my husband. I learned right quick that my positive reinforcements to my husband added fuel in his tank. Pretty soon he began to pick up his towels, he began to be more affectionate, he agreed to go out more and ironically every one of the small changes that he had put into place were things I had completely stopped nagging him about! I totally got rid of six words from my vocabulary…"You have to change or else!"
You see in the past, my ultimatums had only stirred up bitterness and frustration. I found that my new words, "thank you for picking up the towels, thank you for helping in the kitchen, I like it when you hold my hand,"…. all of these affirmed him. For the first time, my husband began to feel respected.
As God began to change my heart, I was able to communicate with my husband more clearly. In the past I would have easily snapped and torn into him. I think my gentle and quiet spirit began to win him over. I am not saying everything was magically fixed. What I am saying is that instead of compressing and stuffing my frustrations (which earlier almost always led to an explosion), I began to communicate what I needed from him instead of assuming that he already knew.
You see, I learned it's not my place to change my husband. That is God's work. There was a lot of compromising, determination and a whole lot of hard work involved in turning around our marriage. NO, you cannot change your spouse, but you can pray that GOD will change you! In return, when GOD softens your heart your marriage will have no other choice but to change.
It's hard to believe that encounter with our Christian counselor was over two and a half years ago. Even more incredible is the fact that GOD has placed us in marriage ministry together. How AWESOME is that? She and her husband—my husband and I—humbly serving together helping couples just like us.
I want you to know that the change did not begin in my marriage. My husband and I are closer now than ever before. God has restored our home. That change began in me.
Work Cited:
http://www.intentionallyyours.org/2013/08/06/how-to-change-your-spouse/
Questions to Share:
1. Spend time in prayer asking God how He might want to change you in your relationship with your spouse.
2. Praise your spouse for something specific they do that you admire. If you are experiencing deployment, praise them in email or phone—or in writing.
Excellent or Praiseworthy is posted on Monday and Thursday nights.
"Praise be to the God and Father of our Lord Jesus Christ! In His great mercy He has given us new birth into a living hope through the resurrection of Jesus Christ from the dead . . . " — I Peter 1:3
Editor's Note:  Bob and Cheryl Moeller minister to marriages with "For Keeps Ministries: For Better For Worse." They write online articles called "Marriage Minutes" (forkeepsministries.org) from which this outline is taken. We are sharing this outlined article "Is it Friday, Saturday or Sunday in your Life?" because during deployment we can experience all three of these emotions—reeling, grieving, and rejoicing!
The Easter weekend is a picture of all our lives — which day is it in your life?
A. The reality is for some of us it's Friday in our lives (We are reeling).
Luke 24:13-19  "Now that same day two of them were going to a village called Emmaus, about seven miles[a] from Jerusalem. 14 They were talking with each other about everything that had happened. 15 As they talked and discussed these things with each other, Jesus himself came up and walked along with them;16 but they were kept from recognizing him.17 He asked them, "What are you discussing together as you walk along?" They stood still, their faces downcast. 18 One of them, named Cleopas, asked him, "Are you the only one visiting Jerusalem who does not know the things that have happened there in these days?" 19 "What things?" He asked."
1. We are stunned from unexpected and painful events in our life.
a. No one expected Jesus to end up dying on a Cross.
b. It is entirely possible these two men had witnessed the crucifixion in stunned disbelief.
c. For them it was a day of broken hearts that would never quite heal again.
2. Yet, even when it's Friday God is still working in our lives.
a. Jesus is still caring for our needs.
b. God's sovereign plan is still at work.
c. Spiritual victories on our behalf are still being accomplished.
3. If its Friday let the love of others be your strength.
B. The reality is for some it's Saturday in our lives (We are grieving).
Luke 24:19b-27  "About Jesus of Nazareth," they replied. "He was a prophet, powerful in word and deed before God and all the people. 20 The chief priests and our rulers handed him over to be sentenced to death, and they crucified him; 21 but we had hoped that he was the one who was going to redeem Israel. And what is more, it is the third day since all this took place. 25 He said to them, "How foolish you are, and how slow to believe all that the prophets have spoken! 26 Did not the Messiah have to suffer these things and then enter his glory?" 27 And beginning with Moses and all the Prophets, he explained to them what was said in all the Scriptures concerning himself."
1. We are confused by life and our unanswered questions.
a. Sorrow has replaced shock and we are filled with questions.
b. The way we thought life was supposed to turn out has not happened.
c. What we believe is being tested as never before.
2. Yet, even when it is Saturday God is working in our lives.
a. The Word of God is being fulfilled.
b. The plan of God is being accomplished.
c. The promises of God are being vindicated.
3. If it's Saturday let the Word of God be your strength.
C. The reality is for some it's Sunday in our lives (We are rejoicing).
1. We are left amazed and transformed by the turn of events.
a. We sense the presence of God in our lives once again.
b. We are fed and nourished by Jesus Himself.
c. We can see Jesus in our midst once again.
2. Yes, when it's Sunday God is at work in our lives.
a. It's a day of amazement and understanding.
b. It's a day of our hearts burning within us again.
c. It's a day of witness to what God has accomplished.
3. If it's Sunday let the presence of the risen Jesus be your strength.
D. Just remember….
Luke 24:28-35  "As they approached the village to which they were going, Jesus continued on as if he were going farther. 29 But they urged him strongly, "Stay with us, for it is nearly evening; the day is almost over." So he went in to stay with them.30 When he was at the table with them, he took bread, gave thanks, broke it and began to give it to them. 31 Then their eyes were opened and they recognized him, and he disappeared from their sight. 32 They asked each other, "Were not our hearts burning within us while he talked with us on the road and opened the Scriptures to us?" 33 They got up and returned at once to Jerusalem. There they found the Eleven and those with them, assembled together 34 and saying, "It is true! The Lord has risen and has appeared to Simon." 35 Then the two told what had happened on the way, and how Jesus was recognized by them when he broke the bread."
1. Whatever day of the week it is for you right now God has a special grace to get you through.
2. Even when it appears God isn't doing anything He is still at work.
3. Someday given enough time (and we may have to wait for heaven) God's plan will all make sense.
4. In the meantime God calls us to be wise and filled with faith.
Questions to Share:
1. If the tomb is empty what problem in your life is too big for God to heal or resolve?
2. Pray for your spouse to endure through the Fridays, Saturdays and Sundays of your life—and to see God at work through circumstances.
Excellent or Praiseworthy is posted on Monday and Thursday nights.
Editor's Note:  This posting is shared by a friend of Excellent or Praiseworthy, author Jocelyn Green. Jocelyn is the award-winning author of ten including fiction and nonfiction books. A former military wife herself, she offers encouragement and hope to military wives worldwide through her Faith Deployed books and The 5 Love Languages Military Edition, which she co-authored with best-selling author Dr. Gary Chapman. Her Heroines Behind the Lines Civil War novels, inspired by real heroines on America's home front, are marked by their historical integrity and gritty inspiration.
During our first year of marriage, my husband Rob and I rented the classic film Ben Hur with Charlton Heston to watch the night before Easter. The chariot race came up awfully fast. "I feel like we're supposed to care about who wins," I told Rob. "Shouldn't we get to know the characters a bit?" The movie was over in less than an hour. "Huh. I thought this was supposed to be a long movie." We shrugged and shook our heads. Only after taking the disc out and examining it more carefully did we realize what happened. We had played Side B.
Tonight my family and I are watching Ben Hur starting with Side A. (Funny how it's so much more satisfying that way.) It's a night-before-Easter tradition we cherish every year. The hope and awe of the characters when Christ is raised from the dead is absolutely contagious. and the best part is knowing that that Christ, the one who healed lepers and mended broken lives, is still alive, and He is my Christ, my Lord too. Hallelujah! A couple of years ago, while I was writing my Civil War series, I was delighted to learn that Lew Wallace, the author of Ben Hur, was a Civil War general before writing the novel. But it was only a few days ago that I learned more about the amazing story of how it all came about.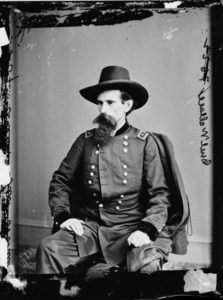 Lew Wallace, circa 1861
In September 1876, Wallace was on his way by rail to join thousands of other Union veterans at the Third National Soldiers Reunion in Indianapolis. When a man Wallace recognized popped into his sleeper car and invited him to have a talk, he agreed. The man was Robert Ingersoll, who had been a soldier at the Battle of Shiloh, where Wallace's military reputation had been stained by not bringing his men to the battle in time. In fact, the Union defeat at Shiloh was blamed, at least in part, on Wallace's failure. But Ingersoll, now the nation's most prominent atheist, didn't want to rehash Shiloh with the general that night on the train. Instead, he wanted to share his passion: the nonexistence of God.
Ingersoll talked until the train reached its destination. "He went over the whole question of the Bible, of the immortality of the soul, of the divinity of God, and of heaven and hell," Wallace later recalled. "He vomited forth ideas and arguments like an intellectual volcano." The arguments had a powerful effect on Wallace. Departing the train, he walked the pre-dawn streets of Indianapolis alone. In the past he had been indifferent to religion, but after his talk with Ingersoll his ignorance struck him as problematic, "a spot of deeper darkness in the darkness." He resolved to devote himself to a study of theology, "if only for the gratification there might be in having convictions of one kind or another."¹
Rather than study a stack of theology books, however, Wallace took a completely novel approach–literally. He decided to explore the divinity of Christ by writing a novel about Him. That novel was born four years later in the form of Ben-Hur: A Tale of the Christ, and was to become one of the best-selling American novels of all time. What delicious irony! A late-night conversation in which an atheist tried to persuade another into the camp of unbelief actually set the wheels in motion for one of the most influential biblical epics ever written. Amazing. Literature critics were less impressed, but readers loved it. The book sold as many as a million copies in its first three decades in print.
Ulysses S. Grant read Ben-Hur in a single, 30-hour sitting. President James A. Garfield wrote to Wallace after finishing it, "With this beautiful and reverent book you have lightened the burden of my daily life." Jefferson Davis's daughter Varina read the novel to him from night til dawn, "oblivious to the flight of time."² Ben-Hur was published fifteen years after the end of the Civil War, and a few years after the official end of the Reconstruction Era. It is the story of compassion triumphing over revenge, and of Christ's resurrection. I can only imagine how that must have resonated with Americans struggling for rebirth.  The truth is timeless, for those who saw the risen Christ, for Americans piecing their lives back together after the Civil War, for you and for me.
Because Jesus lives, Hope lives!
Sources: 1. Swansburg, John. "The Passion of Lew Wallace," Slate.com (link is external). March 26, 2013. 2. Ibid.
Questions to Share:
1. If you have seen the movie, Ben Hur, share one thing that you remember about the chariot race.
2. The face of Jesus is never shown in the movie, but His compassion is shown clearly at the beginning of the movie when He gives Ben Hur a drink of water.  Ben Hur never forgets that act of kindness which introduces him to the man of Jesus Christ.  Do you remember an act of kindness done for you which was instrumental in your decision to become a Christian?
Excellent or Praiseworthy is posted on Monday and Thursday nights.
Jesus said to her, "I am the resurrection and the life.  He who believes in Me will live, even though he dies; and whoever lives and believes in Me will never die.  Do you believe this?"  — John 11:25,26
My Christmas celebration includes listening to the delivered words of Dr. S. M. Lockridge in his sermon, "That's My King!"  And a similar joy comes at Easter when I listen to his preaching "It's Friday. . . . but Sunday's Coming!"  This year I can share with you the powerful presentation put together with scenes from Mel Gibson's "The Passion of The Christ."  The video clip captures joy which Christians are experiencing today because of the truth of the empty tomb on Resurrection Sunday:
And now it's Monday. What are you going to do with this truth?
We live in a world of turmoil desperately in need of hope . . . . the hope that can only come through knowing Jesus Christ as Lord and Savior.
It's Monday. Can you share that hope with someone today?
Questions to Share:
1. What difference has the understanding of Christ's resurrection made in your life?
2. Who could you share with about Christ's atonement for our sin made possible by His death on the cross followed by His resurrection?
Excellent or Praiseworthy is published on Monday and Thursday evenings.
That I may know Him, and the power of His resurrection and the fellowship of His sufferings, being conformed to His death; in order that I may attain to the resurrection from the dead. — Philippians 3:10,11
I opened my eyes. The first sounds I heard were those of a muezzin, high in the minaret, calling the people to prayer. Although foreign to my ears, the chanting seemed right for the moment. . . .as I was in Turkey, amongst the Muslim people.
In the midst of the chanting I heard two short whistle blows. Then in the distance two more in answer. Not alarming or irritating sounds, they were simple sounds of "all's well", the policeman's way of communication. There were no police cars or radios. It all seemed to fit.
My husband was still sleeping as I got up and went to the window. He was serving a remote tour to Turkey in 1985, and I was visiting—away from our five boys at home. There was a small balcony off our room and I wanted to see the village at dawn. The quiet was mesmerizing. No traffic—even though we were near the center of the village.
After we both were up and dressed we went down to breakfast—lots of bread, hot tea, black olives, goat cheese and some wonderful honey or marmalade. A very healthy breakfast if not unusual to my taste! But I was in a new country and I savored their ways.
We decided to walk around the village. It was still early. I was peacefully overwhelmed by all the differences and wanted to see and do and feel and remember all that I possibly could. The streets were very hilly as this was a village in a mountainous area. The streets were cobbled and very rough, whether riding or walking. The buildings were made of stone with wooden doors that were very old and weathered. As we walked the only sound we heard was a wagon pulled by a horse. A peasant family was in the wagon, with the father driving. We passed an occasional villager, my husband mumbling a Turkish greeting and getting a return greeting and slight nod. We came upon a woman on a burro led by a young boy. There were heavy bundles on the small animal, but he silently and steadily plodded up the hill. Later in the square we realized that these villagers were all heading for the center of the village to get fresh bread and water from a central well for the day.
As we walked, not saying much, I thought about the fact that it was Easter. I wasn't getting dressed up to go to church. No choral hallelujahs or trumpets. No Easter lilies or white vestments. No brunch at a restaurant or big dinner with the family. No sunrise service or double standing-room-only services. No Easter baskets. I didn't miss it—it just seemed strange.
As I was thinking, a wonderful rush of inspiration and excitement flooded me. I said to my husband, "I think that this is closer to what Easter is all about than any other Easter I've ever had in my life." Being in such an ancient setting was much as I imagined Jerusalem to be like. The narrow old streets, the stone buildings with old wooden doors—it must have looked the same in the time of Jesus, I thought.
The first Easter morning, life went on as usual. No one knew what had happened. People who were early risers were up, but most were still in their homes. Only a few people were aware that morning that Jesus of Nazareth had risen. They were at the tomb. The rest of the world didn't know yet.
As I stood on that cobblestone street I felt that I had been swept away in time. For the moment I was experiencing that first morning. Peasants were going about their lives unaware that God had redeemed them, that a miracle had happened. Forever I could be with God, as He had sent His Son to die in my place, the redemption for my sin.
That first Easter morning, only a few of those who loved Jesus and had followed Him were made aware that He had risen. Those few praised God and believed, even though they didn't understand. And though they were few, God blessed them with hope and joy.
Through His Holy Spirit I felt that joy over the barrier of the years. My husband and I, as those in Jerusalem that day, knew that Jesus had risen. We have the knowledge written out for us by God in the Bible, that those on that first morning did not have. But they believed.
The miracle. Jesus died and rose again. The belief and acceptance that He did it for me. The joy that God fulfilled a promise. Hope for all eternity. That is what Easter is. In that small Turkish village, God blessed me with a reminder that Easter is a personal experience. In a moment, He pulled away all the Easter trappings and drew me to Him.
God loves me. He sent His Son to die for me because He wants me to spend eternity with Him. That has always been God's message to each of us and I have always believed it. But in that quiet moment in Turkey He wanted to share that truth with one of His children who was listening.
Perhaps so she would share it with others whom He loves.
Questions to share:
This Easter, because of your time apart from each other, is God speaking to you in a special way about the meaning of the resurrection?

Share with each other, if possible, a particularly memorable Easter from your past.
Excellent or Praiseworthy is posted on Monday and Thursday nights.
Do nothing from selfishness or empty conceit, but with humility of mind regard one another as more important than yourselves; do not merely look out for your own personal interests, but also for the interest of others. — Philippians 2:3,4
Several military wives, myself included, had crammed into an apartment living room for a book club meeting. As we chatted between bites of crackers and cheese, our conversation veered away from the book of the month when the hostess unleashed a bitter monologue concerning her husband's frequent absences at sea and punctuated it with a booming, "I did not sign up to be a single parent!" With one toddler and another baby due soon, this woman was clearly frazzled. Unfortunately, her resentment over having to be solo spilled out of her like a toxin and threatened to poison the evening.
Heroes at Home author Ellie Kay points out that resentment takes root when the focus is on our own unfulfilled desires and expectations, on why life isn't the way we want it to be right now. Our book club hostess, like most of us, desired for her husband to be a present father. Many wives struggle with not being able to pursue professional ambitions due to the transitory lifestyle of the military. And who doesn't wish we could spend more time with our families or friends we've left scattered all over the country?
In Lies Women Believe, Nancy Leigh DeMoss points out that no matter who we are (or what our husbands are called to do), we will always have unfilled longings this side of heaven (Romans 8:23). "It is important to understand that our inner longings are not necessarily sinful in and of themselves," she writes. "What is wrong is demanding that those longings be fulfilled here and now, or insisting on meeting those longings in illegitimate ways . . . . The second Truth is that the deepest longings of our hearts cannot be filled by any created person or thing . . . . We must learn to accept those longings, surrender them to God, and look to Him to meet the deepest needs of our hearts."
Naomi and Ruth, both widowed and childless, certainly had unfulfilled longings when they returned to Bethlehem empty-handed. But instead of wallowing in their tragedy, Ruth rolled up her sleeves and went to work—hard work—gleaning in the fields under the hot sun so she could provide for herself and her mother-in-law.
When resentment threatens to infect our hearts, we need to take a cue from Ruth and step outside ourselves to serve others. "We are not going to change our husbands or the situation; we can't stop the war," says Mrs. Kay. "If those things won't change, we must." She continues to add that the best way for a wife to stop resenting her husband's military service is for her to get out there and invest in the lives of other people—start serving others. A good place to start is volunteering at family activities for his unit. Or if time allows . . . . help a neighbor who is perhaps in the same circumstance, volunteer at your child's school, your church, or in your community. Once you look outside of yourself to help meet the needs of others, a miracle happens. "The very needs which built resentment in your heart will turn around as you see God invited into the equation."
Pray: Lord, help me to surrender my unfulfilled desires to You, and to seek Your provision to meet the deepest needs of my heart. Show me how I might be used of You by looking to the interests of others (Philippians 2:4). In Jesus' Name, Amen.
Questions to Share:
What resentment am I harboring that I should be giving to God?
How can I serve others this week?
Jocelyn Green is an award-winning freelance writer and author of Faith Deployed: Daily Encouragement for Military Wives, from which this devotional was re-posted with permission from Moody Publishers. She is also the co-author of Battlefields & Blessings: Stories of Faith and Courage from the War in Iraq & Afghanistan. She and her husband Rob live with their two children in Cedar Falls, Iowa.
Excellent or Praiseworthy is posted on Monday and Thursday nights.
But a man who commits adultery lacks judgment; whoever does so destroys himself." —Proverbs 6:32
Have you seen those billboards across America which are black with white lettering—with "messages" from God? Have you seen, "We Need to Talk . . . . God"? Or "Loved the Wedding, Invite Me To The Marriage . . . . God"? Or "Need Directions? . . . . God"? The sponsor of these billboards is apparently an anonymous client, but whomever it is has put truth on display which we can all clearly understand.
Or do we understand? Maybe we think that those messages are for "everybody else"—certainly not for us. When it comes to temptations we might say, "That'll never happen to me!" Or maybe we say, "I'm so far gone in sin that even God can't help me!"
Neither of these statements is true, for we are all vulnerable to temptation . . . no one is immune or exempt. And no sin is beyond the mercy and grace of our loving Father who said: "where sin increased, grace increased all the more." (Romans 5:20)  We see these two truths together in 1 Corinthians 10:12 & 13: "Therefore let him who thinks he stands take heed that he does not fall. No temptation has overtaken you but such as is common to man; and God is faithful, who will not allow you to be tempted beyond what you are able, but with the temptation will provide the way of escape also, so that you will be able to endure it."
Adultery is a common temptation during deployment—going back thousands of years. If you don't believe that, just look in the Bible (2 Samuel 11) for the account of David and Bathsheba—a very famous deployment infidelity, with grave consequences. Was there a way of escape? Certainly, and that is God's promise.
But sometimes we forget that God has something to say about adultery. Kinda' like that billboard sign that reads, "What Part of 'Thou Shalt Not' Didn't You Understand? . . . .God." That's like saying, "No. . . .Because I Said So. . . . God."
I like the way Bob and Cheryl Moeller put Scripture together in their on-line "Marriage Minutes" (bobandcherylmoeller.com) called "Eternity is Long, Don't Have An Affair" (counter to "Life is Short, Have an Affair"). They call this the "Top 10 Reasons to Not Have An Affair":
1. "Honor your marriage and its vows, and be pure; for God will surely punish all those who are immoral or commit adultery." Hebrews 13:4
2. "Present your bodies a living sacrifice, holy, acceptable unto God." Romans 12:1
3. "Let there be no sexual sin, impurity or greed among you. Let no one be able to accuse you of any such things." Ephesians 5:3
4. "But if you give yourself to the Lord, you and Christ are joined together as one person. That is why I say to run from sexual sin. No other sin affects the body as this one does. When you sin this sin it is against your own body. Haven't you yet learned that your body is the home of the Holy Spirit God gave you, and that He lives within you? Your own body does not belong to you. For God has bought you with a great price. So use every part of your body to give glory back to God because He owns it." 1 Corinthians 6:18-20
5. "Now change your mind and attitude to God and turn to Him so He can cleanse away your sins and send you wonderful times of refreshment from the presence of the Lord." Acts 3:19
6. "We try to live in such a way that no one will ever be offended or kept back from finding the Lord by the way we act, so that no one can find fault with us and blame it on the Lord." II Corinthians 6:3
7. "For, you have been given freedom: not freedom to do wrong, but freedom to love and serve each other." Galatians 5:13
8. "Nothing in all the world can be hidden from God. Everything is clear and lies open before Him, and to Him we must explain the way we have lived." Hebrews 4:13
9. "Remember, too, that knowing what is right to do and then not doing it is sin." James 4:17
10. "You shall not commit adultery." Exodus 20:14
If sexual temptation is something you struggle with, remember these scriptural truths and the promise that God will always provide His children with a way of escape from the "opportunity." Look for something else to do, somewhere else to go, someone else to spend time with, something else to look at, something else to listen to, something else to think about (Philippians 4:8).  Pray for eyes to see that "other way." There will always be a choice.
If we choose poorly, there are painful consequences—even for future generations. We know that. But we also know that God is faithful to His promise in Psalm 103:11-12: "For as high as the heavens are above the earth, so great is His love for those who fear Him; as far as the east is from the west, so far has He removed our transgressions from us." Jesus paid the price for our sin, on the cross:
"When you were stuck in your old sin-dead life, you were incapable of responding to God. God brought you alive—right along with Christ! Think of it! All sins forgiven, the slate wiped clean, that old arrest warrant canceled and nailed to Christ's Cross." Colossians 2:13,14 from The Message.
Questions to Share:
1. Which of the ten Scriptures above were new or enlightening to you, if any?
2. Are you surprised that God has so much to say about adultery? What is it about the vows of marriage which make infidelity a betrayal of trust and an offense to God?
Excellent or Praiseworthy is posted on Monday and Thursday nights.
"Haven't you read," He (Jesus) replied, "that at the beginning the Creator 'made them male and female,' and said, 'For this reason a man will leave his father and mother and be united to his wife, and the two will become one flesh'? So they are no longer two, but one. Therefore what God has joined together, let man not separate." — Matthew 19:4-6
Covenant. Commitment. These are words we share in the Christian church, and in the Christian marriage.
And sometimes, as a time of remembrance and renewal, couples will recite their wedding vows again to each other . . . as a sign that "what was true then is still true now." Perhaps even more so.
Sometimes couples will mark a special anniversary with the renewing of their vows. Sometimes before deployment. Sometimes after deployment.
A church in Michigan recently had a ceremony attended by couples who wanted to renew their wedding vows. The words which the pastor (Pastor Mark Haines of Bay City Wesleyan Church, Bay City, Michigan) wrote and the attendees recited are as beautiful and true as any I have ever read. Shared by Bob and Cheryl Moeller on "Marriage Minutes," the write-up was entitled, "Three Things Your Spouse Needs to Hear and You Need to Say":
I Did
At our wedding ceremony, I chose you to be my spouse.
I promised to live with you according to God's holy Word.
On that life changing day, I promised to love you,
to comfort you,
to honor and keep you.
I swore to stand by you
for better or worse,
in sickness and in health.
At our wedding I renounced all others
and promised to give myself to only you, so long as we both shall live.
The pastor said, "Will you take this one?"
And I did.
I Do
Today, I choose you to be my spouse.
I promise to continue living with you according to God's holy Word.
On this ordinary day of our life together, I promise to keep on loving you,
to keep on comforting you,
to keep on honoring and keeping you.
Today, I am standing by you
for better or worse,
in sickness and in health.
Today and every day, I renounce all others
(no websites, no magazines, no videos, no lingering leers, or secret meetings).
I give myself to you and only you, so long as we both shall live.
People may ask, "Will you take this one?"
And, you must know, I do.
I Always Will
Tomorrow and everyday God gives us, I will choose you to be my spouse.
I will continue living with you according to God's holy Word.
Every day we share by God's grace, I promise to always love you,
to always comfort you,
to always honor and keep you.
As long as I have breath, I will stand by you
for better or worse,
in sickness and in health.
I will always renounce all others
and always give myself to only you, so long as we both shall live.
Our great-grandchildren may ask, "Will you take this one?"
And, you can count on this, I always will.
I did.
I do.
I always will.
Your spouse needs to hear these 3 things and you need to say them as you gaze into his or her eyes.

Wow—I find this to be powerful.
Another beautiful renewal ceremony for military comes at the end of the HomeBuilders Bible study Making Your Marriage Deployment Ready. Called the "Marriage Commitment Ceremony," the vows recited are:
"Believing that God, in His wisdom and providence, has established marriage as a covenant relationship, a sacred and lifelong promise, reflecting our unconditional love for each other and believing that God intends for the marriage covenant to reflect His promise to never leave us nor forsake us, We commit our lives to be faithful to each other during the unique challenges of military service and beyond . . . to seek God's help in order to finish strong, standing firm on the vows that we made on our wedding day, and on the Word of God which gives us the blueprint for this commitment."
Perhaps this is a day for you to say these words to your spouse. Perhaps there is a day in the future, Lord willing, when you can say these words to your spouse—or you can say them to each other.
I pray so.
Work Cited:
Bob and Cheryl Moeller, "Marriage Minutes," Wednesday, February 22, 2012.
Montgomery, Mike and Linda and Keith and Sharon Morgan, Making Your Marriage Deployment Ready (Little Rock: FamilyLife Publishing, 2008), p. 95.
Questions to Share:
1. Pray that the Lord will give you wisdom as to how you may use these vow renewal ceremonies in your own marriage.
2. Consider writing your own renewal of vows which might speak directly to what you and your spouse share in your commitment to each other.
Excellent or Praiseworthy is posted on Monday and Thursday nights.
In memory of Denise McColl, who went home to be with our Lord nine years ago on March 29, 2008. . . and in honor of the McColl family who demonstrated great love and care. . .we are re-posting this devotion.  It was originally posted on February 25, 2008, before Denise's death. May their story bless you as the McColls have blessed us. . .
New words and phrases keep coming into our English language—some better than others! On the "bad" side, I am distressed at the new use of the word "whatever." Being one who loves Philippians 4:8, from which this devotional is named, the word "whatever" leads me into thinking of things that are true, noble, right, pure, lovely, admirable, excellent or praiseworthy. But now, in our culture, "whatever" is tossed out in disrespect and flippancy—often to cut off a conversation in misunderstanding.
But on the "good" side, I really enjoy the new phrase that we use to help visualize a new idea and to begin planning to that end. "What would it look like if ________" is the way we can gather and dream about a new project, with hopes that the outcome will look the way we envision.
So here's the question: What would it look like if a Christian couple chose to face military life as an opportunity to exhibit and demonstrate Christ-likeness under all circumstances. . . even deployment?  What would it look like if they faced the challenges of "constant schedule changes, the times of transition, the long periods of waiting, (for orders, housing, homecomings, etc.) the many uncertainties concerning deployments, the long periods of single-parenting, the long 'silent' periods during separations, the months spent 'camping out' at each new location, the adjustments of each family member at new homes, schools, and working environments" (Footsteps of the Faithful, p. 11) totally relying on God to meet their needs, strengthen and comfort them, in order to be able to finish strong?
It would look like the McColl family, as shared in the book Footsteps of the Faithful, subtitled "Victorious Living and The Military Life." This book was life-changing for me, in terms of ministry to military families facing the global war on terror. The book was written in the early 1990's by a Navy wife whose husband served on submarines. Here is Denise McColl's perspective, "We wives have a unique opportunity as Christians serving in the military to share the peace that the Lord gives us even in our husbands' comings and goings. It is a living testimony that our security, our worth, and our perspective is not totally wrapped up in our spouse's presence, but in the presence of the God whom we serve." (p. 118) Wow! This is what Kingdom-living looks like, military-style!
I have never met Denise McColl, and chances are, this side of heaven, we will not meet. You see, Denise is experiencing great pain and suffering with brain cancer—on the opposite coast of the United States from where I live. Her husband and five daughters have been lovingly caring for her—no doubt with the help of many friends and professionals. When I found out that the McColls were going through this tender time, I felt compelled to share the legacy that this family's story has meant to me.
One of my favorite chapters in the book is entitled "Deployment Detours." In it, the oldest daughter (Heather) asks her mother this question:
"But, Mom, what do you really think Dad's doing?' Heather prodded.
'I really don't know, Heather. But you know what? It doesn't matter, because I know that whatever he's doing, God is watching over him. And hopefully he is having lots of chances to tell people about Jesus. Do you remember what Daddy reminded you of when he left, girls?'
'Yeah, Mom. He told us to encourage each other and to be a blessing.'
'That's right. And I hope you will continue to do that. And when you do, think of your dad at sea who hopes so much to do the same. He wants to encourage his shipmates and to be a blessing to them. If you can remember to pray for him about that, you'll begin to have a pretty good idea about what he's doing. Does that help girls"? (p. 79)
It did help, and their story helps us to see victorious Christian living in spite of challenges. As my husband and I travel as missionaries to posts and bases, we are introduced to other military families who live out Matthew 6:33: "But seek first His kingdom and His righteousness, and all these things will be given to you as well." We are blessed by their faithfulness to each other and to God and consider it a privilege to pass on their stories. Not that they don't struggle with good days/bad days. . . .but that they're able to face the days filled with the Holy Spirit and proclaiming His faithfulness to all generations.
Halfway through Footsteps of the Faithful, Denise includes a chapter written by her husband, Angus. As leader of the McColl family, I was intrigued by what he had to add to her account. Here is some of what he wrote:
"I have decided that the best thing that I can do as a military man who feels called by God to 'stay with it,' is to look for other ways in which I can minister to my wife and family rather than to be frustrated by the ways in which I can't. I know that while I am on sea duty I will often not be able to minister to them, but I have learned a lot of ways that I can still share with them even in my absence. I have learned that even though I am often gone, it is mostly a matter of making my family a priority." (p. 109)
He continues as he shares how prayer kept them together during deployments:
"I have found it useful to develop a list of prayer topics with my wife prior to leaving so that we have some common ground for prayer. Developing this list together before deploying and then checking it together after being reunited has been one of our greatest encouragements as a couple. . . . Separation is never easy, but prayer builds many bridges, and it is a great tool to help us cling to common ground." (p. 113) He goes on to add the value he saw by choosing a "family deployment project." Perhaps that is another story for another "Excellent or Praiseworthy" devotional! Stay tuned. . . .
Denise closes her book in proclamation of God's provision and God's purpose:
"Thankfully, we don't live from war to war but from day to day. And in our day to day living, the grey spots can certainly cloud our perspectives, often so much so that we give up the battle as we lose our stance under the pressures of military life. That is why our stability in Jesus is of utmost importance. . . . God's purpose is not that we grope through the grey times, but that we grow through them! We don't often see what His purposes are in undergoing a harsh time until we are on the other side of it. So our only hope is to cling to Him through it, to stand firm or move forward as He calls us." (p. 206-207)
May God bless you and your family, Denise, in your current battle, and may "…the peace of God, which transcends all understanding, guard your hearts and your minds in Christ Jesus." — Philippians 4:7
McColl, Denise, Footsteps of the Faithful: Victorious Living and the Military Life. Orlando: Campus Crusade for Christ, 1994.
Questions to Share:
1. What would it look like if we could take Philippians 2:14 to heart and chose to live it in deployment? "Do everything without complaining or arguing, so that you may become blameless and pure, children of God without fault in a crooked and depraved generation, in which you shine like stars in the universe as you hold out the word of life—in order that I may boast on the day of Christ that I did not run or labor for nothing."
2. What would it look like if you faced death with the assurance that you were going to spend eternity in heaven with Jesus? "For God so loved the world that He gave His one and only Son, that whoever believes in Him shall not perish but have eternal life." —John 3:16
keep looking »