Excellent or Praiseworthy is posted on Monday and Thursday nights.
Where can I go from Your Spirit? Where can I flee from Your presence? If I go up to the heavens, You are there; if I make my bed in the depths, You are there. If I rise on the wings of the dawn, if I settle on the far side of the sea, even there Your hand will guide me, Your right hand will hold me fast. — Psalm 139:7-10
For me, the story of "Taps" is a local story because I live close to where it was composed. I could easily drive to Berkeley Plantation in Virginia, where there is a monument marking the "birthplace" of Taps. Tour guides will tell you that the haunting 24-note bugle call is actually a revision of a French call to signal to the troops the end of the day and "lights out." The story goes like this:
"In of July of 1862, in the aftermath of the bloody Seven Days battles (Peninsular campaign), hard on the loss of 600 men and wounded himself, Union General Daniel Adams Butterfield called the brigade bugler to his tent. . . .Oliver Wilcox Norton, the bugler, tells the story, '. . . showing me some notes on a staff written in pencil on the back of an envelope (some accounts say that Butterfield hummed it to Norton), (he) asked me to sound them on my bugle. I did this several times, playing the music as written. He changed it somewhat, lengthening some notes and shortening others, but retaining the melody as he first gave it to me. After getting it to his satisfaction, he directed me to sound that call for Taps thereafter in place of the regulation call. The music was beautiful on that still summer night and was heard far beyond the limits of our Brigade. The next day I was visited by several buglers from neighboring Brigades, asking for copies of the music which I gladly furnished. The call was gradually taken up through the Army of the Potomac.'" From "History of Taps."
Not long after Taps was composed, it was used for the first time at a military funeral. Union Captain John Tidball, commander of an artillery battery, had it played for the burial of a cannoneer killed in action (during the Peninsular Campaign) because the traditional three rifle volleys fired over the grave might have alerted the enemy nearby. This event is commemorated in a stained glass window at The Chapel of the Centurion, also nearby at Ft. Monroe.
Ten months after it was written, Taps was played at the funeral of Confederate General "Stonewall" Jackson. By 1874 Taps was officially recognized by the U.S. Army and was required to be played at military funerals by 1891.
Taps is played throughout our nation on Memorial Day as it is traditionally sounded at funerals, wreath-laying, and memorial services. In order to honor those who died in service to our country, giving the ultimate sacrifice—Taps is played in remembrance of all of those who have insured our precious freedom. While we are hearing the strains perhaps you can also remember the words which are associated with the bugle call. While these lyrics are not "official," the first verse is commonly sung with these words:
"Day is done, gone the sun,
From the hills, from the lake,
From the sky.
All is well, safely rest,
God is nigh."
God is nigh. The definition of "nigh" is "near in space, time, or relation." The American College Dictionary, 1955.
God is near:
You are near, O LORD, and all Your commandments are truth. — Psalm 119:151
The LORD is near to the brokenhearted and saves those who are crushed in spirit. — Psalm 34:18
But as for me, the nearness of God is my good; I have made the Lord GOD my refuge, that I may tell of all Your works. — Psalm 73:28
The LORD is near to all who call upon Him, to all who call upon Him in truth. — Psalm 145:18
Let your gentle spirit be known to all men. The Lord is near. — Philippians 4:5
The last verse of Taps, traditionally, is similar to the first verse:
"Thanks and praise, For our days,
'Neath the sun, 'Neath the stars,
'Neath the sky,
As we go, This we know,
God is nigh."
Is there any doubt in your mind and heart that God is near, during deployment? Even during the lowly conditions of war in 1862, God was there. Jari A. Villanueva is a bugler and bugle historian, considered the country's foremost authority on Taps. He wrote: ".. . it is hard to believe that Butterfield could have composed anything that July in the aftermath of the Seven Days battles which saw the Union Army of the Potomac mangled by Lee's Army of Northern Virgina. Over twenty six thousand casualties were suffered on both sides. . . . In the midst of the heat, humidity, mud, mosquitoes, dysentery, typhoid and general wretchedness of camp life in that early July, it is hard to imagine being able to write anything." From "24 Notes that Tap Deep Emotions".
But write it (or revise it) he did, and Butterfield's desire to honor his soldiers is forever the way that we seek to honor our brave soldiers.
The Scripture from Psalm 139 is a reminder of what we declare in the singing of Taps. With a lump in our throats and perhaps tears in our eyes, we remember this Memorial Day, with grateful hearts, those courageous patriots who have gone before us in battle. . . . and we remember that our God is faithful . . . . and near.
Questions to Share:
1. What thoughts come to your mind when you hear Taps?
2. On this Memorial Day, is there someone who served our country whom you could tell your spouse about as a way of honoring them?
Note:  Additional information on Taps is available at www.tapsbugler.com
Editor's Note: Heather McColl Morgan, a favorite writer for Excellent or Praiseworthy, is currently deployed. We are grateful that she took some time to reflect and share these thoughts with us.
Excellent or Praiseworthy is posted on Monday and Thursday nights.
" . . . because those who are led by the Spirit of God are sons of God. For you did not receive a spirit that makes you a slave again to fear, but you received the Spirit of sonship. And by Him we cry, 'Abba, Father.' The Spirit Himself testifies with our spirit that we are God's children. Now if we are children, then we are heirs—heirs of God and co-heirs with Christ, if indeed we share in His sufferings in order that we may also share in His glory." — Romans 8: 14-18
It is getting warm here in the desert and things are very busy.
Last month I heard a few people pose different versions of a question asked by many of us: "Why are we here?" Thoughts on U.S. foreign policy and the meaning of life aside, this question can be expected whenever there is a drastic shift in priorities and mission set, as people go to war with one idea of why they're going and what they'll be doing— which inevitably takes new, dramatic twists and turns, especially this late in the war. This question also struck me as having a basic answer for believers in Christ's death, resurrection, and redemption. If Christ—with God the Father and the Holy Spirit—is indeed a co-creator, co-sustainer, and co-restorer of this broken world . . . and if we are, as St. Paul says, "heirs of God and co-heirs with Christ," then the following things can be said of us, no matter where we find ourselves and no matter what we may be doing:
WE CREATE: In dark, empty places we speak and make something new and good into being.
WE SUSTAIN: We destroy or remove what is dead or diseased, and help what is alive to grow and function.
WE RESTORE: Where there is willingness and purpose, we help put broken people, things, and situations back together.
This has been especially encouraging to my husband and I during periods of transition and waiting in the military, where we can't always use our best gifts daily, and are made constantly aware of our weaknesses. While we continue to discern and pursue our vocation as that activity where "our great joy meets the world's great need," we realized early on that our military service days were not meant to be our life's work but a necessary part of our vocational journey.
While we wait, the calling of a Christ-follower is this: within our duties and obligations, we find space to create, to sustain, and to restore because we bear the image of God. This will look different for each of us, and will undoubtedly cause friction (sometimes even with other believers) as we try to discern the void, the destructive, the broken, from what is worth preserving and saving.
I will say that it also makes the day more adventurous to be on the lookout for examples of people doing this!  As quickly the spring in Kandahar has given way to summer, we watch each other transform and mature with our various challenges. The hope is that each day we are more able to recognize brokenness in our world, and more equipped and ready to participate in the creative, restorative ways that God makes all things new, starting with us.
Questions to Share:
1. What brokenness do you see in the world around you?  How can we encourage each other by naming the brokenness we see around us and in ourselves?
2. How can we work alongside others using our different experiences and gifts to co-create, co-sustain and co-restore the world with God?
Excellent or Praiseworthy is posted on Monday and Thursday nights.
But put on the Lord Jesus Christ, and make no provision for the flesh, to gratify its desires. — Romans 13:14
On April 29th, theologian John Piper posted on his devotional blog, "Solid Joys", a challenge to maintain purity in our technological age.  It is entitled "Five Digital Dangers." Perhaps these are not new warnings to you, but they are a fresh summary of the dirty reality in which we live.
1) The hook of constant curiosity
Digital devices offer a never-ending possibility for discovery. Even the basic operating systems can consume hours of curious punching and experimenting. Then there are the endless apps consuming weeks of your time as they lure you into their intricacies.
All this is very deceptive, giving the illusion of power and effectiveness, but leaving you with a feeling of emptiness and nervousness at the end of the day.
Resolution: I will strictly limit my experimental time on the device and devote myself more to the truth than to technique.
Editor's Note: I found this first warning to be convicting. Throughout the day I can catch myself thinking, "I wonder what the latest news is from Boston?"  "What is happening in Cleveland?"  "I wonder if ______ answered my email yet?" "Did ____ get any comments on their Facebook posting?" If I leave my work and go check on the "latest" it can eat up an enormous amount of time. "Constant curiosity"—yep, the temptation is real.
2) The empty world of virtual (un)reality
How sad to see brilliant, creative people pouring hours and days of their lives into creating cities and armies and adventures that have no connection with reality. We have one life to live. All our powers are given to us by the real God for the real world leading to a real heaven and real hell.
Resolution: I will spend my constructive, creative energy not in the unreality of "virtual reality" but in the reality of the real world.
Editor's Note: Piper's point brings to mind this Scripture: "Turn my eyes away from worthless things; renew my life according to Your word" (Psalm 119:37).
3) "Personal" relations with a machine
Like no other invention, a computer comes closest to being like a person. You can play games with it. It will talk to you. It will always be there for you. The great danger here is that we really become comfortable with this manageable electronic "person," and gradually drift away from the unpredictable, frustrating, sometimes painful dealings with humans persons.
Resolution: I will not replace the risk of personal relationships with impersonal electronic safety.
Editor's Note: We can often feel alone, especially during deployment. Seeking companionship in a digital frame will leave us lacking—as Piper indicates. But Scripture reminds us that we are never alone—never: "O LORD, You have searched me and You know me. You know when I sit and when I rise; You perceive my thoughts from afar. You discern my going out and my lying down; You are familiar with all my ways. Before a word is on my tongue You know it completely, O LORD. You hem me in—behind and before; You have laid Your hand upon me. Such knowledge is too wonderful for me, too lofty for me to attain" (Psalm 139:1-6).
Remember—God is real, and so is your marriage. Honoring and investing in that real-life relationship is wise—and will create life-long benefits.
4) The risk of tryst
"Tryst \'trist\ noun: An agreement (as between lovers) to meet." Sexual affairs begin in private time together, extended conversation, and the sharing of soul, which can now be done in absolute seclusion through digital devices. You can think that "it's just nothing" — until she shows up in town.
Resolution: I will not cultivate a one-on-one relationship with a person of the opposite sex other than my spouse. If I am single I will not cultivate such a relationship with another person's spouse.
Editor's Note: This is a good reminder that: " . . . a man who commits adultery lacks judgment; whoever does so destroys himself" (Proverbs 6:32).  See ExcellentOrPraiseworthy.org: "Seemed Innocent Enough"
5) Porn
More insidious that X-rated videos, we can now not only watch but join the perversity in the privacy of our own den. Interactive porn will allow you to "do it" or make them "do it" virtually.
I have never seen it. Nor do I ever intend to. It kills the spirit. It drives God away. It depersonalizes women. It quenches prayer. It blanks out the Bible. It cheapens the soul. It destroys spiritual power. It defiles everything.
Resolution: I will never open any app for sexual stimulation nor purchase or download anything pornographic.
Editor's Note:  Jesus clearly addresses this in Matthew 5:27,28:  "You have heard that it was said, 'Do not commit adultery.'  But I tell you that anyone who looks at a woman lustfully has already committed adultery with her in his heart."
Is Piper's writing food for thought for those who seek godliness?  " . . . an upright man gives thought to his ways"  (Proverbs 21:29).
Remember, also, the Apostle Paul's warning to stay on guard against ungodliness prompted by the enemy, Satan: "Be self-controlled and alert. Your enemy the devil prowls around like a roaring lion looking for someone to devour"  (I Peter 5:8).
Questions to Share:
1. Piper concludes his five warnings with five personal resolutions which apply to all of us. How would these resolutions affect a couple during deployment?
2. Pray for each other to keep the resolutions which you have made.
Excellent or Praiseworthy is posted on Monday and Thursday nights.
He is before all things, and in Him all things hold together. — Colossians 1:17
The story goes something like this: A military family has just arrived at their new duty station. They've settled into temporary quarters and have begun to look at housing options. The mother takes one of the little children with her to the commissary where the commander's wife spots her and decides to check on how the family is doing. In the course of the conversation, she asks, "Have you found a home yet?" The child answers, "Oh, we have a home—we just haven't found a house to put it in!"
There's a lot of truth in that statement! The military family, at its best, is indeed a unit. And whether they are at an assignment for quite a length of time or are moving from place to place as duty demands—they cling to each other. They've learned to exercise flexibility and resilience, made possible by that wonderful WD-40 known as "sense of humor." They extend grace to each other, knowing that the challenges of war-time duty can bring us all to the point of being "frazzled." And they encourage each other to get through any and all situations.
What else can we say about the military family "unit"? This is the perfect time to answer this question, because May 10th this year is Military Spouse Appreciation Day–always the Friday before Mother's Day.
Each family is unique, but there are seven common elements which we can examine:
1. The family works as a "location" unit: When do we move? Where do we move? Do we move back to family-of-origin during deployments, or do we stay at the base/post for support? Do we buy or rent? Which school district do we want to live in? Do we live on base or in the local community? Do we try to stay together during an "unaccompanied tour," even if it means that we are non-command sponsored, or do we stay state-side during the remote tour? The military family must consider these options, and which is best for their individual circumstances.
2. The family works as a "vocation" unit: Is this assignment necessary for a career opportunity, or would it be best to stay put? Does the at-home spouse work outside of the home, or stay-at-home? Do we need extra training, which might cost more money, to get expertise in a new area in order to provide for the family long-term? Do we need to consider home-schooling of our children because of location constraints or travel opportunities?
3. The family works as a "logistics" unit: How much furniture do we put in storage? Which car do we ship overseas? What cell phone plan gives us the best ability to communicate? Do we want to buy new appliances or used ones? How much money should we budget for the deployed spouse to have to spend? Are wills, powers-of-attorney, and insurance papers all up-to-date—with computer passwords shared? Do we have a list of emergency phone numbers available? Do we have a list of "go-to" people for home and auto repairs?
4. The family works as a "consistency" unit: Who is available to keep and explain medical records to each "new" doctor or medical facility at each move, or at each visit? Who knows special educational needs for each child, which must be followed at each new location? Who in the family is responsible for what chore? How do we communicate best with each other—by email, phone, letter? Are we consistent in letting each other know what is happening, offering help, meeting needs. . . . so that trust is built into our family? Who handles discipline of the children during deployments–and how?
5. The family works as an "attitude" unit: Is each new challenge viewed as a crisis, or an opportunity to see God at work? Does the family walk a walk of faith. . . or of fear? Is the cup half-empty, half-full, or overflowing? Does cynicism reign, or confidence? Are our expectations of each other and each new situation in line with reality? Do we build each other up, or tear each other down? Do we have the attitude that each one of us is precious in the sight of God, or a burden? Is patience demonstrated? Is perspective put into each situation—that certain trials and troubles are for a season? Is the attitude of gratitude "built into" each day?
6. The family works as a "traditions" unit: Have we built into our family certain holiday traditions that provide security when everything else might be different? When half of the boxes are unpacked after a move, but the first batch of cookies comes out of the oven—does that signal that we are "home"? Is there a favorite movie, a favorite game, a favorite vacation spot. . . that holds memories which can be re-visited and provide enjoyment? Does the family traditionally look into the history of the new area into which we move? Are there patriotic traditions which continue in our family? Are successes or accomplishments celebrated a certain way—no matter what? Do we have devotional time once a day, or prayer time together, that happens everywhere we live?
7. The family works as a "loving" unit: Are mistakes met with blame or forgiveness? Is growth in knowledge and wisdom the desire for each family member? Do we listen to each others' frustrations, and dreams? Are we quick to criticize, or quick to cheer-lead? Does compassion and understanding rule the day, or bitterness and resentment? Is selfishness what we demonstrate, or can we serve each other daily, in humility? What church do we "plug into" in order to demonstrate spiritual gifts, worship, listen to sound-teaching of the Bible, and serve our Lord? Is gratitude expressed daily—for every breath and for every blessing? Is appreciation for each family member spoken and/or written? Are we kind to each other?
In so many instances it is the military spouse that holds these units together. The military spouse is the "super-glue," the "home front," the one who balances work and family demands, the "keeper of the stuff and the schedule," the one who provides that all-important consistency, presents a positive attitude, keeps family traditions alive, and loves loves loves. If there were an official song for a military spouse, it would be "You are the Wind Beneath My Wings." Most often, the military spouse is the Mom, but sometimes the Dad. . . . while other times both Mom and Dad are active-duty and must gently juggle (sometimes not so gently) all plates which are spinning a hundred miles an hour! Communication and cooperation must be at the forefront in order to keep the whole thing from falling apart!
But Who holds the military spouse together? And Who ultimately holds every situation, every decision, every circumstance, every family together–the real "super-glue"? For that we turn to Colossians 1:15-20 for this beautiful description of Jesus Christ, which includes: "He is before all things, and in Him all things hold together." (vs. 17) From the tiniest particle within the atom, to the grand expanse of the universe, Scripture tells us that Christ is supreme. And further in Colossians we find my favorite marriage and family verse: "Therefore, as God's chosen people, holy and dearly loved, clothe yourselves with compassion, kindness, humility, gentleness and patience.  Bear with each other and forgive whatever grievances you may have against one another.  Forgive as the Lord forgave you.  And over all these virtues put on love, which binds them all together in perfect unity." (Colossians 3:12-14)
Is Jesus Christ supreme in your home? Do you, as a family, go to Him in prayer and Scripture study for wisdom regarding assignments, career decisions, management of possessions, health care, attitudes, traditions, and how best to demonstrate love to each individual in the family?  Is your relationship with Jesus Christ the foundation for your relationships with others?
Take the time today, to voice your appreciation for your spouse and all they do to serve you, your family, your community, your country, and your Lord! And thank the Lord for the precious gift of your spouse!
Questions to Share:
1. In what ways does your family operate well as a unit?
2. In what ways does your family not operate so well as a unit?
3. Pray for the Lord to hold your family together during this deployment.
Excellent or Praiseworthy is posted on Monday and Thursday nights.
"Salvation is found in no one else, for there is no other name under heaven given to men by which we must be saved." — Acts 4:12
"I have concluded that when it comes right down to it, there is really only one thing I as a pastor have to offer my congregation—and only one thing that the church has to offer the world. In my role as a pastor people come to me with all sorts of problems, but I confess: I am a physician with but one medicine to prescribe, and that is the gospel of Christ.  It may need to be applied in various ways, various aspects of it may need to receive the right emphasis, and it may need to be administered in the right form. But only the gospel of Jesus Christ can heal the deepest wounds of the human heart and enable us to prosper according to God's design, bringing glory to our Lord." Dr. Bill Kynes of Cornerstone Evangelical Free Church, Annandale, VA
This is a powerful quote, posted on The Gospel Coalition blog last week. Thank you, Dr. Kynes, for speaking truth to all of us.
It took me back to a worship service my husband and I attended near a military base in a remote region of Italy several years ago. The dear pastor was faithful to preach that one message, "one medicine", to a group worshipping together but representing many national languages and backgrounds, many ages and ranks, and many needs.
At the end of the service, with one voice, we sang "In Christ Alone," but in Italian. Knowing the words in English, it was all the more powerful to me because I could tell from the expressions of those around me–from Africa, from Europe, from the U.S.–that they knew exactly what they were singing.
These are the lyrics to what hymn writer Keith Getty says tells "the story of the whole Gospel":
In Christ alone my hope is found;
He is my light, my strength, my song;
This cornerstone, this solid ground,
Firm through the fiercest drought and storm.
What heights of love, what depths of peace,
When fears are stilled, when strivings cease!
My comforter, my all in all—
Here in the love of Christ I stand.
In Christ alone, Who took on flesh,
Fullness of God in helpless babe!
This gift of love and righteousness,
Scorned by the ones He came to save.
Till on that cross as Jesus died,
The wrath of God was satisfied;
For ev'ry sin on Him was laid—
Here in the death of Christ I live.
There in the ground His body lay,
Light of the world by darkness slain;
Then bursting forth in glorious day,
Up from the grave He rose again!
And as He stands in victory,
Sin's curse has lost its grip on me;
For I am His and He is mine—
Bought with the precious blood of Christ.
No guilt in life, no fear in death—
This is the pow'r of Christ in me;
From life's first cry to final breath,
Jesus commands my destiny.
No pow'r of hell, no scheme of man,
Can ever pluck me from His hand;
Till He returns or calls me home—
Here in the pow'r of Christ I'll stand.
So today, no matter your stage of deployment, no matter the condition of your marriage, no matter the decade of your life . . . we proclaim that you can stand on the one powerful name of Jesus Christ.
"For from Him and through Him and to Him are all things. To Him be the glory forever! Amen" — Romans 11:36
Work Cited: "In Christ Alone" Words and Music by Keith Getty & Stuart Townend, Copyright © 2001 Kingsway Thankyou Music on www.gettymusic.com
Questions to Share:
1.  If you have never heard the gospel of Jesus Christ, go to 4spirituallaws.com.  Based on the truth that we are all sinners and in need of a savior, what decision did you make concerning faith in Jesus Christ?
2.  If you are saved by the truth of the gospel of Jesus Christ, share with each other what part of the song particularly spoke to your heart today.
Excellent or Praiseworthy is posted on Monday and Thursday nights.
"Let us rejoice and be glad and give Him glory! For the wedding of the Lamb has come, and His bride has made herself ready." — Revelation 19:7
It was two years ago that my husband and I closely watched two weddings—one on TV and the other through photos on Facebook. One, a royal wedding, cost millions of dollars and the other probably less than $200. Both couples deeply in love and truly committed to each other; both weddings in churches; both military couples with obligations to duty; both brides beautiful and both grooms handsome; both families excited and happy for the couples.
With the images of the two Christian ceremonies in mind, I was impressed by what Bob and Cheryl Moeller wrote in their "Marriage Minutes" shortly thereafter.  Their article was entitled "Invite Jesus to Your Wedding—Goals for Your Wedding Day." If you are planning a wedding, or helping to plan one, perhaps these ideas might help to make it a sacred event with God's presence in mind:
"1. We will make our wedding a worship experience by making Jesus the very first person we invite.
2. We will resolve to make it a worship service, rather than a production.
3. We will set our goal to be married, not just to get married.
4. We will praise the Creator, rather than calling attention to us.
5. We will set a budget to honor God rather to impress people.
6. We will publicly honor our parents and grandparents.
7. We will remember it is Christ, not the pastor who really marries us.
8. We will call attention on our wedding day to our true future hope – the second coming of Christ (the wedding supper of the Lamb)."
Item #3 is a goal that will take you past your wedding day and into each day of your lives together.  Our prayer is that you seek to honor God in your marriage . . . and not just at your wedding.
Work Cited: from "Marriage Minutes" by Bob and Cheryl Moeller, May 2, 2011, on www.forkeepsministries.com
Questions to Share:
Also from the Moeller's "Marriage Minutes":
1. "Will people remember Jesus more than the two of us when the day is over?
2. Is the presence of Christ truly welcome in all our festivities including the reception?
3. Will the people who attend catch a glimpse of heaven?"
Excellent or Praiseworthy is posted on Monday and Thursday nights.
Greater love has no one than this, that one lay down his life for his friends. — John 15:13
I guess I thought that search and rescue had always been part of the U.S. Coast Guard.  Truth is I really did not know anything of the history of this great branch of service. That is until we announced to our Saturday night Bible study group that we would be taking a trip to the northeast, and one stop would be at Boston. A retired coast guardsman in our group said, "If you're going to Boston, you must go to Hull!"
Well, like most people in our group, we had never heard of Hull. Nor had we heard of Joshua James, Point Allerton, or the Massachusetts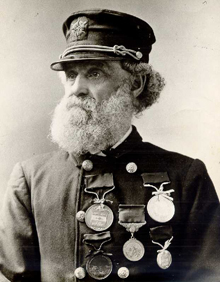 Humane Society. Turns out our friend told us that if you want to know the history of Coast Guard search and rescue, you drive a short distance from Boston to Hull, Massachusetts—on that spit of land that juts out into the mouth of the Boston Harbor. Once you drive those thirty miles, you visit the Hull Lifesaving Museum which is housed in what was the old Point Allerton U.S. Life-Saving Station. There you hear the story of Joshua James, view some of his crew's lifesaving equipment, and see the map of the many wrecks which occurred as sea captains tried to navigate the narrow waters leading into Boston Harbor—thus providing the obvious need for a highly committed team of lifesavers.
Joshua James, often credited with being the world's greatest rescuer, was born in 1826, the ninth of twelve children born to a Hull family. When he was 10 years old his mother drowned in a shipwreck, close to the family's pier. As the story is told, it was that event which spurred him on to ensure that no one else would suffer a similar fate. Thus began his career as a lifesaver, first as a volunteer with the Massachusetts Humane Society and later as the Keeper of the Point Allerton Life Saving Service Station (and three other Hull stations) in 1890. He held that position until he died in 1902. It was when the Life Saving Service merged with the existing Revenue Cutter Service, by an act of Congress in 1915, that the name of the U.S. Coast Guard was used to encompass both enforcement of maritime laws and saving lives at sea.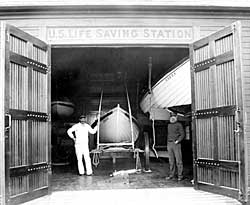 James and his crews are credited with saving over 600 lives from certain death, most during vicious storms. One of the most dramatic rescues occurred in the midst of what is referred to in that area as "The Great Storm of 1888." Five schooners and a coal barge were anchored near Hull on November 25, 1888, but none were prepared for the pounding that was going to take place because of the hurricane winds and waves of the next 36 hours. Joshua James led five crews of 28 Hull lifesavers to rescue 29 lives in circumstances that James referred to as "miraculous."
Joshua James suffered a heart attack on March 19, 1902, after a full morning of rescue training with his crew. At his funeral, the superintendent of the U.S. Life-Saving Service, Sumner Kimball, gave this tribute:
"Here and there may be found men in all walks of life who neither wonder or care how much or how little the world thinks of them. They pursue life's pathway, doing their appointed tasks without ostentation, loving their work for the work's sake, content to live and do in the present rather than look for the uncertain rewards of the future. To them notoriety, distinction, or even fame, acts neither as a spur nor a check to endeavor, yet they are really among the foremost of those who do the world's work. Joshua James was one of these."
As I read that description of James, I am reminded of the picture of self-less service which our military members perform every hour of every day. All over the world, our military is protecting, preserving, defending those in need in areas of great unrest and uncertainty.  You are our heroes!
And also in that picture, I see clearly the picture of Jesus Christ, our greatest and ultimate life-saver. Consider these Scriptures:
"Jesus said to him (Zacchaeus), 'Today salvation has come to this house, because this man, too, is a son of Abraham. For the Son of Man came to seek and to save what was lost.'" — Luke 19:9,10
"What a wretched man I am! Who will rescue me from this body of death?  Thanks be to God—through Jesus Christ our Lord!" — Romans 7:24,25

"For He has rescued us from the dominion of darkness and brought us into the kingdom of the Son He loves, in whom we have redemption, the forgiveness of sins." — Colossians 1:13
Do you need rescuing from the storms of life? Are you adrift, not knowing where the secure port is? Are you lost and in need of saving? Joshua James may have saved many lives off the coast of Massachusetts, but Jesus Christ is the Savior of all the world.  Call out to Him in your need! Jesus Christ will answer: "For 'everyone who calls on the name of the Lord will be saved.'" — Romans 10:13
Work cited:
Information gathered from pamphlets available at the Hull Lifesaving Museum, on-line U.S. Coast Guard history, and Wikipedia writing on Joshua James (which include Sumner Kimball's eulogy comments).
Questions to Share:
1. What is the value of remembering those who have gone before us in service to our fellow man, and the sacrifices that they endured?
2. How would you like to be remembered by those who come after you?
Excellent or Praiseworthy is posted on Monday and Thursday nights.
Therefore encourage one another and build each other up, just as in fact you are doing. — I Thessalonians 5:11
Monday evening's posting shared how one church prepared a Christian sister for her military deployment to Afghanistan. Her friends assembled a ringed flip-book of their favorite scriptural prayers chosen just for her—to encourage her heart during the time away from her husband and children. But that's not all they included in their gift to her. They also provided a set of "quotes to ponder" . . . and so we pass them along to you. Perhaps they will encourage your heart during deployment—or will inspire you to copy this idea and prepare a little book for someone who is experiencing a similar challenge:
"When we cling to the promises of God—we can say, 'Father, the circumstances I am in now are difficult and painful. I would not have chosen it . . . by faith I thank You for the good You are going to do in my life through it. Help me . . . to thank You from my heart." Jerry Bridges in Respectable Sins
"We must continually remember that we have in the Bible God's very words . . . We should seek to understand them and then trust them and obey them with our whole heart."  Wayne Grudem in Bible Doctrine
"For no matter how many promises God has made, they are 'Yes' in Christ. And so through Him the 'Amen' is spoken by us to the glory of God."  2 Corinthians 1:20
"(God) is a covenant-keeping God; He never fails those who trust His word."  J. I. Packer in Knowing God
"My memory is nearly gone; but I remember two things: that I am a great sinner and that Christ is a great Savior."  John Newton, author of "Amazing Grace"
"May we live our lives not 'somehow' but triumphantly."  Dr. V. Raymond Edman
"The will of God will not take us where the grace of God cannot sustain us."  Billy Graham
"Never doubt in the dark what God has told you in the light."  Dr. Bob Jones, Sr.
"God's glory is to be the 'Joy of my heart' and the theme of my life.'"  ESV footnote for Romans 16:27
"What day is this?"  "This is the day that the Lord has made. We will rejoice and be glad in it."  Psalm 118:24
"But God . . . "  "The story of our difficulties and anguish need not end with a period. We can add a comma followed by 'But God . . . '"  Genesis 50:20; Psalm 73:26; Psalm 49:15; Romans 5:7,8; I Corinthians 2:9,10; Ephesians 2:4
"There's a wideness in God's mercy like the wideness of the sea; There's a kindness in His justice which is more than liberty. For the love of God is broader than the measure of our mind. And the heart of the Eternal is most wonderfully kind."  F. W. Faber
Questions to Share:
1. Share with one another how an encouraging word has helped you get through a tough situation.
2. Choose one of the thoughts above and discuss it with each other as a way of encouraging your spouse.
Excellent or Praiseworthy is posted on Monday and Thursday nights.
Be joyful in hope, patient in affliction, faithful in prayer. —  Romans 12:12
There is a church nearby which is preparing to send off one of their dear members to Afghanistan. Deployment is always tough . . . especially for military moms deploying for the first time. So her friends put together a little flip-book, filled with prayers just for her. They figure she can carry this handy little book with her everywhere in a pocket—ready to pull out anytime.
There are 31 prayers—each based on Scripture verses. Here they are, and if you would like to use this as a template for someone deploying, please do:
Day 1—"Give _____ a true sense of peace she takes refuge, emotionally and mentally, in You, her mighty Rock."  Psalm 62:7
Day 2—"Would you remind _____ daily to rejoice in YOU, even when she feels that there is nothing else in which to rejoice."  Philippians 4:4
Day 3—"I pray that _____ will have the strength to comprehend with all the saints what is the breadth and length and height and depth, and to know the love of Christ that surpasses knowledge, that she may be filled with all the fullness of God."  Ephesians 3:18,19
Day 4—"Let _____ be filled with the joy given by the Holy Spirit. Let _____ be joyful always, pray continually, and give thanks IN all circumstances, for this is Your will for her in Christ Jesus."  I Thessalonians 1:6; 5:16-18
Day 5—"Make Your Word a lamp to _____'s feet and a light for her path."  Psalm 119:105
Day 6—"Strengthen _____ to not be anxious about anything, but in everything by prayer and supplication with thanksgiving remind her to make her requests known to God."  Philippians 4:6
Day 7—"Because _____ loves me," says the Lord, "I will rescue her; I will protect her, for she acknowledges my name. She will call upon me and I will answer her."  Psalm 91:14-15a
Day 8—"May _____ think on whatever is true . . . noble . . . right . . . pure . . . lovely . . . admirable . . . excellent or praiseworthy."  Philippians 4:8
Day 9—"Let the light of your face shine upon my friend. Fill her heart with joy, and let her lie down and sleep in peace."  Psalm 4:6-8
Day 10—"May _____ overflow with thankfulness."  Colossians 2:6,7
Day 11—"Help _____ to be careful and wise in how she lives, making the most of every opportunity and understanding Your will for her life."  Ephesians 5:15-17
Day 12—"Strengthen _____ in all circumstances to take up the shield of faith, with which You will enable her to put out all of the flaming darts of Satan. Remind her daily to arm herself with the sword of the Spirit—Your powerful Word."  Ephesians 6:16
Day 13—"Fill _____ with Your Holy Spirit, that she might bear the Spirit's fruit: love, joy, peace, patience, kindness, goodness, faithfulness, gentleness, and self-control."  Galatians 5:22,23
Day 14—"Be _____'s strength and her song today as she chooses to trust and not be afraid."  Isaiah 12:2
Day 15—"Strengthen _____ to do everything without complaining."  Philippians 2:15,16
Day 16—"Thank You that You are _____'s shepherd, so she shall lack nothing. Thank You, too, that You restore _____'s soul . . . "  Psalm 23
Day 17—"Help _____ to continue to put her trust in You, O Lord, and proclaim 'You are my God. My times and my days are in Your hands.'"  Psalm 31:14,15
Day 18—"Remind _____ that Your grace is sufficient for all her weaknesses and difficulties."  2 Corinthians 12:9-11
Day 19—"Enable _____ to be strong and courageous. Don't let her get frightened or discouraged, but let _____ know that You will be with her wherever she goes."  Joshua 1:9
Day 20—"May _____ never be ashamed of the gospel, but let her recognize that it is the power of God for the salvation of everyone who believes."  Romans 1:16
Day 21—"May _____ continue to meditate on the great truth that in God's great mercy He has given _____ new birth into a living hope through the resurrection of Jesus Christ from the dead."  I Peter 1:3
Day 22—"Enable _____ to throw the full weight of her anxieties on You, for she is your personal concern."  I Peter 5:7
Day 23—"Show _____ that Your way is perfect and Your word is flawless. Be _____'s shield as she takes refuge in You."  2 Samuel 22:31
Day 24—"Strengthen _____ to use her gifts and talents for Your glory."  I Corinthians 10:31
Day 25—"Keep _____ from all harm. Watch over her life; watch over her coming and going, both now and forevermore."  Psalm 121:7,8
Day 26—"Do not let _____ look at the things man looks at, but let her see the world through Your eyes and respond to it with Your wisdom and Your love."  I Samuel 16:7
Day 27—"Lord, please lead _____ to flee evil desires and surround herself with companions and friends who will pursue righteousness, faith, love and peace—who call on You out of a pure heart."  2 Timothy 2:22
Day 28—"Fill _____ with the knowledge of Your will through all spiritual wisdom and understanding, so that she may live a life worthy of You and may please You in every way: bearing fruit in every good work and growing in the knowledge of You, Lord."  Colossians 1:9,10
Day 29—"Strengthen _____ to lay aside every weight and sin which clings so closely, and help her to run with endurance the race that is set before her, looking to Jesus . . . "  Hebrews 12:1,2
Day 30—"So, then, just as _____ received Christ Jesus as Lord, may she continue to live in Him, rooted and built up in Him, strengthened in the faith as she was taught, and overflowing with thankfulness."  Colossians 2:6,7
Day 31—"Encourage _____ with Your truth that You are able to do far more abundantly than all that _____ can ask or think, according to the power at work within her. To You be glory in the church and in Christ Jesus throughout all generations, forever and ever. Amen."  Ephesians 3:20,21
What I heard was that even before this friend left, she was carrying her prayer book around with her and using it for encouragement during those difficult days. There is no doubt in our minds this little flip book will get MUCH use. I thank God for a faithful church—and there is no doubt in my mind that they will be praying just as diligently for their friend.
Questions to Share:
1. Have you ever thought of taking Scripture verses and making them into prayers?  Which one of the prayers above could you use to pray for someone right now?
2. Which one of the prayers above would you use to pray for yourself right now, putting "me" into the underlined space?
Excellent or Praiseworthy is posted on Monday and Thursday nights.
"Everyone should be quick to listen, slow to speak and slow to become angry."—James 1:19b
Do you feel that you and your spouse communicate well?  Do you feel that the ability to communicate well can make or break a marriage?
Good questions, right? And if you are like most couples, you believe that communication is something that you need to work on.  But how do you do that? There are books written on such topics! But just for today, we have some ideas to get you started. . . .
A chaplain called us before his unit's deployment, asking for recommendations on resources for Bible studies on marriage—specifically on communication. He felt that the time underway would be opportune for small group discipleship, and wanted to be prepared with good material. One thing he had in mind was helping his unit's couples hone their skills in learning to ask good questions—"conversation starters." Our best teacher at learning to ask questions of others is Jesus. Jesus was so good at asking just the right question at just the right time, because He knew peoples' hearts and their needs. It's fascinating to study the gospels with just that in mind—studying the questions that Jesus asked. For example, Peter's great confession of faith came in response to Jesus' question, "Who do you say I am?" (Matthew 16:15b). I believe Jesus shows us that the better we are at asking good questions, the better we can communicate at the "heart" level.
So, if we are going to get deeper in our relationship with our spouse, we need to learn to start sharing more than just information.We need to share what we think, what we feel—even who we are! It's so easy with email, or over the phone, to just cover what is happening and not get to how we feel about what is happening. Let your spouse know you care what they think and feel by asking questions! Even on a deployment, even in war time. . . .asking questions one of another is how to let your spouse know "I care."
For example, which of the following statements will get a conversation started: "Hope you had a good day"  "I suppose you had a good day" or "How was your day?" The first two statements are based on assumptions and are sure conversation stoppers, while the straightforward question should prompt a thoughtful answer. By taking time to listen to the response, and then perhaps offering yet another question to help clarify what was said, you have demonstrated genuine interest in your spouse.
And in answering a question, try not to give one-word answers, like "fine." That is yet another way to leave the conversation at just the surface level, keeping it from going deeper. Easier said than done? These things take practice. Perhaps your ability to communicate is limited by access to computers or telephones, not to mention time zones and mission—but if there is a chance to "talk" to your spouse, be prepared to ask some good questions.  And be prepared to listen and respond to the answers.
Communication is a lot like tennis. One person begins the conversation by making a statement, and then perhaps asking a question—like serving the ball. The other person "returns the ball" by responding to the statement and perhaps asking another question. And so the game continues.Volleying back and forth in a gentle sharing would be a metaphor for how each player would be participating. Perhaps you can picture what would happen in a tennis game if one of the players failed to return the ball, or always went to the net to slam it back at the other. Isn't this a picture of what happens to trust in a relationship?
At the end of each "Excellent or Praiseworthy" devotional, you will find two questions to share. This is intentional.We hope you can talk about what you read and specifically discuss these two questions. Taking the time in email, letter, or phone conversation to cover things beyond the weather, bank balance (which is important!), kids grades (also important) will increase intimacy in your marriage as you build trust with what you can share with each other—even while separated by deployment!
One of our favorite collections of "conversation starters" is by Dr. Gary Chapman, the author of The Five Love Languages.It's a handy flip chart with 101 questions called "Love Talks for Couples." The introduction states, "These questions celebrate the depth and wonderful mystery of your mate. Questions invite disclosure, and disclosure launches discovery. Discovery enriches a marriage and builds intimacy." Here are some examples of questions from Dr. Chapman which couples can ask each other in order to stimulate a conversation:
"In retrospect, what is something that your parents were wise in doing in raising you?"
"What was your most/least favorite subject in school?"
"What is a song or piece of music that moves or inspires you?"
"If you could win any competition in the world, what would it be?"
"What is something you thoroughly enjoyed doing as a child and have not done in years?"
"What do you remember about learning to drive?"
Long-distance communication is not easy, especially given the limitations of war-time service. Communication is not easy! But the better we can get at understanding our spouse, appreciating what is important to them, and seeking to meet their needs the further we will go toward creating oneness in our marriages.
During a trip to California, we were privileged to spend time with a Marine wife at Camp Pendleton who shared with us how she and her husband (deployed four times) had grown in their communication skills. She wrote him and asked, "What does it feel like to you to be loved by me?" This Marine wrote back, "To know that one is loved at all produces a special type of resilience to whatever obstacles one faces, lifts the spirit, and gives one a sense of self worth. No matter what happens in this life of mine, I know that I am loved by God, and that knowledge alone helps me through all the negative things that I may encounter whether they are from outside influences, or from within my own self. At the same time, this type of love magnifies the joy that life brings as well, giving love this awesome ability to protect, discipline, and bring happiness to ones self and to others as well." Perhaps this type of interchange is what the psalmist meant when he wrote, "Deep calls to deep."(Psalm 42:7)
This level of transparency in a relationship is one that develops over time, but is worth aiming towards. This wife is secure, knowing that she is valued by her husband who holds her in the highest esteem. Her question drew out of his soul an answer that she treasures. We learn to teach by teaching, to write by writing, to speak by speaking, etc. Learning to communicate well means being vulnerable—and might begin by learning to ask some good questions. One of my favorite questions to ask, and to receive, is "How can I pray for you today?" Another is, "How do you see God working in your life right now?"  Then please take the time to listen to the answers! It'll make for a good "tennis match"!
Work Cited:
Gary Chapman and Ramon Presson, Love Talks for Couples, Northfield Publishing, 2002.
Questions to share:
1. Do we, as a couple, really listen to each other when we speak?
2. Do we value what the other person is going through enough to ask them how they are doing?
keep looking »