Excellent or Praiseworthy is posted on Monday and Thursday nights.
Do nothing out of selfish ambition or vain conceit, but in humility consider others better than yourselves. Each of you should look not only to your own interests, but also to the interests of others. — Philippians 2:3,4
Dr. Martin Luther King, Jr. said, "If a man is called to be a street sweeper, he should sweep streets even as Michelangelo painted, or Beethoven composed music, or Shakespeare wrote poetry." Whatever our role, our position, our organization—we should strive to be the best.
Agreed. But what if there was more . . . ?
Don't all people essentially want the same things? And, in part, don't we all on some level deeply desire to be successful? I would say, "Yes!"
When people think of "success," we frequently assume professional development or promotion, superior financial security, nicer "stuff," good reputation among peers and colleagues, and the quality of relationships we enjoy. I think we would agree this is a fair representation of elements of success. So you say, "Okay, Chaps, we got it. So where are you going with this?"
Hmmm . . . .what if the previous portrayal of success was an incomplete model? What if there was a key ingredient missing from our construct of success? What if the missing piece to our assumed construct was so evident that when I tell you, you will at once respond, "Of course!"
You and I are obsessed with love for numero uno, i.e., "me, myself and I." Human beings are impulsively self-engrossed. Success is conventionally viewed as something "I" achieve and therefore "I" experience.
What if true success was only achieved in community, as we help others reach and become successful themselves? What if success was inherently attached to the process of "less of you and more of others?"
I believe we were fashioned with the desire for significance. But to be wholly human and satisfied in life, God hard-wired people to serve others with the same pre-conditioned vigor. Here are some thoughts to consider:
What if life was designed to be more "others-centered" and less "self-centered"?
What if we came to understand that serving and supporting others (no matter who) was a common duty that increased human pleasure?
What if supporting the pursuits of others was considered a privilege rather than a burden?
What if the pursuit to help others in our community was not perceived as a threat to our own self-interest?
I find great hope and assistance in the Scriptures because they consistently run contrary to what comes naturally to "me!" The message of Scripture time and again challenges personal assumptions I hold dearly about life. Scripture keeps me honest—so does my wife—by reminding me: "Nobody should seek his own good, but the good of others" (I Corinthians 10:24).
How different would the quality of our lives during deployment be if we aligned ourselves with this one principle and actually sought to think of others first—their needs, their struggles, their interests, their pursuits for significance?
Questions to Share
1. How did you get to where you are today? Who was instrumental in helping you achieve a degree of success in your life? Have you thanked them recently?
2. How are you naturally inclined to take care of yourself at the neglect of others?
3. What specific steps can you take to begin to include "othering" at a deeper level in your life? Who do you need to initiate a relationship with and help them achieve success?
Excellent or Praiseworthy is posted on Monday and Thursday nights.
But He said to me, "My grace is sufficient for you, for My power is made perfect in weakness" . . . That is why, for Christ's sake, I delight in weaknesses, in insults, in hardships, in persecutions, in difficulties. For when I am weak, then I am strong. — II Corinthians 12:9,10
We do not want to miss this grace—this pure grace of God that gets us from the excitement-building, heart-racing, glee-producing "Welcome Home" moment . . . through the adjustments and transitions which characterize reintegration. Hebrews 12:15 reads, "See to it that no one misses the grace of God . . .", and reintegration done well will validate that it is God's grace, and grace alone, that smooths the return home.  His greater grace takes you from "I can't do this anymore' to 'I can do all things through Him who strengthens me" (Philippians 4:13).
Likewise the pure grace of God in reintegration takes us from "I didn't expect homecoming to be anything but sweet" to "God is able to make all grace abound to you, so that in all things at all times, having all that you need, you will abound in every good work" (2 Corinthians 9:8). This grace is so powerful, so cleansing, so redemptive that I can only call it "reintegrace." Indeed, God can take the strain of deployment and the uncertainty of transition and fashion it to be good because of His pure grace and mercy (Psalm 119:68).
If the journey of reintegration could be plugged into a GPS, the destination for a couple would be oneness. Genesis 2:24 states, "For this reason a man will leave his father and mother and be united to his wife, and they will become one flesh." Oneness in a marriage is not just a physical relationship, but emotional and spiritual as well. A couple who is geographically separated longs for the day when they are physically reunited. But the reuniting must also take the form of an emotional and spiritual oneness for there to be the real sense that they are back together. This is the challenge . . . and requires an intentional effort to demonstrate grace in at least seven areas:
1. The Grace of Daily Mercies
Change is inevitable when someone goes off to war . . . and the family at home changes, too. There can be a tendency to "compare" trials. The one on the front lines of war lived with danger every moment. The one at home lived with day-to-day struggles and demands. You each endured hardships, and any "one ups-manship" can only create conflict.
Grace says, "I acknowledge your fears and challenges. I want to imagine what it was like to walk in your shoes for a while so that I can appreciate what you've been through!" If necessary, initiate conversations, ask questions and listen to the answers. Examine scheduling priorities in order to have time together and plan getaways during reintegration . . . all in order to cultivate oneness. Oneness in marriage glorifies God, so committing to do the hard work of transitioning from being apart to being together will be something God honors. This is a daily exercise. Each day will bring new opportunities to see how everyone has changed—and how God can bring you back to oneness.
"Because of the LORD's great love we are not consumed, for His compassions never fail. They are new every morning; great is Your faithfulness" (Lamentations 3:23).
2. The Grace of Kind Words
Both of you as husband and wife have taken on different roles during deployment, and sometimes there can be harsh, demanding tones and explosive arguments when tasks are not done in a certain way. The demands of battle require expediency . . . the demands at home require prompt attention. Barking orders to each other can be a natural outgrowth of what you have experienced.
Grace says, "Humility and gentleness will shine best through my smile and kind speech." You are not each other's enemy, and it may take time to view each other lovingly.
"Do not let any unwholesome talk come out of your mouths, but only what is helpful for building others up according to their needs, that it may benefit those who listen" (Ephesians 4:29).  "Let your conversation be always full of grace . . . " (Colossians 4:6a).
3. The Grace of Perspective, Patience, and Purpose
You are both tired—and excited. It may take time to get back to normal physical patterns after lengthy separation and then travel. This is when it is extremely important to remember that reintegration is a season . . . a journey. Be patient with each other. The spouse who found great significance in the mission downrange may need to regain purpose in a normal household routine—and the spouse at home needs to gradually let go of some of the responsibilities which he or she managed alone. Reintegration is a synchronized "dance" that takes time to re-learn so that you don't step on each other's toes!
Grace says, "I'm so glad we're back together again, and I will be patient during this time of transition and help you to re-adjust . . . not criticize."
"Do nothing out of selfish ambition or vain conceit, but in humility consider others better than yourselves. Each of you should look not only to your own interests, but also to the interests of others" (Philippians 2:3,4).
4. The Grace of Forgiveness
The reality is that things may have happened during your deployment which will require difficult conversations . . . and forgiveness. Counseling with your chaplain, pastor, or Christian counselor may be necessary. Genuine repentance, taking responsibility for actions, and asking for forgiveness are steps one needs to take in order to begin the process of regaining trust.
Grace says, "I love you, and I am willing to pray with you and rely on God as together we learn to forgive." Rob Green states in his booklet, Reuniting after Military Deployment: Help for the Transition, "Honestly, you cannot offer grace in your own strength. It takes a willingness to depend on Christ to show God's grace through you. He is the only One who can give you the discipline and strength to consistently offer grace to others, especially when you are hurting" (p. 21).
"For if you forgive men when they sin against you, your heavenly Father will also forgive you. But if you do not forgive men their sins, your Father will not forgive your sins" (Matthew 6:14,15).
5. The Grace of Healing
Whether your wounds of war are visible or invisible, God is the healer. Your time of excitement at reintegration may be overshadowed by a long discovery of what is now going to be "different" in your marriage. Chaplain (ret) Dan Nigolian tells of his experience with PTSD in an appendix to The Greatest Warrior edition of the NIV Bible, "I was feeling guilty because I couldn't beat this and it was hurting my family. I hated the idea of seeing a psychologist and being on medication. But I hated damaging my relationships even worse, so I finally agreed to get help. I have concluded that it takes more courage to face what's inside you than to face the enemy . . . As I continue to fight this I'm learning to appreciate the present. Right here and right now, I am loved by God and by my family. . . It was being exposed to the death brought on by war that led to my own personal battle. But there's one person who's defeated death and that's Jesus (I Corinthians 15). So he can defeat the effects of death in me. And that's my hope and my rest."
Grace says, "We will walk steadfastly, and with hope, together in God's grace through the darkness of injury or combat trauma into the light of His Son, Jesus Christ."
"For I am convinced that neither death nor life, neither angels nor demons, neither the present nor the future, nor any powers, neither height nor depth, nor anything else in all creation (including war), will be able to separate us from the love of God that is in Christ Jesus our Lord" (Romans 8:38,39).
6. The Grace of Gratitude
The Apostle Paul wrote in I Thessalonians 5:18 that we are to "be joyful always, pray continually; give thanks in all circumstances, for this is God's will for you in Christ Jesus." Give thanks in ALL circumstances—really? The truth is that it is through giving thanks that God's light can shine even into the dark places of our lives—even in our disappointments, disillusionments, and discouragements. Ann Voskamp writes in One Thousand Gifts, "When we lay the soil of our hard lives open to the rain of grace and let joy penetrate our cracked and dry places, let joy soak into our broken skin and deep crevices, life grows" (p. 58). The transformation of a bitter attitude into one of humility . . . the transformation of a hurting marriage into a thriving marriage . . . it is all comes from a grateful heart proclaiming life from salvation freely offered in grace by Jesus Christ.
Grace says, "We thank God for bringing us back together, and we thank Him for all the ways He sustained us while apart."
"Do not be anxious about anything, but in everything, by prayer and petition, with thanksgiving, present your requests to God. And the peace of God, which transcends all understanding, will guard your hearts and your minds in Christ Jesus" (Philippians 4:6,7).
7. The Grace of Redemption
On the holy ground of deployment we can experience redemption. Reintegration can become a time of renewal . . . maybe even a time of "better." Perhaps there have been "lessons learned" . . . relationships appreciated in new ways . . . spiritual growth bringing you closer to God and closer to your spouse . . . time to remember God's faithfulness when busyness once reigned . . . awareness of new skills and confidence in abilities . . . new perspectives, even on pain. Ken Korkow, a Marine, shares in an appendix to The Greatest Warrior NIV Bible, "On my road to healing, I've discovered that God does not waste pain. If we allow him to, he will use it to shape us into the best version of ourselves."
Grace says, "I wouldn't have chosen deployment, but because of God's goodness and love for us, He has taken our experiences and made something good out of them."
"And we know that in all things God works for the good of those who love Him, who have been called according to His purpose" (Romans 8:28).
Rob Green summarizes truth about God's grace in reintegration with this, "Your personal relationship with Jesus sustained you during the (time) you were apart, and your relationship with Christ can help you reunite, too. All hope is not lost. The stories of divorce, discouragement, and depression that you have heard from other couples do not have to be your story. Just as Jesus redeemed you from an eternity separated from God, just as he rescued you from the weapons of the enemy, in the same way he can help you overcome the threats to your marriage. The Lord can ensure that your story is one of reunion, oneness, joy, peace and thankfulness" (p. 6).
It's all by His grace.  "For it is by grace you have been saved, through faith–and this not from yourselves, it is the gift of God–not by works, so that no one can boast" (Ephesians 2:8,9).
Works Cited:
The Greatest Warrior NIV Bible published by Biblica, 2012.
Green, Rob, Reuniting after Military Deployment—Help for the Transition (Greensboro; New Growth Press, 2011).
Voskamp, Ann, One Thousand Gifts (Grand Rapids:  Zondervan, 2010).
Questions to Share:
1. How did you see God work during the time you were separated geographically by deployment?
2. In what ways do you need to work on your marital relationship during reintegration in order for God's grace to be revealed?
Excellent or Praiseworthy is posted on Monday and Thursday nights.
"You are the salt of the earth . . . you are the light of the world. A city set on a hill cannot be hidden. Nor do people light a lamp and put it under a basket, but on a stand, and it gives light to all in the house." — Matthew 5:13-15 (ESV)
Moving can require a litany of give-aways: spices, cleaners, opened food packets, and an odd assortment of containers from refrigerators and cupboards. Somehow a stack of things always seems to remain that needs to be shifted to friends or family whether moving across town or across the ocean.
My neighbor once left cinnamon, salt and a variety of seasonings for every occasion. Another friend gave hairspray, bathroom cleaner and cat tray liners—and we didn't even have a cat. Sometimes we leave or get items we'll never use or don't know what they are.
More important is what we leave behind emotionally when we move. Are others happy to see the back of our bumper as we drive from our quarters? Or do friends and neighbors send us off with tears and wishes of good will? We need to be sure we are leaving behind "spices" of good feelings, a memory of clean living, seasons of good relations and lives worthy of emulating.
God calls us to be salt and light to the world—two wonderful gifts we can leave behind as we PCS to our next assignment or leave for a deployment.
Questions to Share:
1. Have you ever given away a box of items from your house which you couldn't take with you? What were your memories from that time?
2. Have you ever been the recipient of someone else's give-aways? What were your memories from that time?
3. Whether you have been the one leaving or the one staying, what were the characteristics of that neighbor or friends which caused your memories of them to be good?
4. Take a moment to pray and thank God for the gift of those people in your life.
Excellent or Praiseworthy is posted on Monday and Thursday nights.
The LORD will watch over your coming and going both now and forevermore. — Psalm 121:8
Some PCS moves you anticipate—others come as a surprise. Some moves are a relief—others are a burden. But no matter if you have faced "good" moves or "bad" moves, there is one thing they all have in common—change. And some people deal well with change—others do not.
I always have a ready ear for moving stories because they are such a common element in our military life experience. We can all connect over moving stories! Recently I had the opportunity to read two womens' thoughts on moving—even spiritual thoughts. So I readily pass them along to you in the hopes that you might find some common element in your experiences—and perhaps draw some hope from what they share.
Penny Hunt, a Christian writer and speaker, gave me this writing to share from her experiences of moving in the Navy:
"Here we go again! Time to face the change, pack up our now life and start a new one; time to find the kids a school, learn new streets and names in a place where no one knows ours and dare to make a friend.
Help me, Lord. This change is hard. I feel so sad my teeth ache. I do not want to go. I do not want to be brave and smart and smile. I want to stay here and keep things as they are.
Tell me again how much You love me and how You will never leave me. Lift my head, hold my hand and help me pack a box.
Show me the way to grow through this change and not just go through it."
Bea Fishback, an author of three Bible studies on military life, had this to say about moving from her Army experience:
"In twenty years of military service we moved ten times. Each time I learned something new. . . . like how to pack effectively, and that I didn't need three sets of dishes, sixteen pots and pans, and three hundred books. And I learned that it took something special to make a building a home. As we moved our possessions from one house to the next a strange thing would happen. The old home lost its "life." What made our government quarters, apartment, or building unique was our family and our special things. Each picture, rug, and piece of furniture represented something about us.
Take the pictures of our son dressed as "Uncle Sam" and our daughter as the "Statue of Liberty" shot on a fourth of July many years ago when we were stationed in another country. As each thing was removed the house became empty and hollow. What was once our home became a building again. And our new house took on the feelings of love, warmth, and hopefully a welcome to all who entered.
Sounds a bit like us. Take this body of ours. We determine what it becomes by what we put inside. Put inside the things of the world and you get a hollow place, not a home for a godly heart. Put inside the things of God and it becomes a beautiful place of residence. Lay down the carpet of love, put in peace, joy, patience, kindness; cuddle up with a blanket of tenderness, and hang up the pictures of forgiveness and what do you get? A heart people are drawn to, a place that offers comfort. Ultimately this brings others to desire the God who makes our heart His home—wherever our duty assignment or how many times we move."
No matter how we "look" at moving. . . in military life, it's reality. So there's a choice—to see the move as an opportunity given by God to explore what He has for us and our families in a new location. Or we can grumble and complain over it all, making everyone miserable in our old and new paths.
Which way is God-honoring?
Questions to Share:
What has been your favorite assignment during your time in the military?
Why was that your favorite?
What was your least favorite assignment—why?
Draw some spiritual lessons—things God taught you—during both of those moves.
Excellent or Praiseworthy is posted on Monday and Thursday nights.
The LORD is faithful to all His promises and loving toward all He has made. —  Psalm 145:13b
Is discouragement ruling your thoughts? Have you despaired at the trials of this deployment?
One of my favorite contemporary Bible teachers, Dr. Stephen Davey, uses the popular old Puritan classic, Pilgrim's Progress, in his sermon on Job, Chapter Seven, to expound on keys which can unlock a "dungeon of despair". He gives timeless advice, worth sharing with you who are bearing the brunt of this Global War on Terror.
Pastor Davey reminds us that the author of Pilgrim's Progress, John Bunyan, wrote this famous allegory from his dark, dank English jail cell in the late 1600s. Having been jailed more than once for refusing to align his church with the Church of England, Bunyan became familiar with discouragement and despair.
Pastor Davey goes on to explain that during an episode of Bunyan's book, the young disciple named Christian, who has left his home in the City of Destruction to travel to the Celestial City (heaven), is captured along with his companion, Hopeful, by the Giant Despair. They are thrown into a dungeon in Doubting Castle by the merciless Giant. But Christian and Hopeful refuse to give up, and eventually unlock their cell door and outer gate by using a key called Promise. That key had been given to Christian earlier as a gift to open a door when needed. So without force, the pair escapes and is free from Doubting Castle and the Giant Despair.
With this as a backdrop to his sermon, Pastor Davey goes on to list six "keys of promise" which we can use to defeat the Giant Despair in our lives which might be threatening the spiritual freedom of our souls:
1. First, in seasons when you conclude God is not present—He is.
"I will never leave you nor forsake you." Hebrews 13:5b
2. Secondly, in times when you feel life is hopeless—it is not.
"For I know the plans I have for you," declares the LORD, "plans to prosper you and not to harm you, plans to give you hope and a future." Jeremiah 29:11
3. Thirdly, in afflictions when you believe God does not care—He does.
"Cast all your anxiety on Him, because He cares for you." I Peter 5:7
4. Fourthly, in situations when you are certain you know better than God—you do not.
"As for God, His way is perfect; the word of the LORD is flawless. He is a shield for all who take refuge in Him." Psalm 18:30
5. Fifthly, in despair when you believe God has not heard your cry—He has.
" . . . You who seek God, let your heart revive. For the Lord hears the needy and does not despise His who are prisoners." Psalm 69:32b-33
6. One more key, sixthly, in circumstances in which you do not feel loved—you are.
"For I am convinced that neither death, nor life, nor angels nor demons, neither the present nor the future, nor any powers, neither height nor depth, nor anything else in all creation, will be able to separate us from the love of God, which is in Christ Jesus our Lord." Romans 8:38-39
So often we can give in to discouraging thoughts, and can feel trapped as if in a dungeon, hopeless. The truth is as Christians we belong to a God who is ever-present in our lives; has a perfect plan for our lives; cares deeply for us; hears our every cry; and loves us enough to send His own Son to die for our sins. Those are promises—straight from Scripture, spoken by the Holy Spirit directly to our hearts.
Is it easy to forget that you have these promises from God? Sure. In Pilgrim's Progress, Christian almost forgot. It was only after much prayer with Hopeful in the dark prison that he exclaims, "What a fool I am . . . to lay here in a stinking dungeon, when I could just as easily walk at liberty!  In my coat, next to my heart, I have a Key called Promise. I'm persuaded it will open any lock in Doubting Castle." (p. 154)
Thankfully, Christian and Hopeful decide to post a warning to anyone who might come after them of the dangers found in Doubting Castle—the home of Giant Despair.
We, too, are warned (Psalm 19:11). And there are steps we can take away from doubt, away from despair. If you are struggling,
remind yourself of these six "keys" from Dr. Stephen Davey;
surround yourself with fellow Christians who can encourage you with the promises of Scripture;
spend time with the Lord often–reading your Bible and in prayer;
seek fellowship in a local church, or at your chapel;
develop a longing for the sacred—in music, in literature, in arts;
serve others;
pray for strength and courage—and the willingness to heed proper warnings.
If you are struggling with despair, remember that we serve a God of hope. Choose hope.
Work Cited:
The six "Keys" are from the sermon "Escaping the Dungeon of Giant Despair" preached by Dr. Stephen Davey on April 22, 2007. Pastor Davey's sermons are archived on his website WisdomForTheHeart.com
Bunyan, John. The Pilgrim's Progress in Modern English (Alachua, Florida: Bridge-Logos, 1998).
Questions to Share:
1. Share with your spouse a time when you experienced how one of God's promises quoted was true in your life.
2. Pray for each other to trust in God's promises for your future.
Excellent or Praiseworthy is posted on Monday and Thursday nights.
My father-in-law, who is mentioned in this devotion, went home to heaven on Friday, May 18, 2012.  He was buried a few days later with full military honors, a recipient of the Silver Star and Purple Heart, a member of the 101st Airborne who jumped into Normandy on D-Day.
"But commission Joshua, and encourage and strengthen him, for he will lead this people across and will cause them to inherit the land that you will see." — the words of the LORD to Moses in Deuteronomy 3:28
On the wall of my father-in-law's office hangs a small piece of paper framed as an important document, yellowed with age. On this paper are these words: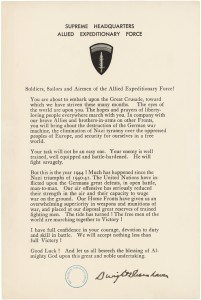 "Soldiers, Sailors and Airmen of the Allied Expeditionary Force!
You are about to embark upon the Great Crusade, toward which we have striven these many months. The eyes of the world are upon you. The hopes and prayers of liberty-loving people everywhere march with you. In company with our brave Allies and brothers-in-arms on other Fronts, you will bring about the destruction of the German war machine, the elimination of Nazi tyranny over the oppressed peoples of Europe, and security for ourselves in a free world.
Your task will not be an easy one. Your enemy is well trained, well equipped and battle-hardened. He will fight savagely.
But this is the year 1944! Much has happened since the Nazi triumphs of 1940-41. The United Nations have inflicted upon the Germans great defeats, in open battle, man-to-man. Our air offensive has seriously reduced their strength in the air and their capacity to wage war on the ground. Our Home Fronts have given us an overwhelming superiority in weapons and munitions of war, and placed at our disposal great reserves of trained fighting men. The tide has turned! The free men of the world are marching together to Victory!
I have full confidence in your courage, devotion to duty and skill in battle. We will accept nothing less than full Victory!
Good Luck! And let us all beseech the blessing of Almighty God upon this great and noble undertaking." — Dwight D. Eisenhower
You see, this framed document is an original, not a copy. Jim is one of the few surviving veterans of the 101st Airborne Division who jumped into Normandy on D-Day. My husband grew up hearing his Dad's stories of Carentan and St. Mere Eglise. Now our son (active-duty Air Force) carries the memory of a 1987 visit with his "Pappa" and his Dad to the beaches where these three generations scoured that historic countryside for clues to where Jim might have been during his mission now sixty-plus years ago.
The commission from General Eisenhower, which was handed out on paper to Jim and to the forces who took part in Operation Overlord, reminds me of the commission which was given by General George Washington to his troops when out-numbered by British soldiers near Brooklyn in August, 1776. Jane Hampton Cook, author of Battlefields and Blessings: Stories of Faith and Courage from The Revolutionary War, writes "Even though victory seemed questionable at best, Washington tried to compensate by giving his troops a commissioning:
'The enemy's whole reinforcement is now arrived, so that an attack must, and will soon be made. . . . And when called to it (action), remember, that liberty, property, life and honour, are all at stake; that upon (your) courage and conduct rest the hopes of (our) bleeding and insulted country; that (your) wives, children, and parents, expect safety from (you) only; and that we have every reason to believe, that heaven will crown with success so just a cause. . . . The enemy will endeavour to intimidate by show and appearance; but remember, they have been repulsed on various occasions by a few brave Americans; their cause is bad; and if opposed with firmness and coolness on their first onset, with our advantage of works, and knowledge of the ground, the victory is most assuredly ours.'" — George Washington
The definition of a "commission" is: "an authoritative order, charge, or direction." There are other versions of this definition, but they all include the matter of authority and a mission to be performed.  Notice the commission given in Deuteronomy 3, in the Scripture above, which contains those elements. And as a Christian I know that "The Great Commission," given by Jesus in Matthew 28:18-20 is something like "marching orders" for us:
"All authority in heaven and on earth has been given to me. Therefore go and make disciples of all nations, baptizing them in the name of the Father and of the Son and of the Holy Spirit, and teaching them to obey everything I have commanded you. And surely I will be with you always, to the very end of the age." — Jesus Christ
The Great Commission of Matthew 28 still applies today—and would remind us that there is work to be done. By the authority of Jesus Christ we are to go and make disciples throughout the world. . . . . see them baptized. . . .and teach them. . . .ever mindful that we are never alone in this endeavor. To God be the Glory!
Work cited:
1. http://www.archives.gov/historical-docs/todays-doc/index.html?dod-date=606
2. Cook, Jane Hampton, Battlefields & Blessings: Stories of Faith and Courage from The Revolutionary War (Chattanooga: Living Ink Books, 2007) p. 196-97.
Questions to Share:
1. How does historical perspective help you in facing the challenges you have in the battles of today?
2. How does the promise of God's presence strengthen you for the battles of today?
Excellent or Praiseworthy is posted on Monday and Thursday nights.
Greater love has no one than this, that one lay down his life for his friends. — John 15:13
Bedford is a small town in rural Virginia. Nestled in the Blue Ridge foothills, it's a tranquil spot to visit and ponder the enormous price this community made in service to our country on June 6, 1944—D-Day. Upon this beautiful town fell proportionately the heaviest share of American losses on that day. For out of the 30 young men from Bedford who had joined the National Guard and were called into service in 1942, 22 were killed in the invasion.
For the "Bedford Boys" who landed on Normandy's Omaha Beach in 1944, their bonds meant just that—bonds. Bonds that were formed early and often. Their bonds began in the common church pews of Bedford and continued into the halls of the American Legion Posts. Their small town of 3,200 grew more than apple orchards and tobacco in their fields. They also grew the hearts and minds of those who served selflessly and quietly. From the nurturing of loving mothers . . . from the faith of their fathers and forefathers . . . came a generation that understood values, the sacrifice of hard work, freedom and faith.
To honor the memories of this town's young soldiers, and as a representative symbol of all of our nation's efforts during Operation Overlord, Congressional support for the creation of a National D-Day Memorial in Bedford culminated with the dedication of this beautiful spot on June 6, 2001.
At the Memorial Dedication Ceremony that day, President George W. Bush said these words to the many gathered:
"You have raised a fitting memorial to D-Day, and you have put it in just the right place—not on a battlefield of war, but in a small Virginia town, a place like so many others that were home to the men and women who helped liberate a continent.
Our presence here, 57 years removed from that event, gives testimony to how much was gained and how much was lost. What was gained that first day was a beach, and then a village, and then a country. And in time, all of Western Europe would be freed from fascism and its armies.
The achievement of Operation Overlord is nearly impossible to overstate, in its consequences for our own lives and the life of the world. Free societies in Europe can be traced to the first footprints on the first beach on June 6, 1944 . . . Fifty-three hundred ships and landing craft; 1,500 tanks; 12,000 airplanes. But in the end, it came down to this: scared and brave kids by the thousands who kept fighting, and kept climbing, and carried out General Eisenhower's order of the day—nothing short of complete victory. . . What was lost on D-Day we can never measure and never forget.
Bedford has a special place in our history. But there were neighborhoods like these all over America, from the smallest villages to the greatest cities. Somehow they all produced a generation of young men and women who, on a date certain, gathered and advanced as one, and changed the course of history. Whatever it is about American that has given us such citizens, it is the greatest quality we have, and may it never leave us. . ."
At the end of President Bush's speech, he said "The great enemies of that era have vanished. And it is one of history's remarkable turns that so many young men from the new world would cross the sea to help liberate the old. Beyond the peaceful beaches and quiet cemeteries lies a Europe whole and free—a continent of democratic governments and people more free and hopeful than ever before. This freedom and these hopes are what the heroes of D-Day fought and died for. And these, in the end, are the greatest monuments of all to the sacrifices made that day . . . God bless America. And God bless the World War II generation."
This history is all too real for one of our own—we have a Bedford native serving on board our ship. Growing up in Bedford gave our Chief Petty Officer a ton of strength and the value of a community's banding together to serve each other and protect their children.
He shared with us that some of his fondest memories came from simple things that you just don't get anywhere else. Values are taught, lessons are learned, and you are safe in your neighborhood because everyone truly knows everyone.
The "Bedford Boys' were known about, but not talked about often, he said. Perhaps no one outside of that generation understood how special the men and their families really were. Things changed when "The Boys" got national attention—the Memorial, a book, the President's visit . . . and then the local Army Reserve Unit was called up for Iraq. Stories that people hadn't talked about in a long time impacted our own shipmate, and he regards the "Bedford Boys" as representing the definition of service and sacrifice.
So on the anniversary of D-Day, we pause to thank you for your part in the fight for freedom that continues even to this day. Knowing freedom instills in us the desire to free others. And knowing the source of our freedoms grants us strength in the face of adversity—both for the "Bedford Boys" and for us here fighting today.
Questions to Share:
1. Is there someone in your family or home town who served in World War II that this chaplain's evening devotion brings to mind?  Spend a moment telling your spouse about them.
2. What do you think future generations will say about those who served in the Global War on Terror?
Excellent or Praiseworthy is posted on Monday and Thursday nights.
Where can I go from Your Spirit? Where can I flee from Your presence? If I go up to the heavens, You are there; if I make my bed in the depths, You are there. If I rise on the wings of the dawn, if I settle on the far side of the sea, even there Your hand will guide me, Your right hand will hold me fast. — Psalm 139:7-10
For me, the story of "Taps" is a local story because I live close to where it was composed. I could easily drive to Berkeley Plantation in Virginia, where there is a monument marking the "birthplace" of Taps. Tour guides will tell you that the haunting 24-note bugle call is actually a revision of a French call to signal to the troops the end of the day and "lights out." The story goes like this:
"In of July of 1862, in the aftermath of the bloody Seven Days battles (Peninsular campaign), hard on the loss of 600 men and wounded himself, Union General Daniel Adams Butterfield called the brigade bugler to his tent. . . .Oliver Wilcox Norton, the bugler, tells the story, '. . . showing me some notes on a staff written in pencil on the back of an envelope (some accounts say that Butterfield hummed it to Norton), (he) asked me to sound them on my bugle. I did this several times, playing the music as written. He changed it somewhat, lengthening some notes and shortening others, but retaining the melody as he first gave it to me. After getting it to his satisfaction, he directed me to sound that call for Taps thereafter in place of the regulation call. The music was beautiful on that still summer night and was heard far beyond the limits of our Brigade. The next day I was visited by several buglers from neighboring Brigades, asking for copies of the music which I gladly furnished. The call was gradually taken up through the Army of the Potomac.'" From "History of Taps."
Not long after Taps was composed, it was used for the first time at a military funeral. Union Captain John Tidball, commander of an artillery battery, had it played for the burial of a cannoneer killed in action (during the Peninsular Campaign) because the traditional three rifle volleys fired over the grave might have alerted the enemy nearby. This event is commemorated in a stained glass window at The Chapel of the Centurion, also nearby at Ft. Monroe.
Ten months after it was written, Taps was played at the funeral of Confederate General "Stonewall" Jackson. By 1874 Taps was officially recognized by the U.S. Army and was required to be played at military funerals by 1891.
Taps is played throughout our nation on Memorial Day as it is traditionally sounded at funerals, wreath-laying, and memorial services. In order to honor those who died in service to our country, giving the ultimate sacrifice—Taps is played in remembrance of all of those who have insured our precious freedom. While we are hearing the strains perhaps you can also remember the words which are associated with the bugle call. While these lyrics are not "official," the first verse is commonly sung with these words:
"Day is done, gone the sun,
From the hills, from the lake,
From the sky.
All is well, safely rest,
God is nigh."
God is nigh. The definition of "nigh" is "near in space, time, or relation." The American College Dictionary, 1955.
God is near:
You are near, O LORD, and all Your commandments are truth. — Psalm 119:151
The LORD is near to the brokenhearted and saves those who are crushed in spirit. — Psalm 34:18
But as for me, the nearness of God is my good; I have made the Lord GOD my refuge, that I may tell of all Your works. — Psalm 73:28
The LORD is near to all who call upon Him, to all who call upon Him in truth. — Psalm 145:18
Let your gentle spirit be known to all men. The Lord is near. — Philippians 4:5
The last verse of Taps, traditionally, is similar to the first verse:
"Thanks and praise, For our days,
'Neath the sun, 'Neath the stars,
'Neath the sky,
As we go, This we know,
God is nigh."
Is there any doubt in your mind and heart that God is near, during deployment? Even during the lowly conditions of war in 1862, God was there. Jari A. Villanueva is a bugler and bugle historian, considered the country's foremost authority on Taps. He wrote: ".. . it is hard to believe that Butterfield could have composed anything that July in the aftermath of the Seven Days battles which saw the Union Army of the Potomac mangled by Lee's Army of Northern Virgina. Over twenty six thousand casualties were suffered on both sides. . . . In the midst of the heat, humidity, mud, mosquitoes, dysentery, typhoid and general wretchedness of camp life in that early July, it is hard to imagine being able to write anything." From "24 Notes that Tap Deep Emotions".
But write it (or revise it) he did, and Butterfield's desire to honor his soldiers is forever the way that we seek to honor our brave soldiers.
The Scripture from Psalm 139 is a reminder of what we declare in the singing of Taps. With a lump in our throats and perhaps tears in our eyes, we remember this Memorial Day, with grateful hearts, those courageous patriots who have gone before us in battle. . . . and we remember that our God is faithful . . . . and near.
Questions to Share:
1. What thoughts come to your mind when you hear Taps?
2. On this Memorial Day, is there someone who served our country whom you could tell your spouse about as a way of honoring them?
Note:  Additional information on Taps is available at www.tapsbugler.com
Excellent or Praiseworthy is posted on Monday and Thursday nights.
The LORD looks from heaven; He sees all the sons of men; From His dwelling place He looks out on all the inhabitants of the earth, He who fashions the hearts of them all, He who understands all their works. — Psalm 33:13-15
The inscription on the Tomb of the Unknowns in Arlington National Cemetery reads:
"Here rests in honored glory an American soldier known but to God."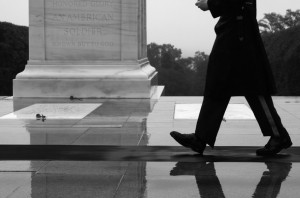 The soldiers from the 3d U.S. Infantry Regiment who guard it are held to the highest of standards—they learn and live Line 6 of The Sentinel's Creed.
They walk the plaza 24 hours a day, 365 days a year—no matter the weather. They change guard every 30 minutes to two hours, depending on the time of day and season of the year.
Being chosen to be a Tomb guard is a rare honor—and requires unfaltering attention to detail. Every step is measured . . . every movement set to a cadence that is ingrained in their minds as well as their hearts.
As we approach this Memorial Day, we honor many who died in service to our country . . . and thank the guards charged with keeping watch over the unknowns who represent the utmost bravery of our military service members.
The Sentinel's Creed
My dedication to this sacred duty
is total and whole-hearted.
In the responsibility bestowed on me
never will I falter.
And with dignity and perseverance
my standard will remain perfection.
Through the years of diligence and praise
and the discomfort of the elements,
I will walk my tour in humble reverence
to the best of my ability.
It is he who commands the respect I protect,
his bravery that made us so proud.
Surrounded by well meaning crowds by day,
alone in the thoughtful peace of night,
this soldier will in honored glory rest
under my eternal vigilance.
– Simon 1971
In studying the guards and their noble calling, I was reminded of the eternal vigilance of God—our eternal guardian. Psalm 121 declares, "I lift up my eyes to the hills—where does my help come from? My help comes from the LORD, the Maker of heaven and earth. He will not let your foot slip—he who watches over you will not slumber; indeed, he who watches over Israel will neither slumber nor sleep. The LORD watches over you—the LORD is your shade at your right hand; the sun will not harm you by day, nor the moon by night. The LORD will keep you from all harm—he will watch over your life; the LORD will watch over your coming and going both now and forevermore."
That is eternal vigilance.
Questions to Share:
1. Pray together for the friends and families of those who gave the ultimate sacrifice while on military duty for our dear country—that the Lord would watch over them and comfort them.
2. Make a list of all of the places you have been stationed. Then read Psalm 139:7-10: "Where can I go from your Spirit? Where can I flee from your presence? If I go up to the heavens, you are there; if I make my bed in the depths, you are there. If I rise on the wings of the dawn, if I settle on the far side of the sea, even there your hand will guide me, your right hand will hold me fast." What do these verses say about where God has been when you were at a duty station?
Excellent or Praiseworthy is posted on Monday and Thursday nights.
Greater love has no one than this, that one lay down his life for his friends. — John 15:13
Time spent with chaplains is precious time. A few years ago we shared that precious time with a particular Navy chaplain who gave us a glimpse into his world of responsibility—which includes leading a chapel community, teaching Bible studies, completing administrative and training assignments (to name but a few of a myriad of tasks). . . .and being the notification officer and ministering chaplain to those in a wide circumference around his assigned duty station.
He gave me permission to share a story which he wrote in an article, "Journey of an American hero—Taking Kyle home." I share it, in reverence, not in detail but in the spirit of this Memorial Day as we honor those who, along with their families and communities, have paid the ultimate price to obtain and secure our freedom.
Chaplain (Commander) Manuel A. Biadog Jr., USN, had the honor of observing and participating as the family and community of Pawtucket, Rhode Island, carried Pfc. Kyle J. Coutu to his final resting place at Exeter Veterans' Cemetery on February 26, 2010. What I read about Pfc. Coutu in Chaplain Biadog's account allowed me to picture an all-American boy turned man who served as a Marine with the 3rd Battalion, 6th Marine Regiment, 2nd Marine Division, based out of Camp Lejeune, North Carolina. "Coutu has faithfully lived the highest core values of his Corps (Honor, Courage and commitment); his religious faith; and his country for which he fought and died. It is the trait of bravery and courage that Coutu lived each and every day in the Marine Corps. He never gave up believing in his family, friends, loved ones, fiancé, his fellow Marines and his homeland . . . .Coutu and 10 other Marines were killed in action during a major combat offensive against the Taliban in Helmand province, Afghanistan."
Chaplain Biadog recounts: "What stands out vividly in my mind more than anything else and moved me to tears was when I saw countless citizens—young and old—military veterans, state and local police, fire-fighters, teenagers, children and many others lining the streets and highways waving large and small American flags. These patriotic Americans waved the flags and welcomed their hero home."
On this Memorial Day, what Chaplain Biadog shared reminds us that "we owe tremendous gratitude to all patriots and military veterans—past and present—who were willing to give their todays, in order that we might have our tomorrows. We will always have a continuing remembrance and deepest thanks of their service, along with their surviving families, for the ultimate sacrifices they have made. It will always cost the lives of the best and brightest people, like Coutu, for the price they paid for freedom and liberty. All gave some, some gave all. Coutu gave his all."
The article ends with the words spoken by Pfc. Peter Lang, childhood schoolmate, fellow Marine, and best friend of Coutu, who escorted his remains home. Chaplain Biadog tells us: "As a final tribute . . . Lang memorized in his mind and heart the Marine Corps Prayer . . . and solemnly recited: 'Almighty Father, whose command is over all and whose love never fails, make me aware of thy presence and obedient to thy will. Keep me true to my best self, guarding me against dishonesty in purpose and deed and helping me to live so that I can face my fellow Marines, my loved ones, and thee without shame or fear. Protect my family.
Give me the will to do the work of a Marine and to accept my share of responsibilities with vigor and enthusiasm. Grant me the courage to be proficient in my daily performance. Keep me loyal and faithful to my superiors and to the duties my country and the Marine Corps have entrusted to me. Help me to wear my uniform with dignity, and let it remind me daily of the traditions, which I must uphold.
If I am inclined to doubt, steady my faith; if I am tempted, make me strong to resist; if I should miss the mark, give me courage to try again.
Guide me with the light of truth and grant me wisdom by which I may understand the answer to my prayer. Amen.'"
God helping us, we shall never forget.
Work cited:
Commander Manuel A. Biadog, Jr., "Journey of an American Hero—Taking Kyle Home," The Globe, Camp Lejeune, N.C., March 18, 2010, p. 10A.
Questions to Share:
1. On Memorial Day is there someone in particular whom you pause to remember? Share that with each other.
2. The words of the Marine Corps prayer are tender and powerful. Repeat that prayer for yourself and your spouse.
keep looking »